Welcome to Errattic! We encourage you to customize the type of information you see here by clicking the Preferences link on the top of this page.
Irishman, The (2019)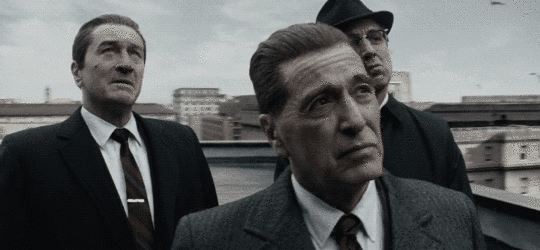 The film punched a hole in the walls I had built being a mobster's kid which I only recently realized. It deftly displayed the inner workings of what my father's life was as opposed to how I experienced it.
The more the legends stripped to the third layer the more astonishing the outcome. Pacino roared, DeNiro resolved, Pesci divested, Romano rattled, Maniscalco (pants daddy) plundered and Jim Norton was uncanny. The women were prescribed little voice yet supplied haunting images.
Scorcese realized the gangster of today and allowed him to pay for his regrets.
28-Nov-2019
Old feeble men playing dress up. The intensity of the work is evident as is the three hour sacrifice to honor the best of it but most of it is unwarranted. The pros are welcome faces and the force is evident. I'm halfway in and I want to record my experience in parts. The history is concentrated and the genre is foolproof. While I've had highs with many of these men, it feels like they never moved forward or learned from their mistakes. Where's the now gangster? Scorcese masters the downfall of every criminal hero he builds yet the audience always ends up glorifying him.
27-Nov-2019