TV
---
Rating key:
Welcome to Errattic! We encourage you to customize the type of information you see here by clicking the Preferences link on the top of this page.
Horse Girl (2020)
The title sets it up for failure. Mare straddles insanity via conspiracy theory, almost every character is hypocritical and alienating and the balance of insanity versus sanity is insane. (Hint: the horse wins!)
15-Feb-2020
---
Locke & Key (2020-)
I don't question the magic of the keys, only where you stick them to achieve it.
10-Feb-2020
---
Academy Awards (2020)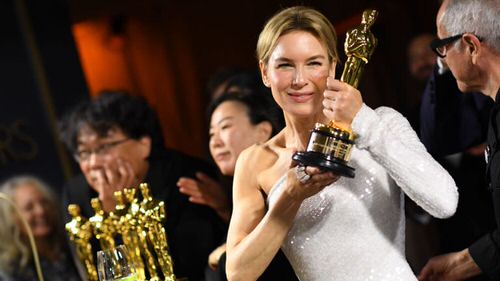 The Academy figured out that diversity comes in more than one color.
The "Parasite"s snared it.
Eminem was an unnecessary surprise, stirring thoughts of homophobia, sexism and racial encroachment whilst being lauded and absolved.
I'd be "right" if Olivia Colman hosted the Oscars. She's toolshed hilarious (handy but sharp.) The show feels lonely without a parent to supervise it.
The musical numbers were welcome, the star pairings were amusing and the show knew when to wrap it up.
10-Feb-2020
---
Judgment (1990)
Thorough telling of the process a family must endure to indict a priest for raping their son. The priests creeped, the church perused, mama lifted while daddy struck and the lawyer slaughtered. The film was more vocal about explaining the details than the "woke" generation could ever handle.
09-Feb-2020
---
Will & Grace (2017-)
The show energizes when there are dashes of brilliance that made it. The bi-sexual episode was tart, spoke for each generation and fulfilled a compromise.
09-Feb-2020
Snide and sweet.
13-Mar-2019
Exposing our weaknesses will force our strength to come out. Good job.
02-Dec-2018
The waitress killed it, the drag punched it and Grace/father/writers greatly punctuated "me too." Joy.
05-Nov-2018
Each actor hit an old note and the quickfire delivery allowed us to laugh with them. Tacky looks good on us.
08-Oct-2018
The teen girls deserve a sequel and Debra Messing got in touch with the Grace we all know and love.
12-Mar-2018
Allow them to grow up in character and we might never leave.
06-Nov-2017
There were times that Mullaly's Karen and Hayes' Jack were teetering on caricatures of themselves but all gets forgiven when we heave our first laugh. The politics are sharp, the hard work is evident and our love is unwavering. Welcome Back.
01-Oct-2017
---
Safe Harbour (2018-)
Would you save a life if you think it puts you in jeopardy? It gripped and swerved evenly between the privileged and the do goodness, accentuating all the flaws, the heart and the life balancing we all endure. Each wields power that the new world has entitled them to but misconception, anxiety and unburdening (through violence) keep manifesting the elephant in the room...stereotyping to get a point across or to do more harm...to run away from it for as long as the effect is not needed.
It loses two moons because it ended with everyone getting a car and it feels the threat was for naught. The ending is a whimper. Life has consequences.
08-Feb-2020
---
Stranger, The (2020)
The wows were cross-stitched to perfection.
05-Feb-2020
I'm only two episodes in but I think it's about a future where snitching trends...like, "save the world" kind of..."trendy." I'm intrigued.
02-Feb-2020
---
Good Place, The (2016-)
Finale. I liked the idea that we choose when to end our lives. Every character was sentimentally dismissed and Danson squished the mightiest.
04-Feb-2020
When you free a series from the restraints of discipline and thought, it becomes everything and nothing. The romance is ill matched plus unfeeling and the hottie/asian is suffering from acute stupidity.
27-Jan-2019
It moved forwards predictably, simplifying life without ever defining it.
30-Sep-2018
It coasts on adorability (Ted Danson and Jason Mendoza) but the writers have a knack for erasing the outline and having them/us recommence. They also pat themselves on the back by having an asian represented as inane but I find that limits the actor and society will think they're all stupid. You couldn't find a medium that doesn't propel an insult?
12-Feb-2018
---
Below Deck (2013-)
Boys versus girls. Nobody wins and the only common denominator that keeps men and women connecting is sex, otherwise, they hate each other. Good job social media.
04-Feb-2020
Scary horny privileged white women and picking on the black girl because her service on tables and in bed are not up to standard.
04-Dec-2019
A Flintstone marriage proposal was celebrated hypocritically, the Captain won a big dick contest, the camera lingered lovingly on Brian's bulge and the wit was stabby.
05-Nov-2019
The Flintstones entertained toxic female desperation.
21-Oct-2019
The Flintstones rocked the boat as the clones/guests pissed on it.
17-Jan-2019
The only thing that can save this ship is if they hire a "Florence" type from "The Jeffersons" to tell the entitled rich folks to "fuck off."
30-Nov-2017
For those questioning what sexual harassment consists of, last night's episode outlines it perfectly. Shame on you Kate for empowering the privileged creeps and hinting that a "real" yachtee would play along. Protecting your staff should always be the first priority. "Yachtee" must be code word for compliant to braggart perversion.
01-Nov-2017
Katie's wit. The Captain. Eye candy. Fun.
21-Oct-2015
---
October Faction (2020-)
"The Americans" in the Buffyverse with its own ideas.
Twins united is a powerful concoction. He's gay with no tolerance for sweetness and of suppressed privilege. She questions why her life doesn't fulfill her essence. They both do everything to upset their parents. Their awakening untangles excitedly.
Family history keeps the mythology pressing on.
Daddy has a gun, grandma has a gun, they all have a gun but no one grips it like mama.
The show handles its business like a bullet - straight through - no bullshit - not for squeaky screamers.
"Big Bad" seems to be representing.
There are a variety of monsters, entanglements and enlightenments for an open world of writing fun stuff.
29-Jan-2020
---
Invitation To Hell (1984)
It was a film better tolerated in the present but still a victim of its limitations.
There are golden nuggets:
Wes Craven kept it tight. The spacesuit caper and some action sequences spit art
Soleil Moon Frye does a spot-on imitation of Golem, before his time
La Lucci is a playful and committed demonic force. Tacky with hilarity, bitchiness and nerve
Robert Urich was pretty, in charge and in demand.
26-Jan-2020
---
Sex Education (2019-)
Its second season gained confidence, borrowed too many scenarios from prior shows without adding a twist of their own and blended too much do goodness and sentimentality. Almost every love relationship arc included a threesome and every reality was punished. Aimee's bus dilemma was its strongest but it should have questioned whether it was a big deal because the friends made it so. The actors and the education are still on point but I believe the show traded in its balls for eggs.
24-Jan-2020
Misfits auditing, recognizing, practicing and adapting. When the concept grows on you, it tugs in all the right places.
25-Apr-2019
---
In The Tall Grass (2019)
What kills most of King's cinematic depictions is how mumble and jumble detract from realistic scares.
22-Jan-2020
---
Witcher, The (2019-)
Daddy is something else but it was the ladies that kept me glued.
18-Jan-2020
Of course, I'm disquieted by the froggish whisper of the Witcher but he delivers comitted action moves and steady alpha charisma. Interspersed characterization maintains the show's freshness. (Is it part of its mythology that all pretty twinks get killed?)
15-Jan-2020
---
It does not unsettle because there is no intrigue, sharp scare edits or anything besides Holly Taylor to give a damn about.
13-Jan-2020
---