TV
---
Rating key:
Welcome to Errattic! We encourage you to customize the type of information you see here by clicking the Preferences link on the top of this page.
Still Laugh-In: The Stars Celebrate (2019)
The nostalgia is cute and the new lets me snort for a bit but I don't understand what the celebration is about. There was no added description of the show past its pencil drawings. I was there and I still don't get it.
30-May-2019
---
Dead To Me (2019-)
I was riveted by Christina's triumph in irritation and kickback profiling an uneventful marriage founded on the success of falsehoods. James Marsden illustrates the beauty of an asshole.
30-May-2019
---
Bringing the sweet back to comedy. I'll take it.
24-May-2019
The only way to siphon enjoyment is to abolish any thought that this Sheldon exemplifies Big Bang Sheldon. Mamas and sentimentality rule.
16-Jan-2018
Young Sheldon is only a shadow of the adult we know from Big Bang. Continuity frustrates because the child quips about things that the adult version deflected. The fun is limited because we know the child wont make it to maturity, is not invested in relationships and his family will barely exist in his present.
27-Sep-2017
---
Big Bang Theory (2007-2019)
They brought me joy, I dorked out and Buffy doesn't hurt.
17-May-2019
It was a Mother's Day Pop-Up card. Well done.
14-May-2019
It's a group effort, Sheldon.
21-Jul-2017
---
RuPaul's Drag Race (2009-)
I appreciate the learning but the training has to go with it.
15-May-2019
Heartbreaking sweetness (Ms. Davenport.) I'd take your footage. No, I wouldn't. Maybe.
15-Mar-2019
Gorgeous pretense. Exactly what I needed.
13-Mar-2019
Finale. Salud.
29-Jun-2018
Reunion. It was about gay pride...the real one.
22-Jun-2018
The girls brought me happiness.
18-Jun-2018
The highlight was watching Ru bring adorableness to her drag.
26-May-2018
Good taste in body parts, great camaraderie between the girls and the showdown was built for the audience to stand as the girls bow.
22-May-2018
It was everything the last all-stars forgot this show was about.
27-Apr-2018
Ru was art deco doll, the girls brought fire and fantastical whimsy to drag and an integrated roster of pretty boy. Christina flashed her gay badge which warranted hope for an artistic comeback that only a supreme deserves. I'm excited.
23-Mar-2018
---
9-1-1 (2018-)
Unexpected thoughtfulness.
08-May-2019
I no longer have Buffy but I still have you. The last two episodes wrung every artistic sentiment my mind could withstand. Thank you.
06-Apr-2019
The company allowed the schmuck in me to celebrate Christmas.
02-Dec-2018
The daddy (Bassett and Hines included) heroics are inventive, the pulse quickens with current thinking and our hearts get pulled.
25-Oct-2018
A great action piece can energize an attention span but plugging the acting talent to words that allow them to emote beautifully is sublime.
12-Mar-2018
We're in dire need of heroes to save us and Murphy's latest gift is ready to give them to us. Connie Britton and Peter Krause have returned to dominant form, Angela Bassett is having fun and Oliver Stark is a fragile delicacy. The stunts wallop, the words are thoughtful and inclusive and Ryan and crew are experimental ninjas.
16-Jan-2018
---
Extremely Wicked, Shockingly Evil and Vile (2019)
Efron explored none of the options that would have freed his character to expose the monster in Ted Bundy. The film could have established more instances like the cuts and closeups during the verdict that had us seeing into his soul. The courtroom drama prances around the diabolical murders and the film is not interested in disrupting his image as a charmer (whom in real life had many ticks claiming otherwise.)
06-May-2019
---
Black Mirror: Bandersnatch (2018)
A jumbled idea.
04-May-2019
---
Batman Unlimited: Mechs vs Mutants (2016)
Bigger doesn't necessarily beget better.
03-May-2019
---
Bonding (2019-)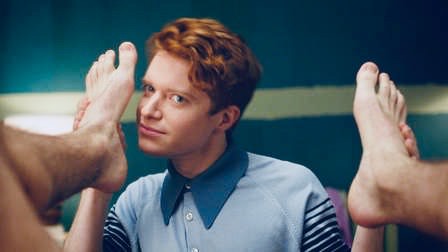 They dominated, they failed and bonded over it. I'd like to see an exploration of the subservient but this point of view sufficed.
03-May-2019
---
The giant impresses but all the puzzle pieces are so scattered that my brain creases trying to put them together.
02-May-2019
---
Sex Education (2019-)
Misfits auditing, recognizing, practicing and adapting. When the concept grows on you, it tugs in all the right places.
25-Apr-2019
---
Kevin Hart: Irresponsible (2019)
The first minutes veer unsteadily towards parental rancor and celebrity retribution. The funny sneaks in when he relaxes and unleashes the demons that perch. He presents a portrait of a man that I don't have to agree with but will lend a listen to.
20-Apr-2019
---
Amy Schumer: Growing (2019)
Amy returns to form by bulldozing, observing and deriding to make us laugh.
20-Apr-2019
---
You (2018-)
The thrill of the cum trampled by a kick in the balls. The delicacies of love entrenched by intrinsic mind bending. Badgley steals the crown structuring the depth of his humanity and indignation.
20-Apr-2019
---