TV
---
Rating key:
Welcome to Errattic! We encourage you to customize the type of information you see here by clicking the Preferences link on the top of this page.
The man has attention, revenge, fame, money, his family, more fame, more money and more power... The show's excuse is to promote Mr. Johnson as the next Republican leader in-charge by having him brag for 22 minutes. Does being a stereotype make him like everybody else?
23-Feb-2021
---
Behind Her Eyes (2021-)
The mini spells out the psychology of feminists and LGBTQs.
23-Feb-2021
Sexually electric and tediously mysterious with slam bam finalization. A gay man has equal right to employ trickery to nab the giant cis man of a woman's dream.
23-Feb-2021
---
Kenan (2021-)
Daddy Hamburger w/Cheese, Bacon and no Mayo looks unhappy around kids.
20-Feb-2021
If anyone deserves a series is Kenan. I'm not sure if this is the right fit or it needs time to evolve. I cheer for Kenan and his cute daughters but I sometimes regret what comes out of their mouths. Kenan is courageous, he found a quick witted way to criticize Beyonce's weight and not be offensive. The daughters' are privy to grown-up naughty stuff which is off-putting. Is that a new generation thing? Yuck. There is a war between nastiness and wholesomeness. I hope nasty wins.
20-Feb-2021
---
Miranda (2009-20015)
You can successfully write stupid if the cast is willing to forego all boundaries and accept the stupidity in all of us. It can be unrealistic, silly but fun. There are more misses than hits but when they do, they are uproarious. Kisses to Queen Kong and a supportive staff, cunning to break out.
14-Feb-2021
---
Cinderella (1997)
The tale of Cinderella no longer elevates the fantastic script of the virginity slut. It doesn't help minorities either. Brandy makes me question the braids. When does she find the time? They looked expensive. Did she go to a salon? Should Cinderella go anywhere? The music was of a different time whose rhythm few could understand. If all magic things disappear at midnight why didn't the shoe? Brandy faltered musically and charmingly. Why did she need to beg for her food? The songs were not rhythmic or outstanding. The musicality was Romper Room. The cast was spotting, representing and giving 100% but their identities kept them apart. Whitney was the special effect that never extinguished but she wasn't in it enough. Jason Alexander sucked.
13-Feb-2021
---
Great, The (2020-)
This is the gangster version of Bridgerton. Emperor Peter, not The Great (that was his father) marries an empty pocket princess (Catherine,) devirginizes her without proper fantasy protocol and improper rapey penetration and provokes a sexual political war. The emperor was a child playing with a power befitting its time and privy to men and offensive to everyone. Catherine wanted all of that. Nicholas Hoult's cunt is a fascinating watch. You don't want to fuck him but you kinda do until he does something disgusting again and then it's off which makes him curl into a ball and makes you want to hug him. Good job, dude. Elle Fanning owned her virginity as much as she flaunted it. Slutdom was the key to achieving a turn in power. The comedy is harsh, the actors are yum and the politics are like ours.
13-Feb-2021
---
Framing Britney Spears (2021)
Britney is the golden bird whose wings were snapped so she wouldn't fly the coop and stop laying golden eggs. She flew the coop because people were perceiving who she was whilst nodding and ignoring everything she said. Without its subject, the doc is elementary. Britney's loss of freedom is hurtful. The doc didn't have the budget to solve the issue but it scattered clues for us to count. A conservatorship was assigned because she was willing to gift her fortune to someone else? That's scary. We don't want Britney in the streets. Daddy is monstrous. Where's mom?
10-Feb-2021
---
Dude, they're still alive! They're back with added color. They haven't grown one bit. That's fabulous.
05-Feb-2021
Every party is a cleanse for every dream that wont come true.
07-May-2020
Truth party games. Wow, they really work.
The girls are friends again until the next bout of horniness trumps it.
01-May-2020
The green giant has sexual dysfunction and old people getting it on, is sick.
23-Apr-2020
Had no idea there was clamor for more. It's back to the future where we get to see grandpappy hook-ups in real time. "Me too" is a charity, feminine wiles are an exaltation, closets are for sex not coming out, women love big things, men are horny and crass mugs that only hold intelligent conversations whilst on the hunt and remain stupid after they fox it. I have no idea what they represent but my generation is enthralled and disturbed.
13-Mar-2020
A band-aid of happy endings.
29-Jul-2019
The gay got replaced by a floaty and a scary virgin. The elders are not aging gracefully and the show has gone from being my chore radio to white noise. When you watch reality TV you get to experience the damage our parents wrought.
23-Jul-2019
- Supreme Ken Doll (Kyle) needs to explore why he prefers living in a blur
- Waiting is a virtue (Amanda) - only if you know what you're waiting for
- Lindsay realized that change only happens when you apply it to yourself. Good for her
- The salt (Danielle) was overtaken by hot peppers (twins)
- The inactive (Stephen) needs to divert his hostility towards his parents. They are the reason he can't move forward
- The blistering giant's (Carl) self awareness allows him to take from life easily
19-Jul-2019
In season two they added salt to mild, endowed the gay with a bitch rap and the desperation from separation (relationships/careers) was dialed up a notch. Stephen needs to accept his het counterpart like he'd like to be. If he's really a friend he would appreciate Carl's flamboyance and his disregard for what people think of him. Hotness attracts men. Hot shit spills over. Unless you only have eyes for him...that's a different problem.
15-Jul-2019
It does stereotype well. Twins are still annoying, blondes are vacant, the gay needs an apron, the ex-fatboy is out for revenge and the women still have no clue what's flashing in a man's face. The man knows. Mind boggling. I may become obsessed by it or immune.
12-Jul-2019
---
Victim of Beauty (1991)
Beauty contestant provokes the kidnapping of her baby sister. Sheriff is in town gunning to bring the monster to justice. He fails as many times as he provokes. Jeri Ryan embodied that special something that makes us scream "how can so many awful things happen to this dear child?" Because it's all true! There are surprises and plotholes but mostly there's Devane's gorgeous ape face and a goddess in disguise (Ryan) burning rubber. The crime investigation sucked.
31-Jan-2021
---
Wendy Williams: What A Mess! (2020)
A throaty and battle-weary queen sitting on her throne describing her scars of conflict. She strips another layer of skin and it's boldy humiliating. Oh shit. The hate you give rolls back. It was devastating watching a queen fall apart, reinvent herself and seek revenge in the course of an hour. She outcomplexed myself. It was riveting. If it was fake... even more riveting.
31-Jan-2021
---
Wendy Williams: The Movie (2021)
Ciera Payton was too hollowed and untrained to lend craft to Wendy's huge persona. The accent. She got her Snookies confused with her Lavernes. The tits were great. Why didn't Ms. Payton lip synch to Wendy's real voice? Why didn't Ms. Williams just do it? Why not go balls out crazy and cast a man? That's gold. We tune in because it's grade A gossip but we know it's "fuck you" art.
31-Jan-2021
---
Fate: The Winx Saga (2021-)
It cared more about the legacy of melodrama than it did about the dynasty of magic. Likable girls, top-notch bi-color twinks, the doctor from Nurse Jackie caused a ruckus and the gay guy from Downton Abbey played a rugged soldier with a tenderness for twinks. The premise was perfectly set but the crux was missing. Why does fire kill the Burned Ones? Did my RPG brain malfunction? The only way fire can beat fire is if someone drains it. More magic, please.
30-Jan-2021
---
Bonding (2019-)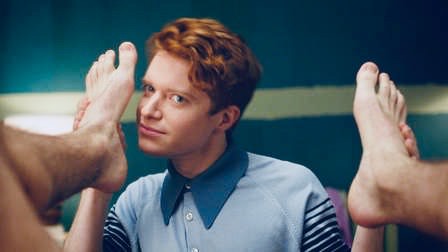 Carter is still sucking them toes and making us laugh. His character explores his self worth and how it relates to his environment. He made the threesome amazingly loud and had me howling at his penguin skit. Tiffany is the chosen one. Being in her company is a win. She distinguishes herself further by disempowering the beings that lifted her. There were tender moments with boyfriends and exes and exes of boyfriends and friends. The cast was great. It teases you with sex then shoots you in the heart.
29-Jan-2021
They dominated, they failed and bonded over it. I'd like to see an exploration of the subservient but this point of view sufficed.
03-May-2019
---
Resident Alien (2021-)
We finally get to call an alien an alien. Maybe the stigma will correlate and they can share stories. Alan Tudyk creates an alien that is a threat and a sweetheart. He makes fucking an alien a priority. His reactions were tuned to every situation. He lives in a world where he can eat the ape man and savor it. He's savoring. Sara Tomko grooves right into character. She will change his path or stop him from encroaching ours. The story's job is to surprise us. Good luck.
28-Jan-2021
---
Below Deck (2013-)
Deck Toon returns to kick the soccer ball (Mariah) all the way into a charter guest room. He later opined to Rob that it would probably be healthier if he switched to softball which made the "deck in waiting" cream his pants. Congratulations, Izzy.
26-Jan-2021
Deck Nick Toon found that the easiest way to dump a banged out chick is to get the Chef drunk. Poor Mariah. Chef Loops was instantaneously diagnosed as an alcoholic because she told the truth. Casual drinkers can be falling down drunk and lie. Deck Rob is pining for Deck Toons and Deck Toons likes it. Cue drunk Chef Loops cursing them out.
19-Jan-2021
S8E11. Chef Loops is auditioning for SNL. The deckhand that looks like a TV Nick toon voiced by Boy George is shagging "Mariah Carey." That's what stupid hot looks like. Daddy Eddie. You won't find a better ham with great hair and the juiciest pig feet, ever. Get better Izzy. The Loops is cracking. The way "in" involves alcohol. Good luck, girl! If it works let new deck try it on deck Nick Toon.
18-Jan-2021
Eddie wanted to knock the foie gras out of Chef Loopy and I wanted to see that. Mariah still doesn't understand what the word try means. Izzy has a crush. Chef Loopy couldn't fake a nicety when the gays raved about her food. He was so emotional and she was so....who gives a fuck. Quack. She left because she didn't think "they" deserved 8 of her courses. Quack. There's hope, Izzy.
21-Dec-2020
---