Health/Food
---
Welcome to Errattic! We encourage you to customize the type of information you see here by clicking the Preferences link on the top of this page.
LGBTQ Figures and Plus-Size Stars Condemn Victoria's Secret After Exec's Comments / THR News
Although the brand's chief marketing officer apologized for his controversial remarks to Vogue, notable LGBTQ figures and plus-size stars are still upset.
---
'Daddy's Girl' Toddler Killed in Attack by Family Dog
A Pennsylvania family is mourning the loss of a 19-month-old girl who was mauled to death last week by their dog.

Nora Sharp was attacked by the dog outside their Windsor Township home on Nov. 4. She was rushed to a nearby hospital and died from her injuries, the York Daily Record reports.
---
LAWMAKERS PROPOSE SOCIAL MEDIA HATE SPEECH CHECKS BEFORE GUN PURCHASES
Lawmakers in New York have begun drafting legislation that would require potential gun owners to have the past three years of their social media reviewed before they were granted permission to own a firearm.

Eric Adams, the president of Brooklyn Borough, and state Senator Kevin Palmer are currently writing the proposed legislation, which would give law enforcement authorities the power to check up to three years of an individual's social media accounts and internet search history before they are allowed to buy a gun, WCBS Newsradio 880 reported. One of the main aims is to identify any hate speech shared by the users, as the politicians noted that such offensive comments are generally only discovered after mass shootings occur.

"A three-year review of a social media profile would give an easy profile of a person who is not suitable to hold and possess a firearm," Adams explained, according to the WCBS report.
---
Senior Citizens Are Replacing Teenagers as Fast-Food Workers
The sullen teenager grinding through a restaurant shift after school was once a pop culture cliche—as American as curly fries.

Nowadays, Brad Hamilton, the teen played by Judge Reinhold in "Fast Times at Ridgemont High," would probably be too young to work at the fictional Captain Hook Fish and Chips. That's because senior citizens are taking his place—donning polyester, flipping patties and taking orders. They're showing up at casual dining chains such as Bob Evans and fast-food operators like McDonald's Corp., which says it plans to make senior citizens one hiring focus in the coming year.
---
Duncan Hines cake mix recall: FDA probes salmonella risk
Food giant Conagra Brands is recalling 2.4 million boxes of its Duncan Hines cake mix, with federal health officials warning that one variety of the popular product tested positive for salmonella.

The Centers for Disease Control and Prevention has received reports of five illnesses linked to Duncan Hines, according to the Food and Drug Administration. Reports of additional illnesses are expected due to time lags between when an illness occurs and when the CDC receives confirmed lab results.
---
Compromised Ethics Run Rampant in Nutrition Research
Here's something to ponder the next time you see a headline extolling a study that found a particular food will help you lose weight, avoid heart disease, or live longer: The company selling the product likely paid for the study; that same company also might be paying the university researcher who led the study; your tax dollars may have supplemented this company's "research" because federal agencies regularly partner with corporations to promote foods. Finally, you'll never discover that the "research" behind the headline is little more than marketing, because journalists rarely question these financial arrangements.
---
The argument against having close friends at work 
Given the amount of time we spend at work, relationships are bound to form.

And that's a good thing. Having friends at work can increase job satisfaction, performance and productivity, research shows.

But you might want to avoid becoming too close with your colleagues.

"You don't need to be best buds," said Amy Cooper Hakim, an industrial-organizational psychology practitioner and workplace expert. "You want to be kind, professional and nice. But we don't need to tell every person at work our deep dark secrets, and long-term goals and dreams."
---
Black Doctor Repeatedly Questioned About Credentials on Delta Flight While Trying To Help Ill Passenger
A doctor who helped a passenger on a Delta flight Tuesday said she believes flight attendants who repeatedly questioned her credentials even after she showed them her medical license did so because she is a black woman.

Dr. Fatima Cody Stanford was on a Delta flight from Indianapolis to Boston when the woman next to her started hyperventilating, according to NBC News. When Stanford started to help the passenger, a flight attendant came up to ask her if she was a medical doctor. She showed the woman her license without being asked because, she told the New York Times, she knows she "doesn't look the part." Stanford, a doctor at Massachusetts General Hospital and an instructor at Harvard Medical school, said she carries a wallet-sized version of the license at all times for that reason.
---
Paraplegic man drags himself through airport
The image is shocking: Justin Levene, a paraplegic man, dragging himself along the floor through Luton Airport after his self-propelling wheelchair was left behind on a flight.

As he hauls himself through the arrivals hall on his backside, other passengers seem oblivious.
---
More kids are showing up in ERs with mental health crises
An increasing number of children are showing up in U.S. emergency rooms in the throes of a mental health crisis, researchers reported Friday. And the increases are seen in minority children, in particular.

It's not clear why, but the researchers say their findings are startling. They are seeing the same pattern across the country.

"It's really disheartening. Community resources for mental health, especially for youth, are incredibly scarce," said Dr. Anna Abrams, a pediatrician and researcher at Children's National Medical Center in Washington, D.C.

"It's shocking, really."
---
6 children dead so far in viral outbreak at N.J. healthcare facility 
A severe viral outbreak has claimed the lives of six children at the Wanaque Center for Nursing and Rehabilitation in Haskell, state health officials confirmed Tuesday, leading to an immediate order to shut down the facility to new patients.

The Department of Health reported 18 cases of adenovirus among pediatric residents at the long-term care center in northern New Jersey, which officials said included "very ill children," some of whom were on ventilators and had trachea tubes.

"This is an ongoing outbreak investigation," said department spokeswoman Nicole Kirgan in a statement. "A department team is at the facility today and an inspection team was also there Sunday. The team on Sunday found minor handwashing deficiencies and the Health Department is continuing to work closely with the facility on infection control issues."
8th child dies after virus outbreak at New Jersey facility
Ninth Child Dies at New Jersey Nursing Home Facing Adenovirus Outbreak
Former patient describes grim conditions at health center where 10 children died
---
In Echo of Flint, Mich., Water Crisis Now Hits Newark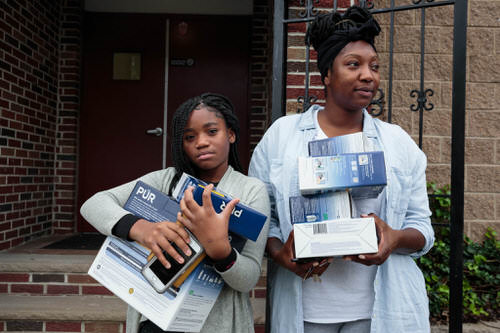 For nearly a year and a half, top officials in Newark denied that their water system had a widespread lead problem, despite ample evidence that the city was facing a public health crisis that had echoes of the one in Flint, Mich.

Even as the risk persisted in the spring, the officials in Newark, New Jersey's most populous city, took few precautionary measures, instead declaring on their website, "NEWARK'S WATER IS ABSOLUTELY SAFE TO DRINK."

But this month, facing results from a new study, the officials abruptly changed course, beginning an urgent giveaway of 40,000 water filters across the city of 285,000 people, targeting tens of thousands of residences.
---
The skills kids need to avoid getting fooled by fake news

One day your kids are learning to walk and the next they're on their own sharing Russian propaganda on Youtube and Facebook.

You might think your great-uncle using an old desk top to "surf the internets" is the person at risk of accidentally spreading "fake news" on social networks, but kids these days aren't always faring so much better.

A large-scale study by the Stanford Graduate School of Education found that young people at every stage from middle school to college were consistently unable to differentiate news from advertising, or false information from the truth, a state of affairs the researchers described as "bleak."
---
Boise and Reno Capitalize on the California Real Estate Exodus
For some Californians, the state's punishing housing costs, high taxes, and constant threat of natural disaster have all become too much. They're making their escape to areas such as Boise, Phoenix, and Reno, Nev., fueling some of the biggest home-price gains in the country. While the moves are motivated mainly by economics, they're also highlighting political divides as conservatives from the blue state seek friendlier areas and liberal transplants find themselves in sometimes hostile territory.
---
United Airlines mishandled listeria contamination, endangering travelers, lawsuits claim
United Airlines failed to address critical food safety issues at Newark Liberty International Airport in New Jersey, endangered passengers and retaliated against employees for speaking up, three high-level managers who worked in its catering division allege in lawsuits filed last month.

United Airlines did not address persistent maintenance issues at its catering facility at Newark airport, which allowed the spread of several strains of the bacteria listeria, including the potentially deadly Listeria monocytogenes, the lawsuits say. Further, once the listeria was discovered, they say, United didn't act aggressively to contain it.
---