Movies
---
Rating key:
Welcome to Errattic! We encourage you to customize the type of information you see here by clicking the Preferences link on the top of this page.
Young Frankenstein (1974)
Mel Brooks' enunciation play is brilliant art. The cast shred with equal parts hilarity and 100% talent. It carouses like a very funny sequel.
10-Mar-2021
---
How Sweet It Is (1968)
Horny teen seeks parental independence by saddling with the girl of his dreams on a trip to Europe. Hot daddy wants to allow him the freedom but hot mama thinks he's too young to travel. The boy gets his way and hot daddy is hitching to Europe to photograph the boy's girlfriend and her young sexy mates. Hot mama, for some odd reason, takes a different course to the same place to keep an extra eye on the boy and her husband. She gets cajoled into thinking that a millionaire Pepe Le Pew's mansion is the European home she rented for the family. She also thinks the millionaire is the servant. Pepe plays along thinking she's a prostitute and that he and the butler are going to get lucky. Misunderstood mishaps follow, reconciliations are forthcoming and the millionaire's attitude changes tune. He gifts her a bikini and the house, she uses it as a weapon, his heart starts pounding and her husband can give two shits. They wrote Debbie dumb. It would have been a different concept had she been more cognizant and confident. She kept getting confused as a prostitute, got sexually attacked repeatedly in front of her husband and accidentally started working at the bordello her boy visits. Wackadoodle.
10-Mar-2021
---
Self/Less (2015)
Dying rich old fart with regrets decides to enroll in a new experiment where they transfer your brain onto Ryan Reynolds body. The director doesn't allow the old man to play with himself as soon as he's alone as Reynolds. Bummer. It's a grim and bumpy ride. I thought the ending was sweet but I wish I hadn't seen it coming halfway in. Not worth the bullets or the destruction.
09-Mar-2021
---
Princess O'Rourke (1943)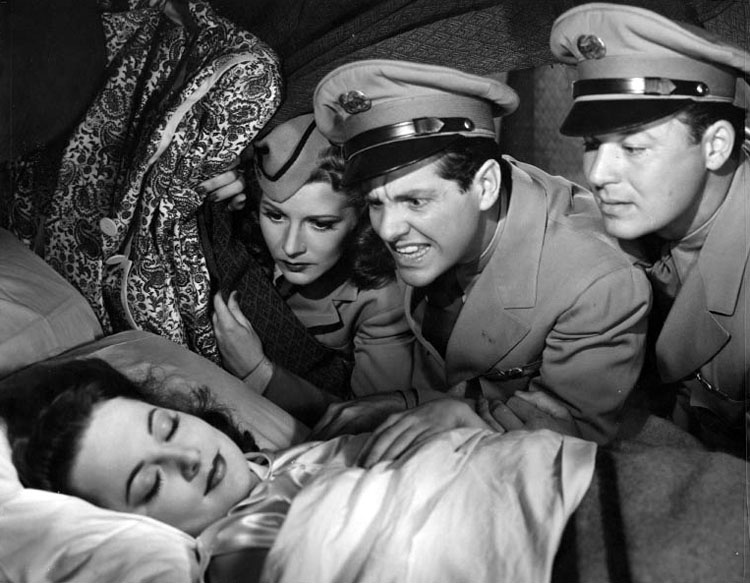 Princess that feels like a bird in a cage gets rescued by a pilot when she overdoses on sleeping pills during a flight. The save frees her unto the real world where she suffers from a lack of talent besides waving, dressing fancy and waiting for a royal stallion to impregnate her with boys. The legends are luminous trotting a sound comedy beat and unrolling an escapist romance. The story turns politically dark after the reveal as the man realizes that with a woman in power comes great servitude.
07-Mar-2021
---
Moon-Spinners, The (1964)
Disney explores its sexual proclivities. Youngling travels to Crete with doting aunt (she dotes and travels with young succulence in order to elicit a fuck. From anyone!) Virginal child gets entangled in desires, foreign thieves, rapists, connivers and murderers. Girl power privilege in a foreign land. Pola Negri's Madame Habib makes you happy you remained but the caper is silly shit.
04-Mar-2021
---
Good Boys (2019)
They don't know fancy they just emulate it. The trio has swag, is interracially charismatic and have the cojones of steel. They made me laugh, spin, adore and cheer them. Boys surviving through primal instinct. Take it or leave it that's what boys are.
04-Mar-2021
---
Rental, The (2020)
Renting a luxury home owned by white supremacists when there is a minority in the group. The cast met the challenge, relationships were established but the surprise was overdue. It doesn't make sense that it would choose this particular moment to explode. They simplified the monster to avoid an impact. Franco insanity make the colors more vibrant but the director's lack of mythology gave us no reason to care about it.
Next time, go nuts!
01-Mar-2021
---
Semi-Tough (1977)
A childhood trio of friends deepen their bond in adulthood. Two ridiculous chunks of meat and a canned tuna. Delicious. The dialogue smacks, cuts, is dry and intelligent. I've never laughed so hard at subtlety. Burt, Jill and Kris were on full star watt. They were beautiful, crazy, athletic, sexy, fucked up, funny and sweet.
28-Feb-2021
---
Swiss Family Robinson (1960)
Swiss family travel the high seas to claim new land and eco-trash it. Pirates attack their ship as they sleep, all the passengers jump to safety and nobody bothers to awaken them. Were they not liked? They were probably snooty. TG they left an animal farm, nails and enough ammo to kill an army. Shipwrecked. The Ewoks would have barked at the unrealism the family used to erect a tree palace but it's fun Disney magic. As they settle into tranquility the parents ponder the future of their three sons. The boys would inherit nothing without women to love lest they do the animals or worst, each other. A trans boy makes it onto the island and Cain and Abel are awakened to some sexual clarity. It's preposterously gorgeous, impossible, animalistic, adventurous, violent and joyous.
28-Feb-2021
---
United States Vs. Billie Holiday (2021)
Men of the United States vs. a gifted opinion. She may have been a vampire but all the men sucked her dry. We cancelled her and she died. Who's fault is that? Andra Day. Her hard work is on the floor. She never reached druggy nirvana because she kept her light on even as things got darker. Pitch perfect on voice and beauty. The real legend was nasty and obtrusive. More of that. Trevante Rhodes is a cum daddy. I can cum by the thought of him. Tone Bell came and realized the fantasy but Rhodes went and smashed it with inhuman muscular sex. Rob Morgan is the guy with the 18 1/2" just older. Yum. Lee Daniels does not fuss too much. He wants to tell a clean story. When he imagines a woman's sensuality through the eyes of a victimized child, it is golden but when he doesn't subjugate us with it, the passion is lost. It would have been diamond had he folded with consummation. He couldn't give in to that. (We can take it daddy.) He kept the politics low and gave the legend the last laugh. That's cool.
27-Feb-2021
---
Strongest Man In The World, The (1975)
Inventing the formula that adds super-human strength to a person. A Disney kabob of good nature, silliness, comedy, simplicity and pro efficiency run amok.
24-Feb-2021
---
Nomadland (2020)
How to minimize your carbon footprint by living like a dot. Though well portrayed and explored the film only pulled sadness from me.
19-Feb-2021
---
Space Sweepers (2021)
The earth has become Mexico red. 5 percent of the privileged population safely inhabit space while governing the remaining 95% that will die with earth. Space sweepers clear space from waste. It's a competition. The team who swipes it first wins and gets paid. I got absorbed in its universal travelogue. I wanted to see more of dying earth and plastic earth but understood the budget restrictions. They concentrated on delivering a humane story against a space adventure. The robot is a human-like child set to detonate and cause a nuclear disaster on earth. She is the new cargo the Victory ship undertakes. They are afraid of her as they are enamored. It's done with cheeky humor, a team that kicked ass and a heart that saps with the wind. It doesn't hit your face in a glob. It spreads out so you can gently dab. Every representation spoke their language and it sounded musical and educational. The little girl was adorable and the action was Tony The Tiger.
18-Feb-2021
---
Avengers, The (2012)
Arise the madness. Superhero magnificence.
16-Feb-2021
---
Pete's Dragon (2016)
This is the the corny one but not to death. Elliot is a majestic dragon with fur and radioactive green. It still acts like a dog but it's butchy. Slave boy becomes orphan boy after wandering off into the forest post a fatal family crash. He is adopted by Elliott, becomes Tarzan boy, lives with animals, lives like animals and acquires 6 years knowledge of the English language by reading the same baby book over and over. No. The dragon doesn't talk. He whimpers. I frown on animals talking but dragons don't exist so it's okay for them to talk when we need shit explained. Redford was enervating, Howard was luminous and Fegly imagined. Sweet and magical moments stand out.
16-Feb-2021
---