Movies
---
Rating key:
Welcome to Errattic! We encourage you to customize the type of information you see here by clicking the Preferences link on the top of this page.
Modern Problems (1981)
Its point is to be mean-spirited and indifferent.
(Chevy gets points for his gams.)
06-Jun-2019
---
Moonstruck (1987)
New York is golden and everything else is a diamond. It allows you to believe that love always happens.
(Dude, Cher's in it.)
06-Jun-2019
---
Waiting To Exhale (1995)
The film traverses the illusions concocted and destroyed in the relationship jungle. The men are sadistically hot and the women abduct us bringing forth what we most love of their essence.
02-Jun-2019
---
Object Of My Affection, The (1998)
The intention is for its gay representation to be inclusive and equal to a straight lifestyle. It touches upon authentic concerns but its reality is askew. The main two keep chugging the charm and Allison Janney creates stillness when she exits a shot. It's a gay film made mostly to satiate a hetero audience.
20-May-2019
---
Strange Love Of Martha Ivers, The (1946)
Grand style backstab bonanza.
20-May-2019
---
Blume In Love (1973)
A man thinks he can redeem his indiscretions by realizing his wife is the love of his life. The women keep it real, the story never flinches and George Segal keeps it nervously serial. The outcome is so fucked up it loses its purpose.
14-May-2019
---
Ben Is Back (2018)
A Mother's Day Celebration card. Roberts is luminous lending artistic strength to a mother's compassion and struggle to save her addicted son. Her heart is her valor. Lucas Hedges adds fatigue to the privileged son who defies the comfort his family provides. He suddenly awakes to redemption while implicating everything he cared about.
05-May-2019
---
Avengers: Endgame (2019)
Cavalcade of superheroism, delineation and valediction of character, celebratory milestones and sentimental affection. CGI triumphs achieving Hulk fuckability and Thor squishiness. A rousing crowd pleaser.
04-May-2019
---
Take Me Out To The Ball Game (1949)
The music is basic, the costumes adorn and the script pushes feminine empowerment forward. The film would supply very little if it weren't for the entertainment value of its three pro athletes (Sinatra, Williams and Kelly.)
02-May-2019
---
Venom (2018)
Tom Hardy is so excited to be Venom that when the monster actually appears he's CGI elemental. The villainy is alike which lends the film no diversity in magic or action. It could have escalated had it embraced its horror DNA.
26-Apr-2019
---
All Male All Nude (2017)
The men exhibit and enjoy physical nudity but they appear clammed up about matters of the soul. I was more interested in what they couldn't say than what they did.
22-Apr-2019
---
Morgan, The Pirate (1960)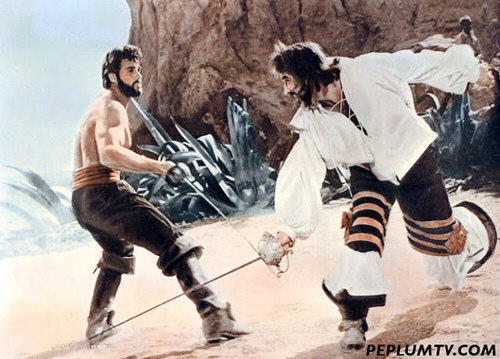 Spanish history, slave trade, pirates, wenches and ship wars. Plenty of action and debauchery for short attention spans and Steve Reeves exposes body beautiful to keep the eyes fixed.
20-Apr-2019
---
Key, The (1958)
Heroic men accepting military suicide missions during WWII. Sophia provides the wife they would never know and a facsimile of a home, in return, she gets to eat. The stars lush blowing every romantic nuance onto the screen.
12-Apr-2019
---
Harder to watch than it was to read.
12-Apr-2019
---
Middle Of The Night (1959)
He's an old codger chasing love, she's the beauty of youth that may never love but will be loved. Each side is insightful, frustrating and climactic. Frederic March beats his heart as many times as Kim Novak excites it.
06-Apr-2019
---