Movies
---
Rating key:
Welcome to Errattic! We encourage you to customize the type of information you see here by clicking the Preferences link on the top of this page.
Venus In Furs (1969)
Hot stuff (James Darrin) obsesses over dead girl. Like the drugged out haze it was written and directed in, the film lingers on aspects that make it boring. It was bold to include an interracial couple and lesbians romping freely but the sex scenes consisted of a man's back against a woman's catlike nails on repetition. Giving Barbara McNair the insufferable title song hurt her vocal chords and our ears. By the end, you'll feel as misplaced as James Darrin.
20-Dec-2019
---
Daughters Of Darkness (1971)
Newlyweds get their honeymoon interrupted by voracious lesbians. It's mystery stays locked until the end, probably so we don't question how illogical it is. The protagonists keep it sexually charged and violently demeaning.
18-Dec-2019
---
Hellboy (2019)
Hellish Arthurian legend. It couldn't hit the masses because it keeps its characters and premise grotesque and blood-soaked. David Harbour conveys the title monster but his unappealing design lends him no superhero charisma. Cult status may grant its futility and relentlessness, crap fun.
18-Dec-2019
---
Favourite, The (2018)
Filching the power of a doddering and enraged queen for self preservation. The lead trio combine with the word to exact the wit, scandal and one-upmanship that exists between women. Emma Stone's ambition cuts like a hurling knife, Rachel Weisz is all-business, running from said knife and the glorious and hilarious Olivia Colman covertly catches the knife to use against whom she pleases. Olivia opens like the wounds that appear during her illness.
16-Dec-2019
---
Heroes of Evil, The (2015)
Revenge boomerangs, bullying turns you serial and little boys do fucked up things.
15-Dec-2019
---
Ready Or Not (2019)
Why in-laws don't have an official holiday celebration. It quick starts with ease and foreboding with Samara Weaving transitioning from blushing bride to Harley Quinn but it fails to stay on track and the payback doesn't live up to its promise. If the groom had been unaware and a convincing price tag applied to the hunt it would have curtailed the buffoonery.
15-Dec-2019
---
Hallow, The (2015)
Environment enacts revenge for interference. The chills are comprised of adorable baby in danger distress.
11-Dec-2019
---
Marriage Story (2019)
I miss the glamour of Hollywood. It's a dead art because we think that celebrating beauty diminishes the underwhelming. A film is a dream. When I dream, I want to go to heaven. I don't want to dream about Martha down the street with her torn robe, washing dishes. Everything is a little bigger and a lot more perfect. We have professionals who can transport us to a shinier world that we might want to emulate. It's a waste of superbeings! I'd watch no classic movie ever if the creators hadn't turned fabulous into an art. We know it's fake, they're not portraying crack addicts and drab sucks.
09-Dec-2019
It celebrates the act of divorce like it's a novelty few of us have experienced. Driver and Johanssen rip through an earsplitting script that offers little insight, poetry or pizzaz. The Gods and Goddesses come down to earth to portray us with little celestial beauty to trim the boredom. Laura Dern knows.
09-Dec-2019
---
Winter Meeting (1948)
Hulkean war hero has a hard time relinquishing his power to serve God but Bette's there to help. There are reflective moments on mental health when the characters spill and expound. Bette gives the character her established perfection and James Davis is the right giant to pound the rigidity out of her but it defined without comprehensive deduction.
09-Dec-2019
---
I Lost My Body (2019)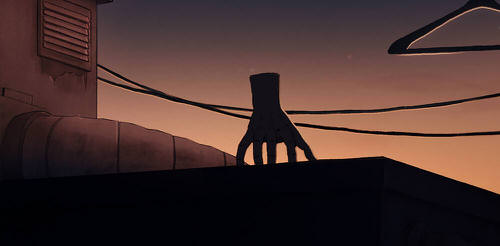 It lost me at the misadventures of a hand.
09-Dec-2019
---
I could only survive 15 minutes.
08-Dec-2019
---
Neon Demon, The (2016)
The art of devouring beauty. The film is stuck on carving striking visuals to move itself along, never defining its purpose or giving a well cast tenacity. We tend to fear beauty but it's our reaction that stirs it.
08-Dec-2019
---
Terror Is A Man (1959)
The lesson always seems to insinuate that when man interferes with the environment, even if it it is to save us, it only exacerbates the situation. The creeps activate, the atmosphere encompasses it and the main alphas (male & female) are surreal.
06-Dec-2019
---
Something (2018)
It was starting to feel like an allegory for reluctant parenting but the writer couldn't unhitch from irrelevance.
05-Dec-2019
---
Satan Met A Lady (1936)
They hired accomplished actors to line read with little expression except snide, stupid or cute. The characters are comic strip flat.
04-Dec-2019
---