Movies
---
Rating key:
Welcome to Errattic! We encourage you to customize the type of information you see here by clicking the Preferences link on the top of this page.
Irishman, The (2019)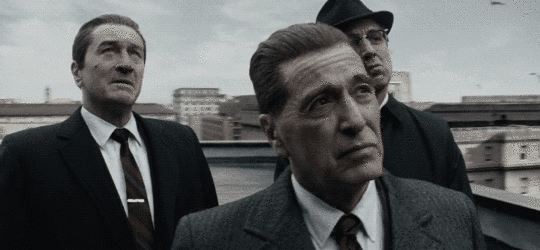 The film punched a hole in the walls I had built being a mobster's kid which I only recently realized. It deftly displayed the inner workings of what my father's life was as opposed to how I experienced it.
The more the legends stripped to the third layer the more astonishing the outcome. Pacino roared, DeNiro resolved, Pesci divested, Romano rattled, Maniscalco (pants daddy) plundered and Jim Norton was uncanny. The women were prescribed little voice yet supplied haunting images.
Scorcese realized the gangster of today and allowed him to pay for his regrets.
28-Nov-2019
Old feeble men playing dress up. The intensity of the work is evident as is the three hour sacrifice to honor the best of it but most of it is unwarranted. The pros are welcome faces and the force is evident. I'm halfway in and I want to record my experience in parts. The history is concentrated and the genre is foolproof. While I've had highs with many of these men, it feels like they never moved forward or learned from their mistakes. Where's the now gangster? Scorcese masters the downfall of every criminal hero he builds yet the audience always ends up glorifying him.
27-Nov-2019
---
Annihilation (2018)
Mutations. It's a well served platter with no additives or dessert. I wanted to eat from Gina Rodriguez' buffet table. The girl knows how to pour it and yell for seconds.
27-Nov-2019
---
First Man (2018)
Gosling boxed his cereal face to grant us a complex and fretful hero and Damien Chazelle hurls us onto a technically pointed and miraculous journey.
24-Nov-2019
---
X-Men: Dark Phoenix (2019)
McAvoy added a comedian's twirl at the tip of his Xavier accent and Lawrence appears like she's having facials with strangers. Little effort is evident by a cast of talented people. It saps and cheers for itself and it talks too much.
If the film had impressed the combustion that Fassbender and Chastain were percolating, the makers would had made a winner.
24-Nov-2019
---
Terminal Man (1974)
Adding a computer to a killer's brain was supposed to rehabilitate him. It was progressive. It had a prominent female doctor and a black magician's assistant.
Joan Hackett was an accomplished Sarah Paulson without the amount of accolades.
George Segal was dumbfounding, cringingly stamping the mediocrity evident in the poor treatment of a great story.
22-Nov-2019
---
Butterfield 8 (1960)
Anatomy of a slut. The downfall of insatiable passion is perception. La Liz pounces, purrs and self-destructs. She is not allowed empowerment because she wont march. She wont march because she's empowered. The dialogue is sharp and reflective, the mothers are concerned and full of wisdom and the men can't think pass their hunger. The honest speak seemed closer to a resolution than the unsighted delusion of today.
17-Nov-2019
---
Animas (2018)
Friend of a friend starts experiencing supernatural episodes after her friend starts dating. For the majority of it, it follows typical horror terrain where nothing makes sense and the end is sure to be crappy but when they explain it, it all falls into place.
15-Nov-2019
---
Starred Up (2013)
Fixing anger management whilst in prison. Jack O'Connell wholly conveys a ferocious and unchained delinquent with soft edging. Ben Mendelsohn is definitely the dad you don't want raising you in prison. Rupert Friend is the therapist that wants to reform them expressing very well through character evolvement that they can also reform him. Well acted, "candy-colored," well made. A take on the anger that builds in the underprivileged man.
15-Nov-2019
---
To evoke such oddities, the landscape needs to be bathed in color. Splattering random thoughts willy nilly to fill it, feels like forgery. It slackened my brain to the point of sleep. I woke to a frenetic ending that confirmed my not wasting time with the middle. I didn't get it.
15-Nov-2019
---
A Summer Place (1959)
Avoiding becoming like our parents by following in their footsteps.
Mother misinformed (Constance Ford) desexualizes and humiliates her daughter because she's afraid of acquiescing to her grunt husband.
The fuckable grunt (Richard Egan) is frustrated but soft wanting to understand the new world while being forced to follow the old.
Graceful mom (Dorothy McGuire) is all want in her eyes of a time passed that has returned.
Drunk daddy (Arthur Kennedy) shovels the truth and blows it in their faces.
Troy Donahue is a dreamy Groot with a slight bigger vocabulary. Beauty is an expression onto itself.
Sandra Dee was the girl next door living in a cloud.
The film was panned but successful. It spoke frankly about sex, it epitomized its time and predestined ours, for each question raised there was a consequence, for every character, a reason. It was a time to question life... the old and the new.
(It deserves restoration.)
13-Nov-2019
---
How To Be A Latin Lover (2017)
From hunk to chunk. Cliche comedy ease with a different culture. Derbez acquits comedy bravery, Hayek paints with passionate strokes, Taylor and Lavin jolt old ladies upright, Bell resuscitates with sunshine hypocrisy, Lowe institutes and Welch exalts. It's corny and safe, celebrating the importance of family while making us laugh.
11-Nov-2019
---
Forbidden Planet (1956)
Space travel, pretty alphas, a lush otherworldly landscape and a progressive robot. A modern Eve (Anne Francis) coming into full sexual bloom to a cavalry of starved men is an intriguing aside. She meanders flirtatiously amongst them until the bull (Leslie Nielsen) that stokes her ire compels a passionate kiss. The effects contain enough creative thought and subtlety to survive its time, the direction goes beyond the page and the words resound with clarity.
(I'd gladly trade an Alexa for a Robby)
10-Nov-2019
---
Spider-Man: Far From Home (2019)
It brings enough childhood comic book thrills to life to score. Jake is best when he's romancing and fighting Peter Parker. The Spidey suit fashion show vibrated, Holland owns it and Zendaya purrs it.
09-Nov-2019
---
Last Time I Saw Paris, The (1954)
War, Victory, Love and Life. Taylor struts gorgeously, as does Johnson's Herculean mane. Reed drops sweet for acid, Eva asserts manhunter and Moore is fine cuisine. The dialogue snaps, sexual freedom is commonplace and money kills God's Plan. The story lingers then quickens but star lush endures.
09-Nov-2019
---
You Better Watch Out/Christmas Evil (1980)
Insanity celebrates Christmas. The film attempts to psychoanalyze our hero but the construction is not mentally capable.
07-Nov-2019
---