All Posts Tagged as 'History'
Welcome to Errattic! We encourage you to customize the type of information you see here by clicking the Preferences link on the top of this page.
'Dukes of Hazzard' Stars John Schneider and Tom Wopat Respond to Renewed Controversy Over Car's Confederate Flag 
For a family show about two good old boys, The Dukes of Hazzard has seen its share of controversy.

Before it even premiered on CBS on Jan. 26, 1979, then-CBS programming chief B. Donald Grant squared off with a roomful of TV critics who hated it. Among their objections was that "the two male leads appear to be on the wrong side of the law, that the subject of illegitimate parenthood was treated humorously, and that one of the female regulars is often seen in skimpy costume," according to a Hollywood Reporter account. One North Carolina critic went further, calling the show's stereotypes "out of line with the New South."

Grant ignored the critics and Hazzard went on to air on CBS from 1979 to 1985, winning over millions of ardent fans in the process. In its initial run, the series drew as many as 20 million viewers per episode and by its third season had become the second-biggest show on TV.

"I have never had an African American come up to me and have any problem with it whatsoever," John Schneider (Bo), 60, tells THR, adding that "the whole politically correct generation has gotten way out of hand."

"There are 80 million descendants of the Confederacy — one out of four people has that heritage. Most of them have no problem with the flag at all," Jones asserts. "This was a family show. Black families watched it for generations. I know this. I had a [congressional] office right there in the Martin Luther King district. King's right-hand man Andy Young is a dear friend of mine. We couldn't care less about rebel flags."
Liberal writers, activists sign open letter calling to end 'cancel culture'
---
Black Americans report hate crimes, violence in wake of George Floyd protests and Black Lives Matter gains 
When it comes to families, a viral video shows a white woman pointing a gun at a Black family in a Michigan parking lot and a Black Muslim woman and her two children allegedly had a gun pulled on them by their neighbor in Washington state.
Three people killed, cop injured in Florida shooting over 'dangerous' dog
Video shows fatal restraint of Cornelius Fredericks, 16, in Michigan foster facility
Comedian Rickey Smiley reveals his daughter was shot twice and hospitalised in Houston road rage shootout
All-white Mississippi county board votes to keep Confederate statue standing in their city square, claiming its removal would do nothing to help ease racial tensions
'The Five' rips CNN's Don Lemon for dismissing Terry Crews in heated interview
Michigan drivers met with startling billboard message: 'Driving while Black? Racial profiling just ahead'
Suspect arrested in connection to vandalized Palm Springs community center
2 Birmingham teens, man charged in deadly shooting at Riverchase Galleria mall in Hoover
Car drives into protesters at rally for the Black victim of an 'attempted lynching' in Indiana
---
'I was scared of him': Thandie Newton reveals Tom Cruise left her 'terrified and insecure' on Mission: Impossible II set... as she gives insight into working with the 'dominant and stressed' actor
Thandie Newton has given a candid insight into the dramatic nature of working with Tom Cruise on Mission: Impossible II in 2000.

The British actress, 47, played Tom's character Ethan Hunt's love interest Nyah Nordoff-Hall in the movie two decades ago, and in an interview with Vulture she has shed light on feeling 'terrified and insecure' on-set of the movie.

In an anecdote about filming a scene in Spain, the Westworld actress boldly admitted: 'I was so scared of Tom. He was a very dominant individual. He tries super hard to be a nice person. But the pressure. He takes on a lot.'
---
How Tracy Sherrod Came to Lead America's Oldest Black Publishing Imprint
Lauren Michele Jackson recently wrote a piece for Vulture, looking at lists of Black texts that pop up whenever there's a galvanizing incident of racial violence. A lot of the magazines and websites will publish a list like, here's what to read to think about race. Jackson wrote. "Aside from the contemporary teaching texts, genre appears indiscriminately: essays slide against memoir and folklore, poetry squeezed on either side by sociological tomes. This, maybe ironically but maybe not, reinforces an already pernicious literary divide that books written by or about minorities are for educational purposes, racism and homophobia and stuff, wholly segregated from matters of form and grammar, lyric and scene." I'd really like to hear your perspective on this, because you publish books about race, but you publish books about everything. Do you think readers should be looking at books as curative or as medicine for toxicity and racism in this culture?
---
Everyday words and phrases that have racist connotations 
The words and phrases permeate nearly every aspect of our society.

"Master bedrooms" in our homes. "Blacklists" and "whitelists" in computing. The idiom "sold down the river" in our everyday speech.
Many are so entrenched that Americans don't think twice about using them. But some of these terms are directly rooted in the nation's history with chattel slavery. Others now evoke racist notions about Black people.
Racist Social Media Posts From Students Are Forcing Colleges to Respond
---
Why Joss Whedon's Angel Was Cancelled After Season 5
Debuting in 1999 on The WB after Angel's season 3 departure on Buffy the Vampire Slayer, Angel both continued and expanded the Buffyverse, allowing characters from Buffy to find new potential—and better character story arcs—on the spin-off. Though the show revolved around the titular character, Angel (David Boreanaz), it expanded on a much larger universe and centered around the realistic setting of Los Angeles rather than the fictional, Hellmouth-based Sunnydale, California. This setting change not only allowed for more realism, but allowed Whedon and his writers to explore the gritty, crime-laden underworld of the city's seedy underbelly that was practically littered with demons.

Angel was not only a stark contrast from Buffy in terms of him being a brooding, dour ringleader, but the show took a darker premise and made him out to be almost Batman-esque in terms of his desire to intervene and "help the hopeless" with his team at Angel Investigations, a private investigating firm that specialized in doing battle with those who found themselves under demonic influence or in harm's way due to some supernatural threat. It took what worked for Buffy the Vampire Slayer—a "monster of the week" format, Whedon's signature humor, and lovable characters—and managed to become another success for The WB. Even so, it was canceled, which came as a shock to fans, as it hadn't seen a decline in ratings or viewership, and in the lead-up to season 5, seemed to have a lot more story to tell.
---
Black Lives Matter's Silence on a Champion of Racial Equality
One name that goes conspicuously unmentioned by those self-proclaimed champions of racial justice such as Black Lives Matters is an internationally acclaimed American hero who lived his life for racial equality. Martin Luther King Jr. gave his life for it, too. King's quest for equality and his legacy are inconvenient for today's vigilantes, because his efforts contrasted sharply with theirs—both with regard to their goal and means.

While today's self-righteous violent protesters have left vulnerable inner-city neighborhoods devastated and residents in tears of anguish, King staked all he had on a belief in the unifying power of passive resistance and nonviolence, as did others who brought about worldwide change, from Mahatma Gandhi to Nelson Mandela.

Today's racial-grievance opportunists portray blacks as impotent victims, unable to move forward or upward under the weight of a legacy of slavery and the all-purpose villain of institutional racism. In their agenda, equality of opportunity makes no difference. Instead, their proclaimed goal is to demand equality of outcome by monetizing the suffering of their ancestors as reparations—checks that would be handed to them. The demand for reparations ignores problematic issues of who should pay for and who should receive remuneration and the situation of the descendants of blacks who owned slaves and of those who arrived on our nation's shores—penniless but filled with hope—long after the end of slavery. The accounts of sports superstars of the NFL and NBA who were once millionaires but ended up bankrupt can serve as cautionary tales regarding the inconsequential impact of cash payouts in the absence of qualities such as delayed gratification, personal restraint, and foresight.

In contrast with today's racial justice vigilantes, King did not advocate lowering the bar for standards of behavior and ethical values among those he represented. The most aspirational element of his famous Dream was that his children would one day be judged by the content of their character. The history of the black community is replete with evidence that, even against the greatest odds and oppression, moral qualities of personal responsibility, determination, integrity, and mutual assistance were sufficient to empower men and women to achieve success.
---
77% of White Voters Approve of Police, Just 26% of Black Americans Agree 
While approximately 68 percent of American voters approve of the job the police are doing, according to a new Hill-HarrisX poll, that percentage drops down to 26 when only Black voters are counted. Comparatively, 77 percent of white voters approve of how police are doing their jobs, revealing a racial divide when it comes to how police are perceived.

An online poll of 951 registered voters conducted between June 22 and 23 asked respondents whether they approved or disapproved of the jobs of different workers. These groups included the police, healthcare workers, local politicians, journalists and national politicians.

Overall, healthcare workers had a 94 percent approval rating amongst all voters, local politicians received 62 percent, journalists got 59 percent and national politicians got 56 percent.
There is no epidemic of fatal police shootings against unarmed Black Americans
Controversy over keeping police in Chicago schools rages on, moves to City Council
Wealthy Hamptons Residents Are Hiring Security Guards After Protests
Portland police declare riot as protests turn violent again
Fact check: 1994 crime bill did not bring mass incarceration of Black Americans
---
Twitter engineers replacing racially loaded tech terms like 'master,' 'slave' 
For Regynald Augustin, a Black programmer at Twitter, the impetus for change arrived in an email last year with the phrase "automatic slave rekick."

The words were just part of an engineering discussion about restarting a secondary process, but they prompted Augustin to start trying to change Twitter's use of words with racist connections. Augustin was used to seeing the term "slave" in technical contexts. "But with 'rekick' -- I was madder than I ever thought I'd be in the workplace," he said.

First on his own and then joining forces with another engineer, Kevin Oliver, he helped spearhead an effort to replace terms like "master," "slave," "whitelist" and "blacklist" with words that didn't hearken back to oppressive parts of United States history and culture. He recounted his thoughts at the time: "This has to stop. This isn't cool. We have to change this now."
Delaware city removes whipping post once used to punish Black people from public plaza
Dr. Benjamin S. Carson Sr. Statues of George Washington and other heroes are being razed. We should be celebrating them.
'Mad Men' Adding Disclaimer to Episode Containing Depiction of Blackface
How can we have a conversation about race when we don't talk about it?
Silencing 'Song of the South': Why Disney's most racist film remains a cultural flash point
---
'We Have A Black People Problem': Facebook Worker Claims Racial Discrimination 
A Black Facebook employee is accusing his employer of racial discrimination.

In a complaint filed Thursday with the Equal Employment Opportunity Commission, Oscar Veneszee Jr. said the social network does not give Black workers equal opportunities in their careers.

"We have a Black people problem," Veneszee told NPR. Veneszee is a Navy veteran who recruits other veterans and people of color as part of diversity initiatives at Facebook's infrastructure division. "We've set goals to increase diversity at the company, but we've failed to create a culture at the company that finds, grows and keeps Black people at the company."

Veneszee, who has worked for Facebook since 2017, filed the employment discrimination charge along with Howard Winns, Jr., and Jazsmin Smith — both of whom Veneszee recruited — who said they applied to work at Facebook but had not been hired, they alleged, because they are Black. The claim, they said, was filed on behalf of "all Black Facebook employees and applicants to Facebook."
After This Teen Posted A Selfie Comparing Herself To An Avatar The Last Airbender Character She Got Racist Comments
A 911 call, a racial slur, a refusal to cash a check. This is what it's like for some Black bank customers
Catholic Priest In Indiana Suspended After Calling Black Lives Matter Protesters 'Maggots'
2,120 hate incidents against Asian Americans reported during coronavirus pandemic
Historian David Starkey says slavery wasn't 'genocide' or there 'wouldn't be so many damn blacks'
MIT Takes Down Popular AI Dataset Due to Racist, Misogynistic Content
Washington's NFL nickname under new scrutiny in wake of anti-racism protests
White woman who pointed gun at a Black mom and her teen daughter charged with assault
Black families pay significantly higher property taxes than white families, new analysis shows
---
Carl Reiner, Comedy Patriarch, Dies at 98
If Carl Reiner had written a deathbed memoir, it would have been titled Exit Laughing. After all, the legendary comedy writer, performer, and director had already published Enter Laughing and Continue Laughing. Having conquered TV, movies, Broadway, and traditional publishing over his seven-decade-plus career, Reiner spent his last years mastering e-books and Twitter, writing and tweeting until Monday night, when he died at age 98 in his Beverly Hills home, TMZ reports. Reiner died of natural causes, Variety writes. He was prolific til the end, even sitting for an interview in an episode of the YouTube series "Dispatches from Quarantine" that premiered on June 22.
---
A White Couple Was Caught on Video Pointing Guns at Black Lives Matter Protesters in St. Louis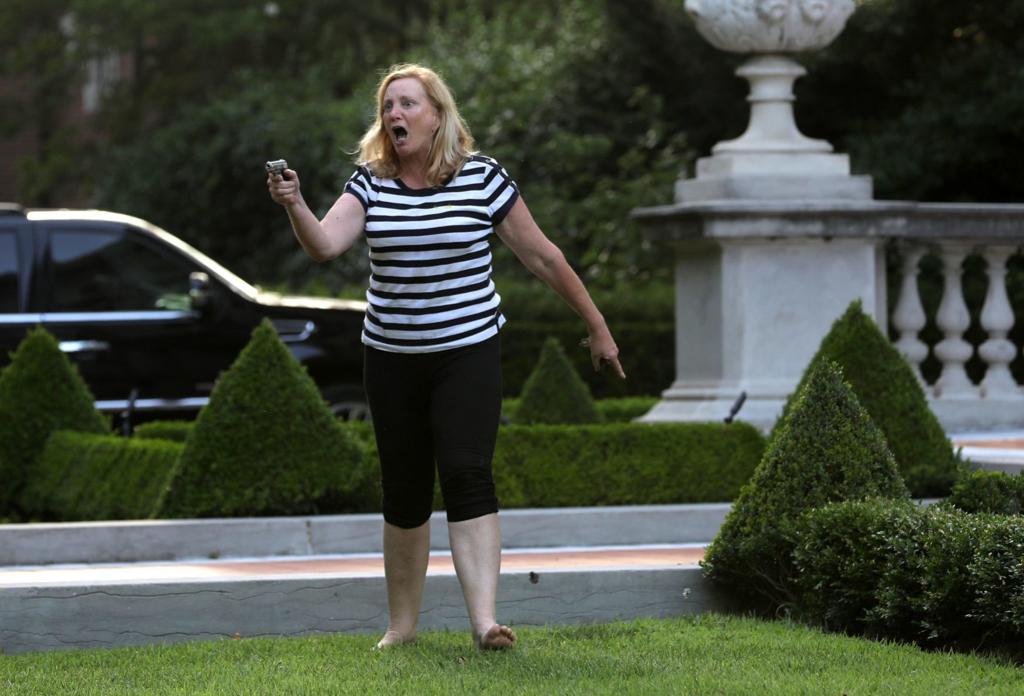 An armed white couple waved their guns and yelled at Black Lives Matter demonstrators in St. Louis on Sunday, during a protest march to St. Louis Mayor Lyda Krewson's home.

At least 500 people peacefully marched through St. Louis' Central West End neighborhood on Sunday demanding Krewson's resignation, according to the St. Louis Post-Dispatch. Krewson appeared in a Facebook Live video last week reading the names and addresses of people who had called for defunding the city's police department.
Man Fired for Racist Rant Supporting Slavery and Lynchings of Black People
John Wayne's son responds to resolution calling for John Wayne Airport to be renamed
Michigan Woman Yells Racial Slurs at New Neighbors in Viral Video
San Jose man charged with hate crime in Santa Cruz assault incident
Adam Carolla defends Jimmy Kimmel over blackface backlash: 'We've lost our minds'
Little Caesars fired two employees after a couple found a swastika made of pepperoni on their pizza
---
California Abandons Equality under the Law
Here are some unexpected developments: In Mississippi, Republicans have decided to excise the Confederate flag; in California, Democrats have decided to legalize racial discrimination.

Who had that on their 2020 bingo card?

In 1996, California voters by a substantial margin enacted a constitutional amendment reading: "The state shall not discriminate against, or grant preferential treatment to, any individual or group, on the basis of race, sex, color, ethnicity or national origin in the operation of public employment, public education, or public contracting." The Democrat-run state legislature has just voted to repeal that amendment.

California had a long struggle with race-based admissions practices in its public universities, most famously with the Bakke case, in which the Supreme Court upheld race-based policies. The 1996 amendment was an attempt to sort that out in the most straightforward fashion, by insisting that the state take no notice of race at all in its policies. That was, for some generations, the great aspiration of most good-hearted Americans, who took it to be the dream of the Reverend Martin Luther King Jr.'s famous speech.

California Democrats such as Assemblyman Todd Gloria insist that eliminating rules against racial discrimination are necessary to "advance true racial and gender equity in this state." That is, of course, nonsense. It is, in fact, self-refuting nonsense — the fact that the ethnic makeup of California's state universities does not reflect the ethnic makeup of the state is not an indictment of colorblind university policies but an indictment of the state's K–12 education system and other institutions. Racial preferences do not create equality — they camouflage inequality.
---
'Golden Girls' blackface episode removed from Hulu 
Not even "The Golden Girls" are immune to blackface backlash.

"Mixed Blessings," a 1988 episode of the beloved comedy series, has been yanked off the content-streaming platform Hulu for its depiction of two white characters sporting darkened faces, according to The Hollywood Reporter.

The episode features Michael (Scott Jacoby), the son of Bea Arthur's Dorothy character, planning to wed African-American fiancée Lorraine (Rosalind Cash), who's twice his age.

While Dorothy is anxious over the extreme age difference, Lorraine's family disapproves of her marrying a white man. The two families then scheme to sabotage the couple's engagement.
Cosmetic giants removing the word 'whitening' from products, realtor association stops using the word 'master bedroom'
A Blackface Moment From "The Office" Has Officially Been Edited Out Of The Series
---
Was Jesus Black Or White? How One Church Leader Just Changed The Debate
What race was Jesus of Nazareth, one of the most consequential figures in the history of the world? Nobody can say for certain, but based on recent comments by the head of the Church of England, it is time to revisit whether or not Jesus should be portrayed as a white man.

In an interview with the BBC Radio 4's Today programme, Archbishop of Canterbury Justin Welby addressed the question of how the western church portrays Jesus's race. When asked by the interviewer if the way Jesus is represented through imagery, and whether it is time to "reimagine" the physical presentation, the Archbishop was candid.

Many critics also claim that the Eurocentric representation of Jesus has been used to perpetuate white supremacy and reinforce racist stereotypes that deify whiteness while demonizing Black individuals. The white representation of Jesus is also deemed by many to be an offensive disregard of the possibility that Jesus himself had a Black complexion.
---