All Posts Tagged as 'Action'
Welcome to Errattic! We encourage you to customize the type of information you see here by clicking the Preferences link on the top of this page.
In the poorest county, in America's poorest state, a virus hits home: 'Hunger is rampant'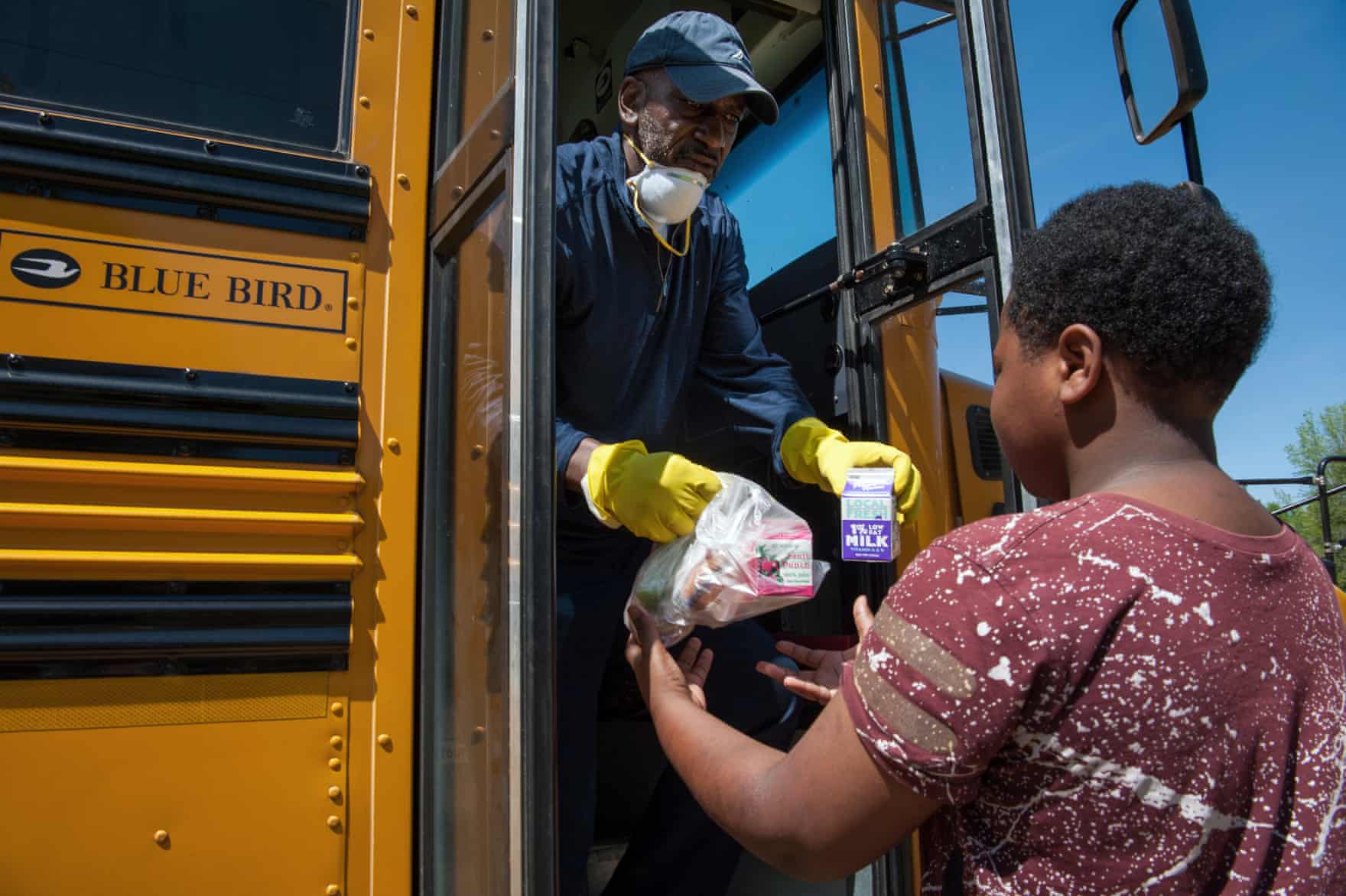 On the cracked country roads of Lexington, deep in the Mississippi delta, an empty yellow school bus drives slowly, making life-sustaining drop offs on the way.

Here, in the poorest county, in America's poorest state, the coronavirus has yet to ravage the jurisdiction with infection. There has been one recorded Covid-19 death in the county, Clinton Cobbins, Lexington's first African American mayor. But even now the coronavirus still poses a serious threat to life.

In Holmes county consolidated – the school district to which Lexington belongs – every single child qualifies for free school meals, a marker of pervasive poverty. For many, said superintendent Dr James L Henderson, breakfast and lunch at school are the only nutritious meals a student will eat in a day. For a few, they are the only meals.

When the coronavirus pandemic led to statewide school closures, Henderson, who was born in the county, left for most of his adult life, but returned in 2018 to assume his position, was left with a significant dilemma: how to feed the 3,000 children under his authority.
---
Irony: Hate Crimes Surge Against Asian Americans While They Are On The Front Lines Fighting COVID-19
There have been a lot of encouraging stories about peoples' acts of generosity and kindness during the COVID-19 crisis. Unfortunately, human nature has its bad side too and the crisis has brought out some of our worst qualities including xenophobia, racism and, in some cases, violence.

Hate crimes against Asian Americans and Asian immigrants in the United States have been surging. It has ranged from verbal harassment to denial of services to physical attacks. There is no way to know, but President Trump's insistence on calling COVID-19 the "China Virus" certainly doesn't help. It is true that the Chinese government acted abysmally, for example, initially denying that the virus could be transmitted person to person. But China is hardly a democracy and the Chinese people were the victims rather than the perpetrators of this cover-up.

In fact, Asian Americans and Asian Immigrants to the U.S. deserve our thanks for their role in responding to the COVID-19 crisis. First of all, they are vastly over-represented among the front line medical workers who are treating those who have been infected. Seventeen percent of doctors, 9 percent of physician's assistants and nearly 10 percent of nurses in the United States are of Asian descent.
---
This 7-year-old is making and delivering care packages to the elderly shut in by the coronavirus
Cavanaugh Bell is a 7-year-old on a mission: "To help other people and let them know that I got their back," he told CNN.

At a time when senior citizens must stay in to avoid the coronavirus, the spirited boy in Gaithersburg, Maryland, decided to make them care packages.

"The packages include toilet paper, some flushable wipes, hygiene products and a bunch of food," he said.

'She's my best friend'

The idea came when Bell realized his 74-year-old grandmother is in a high-risk age group for coronavirus.
---
Pastor who thinks God can change someone's sexuality also think God will save him from coronavirus 
Andrew Wommack, who refused to condemn Uganda's "Kill the Gays" bill, supports traumatising conversion therapy and claims he witnessed his son rise from the dead, referenced a section from Exodus and said it proved that God would stop the faithful from becoming sick with COVID-19.

I've been studying just in the last couple of days, based on all of this, was Exodus 23:25, and that verse says that you shall serve the Lord your God, and He shall take away all sickness – take all sickness away from the midst of thee," Wommack said in the YouTube stream.

Anti-LGBT+ televangelist Andrew Wommack thinks God will 'turn off' cells and stop him from contracting coronavirus.
He then looked up the words "take away" in Hebrew and said they literally translate to "turn off".

Wommack then suggested that God will turn off "whatever receptors you have in your body that make you receptive to sickness" for Christians, which will apparently prevent them from being affected by coronavirus.
Roy Moore, who wants to ban gay sex, to represent homophobic pastor arrested for holding church services during lockdown
We Asked A Criminal Lawyer About Your Rights If You're Pinged For The Crime Of "Being Outside"
DUP politician makes terrible non-apology after saying coronavirus is God's punishment for same-sex marriage
---
Platform, The (2020)
It makes sense in the confines of the story but it's pretty preposterous without a big world picture. It's vile, claustrophobic and exhausting.
30-Mar-2020
---
Lobster, The (2015)
Couples rule in a post cruel world. If you don't find a mate they turn you into an animal. Its royal art of weirdness with little justification and a vivid imagination. Colin inherits a comedian's edge, puncturing the establishment in a catatonic state and making us laugh and cheer. Rachel Weisz keeps the heart of the film beating and Yorgos is crazy.
29-Mar-2020
---
Coronavirus-panicked dad locks son out of house after spring break trip 
Two weeks ago, Matt Levine's immediate concerns centered on where to find the best happy hour and coolest DJ. Now, he just wants his coronavirus-panicked dad to let him back in the house.

While residents in his hometown of Nanuet, NY, were hunkering down to avoid corona, 21-year-old Matt and his friends from Springfield College in Massachusetts hit up spring break in South Padre Island, Texas — and stayed there against the advice of his father, Peter Levine.

"I spoke with him every day and told him that maybe they should come home," Peter, 52, and a salesman, told The Post. "I was aggravated. The news here was getting worse and worse. Matt sent me pictures of him and his friends congregating outdoors and listening to live music. It's the scene you would not want to be in."

Finally, Peter told Matt and his buddies that they could not stay at the family home after the trip, as they'd planned. "His grandparents live here and there is no need to expose them to god knows what he had been exposed to!" Peter explained.
Miami Resident, Winter Party Attendee Israel Carreras Dies of COVID-19
---
Green Room (2015)
Band of vagabonds get punished by nazis for playing crappy rock or because they witnessed a crime. Sir Patrick Stewart was hired to class up the film and the "n" word. Anton Yelchin's heroism is a John Connor (Terminator) facsimile with substandard realization. The film lost me as soon as the punk picks up his phone to call the police for a kill that wasn't directed at him. What is the purpose of nazis if there is no racial conflict? (They don't need the props.) They were dim and disoriented and anything but scary. It stalls, it repeats, it celebrates and I believed very little of it.
28-Mar-2020
---
Autopsy Of Jane Doe, The (2016)
The autopsy is comprehensive, the actors are aligned and the corpse is an eerily beautiful masterpiece. The mumbo jumbo is handled scientifically which excludes genius insanity being the harbinger of truth and sets some practical scares for us.
27-Mar-2020
---
Teen with lesbian moms forced to listen to anti-LGBTQ "sermons" before school basketball practice
In a lawsuit filed earlier this month, two mothers in Tennessee allege that their son's middle school basketball coach forced kids to attend his sermons in order to stay on the team.

The lawsuit, filed by the mothers who identified themselves only as "K.K." and "K.K.," says that their son signed up for the school's basketball team, but no one told him that he would have to participate in any religious instruction to be on the team.

But Coach Chuck Comer then allegedly told the students that participating in a "Teens for Christ" program was a requirement for the team. Specifically, students had to show up 30 minutes before practice in the morning on Tuesdays and Thursdays to listen to Comer "read from and interpret the Bible for approximately 30 minutes."

Even worse, the son went to one of the sermons, which was allegedly about LGBTQ people and "sin." The teen was forced to endure "harassment on the basis of his parents' sexual orientation" to be on the team, the lawsuit states.
---
Rihanna's Foundation Donates $5 Million To Coronavirus Response
As various celebrities step up in the wake of the new coronavirus pandemic, Rihanna has donated $5 Million to fight COVID-19 via her Clara Lionel Foundation, the organization announced on its official website. "When we first began this year, never could we have imagined how COVID-19 would so dramatically alter our lives," read the statement. "It doesn't matter who you are or where you're from, this pandemic will affect us all. And for the world's most vulnerable, the worst may be yet to come."
---
Seven Brides For Seven Brothers (1954)
Men were men, maintaining the environment and women were the foundation of the home. Women complain and acquiesce; men do and expect. It was a time for falling immensely in love at first sight.. hearing about her... smelling her... he's fuckin' big. The cavemen are fuckable, idiotic and tamable. Except for the main and a purring pussycat the brides are an indistinguishable group. They desired less but they connived, demanded and bended it to their advantage like a future President. It's joyous to a fault especially when kidnapping little girls. The music no longer vibrates like it did but the hoofing was athletic muscularity.
20-Mar-2020
---
Anti-LGBTQ Hate Groups Are Surging in the U.S. 
The fastest growing number of known hate groups in the U.S. are focused on opposing LGBTQ rights, according to a report released Wednesday.

Last year there was a massive 43 percent increase in the number of organizations dedicated to opposing LGBTQ equality, the advocacy group Southern Poverty Law Center found in its yearly hate group index released on Wednesday. There were 70 anti-LGBTQ hate groups operating in 2019, as opposed to just 49 for the two consecutive years prior.

These battles are not merely being fought in the courts and in Congress. Many LGBTQ people are fighting to stay alive as homophobia and transphobia spread throughout the nation. Brooks said the uptick in hate groups correlates with a general rise in targeted attacks against the members of the LGBTQ community: A 2019 report released by the Federal Bureau of Investigations found that hate crimes against LGBTQ people had increased six percent over the past year.
Judge compares gay people to paedophiles as he sues for the right to be a homophobe in public
Preacher claims coronavirus is God's punishment for same-sex marriage – despite it being banned in China and Italy
Gay hero describes mass stabbing attacker to police right before he died
---
How Berkeley High's Whisper Network Sparked a Movement
BERKELEY, Calif.—Last month, a list appeared, scrawled with thick black marker on a stall door in a girls' bathroom at Berkeley High School. "Boys to watch out 4," it read. Six names followed, each appearing alongside allegations including "rapist" and "susAF" (suspicious as fuck). Written next to the list were instructions: "add names if you want," "stay safe, ladies," and "support each other always," followed by a drawing of a heart with an arrow through it.

The previous week, a lawsuit had been filed by a student against the school for allegedly mishandling an on-campus sexual assault case. It was far from the first time that Berkeley High was accused of failing to protect its students; a few years earlier, the school district even became the subject of a related federal investigation. Now, a student had taken things into her own hands.

The message went up during a morning class period and, just a few bell rings later, students poured into hallways now reeking of the harsh cleaning chemicals used to strip the list from the stall door.
---
'Learn. Protect your children from clergy.' The ABC's Revelation reveals a tragic story
The ABC's Sarah Ferguson has taken us into a place where most Christians have not wanted to go – up close and very personal with pedophile Christian leaders in her series Revelation on the ABC. The series focuses in scarifying detail on abuse by pedophile Catholic Priests.

Chrissie Foster, who has seen extreme family tragedy from clergy pedophilia, tells Eternity her response to Revelation: "If you have a child in the Catholic system you will learn that your child is worthless to the Catholic priesthood.

"If you have had doubt about the guilt of Catholic clergy over child sexual assault, you will learn that the hierarchy do nothing to stop child sexual assault after complaints.

"Oral rape of children …

"You will learn that clergy live a public life as a holy man and in private a life as a crime figure.

"You may have the Christian values they preach, but they don't.

"Learn. Protect your children from clergy."
---