All Posts Tagged as 'Camp'
Welcome to Errattic! We encourage you to customize the type of information you see here by clicking the Preferences link on the top of this page.
Was Hamilton aware he was great? This is the fine food you throw up when you overindulge and never want to eat again. I spent most of the time being old and looking at crotches. I actually caught a few silhouettes. Whatever planet I'm from, please beam me up. I really wanted to like it.
22-Jan-2021
---
Maleficent: Mistress Of Evil (2019)
Jolie's Maleficent is a sublime creature that never got a good movie written about her. Her work remains unmatched. Jolie, learning etiquette was funny and bright. The dinner choreography didn't make sense. Maleficent overreacted when the prospective in-laws hadn't hit her soft spot yet. Her denial of murder should have been the catalyst. Once the scene is set, it skits, stalls, enchants and sentimentalizes. It's better than the first one.
Also, don't call a witch evil unless she eats babies.
21-Jan-2021
---
Secret Society Of Second-Born Royals (2020)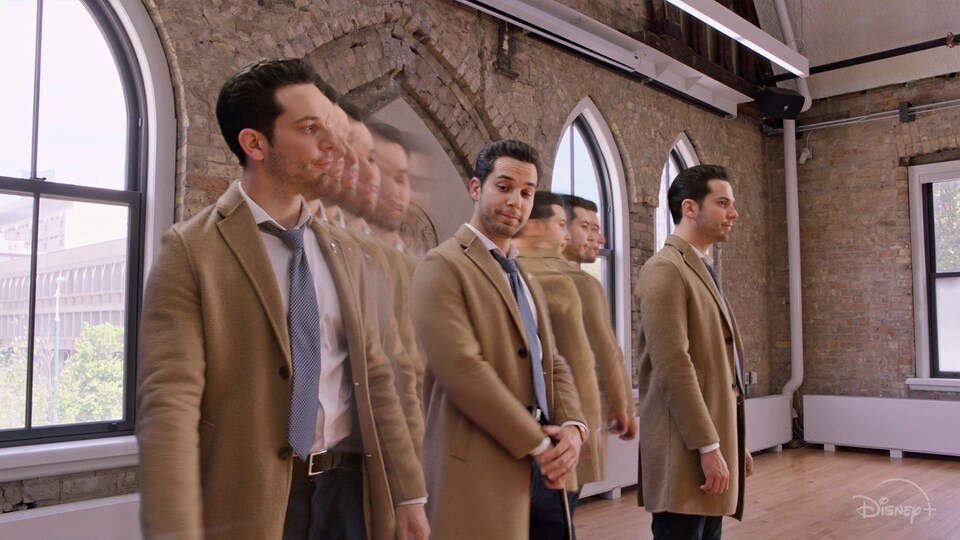 Teens born of royalty and irrelevance (they don't qualify for a crown) are redeemed with superpowers and covert missions to serve their nation. The powers are light, the kids are sweet, the action is wavy but the heart beats. A gay superhero mentor is a bonus.
21-Jan-2021
---
United We Fall (2020-)
Bland parental failure without boundaries. Do whatever doesn't disappoint most of the members and move on. It isn't that funny. There are no consequences or punishments. They fail and move on.
20-Jan-2021
---
If this season doesn't wrap soon, I'm going to end up with a Russian accent.
19-Jan-2021
Mike and Natalie. Ukrainian is being Green Acred. Yara and Jovi. Her claws are nails hammered into a man's jacket but not the man. He's not in it because he's weaving his own shit. Stephanie and Ryan. Madam Meow caught a bird in her nest. She can't play with him like she does cats. They don't sit still. It's cuddles and swipes. He pecks her hard though. When her condition of madness worsens, we are embarrassed for her. Andrew and Amira. Andrew thinks he bought himself a bargain basement Mulan housemaid and caretaker. "Bro, she even kills men for me." Rebecca and Zied. Zied swagged like he was in one of those videos he watched on Beta in his own country five years ago. Rebecca's daughter and boyfriend contributed great face in internally exposing mother's mental ill-being. Call a doctor.
Daughter of Rebecca. If you don't want anyone confusing the asshole for your brother, die the hair.
12-Jan-2021
Dude, I swear I saw "The Boy" move. Poor Julia is definitely going to be "family dinner." The parents want "Boy" and "girl" in "separate rooms." She's alone in "Hobbit World: Creepy Campers." Good luck child. I hope you have friends. Mike and Natalie. America has made Natalie's curls limp and soft. I don't think she's noticed. When she does Hank is going to have to rustle up some carrots for her by the barrel full. Hank, whatever you do, send her back, don't leave her here with us. Jovi and Yara. Clever wench bespoke relationship and dollar bill expectations, he refuted, melted, gave in for the action, apologized and upgraded the relationship. A doll she shall become. Stephanie and Ryan. Stephanie, when he isn't answering your calls and texts, he's fucking. If it's been weeks, he's fucking, shacked up, enjoying life and turning the watches you sent him into gold. What does she think he needs them for? They are a poor country struggling to eat. Time doesn't matter. On the bright side, she probably fed plenty of villages. Maybe Stephanie needs the pain to feel alive again but if she values money she shouldn't. Keep playing with your cat. Rebecca and Zied. The only ones I give the benefit of the doubt to. Maybe you need to go far out to meet far out because you're far out.
28-Dec-2020
When you don't warn loser children about the reality of their limitations they turn to other planets to find worth. I'd rather fuck a pasty American than die on a crumbling planet. Brandon and Julia. The town was almost figuring out Brandon's sexual preference until the parents intercepted and set him up with a Russian bride. Brandon is the man who posed for "The Boy" doll, whose parents corroborate the backstory and whose actions cause a chill. Mike and Natalie. Drunker Blake Shelton engaged to Gwen Moscowitz. She might make his 2 feel like a 10 but his brain is mush. I don't get it. The intensity of her curls scare me. Rebecca and Zied. She's one of those people the parents couldn't convey the truth to and he's one of the assholes who noticed. Jovi and Yara. A doll and a pop-up.
08-Dec-2020
---
Below Deck (2013-)
Deck Nick Toon found that the easiest way to dump a banged out chick is to get the Chef drunk. Poor Mariah. Chef Loops was instantaneously diagnosed as an alcoholic because she told the truth. Casual drinkers can be falling down drunk and lie. Deck Rob is pining for Deck Toons and Deck Toons likes it. Cue drunk Chef Loops cursing them out.
19-Jan-2021
S8E11. Chef Loops is auditioning for SNL. The deckhand that looks like a TV Nick toon voiced by Boy George is shagging "Mariah Carey." That's what stupid hot looks like. Daddy Eddie. You won't find a better ham with great hair and the juiciest pig feet, ever. Get better Izzy. The Loops is cracking. The way "in" involves alcohol. Good luck, girl! If it works let new deck try it on deck Nick Toon.
18-Jan-2021
Eddie wanted to knock the foie gras out of Chef Loopy and I wanted to see that. Mariah still doesn't understand what the word try means. Izzy has a crush. Chef Loopy couldn't fake a nicety when the gays raved about her food. He was so emotional and she was so....who gives a fuck. Quack. She left because she didn't think "they" deserved 8 of her courses. Quack. There's hope, Izzy.
21-Dec-2020
---
Alice Through The Looking Glass (2016)
Alice trips that she's a pirate, the savior of the unrighteous (Mad Hatter) and a liberated heroine. Hahahahahahahahah.
18-Jan-2021
---
WandaVision (2021-)
It's a brilliant idea that doesn't understand what a classic sitcom is. Hidden treasures abound if we do our homework and expand our flight experience. Why? I just want to be entertained. Show us. When did Elizabeth Olson take up blinking? That is an actor's death knell. Stop blinking! What I'm watching is a disappointment and an excuse to tease us to watch something that gives nothing but clues.
18-Jan-2021
---
Dumbo (2019)
Everything elephant was precious but the presentation is preoccupied with telling the audience how to feel instead of writing it. If you can't find the words or interactions, add more magic. The pink elephants were successfully woven in. It was happy.
18-Jan-2021
---
Fantasy Island (2020)
Michael Pena is not a suave sexy latin charmer. I thought he was going to play Tattoo, running around in a baby cart yelling "the plane, the plane." Maggie Q exuded the elegance of a legend but had no chemistry with her token black family. Lucy Hale, sporting a disconcerting schnauzer cut was too much. It was a total disrespect of a shitty show that entertained.
12-Jan-2021
---
First Wives Club, The (1996)
A feminist excuse to avenge a man for wanting tighter lips. Great actress charm deduced to a stigma. If feminism was all about cutting daddy's dick why all the fuss to get their children married? More witnesses? What the fuck is the difference between a regular lesbian and a big one? More tongue?
02-Jan-2021
---
Hand Of Death (1962)
A scientist thinks he's developed a nerve gas that immobilizes instead of kill. With the support of his love establishment and business connections, he is granted money and freedom to keep his experimentation thriving. But weary scientists have accidents. The gas fumes turn him into an Unfantastical Thing. The coincidences are comical, the scares don't stir a tree but Paula Raymond is a fantabulous scream.
01-Jan-2021
---
We Can Be Heroes (2020)
It's a kid's film. There are kids in it. It looks like candy. It's stupid. You mean brilliant stupid? No I mean silly stupid.
29-Dec-2020
---
Just Another Christmas (2020)
Once the lunacy takes a seat the Ground Hog Christmas motif finds its groove and its heart. Daddy wakes up every Christmas but doesn't remember anything he did all year. He wakes up to grown kids, a failed marriage, a mistress, three dogs and a few makeovers. He spends Christmas abhorring the man he has become and can't control. The family is loud and homey, the sentiments are sweet and the idea is respectful. Feliz Natal.
25-Dec-2020
---
Christmas Project, The (2016)
The adventures of future supremacists as they waft through their own battlefield of family traditions and alpha bullying. The parents are ditzoids driving their children to partake of a Christmas tradition called Elving. You leave presents on the doorsteps of needy/hopeless families everyday until Christmas. The town bullies are on the roster this year. The tween female interest cements hardons and impels macho competitions. She looks 20 while the boys look 8. Reality rarely sneaks in and there is no character to get attached to. I pictured future supremacist twink getting married in prison to his alpha bully supreme as he forever pays black fit homeless grand daddies with raspy voices for some sugar. The kindly school bus driver was black.
25-Dec-2020
---