All Posts Tagged as 'Health'
Welcome to Errattic! We encourage you to customize the type of information you see here by clicking the Preferences link on the top of this page.
New York may be weeks away from reaching a peak in coronavirus cases. Now other states are preparing for a surge
Several states are reporting a spike in coronavirus cases, raising fears more hotspots will emerge in the US after New York as soon as next week.

The US surpassed Italy and China this week to become the country with the most coronavirus cases in the world --- with more than 101,240 known cases, according to CNN's tally. At least 1,588 Americans have died. At least 402 of those deaths were reported on Friday alone.

More than a third of the country's cases are in New York -- which has been in a partial lockdown for a week as officials try to slow the spread of the virus and hospitals scramble to keep up with the patients streaming in.

Tracking coronavirus cases in the US

The state's healthcare system is already overwhelmed. One hospital was forced to create a makeshift morgue and another reported 13 patient deaths in 24 hours. New York and its National Guard are now assembling four 1,000-bed temporary, overflow hospitals in existing buildings.

The rate of new cases may be slowing in New York, but the governor says it may take 21 days for the state to hit its peak -- the highest point of reported cases before that number begins going down.

Gavin Newsom takes new tone with Trump as he steers California during coronavirus crisis

Meanwhile, officials in other states are warning they could be next. In Los Angeles County, cases more than tripled in six days and one official says numbers will keep going up. Health Director Barbara Ferrer says she expects to see case counts in Los Angeles double every four days for the next two to three weeks.
---
Do you wear contact lenses? You should switch to glasses to stop spreading the virus
Focus on this, contact lens wearers of the world: To reduce the spread of the pandemic virus that causes Covid-19, experts suggest it's time to put your contact lenses on the shelf and dazzle the world with your frames.

That's because wearing glasses can help you stop touching your face, according to the American Academy of Ophthalmology, a key way any virus is spread, including the novel coronavirus currently spreading across the world.

Why contact lens?

Contact lens users not only touch their eyes to put in and remove their lens twice or more a day, they also touch their eyes and face much more than people who don't wear contacts, said Dr. Thomas Steinemann, a clinical spokesperson for the American Academy of Ophthalmology.

"You touch your eye and then you touch another part of your body," said Steinemann, an ophthalmologist at MetroHealth Medical Center in Cleveland, Ohio.
---
JoAnn Fabrics Employees Are Furious They're Working in Crowded Stores After the Company Declared Itself 'Essential'
Well-intentioned crafters have been flocking to JoAnn Fabrics this week for free, do-it-yourself mask and gown kits so they can make crucial medical gear that's currently in short supply at hospitals treating coronavirus patients around the country.

But several employees who spoke to VICE News felt the company hadn't considered their health and safety — or their customers' — before making the decision to declare stores "essential," remain open during states' lockdowns, and launch an effort to draw even more shoppers.

At one store location in Colorado Springs, employees even picketed outside their store Wednesday. They stood a safe distance apart while holding signs that read "our health over their profit" and "fair wages for retail workers."
---
Beachside towns in the Hamptons start filling up months before summer with rental properties now scarce as New Yorkers flee the city amid the coronavirus pandemic 
Beaches in the Hamptons are starting to fill up earlier than normal and rental properties are now scarce with New Yorkers fleeing the city as the coronavirus pandemic continues to spread.

The beachside communities in Long Island have seen a surge in population ever since New York Governor Andrew Cuomo issued a stay-at-home order to help stop the spread of the virus.

The unusual surge so early in the year has prompted local leaders in the Hamptons to urge Gov Cuomo to ban non-locals from the area during the outbreak.

Locals in the Hamptons, which is usually a summer hotspot for New Yorkers getting out of the city, have reported larger than normal crowds at beaches and busier beachside parking lots.
Trump tells a conference call of anti-LGBT+ pastors to pray for his re-election and forget about coronavirus
New poll finds Fox News viewers think the coronavirus threat is exaggerated
---
Christian group opposes coronavirus vaccine research because it used aborted fetal tissue 
The Trump administration's decision to ban scientific research that uses human fetal cells has not only had a major impact on a potential cure for HIV, now it's hampering the search for a vaccine for COVID-19.

Evangelical Christian activists, who overwhelmingly support Donald Trump and oppose abortion, pushed the administration to ban the research. Now one group is attacking a potential vaccine for the novel coronavirus and claiming further research would be "morally" irresponsible.

"It is deplorable that anyone would want to exploit the remains of aborted babies for financial profit especially when so many people will refuse to use those products because of their deeply held religious, moral, and pro-life convictions?" Debi Vinnedge, Executive Director of Children of God for Life, asked.

In 2018, a scientist who was supposed to supply mice that have been modified with human fetal tissue for an HIV study emailed researchers that the Department of Health and Human Services (HHS) "has directed me to discontinue procuring fetal tissue."

"This effectively stops all of our research to discover a cure for HIV," he wrote.
White House-credentialed pundit says God sent coronavirus to kill Jews
---
Parents Say School Expelled Elementary Students After Raising Coronavirus Concerns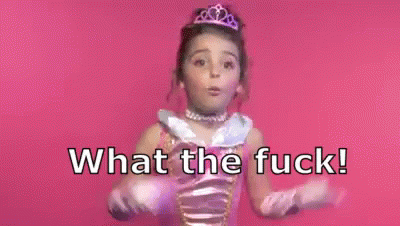 As the second full week of school closures comes to an end, many Bay Area parents are anxiously waiting to hear that it's safe for their kids to return to class. But for a group of parents in the South Bay, their kids still won't be allowed back on campus when classrooms reopen after administrators decided to withdraw their children from school in a move that left parents stunned.

The school's decision comes after a series of critical Facebook comments from parents questioning the school's response to the coronavirus pandemic.

"I was devastated," a parent told NBC Bay Area when she learned her child is no longer enrolled. "I feel the school is just retaliating against us."
Coronavirus Heroes Are Getting Tossed From Their Homes by Scared Landlords
'It's just despair': Many Americans face coronavirus with no water to wash their hands
---
Actor Mark Blum, Who Had Roles In "You" And "Succession," Has Died Of Coronavirus Complications 
Mark Blum, an actor who played character roles in dozens of popular television series and film projects over the years, died of complications with COVID-19, the disease caused by the coronavirus, at the age of 69.

Blum's first television appearance was a guest role on St. Elsewhere, a medical drama in 1980. Over his career, the actor also showed up in TV classics like The West Wing, Frasier, Roseanne, NYPD Blue, and The Practice. In recent years, Blum even appeared on fan favorites like Succession and The Good Fight.

In 2018, Blum appeared on the hit series You, memorably playing Mr. Mooney, the bookstore owner and Joe Goldberg's (Penn Badgley) creepy father figure.

Blum's last-ever role will be a posthumous appearance on the upcoming fifth season of Showtime's Billions.
Trailblazing gay basketball star Jason Collins and his partner are battling coronavirus
Men are much more likely to die from coronavirus - but why?
New Orleans Faces a Virus Nightmare, and Mardi Gras May Be Why
Questions arise after teen's death was initially linked to coronavirus in California
---
Gay dancer trapped at home with homophobic Christian parents who think he has an 'evil disease'
Sam, 23, told the BBC that the coronavirus pandemic meant the tour he was performing on was suddenly cancelled and he was forced to return to his family home.

The gay dancer from Birmingham said: "I saw the career I love disappear overnight, and now I'm stuck in isolation with homophobes."

He continued: "My mum says that homosexuality is an evil disease and that the devil is making me gay. She loudly prays every day that I'll be delivered from sin and find a wife.

"I genuinely have nowhere else to go during this mad time, so I'm just putting up with the abuse."
---
Do not attempt to hook up during the coronavirus lockdown, says Terrence Higgins Trust
"You are your safest sexual partner right now."

The Terrence Higgins Trust has advised those in lockdown to not seek hook ups.

Due to the misinformation online about sex and the coronavirus, medical director Dr. Michael Brady has written an educational blog post clarifying the NHS and government's guidelines on how to keep safe during this pandemic.

"This follows the new measures which have been announced by the Government telling everyone to stay at home, to stop face-to-face socialising, to stop all non-essential journeys and to limit our movement," he writes.

"Unless you have sex with someone within your household, it's important to find sexual pleasure in other ways. Sex is an important part of life, but right now we have to find other ways to achieve sexual pleasure and satisfaction."

Although there is no evidence to suggest that the coronavirus can be transmitted through sexual contact, Brady stresses that it can be spread through close physical contact, rimming and kissing because of saliva and mucus.
---
Michael Rapaport Drops 24 F-Bombs In Angry Rant Against Coronavirus Revelers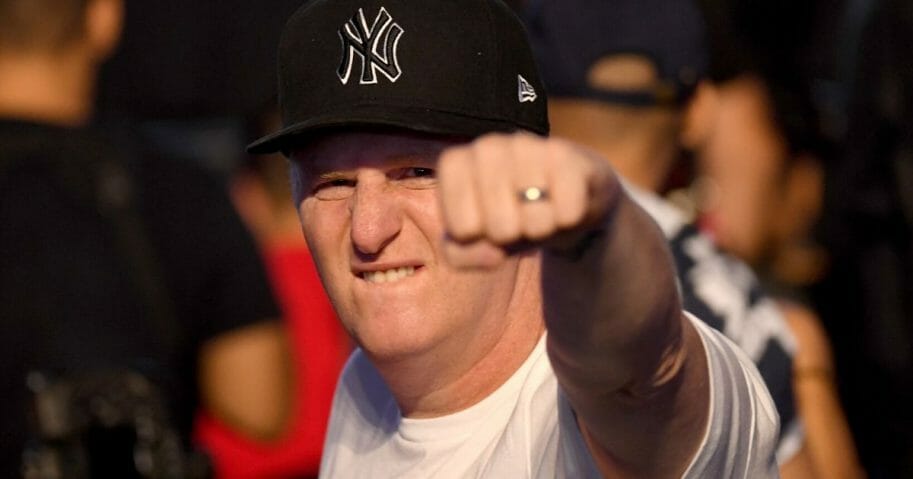 Public health officials are urging people to remain inside as much as possible to prevent the spread of coronavirus, yet news footage shows crowded parks and beaches in some places.

And actor Michael Rapaport is pretty angry about the whole thing.

Readers be warned: Rapaport's language is salty.

"Get your little, dirty, fucking grubby, selfish, YOLO fucking dumb tattooed faces in the fucking house," he said, addressing younger people.

And parents? You're not off the hook, either.

"Parents, get your fucking kids," Rapaport said. "This nice guy shit? It's done. Get your fucking kids in the fucking house."
N.J. Man Faces Charges for Allegedly Coughing on Grocery Worker, Saying He Had Coronavirus
---
Kathy Griffin Was Sent To A Coronavirus Ward With "Unbearably Painful" Symptoms — And Can't Get Tested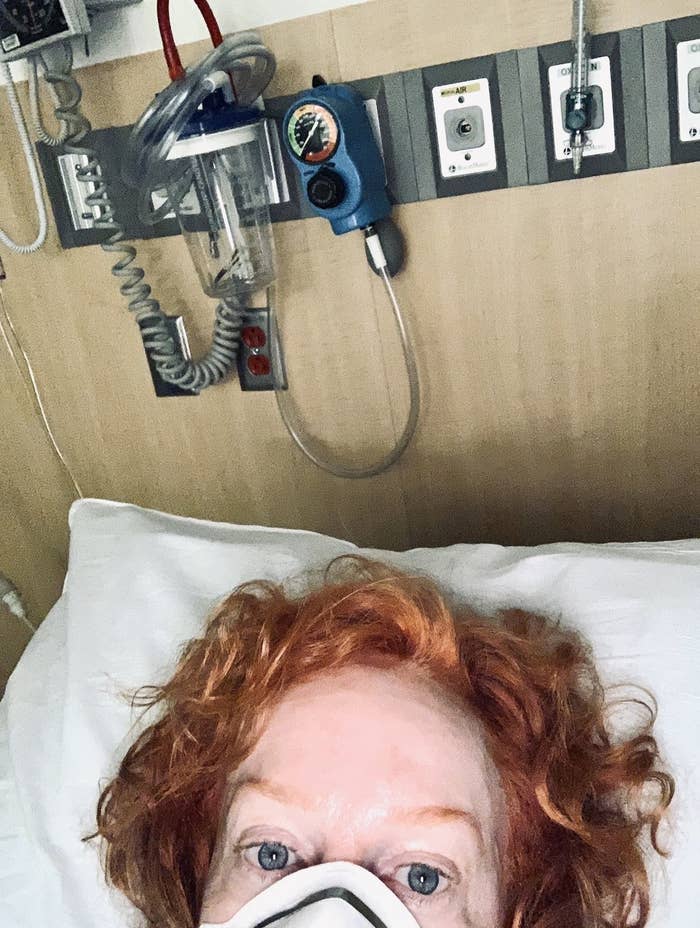 Donald J. Trump
@realDonaldTrump
Mar 25
Just reported that the United States has done far more "testing" than any other nation, by far! In fact, over an eight day span, the United States now does more testing than what South Korea (which has been a very successful tester) does over an eight week span. Great job!

So Kathy called out that claim and shared a terrifying experience of her own.

"He's lying," the comedian wrote.
---
Coronavirus and work: Fla. employee says she was fired after asking to work from home
A Tallahassee, Florida, worker says she was fired from her job after she asked to work from home amid coronavirus concerns.

Katherine Webster, 25, has an autoimmune illness called interstitial cystitis, and her 9-year-old son has diabetes and asthma.

As health authorities advise social distancing and local schools close through March, the local mom was afraid of potentially getting the virus from the office and bringing it home to her already-ill son.

She's a project engineer for Tower Construction Management, which is contracted by Robert Finvarb Companies to build the interior of the AC Hotel by Marriott being constructed as part of the Cascades Project, a $158 million mixed-use development in downtown Tallahassee.
---
Entire senior home in New Jersey, 94 people, presumed to have coronavirus
An entire New Jersey nursing home is presumed to be infected with coronavirus, forcing everyone from the facility to be evacuated on Wednesday, officials said.

At least 24 of 94 residents and patients of St. Joseph's Senior Home in Woodbridge, about 20 miles south of Newark, have tested positive for coronavirus and the other 70 clients are also believed to have the virus, authorities said.

The first positive came back on March 17 and at least one positive test has come back "everyday thereafter," said John Hagerty, a spokesman for the city of Woodbridge.
---
A group of young adults (covidiots) held a coronavirus party in Kentucky to defy orders to socially distance. Now one of them has coronavirus
At least one person in Kentucky is infected after taking part at a "coronavirus party" with a group of young adults, Gov. Andy Beshear said Tuesday.

The partygoers intentionally got together "thinking they were invincible" and purposely defying state guidance to practice social distancing, Bashear said.
"This is one that makes me mad," the governor said. "We have to be much better than that."

While Covid-19 has been more deadly and severe for people older than 60 and those with underlying health issues in data from China, health officials and leaders around the country have been imploring millennials and other young people to practice social distancing, because even people who are infected but without symptoms can transmit it to other people.

In fact, recent modeling based on Chinese data shows that asymptomatic carriers of the virus may have been responsible for its initial rapid spread there.
---
How we know ending social distancing will lead to more deaths, in one chart
President Donald Trump already wants to pull back social distancing policies and guidances implemented in response to the coronavirus pandemic. But we know, based on the nation's history with past outbreaks, what will happen if we do this too early: People will die.

In 1918, the world was ravaged by a horrible flu pandemic, which was linked to as many as 100 million deaths globally and about 675,000 deaths in the US. In response, cities across America adopted a variety of social distancing measures to combat the pandemic. Based on several studies of the period, these measures worked to reduce the death toll overall.

But many cities, also worried about the effects of social distancing on normal life and the economy, pulled back their social distancing efforts prematurely. When they did, they saw flu cases — and deaths — rise again.
---