All Posts Tagged as 'Music'
Welcome to Errattic! We encourage you to customize the type of information you see here by clicking the Preferences link on the top of this page.
There's a Divide in Even the Closest Interracial Friendships Including ours. 
It was one of those perfect California nights, not too cold or too hot. Ann's backyard was strung with lights and punctuated with the cheerful buzz of conversation as people milled around with glasses of rosé in hand. She had offered up her patio as the venue for a friend's birthday party. And—even better—Aminatou happened to be in town. She was in Los Angeles for a work trip and had been looking forward to attending the backyard soiree because she knew and liked the birthday girl and many of the other guests.

When she showed up, the party was already in full swing. Aminatou found that the snacks were delicious and the mood lovely. But what should have been a fun night celebrating and catching up with friends turned sour when Aminatou noticed that she was the only Black person milling around Ann's back patio.
I Broke Up with My Best Friend Because We Couldn't Agree on Black Lives Matter
South Asian anti-black racism: 'We don't marry black people'
Romance scam: US woman freed after year as hostage in Nigeria
Alaska Airlines flight makes an emergency landing in Seattle after passenger threatens to 'kill everybody on this plane unless you accept Jesus was a black man'
Chance The Rapper Backs Kanye West Over Joe Biden And Twitter Users Aren't Happy
After Ford employees demanded the company stop making police vehicles, the CEO clapped back with logic, common sense
Jewish groups call out TV host Nick Cannon for defending Louis Farrakhan and spreading anti-Semitic conspiracies
---
Hollywood's identity crisis: Actors, writers and producers warn of 'reverse racism' in the film industry which has created a 'toxic' climate for anyone who is a white, middle-age man 
A revolution is under way. White actors are being fired. Edicts from studio bosses make it clear that only minorities – racial and sexual – can be given jobs.

A new wave of what has been termed by some as anti-white prejudice is causing writers, directors and producers to fear they will never work again. One described the current atmosphere as 'more toxic than Chernobyl', with leading actors afraid to speak out amid concern they will be labelled racist.

The first sign came with one of the most powerful black directors in Hollywood, Oscar-winning Jordan Peele – the man behind box office hits such as Get Out and Us – stated in public that he did not want to hire a leading man who was white.

'I don't see myself casting a white dude as the lead in my movie,' Peele said. 'Not that I don't like white dudes. But I've seen that movie before.'
Now the army of overgrown babies who say everyone must think like them are invading our bedrooms, says DOUGLAS MURRAY after the attempt to 'cancel' Killing Eve star Jodie Comer
Britney Spears defends criticized social media posts: 'This is me being authentic and as real as it gets'
'Stop being cry babies': NBA stars are blasted for complaining about Fyre Festival-like quarantine meals and 'Motel 6' hotel rooms as they isolate at Disney ahead of the season but Ja Morant takes a swipe at players saying 'I'm not a silver spoon guy'
Dancing With the Stars' Tom Bergeron Out as Host After 15 Years
CBS Commits to Developing Projects From Black, Indigenous Creators, Will Build More Diverse Writers' Rooms
---
Jarvis Cocker Says Fame Is Kind of Like Pornography
Jarvis Cocker gave quite the graphic analogy in a new interview. During a chat with The Sunday Times, the Pulp frontman compared fame to pornography. And honestly, it makes perfect sense.

"It was a very strange time for me because I'd achieved my lifetime's ambition and then found that it didn't satisfy me," he said when reflecting on the celebrity that followed Pulp's 1995 hit "Common People."
---
Kyle Queiro Apologizes After Questioning Jill Scott's Attractiveness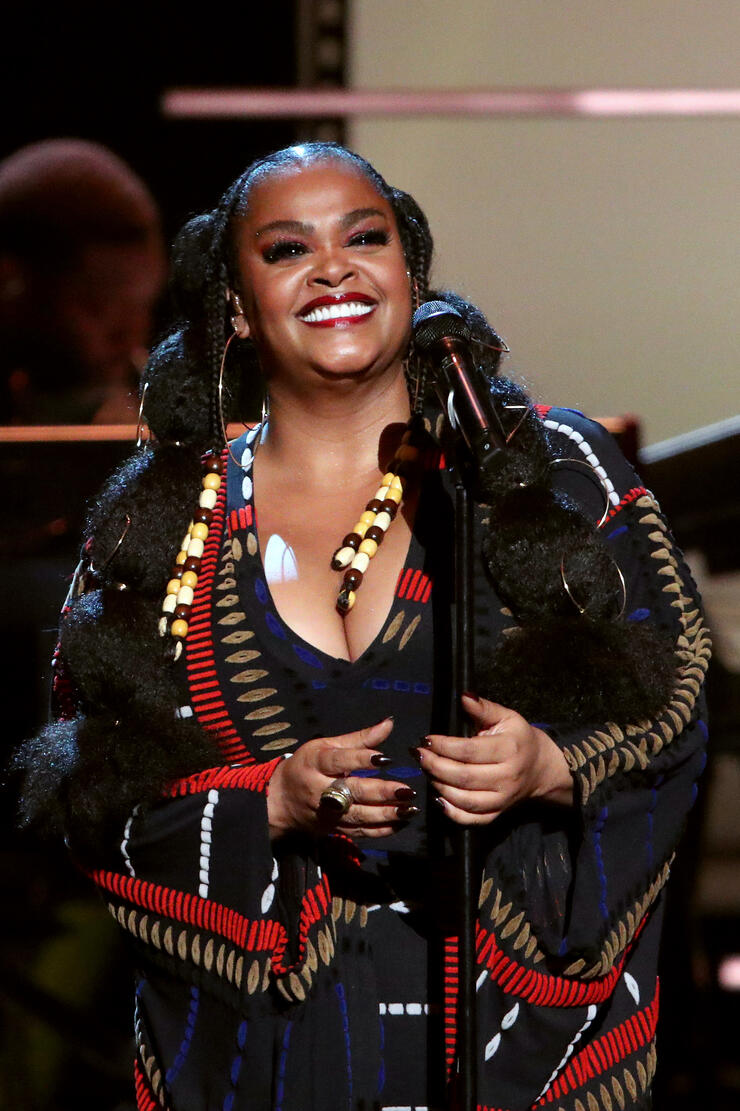 Kyle Queiro learned a hard lesson this weekend: Do not question Jill Scott's beauty.

On Friday night, the NFL linebaker Jill Scott posted a series of tweets in which he suggested the Grammy-winning artist was no longer sexually attractive.

"People are attracted to JILL SCOTT!?" Queiro he wrote in a since-deleted post. "And by no means is she ugly, but ya'll really sexually aroused by her?"
Peter Lenkov, 'MacGyver' & 'Magnum PI' Showrunner, Fired By CBS For Creating Toxic Work Environment
He flaunted private jets and luxury cars on Instagram. Feds used his posts to link him to alleged cyber crimes
---
BLACK CELEBRITIES WHO HAVE SUPPORTED THE GOP
With election year comes slander, controversy and your occasional celebrity political rants. Politics met entertainment with the latest celebrity rant, coming from Nicki Minaj, in which she rapped in vote of Republican Mitt Romney. This was a shock to fans and celebrity bloggers everywhere, but Nicki is not the only popular African-American face that has shown favor to the GOP. Here is a list of some African-American celebrities who have supported or are affiliated with the Republican party...

LL Cool J attended the Republican Convention in 2004 and has been a supporter of Republican New York governor George Pataki back in 2002. He has never officially stated his political party.
---
HGTV's Erin Napier Is 'Turning Off' Instagram Comments Until 2021 After Calling Out Trolls 
Erin Napier knows social media can be a dark place — and now she's taking matters into her own hands and changing the way people can interact with her posts.

The Home Town star, 34, previously opened up about Instagram bullies having taken an emotional toll on her, and on Thursday morning she announced on that platform that she's taking significant steps towards taming those trolls by turning off comments on her posts until 2021.

"Turning off comments till 2021 feels like a good move," she captioned a photo of her and her husband (and HGTV co-star), Ben, 37. "It's getting harder to shoulder every opinion from every direction at all times about everything when everyone is freaking out constantly. There's too much noise."

She used an analogy to explain how social media can be deceiving, and explained that commenters often react without seeing the full picture.
Sam Neill on sharing firm views on Twitter: "We really don't need someone else shouting"
Paramore Stops Selling 'Say Their Names' Poster After Receiving Backlash
---
Georgia teen charged with killing her 66-year-old grandmother 
A Georgia teen has been charged with murdering her grandmother, authorities said.

Alisha Kianna Pompey, 17, was arrested early Monday after Fayette County deputies found the teen's grandmother, 66-year-old Dorothy Pompey, dead in the family's residence at the Four Seasons Mobile Home Park, The Citizen reports.

Deputies were sent to the location for a medical call, but investigators determined domestic violence factored in the elderly woman's death, Sheriff Barry Babb told the newspaper.
Man Who Killed Seattle Protester Charged With Homicide, Reckless Driving
Attorney blasts DA for saying use of force in Akbar Rogers' arrest was justified
Hit-and-run driver who plowed into protesters at anti-lynching rally arrested in Indiana
Five People Arrested in Pop Smoke Murder Investigation
Zion Williamson Accused of Accepting $400K for Marketing Rights While at Duke
Man shot after gunfire erupts in Bronx street following argument
29-year-old man fatally shot on Upper West Side
Calif. Girl, 13, Was Allegedly Killed After Resisting Sexual Advances of Man She Talked to Online
One Day After Mocking 'Right-Wing' Media For Reporting On Crime, CNN's Cuomo Admits Homicides Are Rising – But Blames It On States Reopening
---
Lady A, Formerly Lady Antebellum, Sue Seattle Blues Singer Lady A
"Today we are sad to share that our sincere hope to join together with Anita White in unity and common purpose has ended," the group said in a statement. "She and her team have demanded a $10 million payment, so reluctantly we have come to the conclusion that we need to ask a court to affirm our right to continue to use the name Lady A, a trademark we have held for many years." Read the band's full statement below.
---
Tubular Bells: The Starfire Rework and Theme
---
DJ Spencer Brown Comes Out as Gay, Will Not 'Live In Fear'
The 26-year-old techno artist — who began his career touring with Avicii and since gone on to headline major music events like the Electric Daisy Carnival — penned a coming-out essay Monday for Billboard.

"I am gay. It's so much easier to say today than it was even a few years ago," Brown wrote. "While I have never publicly denied this part of me, I have also never spoken out about it. I will no longer live in fear."

In the piece, the San Francisco-based DJ said that growing up in a "heteronormative community" in Dallas, he grappled with "unshakable self-hate" and "crippling anxiety." However, he found some comfort in the local dance music scene.

"As a teenager, I would sneak into shows to be a part of a beautiful community where all races, genders, sexualities, and religions came together to celebrate life," Brown wrote. "It didn't matter who you were, and it still doesn't. As long as you bring good energy, you are welcome. It was where I belonged, and it's still where I belong."
---
---
'Put some clothes on!': Chrissie Hynde slams scantily-dressed feminists
Chrissie Hynde has slammed scantily-dressed feminists saying ''if you walk around looking like a sex worker you will probably be treated like one''.
---
---
JoJo Siwa responded to and dismissed accusations of blackface in one of her music videos 
JoJo Siwa is the latest YouTuber to face allegations of racism after some followers said a young actor in her latest music video, for her song "Nonstop," was performing in blackface.

The video, which is set in a circus, features dancers dressed up as all sorts of animals. One of the dancers, a young white girl, is seen in close-up early in the video with brown makeup and what appear to be monkey ears. The comments on the video have been disabled.
Former Mayor Resigns After Comparing BLM Protesters to Monkeys in FB Post
Bernie Ecclestone says 'in many cases black people are more racist than white people'
TikTok Pride event shut down in minutes after homophobes and racists target LGBT+ creators with hate
---
Cardi B Laughs Off Trolls Who Tried to 'Cancel' Her by Jumping in Her Pool: 'I Don't Give a Fuck'
After seeing that "Cardi B Is Over Party" was trending on Twitter on Thursday, the Grammy Award-winning rapper, 27, shut down speculation that she was the one behind an Instagram account, which she went on to allege was fake, that had posted negative things about a number of female artists, including Nicki Minaj, Ariana Grande, Megan Thee Stallion and Doja Cat.

"Let me make this really clear. I am not a 15-year-old girl that do fake Instagrams to talk about celebrities. I have a whole life," Cardi said in an Instagram video. "I don't got time to do shit like that."
---