All Posts Tagged as 'Wit Snit'
Welcome to Errattic! We encourage you to customize the type of information you see here by clicking the Preferences link on the top of this page.
Hole In The Ground, The (2019)
Single mother starts a new life with her son in the boondocks. Woods are spooky with a giant hole in the ground. Baby boy disappears into the woods and returns different. A neighbor's history tells of a mother falling apart at losing her son to the woods, going to prison, killing her son and being constantly haunted. She becomes deranged, unacceptable but tolerated. No one believes her truth because all nutty people are considered liars. But the nutty people are always right. We don't want to look at that shit so we ignore it, the way we don't Santa and Barbie. Mama believes the lady's mythology until she too faces that dilemma. The child is a spooky chill, the mother's face speaks volumes and the director allows us space to breathe. Cliches disrupt the flow. Dreams no longer surprise. The end was a meh and a what. Craft without sense.
29-Nov-2023
---
Rife: Natural Selection (2023)
The comedian Gen Z deserves.
18-Nov-2023
---
Nun II, The (2023)
If beliefs cause faith why can't we believe there are no demons? We have to fight them first so we know we're good. Taissa gave great face and Storm Reid was her partner, lapping it all up. They had an interracial team-up that felt genuine. Jonas Bloquet was eliciting Hammer tremors. The nun was still glorious, showing up scantily but creepy and ready to blow. Her backstory held. It's fun watching scared little mean girls.
17-Nov-2023
---
Killer, The (2023)
"Trust no one." If that thought had been applied to the killer's private life, the film would've been a masterpiece. The panic attacks start as soon as the movie is over.
16-Nov-2023
---
Scream (2022)
I was surprised by the comedy horror tag. I saw nothing funny except for all the situations that put Ortega in harm's way. She was one of the bright things.The ghost costume needs an upgrade. The voice actor for Ghostface sounded like a harmless prototype. It's nice to remember the past but it didn't adhere to logic. The newbies were social media born and nothing more. I applaud Neve for bringing her original face and showing us she can act. She looked great. Cruel deaths are only delegated to males. The director did well with horror but the wink, wink trivia isn't cool anymore. That joke only works once then it becomes annoying.
13-Nov-2023
---
S2. The series gains momentum for a purpose. Owen Wilson hates life more than ever. Ke Huy Kwan is a welcome addition that fits this universe. Miss Minutes is awesome. Jonathan Majors hits a bump. He thought he could make stammering sound normal, it failed. Someone needed to dress him up as Rama-Tut. The afterlife is explored by a vision that is the creator's own.
12-Nov-2023
S1E3. Even after 4 cups of coffee, I fell asleep. Is that old lady his girlfriend?
24-Jun-2021
Loki's Quantum Leap. Bewitched and I Dream Of Jeannie generated enough magic effects per episode to keep its fantasy alive. A lot of the effects weren't right but they kept trying until the magic was perfected. Loki used his magic to dry his clothes. Whoppee. Cheap Disney. It'd be nice if Loki could interact with our world but the writers' imagination don't fly that high.
17-Jun-2021
It elicited no words or thoughts from me. I appreciate that Tom Hiddleston did not swing the character of Loki towards Jerry Lewis caricature. Loki is a ridiculous puny god that whines about birthrights and shit. He's a loser tasked with saving the world to betray it. His life is as insignificant as his death. Hiddleston and Owen Wilson have chemistry but that's probably because Owen hates life. It's a mish mash of things that don't inspire me.
12-Jun-2021
---
Bachelor In Paradise (2014 - )
What have I done? The producers made daddy Palmer look like one of the weird kids from The Polar Express. His eyes didn't move, they dialed down the light, the sparkle and he started looking through people, not at them. My apologies, sir.
12-Nov-2023
Oh no! I think the show is on realtime. The new girl said Brayden looked like Johnny Depp, nobody threw anything in the ocean and worst of all, they restricted daddy Palmer's cornea movements! No more eye fucking. They cut away just as soon as tears started to stream down his face.
04-Nov-2023
Mr. Palmer is a faithful husband. He only eyefucks men. It was fun to see Wells eat his burrito, though. Somebody looked like they were going to join a supremacist group after getting dumped. Brayden is a pirate that has all the women aflutter. Can all the girls fuck him and dump him so I can stop obsessing about him? Were asses covered up because they pooped themselves or because we might get excited? Yo, you can't be the fairer sex if you believe everything a man says. Kat's birthday cake looked nasty. Why are these people allowed to throw anything into the ocean? Doesn't she know that Flipper can get diabetes?
28-Oct-2023
Woohoo! The Palmer eye-fucked the newbie in an episode where not much happened. If you're demanding honesty from a man, don't do it like Kat. She hates the truth.
23-Oct-2023
Brayden's beauty suffers intense consequences because he can't deliver. Sean looks like a dream prince that Dreamworks dreamed up. There is no rational reason why Will should act sensitive when being dumped. Aaron needs to butt fuck his girl so she can stay regular and alive. She is a walking testament of why travel sucks. Wells is a cute package that the contestants keep unwrapping. He was icked by the baby incident and masterclassed he wasn't. He gleamed for Dreamworks but was bored with pretty head yet bounced back for latino flair. The theme is past promises made to people they weren't attracted to and the people who can't accept it. Jesse Palmer hasn't eye-fucked anyone and that's worrisome. They're so good. Men only! The thighs are wide, the legs are nice, the men have bite, are succulent and falling apart for trying to make someone else happy. Is this how toxic masculinity is created?
18-Oct-2023
---
Rifleman, The (1958-1963)
A postwar generation that fought the enemy to insure that cell phones and toilet paper made it to the future. Respect for the law and its protection kept western towns reposed and progressive. Strangers would stop by with stories of city worlds, vast education and diversity. The contemptible came to cause a ruckus, crush everyone's dreams and takeover. Guns were a man's best friend because it was a contemptible's only friend. Death was also scientific in a world with very little of it. The rifleman assisted the Marshall by keeping people in line with threats, assistance, charm, height, beauty, and death. Death was an acceptable occurrence to be respected and expected. Even, the kids were savvy to it. You kill an animal for necessity, not sport. Death happens esp. in this town. Daddy longlegs was a widower, a rifle expert with a sweet boy whose devotion to daddy went beyond the screen. They heightened the father/son duo by being super. Connor was classic cowboy. The rifleman had gun skills, was a jean god, made money after every kill and was a fair man that allowed no one to fuck with his kid. They tell stories beyond the shooting. It had a contemporary mindset and there were plenty of useful life-lessons. Responsibilities of gun ownership included, when to point, shoot, run or put them down.
09-Nov-2023
---
Jake Wheeler is becoming quite a twink daddy. Devon Evans is aging in reverse. He looks like a kid. Lexy is gutsy without a personal life to lift her up. Jennifer T. and Jennifer C. need to battle for best bitch titles. The writers toned down Jennifer's character and shenanigans and she beams because of it. Devon Sawa has the best character, up to-date. I kept seeing Sawa's name on the credits but couldn't match him to his character, until now. Wow. You mean he was the hot method actor who plays the President? He is as precise in his acting as the puppeteers were on Chucky. The lip sync is perfect, different movements are being explored and the bastard is as funny and wicked as ever. The focus of this season is The White House and aging. Love it!
03-Dec-2021
---
Fall Of House Of Usher, The (2023)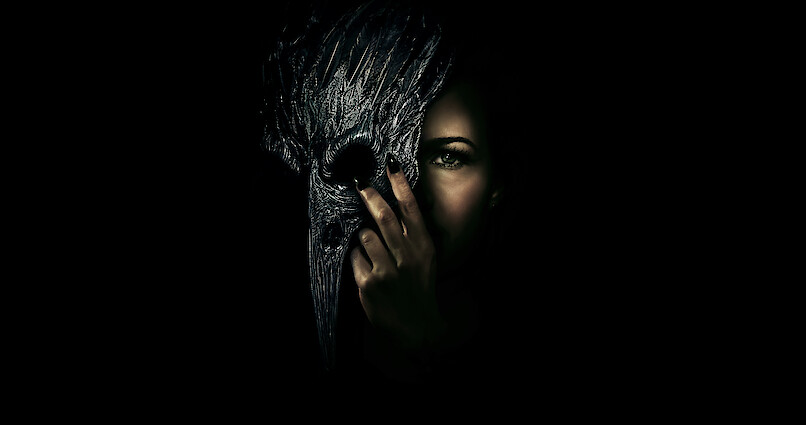 I understood the excuses but I didn't get the obscurity. The finale was a realization of how much of a merry-go-round the production put us through. The Final Destination kills should have ascended from that. When you add magic to horror it teeters on fanto realism. It made my head overload...with questions. Where was Lenore when daddy redecorated her mother's room? She asks to see her mom 5 days later? I believe one of the Dupin's got taller? Bless you, Sir Hamill. Once his character clicks we look forward to seeing him again. The mumbo jumbo accommodated what was easiest for the storytellers. The merry go round speeds up, there are few surprises but the cast and dialogue are superb. What fabulous creature is Gugino's character supposed to be? Is Pinhead her boss? I hope it's the girl one.
21-Oct-2023
SE5. There are so many crisp performances to marvel at. The story captivates but the horror aspect diminishes it. Whenever he gets a vision, we realize how the next victim will die. Stretching the story doesn't mean much if it once ended up in the trash because it contained too much information. The flashbacks are served nilly willy. The saboteur has no meaning but I love her. Poe's themes are observed but not acknowledged. When a creator succumbs to the title of the story he is manipulating things to fit not click.
20-Oct-2023
S1E2. Succession musical score adaptation is too blatant and soon to describe rich family hierarchy. The actors play it well but the characters are as interchangeable as their sexual proclivities. The scares are great ideas that are poorly executed. The mother's beginning is a testament of that. It should be scary but it's not, it didn't grip or create empathy. Flanagan name drops everything but the art he's pilfering. The story does not flatter Gugino and her character is beyond mysterious. I heard Hamill do a Joker laugh and I was amused. Flanagan still hasn't figured out how to shoot in the dark. The admirable parts are the ones created by accident.
19-Oct-2023
---
Whale, The (2022)
As soon as Brendan's eyes opened wide and lit like a bulb, I knew the character's representation was safe. Withering is an earth occurrence and examining it won't kill us any faster. When you wither you have no other option but to reflect on your life and try to make amends to people that deserved your love. One of Aronofsky's best abilities is creating horror with mood, drama and raw emotion. As dark as his art is, he doesn't want to jumpscare, he wants to haunt. The main's routines, fears, lies, talents and regret are highlighted in shadows, realism and good writing. Fraser owns the fatsuit because when he was young I thought he was a beauty that gleamed so sadly. It's not the shape of a man but the soul. The cast support like a perfect theater troupe. Aronofsky is beyond facades.
20-Oct-2023
---
Love Is Blind (2020)
Dude, the thigh lord has Sith powers. I haven't stopped eating the insides of my mouth since I last saw him.
19-Oct-2023
Reunion. It was lonely and hollow. Izzy's thigh was not in full display but the women's legs and boobies were. Uche stalks Milton, now. Lydia is laughing and planning something hysterical. Aaliyah came to put Lydia on the spot for lying and showing off. Milton's family wardens like Lydia, now. They figured getting her to be them so she can change him is easier than showing emotions. Credit Report Princess makes no sense. She's blaming a thigh lord for wanting the same things she wants. His lost and found are memories of trying on girly things so he can relate. JP needs to visit Amish country. Taylor looked fabulous but her make-up was doubled. One layer would have made her shine. She chose to sparkle. The only reason to watch was Izzy. The fake smile and congratulations had a slow-mo effect at the reunion. As soon as he did anything inside his mouth the camera turned away. He rocked some cool sock, though.
16-Oct-2023
The latin mothers were in sync masterclassing a mother that doesn't exist. Izzy ate the insides of his mouth one more time and I wanted to be Ant-Man swirling in it. Didn't it seem like the credit report princess' parents were trying to unload her? Is Lydia still stalking Uche?
14-Oct-2023
S5E8-E9. Uche was invited to the party to make Lydia squirm. Lydia turned red and became a giant animated monster. She emoted so distinctly it almost felt real. I liked it better when it was blamed on hysteria rather than on emotion. Emotions are supposed to be good. Why did Milton's parents look so guilty? Did they look her up? Did Uche call the family to tell them how wonderful she is and fucked up? Is he texting Milton every half hour? Milton kept excusing his parents' lack of hospitality on organics. They weren't like Lydia's. They spit hate in your face and can't teach their offspring how to open wine bottles. Lydia's restraint and self food service was worth bowing to. Mother and daughter-in-law swept her from her pasta and dragged her to the interrogation room where they showed off their warden skills. Lydia studied rocks most of her life but couldn't comprehend the word minute. Minute, when something is way smaller than the rest, like sand is to rock. The thigh jedi and his assignment enacted what bi-polar looks like. Izzy was drunk, frisky and adorable. She started a kitchen argument because he wanted to make love and she needed more attention. Guess who won? He lost control. His legs shook constantly, even when on a great date. Oh. That's how he keeps his thighs in shape. She made him cry like a puppy. We witnessed the aftermath of his secret. He started eating the insides of his mouth, again. I'm sure he ate more than the cameras cared to show. He can't afford to buy her a handbag! He needs to update his profile, "looking for suga mamas and papas that like perfect thigh."
06-Oct-2023
S5. There is a thigh jedi in the house. He's too good to be true. He keeps forcing smiles, though. Is someone buzzing him? His to be is a spoiled princess that wants old fashioned notions and female empowerment in a man. There is something he's not telling that is screaming to come out. The father-in-law expressed a gangster welcome with a threat. Whenever the princess emotes he eats the inside of his mouth. When they were in the kitchen arguing about how poor he's going to become, I thought he was going to eat right through and damage his beautiful face with a hole. In bed one night, he almost eyerolled his assignment/princess but caught himself in time. When a man says he wants a woman to wear no makeup. He wants her to be a little girl. That's the reason women wear makeup, to distinguish themselves from their daughters, so daddy doesn't take a special interest in them. It's like fucking another woman. Uche is making it known that Lydia is a stalker with a big mouth, doesn't allow much breathing room and has a suspicious mama. I think Uche proved himself stupid by stalking three people throughout the show.
17-Apr-2023
---
Ozzie and Harriet (1952- 1966)
S1-8. There were no constant reruns of this classic for me to add it to my American history library but I heard it was corny and wholesome as fuck. Its claim to fame was family hierarchy, whining, beauty and pimping. As the parents' talents/fame wavered the prettiest twinks on television began to ascend. Rick was the teenage dream with dead eyes impersonating a musical talent. David's personality was pleasantly approachable and glistening. Ozzie was a grumpy Seinfeld who worried about everything and complained about nothing that mattered. In the beginning Ozzie had a buddy named Thorny. He lived next door but they never showed his family. I wouldn't want to be associated with that name either. Harriet's hair rarely moved but she had impeccable taste and versatility. She performed her chores like she lived them. She conveyed dismay with sarcasm, was not lovey dovey and enjoyed watching her husband suffer. The cast changes were inevitable and sometimes fun. It was nostalgic seeing some of Lucy's posse rippling for someone else. It's run lasted way longer because of the the adoration that horny teens lavished on pretty Ricky. He was on top of the world with daddy grasping the strings.
10-Oct-2023
---
Snyder's Justice League (2021)
A masterpiece in shambles, in need of a master foe.
17-Sep-2023
---
Super Mario Bros. (2023)
A rush of good memories that sweetly explode in your mouth.
26-Jul-2023
---