All Posts Tagged as 'Wit Snit'
Welcome to Errattic! We encourage you to customize the type of information you see here by clicking the Preferences link on the top of this page.
Amazing Race, The (2001-)
This year was all about daddy fashion. Daddy wore many accentuating pants that shadowed stuff. The winner of the race also won the best leg contest. No disrespect, but I don't want to fuck them, my comic book character does and only the legs. I knew that one couple wasn't going to make it when one partner kept smiling like a loser.
08-Dec-2022
Daddy Phil rocked some stylish pants that made his Keoghan pop out. Nice daddy. The granite bros have me wishing for a thong challenge. I want to see the tall dude but not his wife Karen skimp too but I feel guilty. They look like they tie people up. Father and Daughter. She eyerolls stealthily whenever her father extols his masculinity and makes her look stoopid. The L Sisters were my favorite. They barfed eating greek Souvlaki. Yes, I know! It's that awful white sauce. It tastes like baby vomit. That's why I order it without it. It's really better that way.
18-Feb-2022
---
Below Deck (2013-)
Captain Daddy is helming a boat full of digressing fools. Chief Stew Frasier is waiting for a gangbang to push him into aggression. Chef Loops decided that finagling questionable chemicals into meals for guests is a better option than being addicted. White girls will never get along with black superiors unless they're spraying spritzes of sugar, ie: soda. Chris Lamb is onboard to make us forget him, Ross McHarg was hired to not say "gay," and Tony will suck anybody's dick because in his native country, he would starve, if he didn't.
06-Dec-2022
---
AHS: NYC (2022)
It stayed true to tradition and didn't end with a bang because they yucked it up with mumbo jumbo. Ryan and Co. are gone, lets' show them what we can do. Everything except reigning it in. Add a little magic over here, irony over there and a preach or two around the corner. Charlie Carver's observations as a writer allowed him to present real gay dilemmas. That's a great contribution. The ladies brought depth, strength and full watt. The Brian De Palma glow, was class. Art shouldn't have to explain itself, though. It just is.
04-Dec-2022
Ryan & Co. serve enough gay meat to feed a Texas Chainsaw Massacre. The stories intertwine nicely. Gay is not what it's cracked up to be. We live life waiting for our perversions to be rewarded. It never happens. I have to disagree with the politically correct's hate towards cops. In my day there were good cops and bad cops, like Jedis. A lot of the time, the good cop was gay. I am thankful for that. You almost want to look away every time that smart begins a story because a shitty end awaits it. Russell Tovey peaks our interest with egg-shaped ears, ass encapsulation and making it overwhelmingly and illegitimately hard to listen to a foreign accent without cumming. Zachary Quinto is wolfy and orgasmic. Charlie Carver epitomizes an innocent victim. Joe Mantello is the kind of daddy you want to breathe a moment of life into. Isaac Cole Powell is a body you can only dream about. I know they are going to fuck it up but I'm going to relax and enjoy the ride.
25-Oct-2022
---
White Lotus, The (2021)
My favorite Wednesday Addams, of all time, is Aubrey Plaza. She became a bitch when her mother, Morticia, started boiling everything and aunt Lester lost her hair. Theo James is a fuck kill. Coolidge is being treated like a goddess by the gays and I hope she lets them have it. Hale Lu Richardson is Florence Pugh's Eve. Will Sharpe has to explain himself or show more thigh. Fahey is a rain of artificial sunlight. Michael Imperioli and F. Murray Abraham play a perfect father and son team that identify but don't accept that one begat the other. They fear their beautiful youngling will inherit their sad fate. The bigger you lie, the better the marriage but by then, the soul is gone. Female sexual harassment in the workplace, men expressing the difficulty in containing themselves, the sexes exploiting that, intelligent words coming out of fine actors and a director that provides the vision he describes.
30-Nov-2022
Mike White delivers an itchy script full of descriptive characters and awkward situations. The luscious atmosphere is reduced by human mania and overcompensation. Jennifer Coolidge cracked my funny bone, tore my heart and was masterclass as a woman acquiring power by being weak. Murray Bartlett played an outrageous gay asshole with ridiculous tendencies. Jake Lacy was pure alpha as a newlywed lord ruling over his petty wife. Molly Shannon whipped up a venomous mother-in-law from hell. Steven Zahn and John Gries gripped man sensibilities. Connie Britton and Alexandra Daddario convinced me. Natasha Rothwell spilled her heart and Jolene Purdy split my stitches. The teens were beautifully vacant, troubled, witty and intoxicating, just like vacations.
19-Aug-2021
---
Everything Everywhere All At Once (2022)
It begins with family authenticity, struggling to keep current and afloat. Super reality sets in and the tingles begin. Oh no! It's going to be bonkers. The cast resolves it. I wasn't sure if the husband was Jackie Chan. I spent a lot of the time being jealous of how young he looked. It was driving me crazy. He can't be, right? When he utilized the master's moves, I thought, that's definitely Jackie Chan. It's a tribute to him and Michelle Yeoh as action heroes but why does he look so fucking young? Terrific surgery perhaps? Ke Huy Quan is as adorable now as he was as a kid in a Spielberg classic. The man was precise. To Lady Yeoh, we gently bow. Stephanie Hsu had fun being all iterations of evil because we had fun too. Jamie Lee Curtis was gnarly. James Hong added his queerisms. The film threw as many cliches as it did new ideas. A win win for art. A film that wipes its imperfections with glorious shots of legends reacting to wonder and giving us soul.
27-Nov-2022
---
Falling For Christmas (2022)
The good news: LL got her mojo back, the bad news: it's a stinker.
Oops, this is the poster for the sequel.
18-Nov-2022
---
Disenchanted (2022)
The most enchanting thing about both films is Amy. When her magic is at full tilt, production continues her flow. Dempsey was saddled with a silly storyline and a "send him away" type direction. Women and men no longer want to fight together. It's women's turn to die for what they believe in. Marsden is a pro at acting douchy but cute. Gabriella was just right. Maya stopped fussing and was funny again. The music was almost but it felt like there was an intruder interrupting the grandeur. Some of the songs are juvenile. Idina Menzel wrecking her throat's gift on shitty songs is a never. They made her sing "Let It Glow," again and again. Her magnificent voice gets a full moon. Amy's everything makes you hungry for more. Suburbia works as a stand-in for a magical life but once true magic coaxes itself into reality the ink starts to dry. They gave no magic equations or rules of limitations that we could realistically follow. What kind of magic is in Andalucia? Why did the queen gain power? Is Andalucia in Wakanda? None of the above. They gave no rules because they didn't want to have to follow them. Dude, that's when the best art is created! Full moon to the production in front and back and a boo hoo to the writers for not coming up with something more substantial to say.
18-Nov-2022
---
Love Is Blind (2020)
No one recognized that Bartiste is the thigh king. I know daddy looked like Pebbles Flintstone but to me he was a Bam Bam Rubble. I wanted to pull it and give him a back bath. Cole showed off his thighs too. As if. The females called Cole a good guy then tore him apart in the description." "You fat shaming hoochie fucking dirty ass broke lying motherfucker evil spawn of satan with dreamy eyes." The women were so supportive of each other that they made Cole cry. Putting Vicks on the tips of his fingertips and rubbing his eyes worked. Colleen was petrified to look Cole's way. She did it in the intro and ticked uncontrollably away. She saw those eyes. Yikes. I think she might have wet herself again. If she did that means that she suffered the whole hour without a diaper change due to the lack of commercials. Guess who's available to fuck somebody's wife? Dude, she lives alone!
09-Nov-2022
The show wastes the contestants and their guests' time by planning a fake wedding in the hopes of both parties saying yes? How humiliating. Nick's idea, wasn't it.
08-Nov-2022
S3E8. Would the thigh king agree to abort a future serial killer? No one should have the audacity to bear humans that can't exist without immense help. A lot of these kids can't communicate how they feel. We interpret how they feel. How do we know they're not saying, "I hate you, I hate you". Where's daddy? Is he working his thighs again while I suffer in pain? Yo, barbecue pork is giving the king a run for his money. What a beautiful fuck roast. Bartiste can shed some hair on Andrew's cloud puffs. Brennan looks like that but can't make any money? Ooh. Colleen was not at the club 'til 2:30 in the morning, she was washing her panties. They take forever to dry. They got wet from all the attention Cole was giving her. Both Matt and Cole were more argumentative with their fiancees than they were with each other. Their confrontation was bullshit. Matt really said, "please, I'm begging you, don't fuck my wife" and Cole said, "I won't" but thinking, "I'm gonna fuck your wife". Raven is going to regret taking an Ambien. She's gonna be woozy afterwards. Raven should have paired herself with the other thigh master if she wanted to live comfortably. We know he's a super daddy because he continuously spit it in everyone's face. Fuck other people on the side and go shopping.
06-Nov-2022
S3E7. You must become blind if you want to find love. Bartiste has cheating pork thighs, Cole has fuck all the girls silly eyes, Matt has kick your ass for being a slut ticks, Brennan's eyes turn black when nobody is looking and SK is an Ambien pill (30 minutes in your system before it knocks you out). It's about immature women that read fairy tales as children and believe them. For men, it's a "How To Pick Up Vulnerable Chicks" guide. Lie, lie, lie.
06-Nov-2022
---
Inside Man (2022)
How a good person can be lead to kill. Stanley Tucci is elegant and perceptive as a death row inmate who helps investigate and solve crime. Atkins Estimond supplies "Watson" cuddliness. David Tennant spirals like a rabid dog. The wife is a frantic lunatic and the tutor is the "Karen" that's asking for it. It flourished in the beginning when we were blinded by its freshness but once we analyze the idiocy of it all, it doesn't make much sense. The deductions are grabbed from thin air, some of the reactions are not reasonable and by the end I was irked. Why didn't they just burn the stupid thing? Why did the pervert have to be mentally challenged? All of my perverts had normal capabilities and didn't freak people out. Why are perverts granted mercy but "Karens" are unforgivable? Who gives their perverted porn to a vicar? Your mama don't want it in the house, smash it to smithereens. Yes, anyone can become a killer but many others don't. They are called good dead people.
05-Nov-2022
---
Last Woman On Earth, The (1960)
While on a scuba diving expedition in Puerto Rico a newly married couple and their lawyer end up the last humans on earth when they resurface. They survive and explain the cause through the progression of the environment and by applying science to their observations. Words were in tune with how a woman might feel being the last one. The men went caveman because the lawyer has needs and his boss' wife was the only relief. I kept feeling the script would have had more depth had it not been costly. Wife is a newlywed who lusts to spend more time with her gangster husband. Lawyer is a do-gooder schmuck whose tired of being manipulated by sore losers. Every time the story filled in a hole the director cut away to something exotic. They hardly pondered whether, as last adults, they were worthy enough to replenish the earth. Wife's legs dangling from atop the boat, the men fish-slapping each other, the atmosphere (Puerto Ricans in 1960), the woman's hair turning from blonde to black and jitter acting that enunciates realness, were shots I will remember.
Remake. (Pssst: I would have given her my sperm and fucked daddy. Yeah, let her decide the future of the world.)
25-Oct-2022
---
A Doll's House (1973)
A woman moving in with a man must turn the home into a dollhouse in order to make her feel like she owns it. She owns him as much as he thinks he owns her, but a toy is the only home she will ever get to own. The cast played it without pity, the story excelled as it moved, even though status has changed, emotions remain the same and Jane Fonda flexed some beautiful muscles. Freedom comes after you stop lying to yourself. A real Christmas story.
17-Oct-2022
---
Below Deck: Mediterranean (2016-) 
When will men learn that women don't want to have kids with bald heads and hairy backs? It's off-putting, especially if they turn out to be girls. The only way to prove a gay steward a liar is to film it. Shouldn't the pronunciation of Mzi be Mitzy instead of Zee? The captain only popped out at opportune moments. Example: "the gay guy is going to call that nosey girl a bitch. Listen, wait, then pop out." I want to see the chef's eyes turn black when he's banging a chick. He has "You" type relationships with the boat, crew and that chief stew casserole.
17-Oct-2022
Deck Jason was belittled for confusing" being himself" with "honesty."
21-Sep-2022
The crew dressed like Guy Fieri and I didn't get it. Why the big boobs? A strange dick in a gay's mouth fixes his teeth but makes his job performance wonky. If a gay boy unzips in a woman's face it's not sexual harassment. If a strait man compliments a gay boy's ass it's an honor. Ex-new boyfriend of chief stew is worried that ex-new girlfriend is thinking of the chef's dick every time she sees him. He needs to helicopter in and remind her what a tasty dick looks like. The captain keeps seeing the same dirty spot after a few sips and not. Natalya snitched on her boss (not-twin) and stew Whoopsy. The captain called them pigs and Whoopsy exclaimed that Natalya had opened the fish market. What the hell is that? Is that a new gender?
12-Sep-2022
Lesbians in charge still can't incorporate a hot male crew member. Trust me, the sex jokes would be less offensive. Captain Sandy does not hit things when she has a few sips. A gay steward gets a tooth infection when there is no constant dick in his mouth. I can't tell those brunette stewards apart. If I were Captain Sandy I'd make one of them cut their hair.
15-Aug-2022
---
Watcher, The (2022)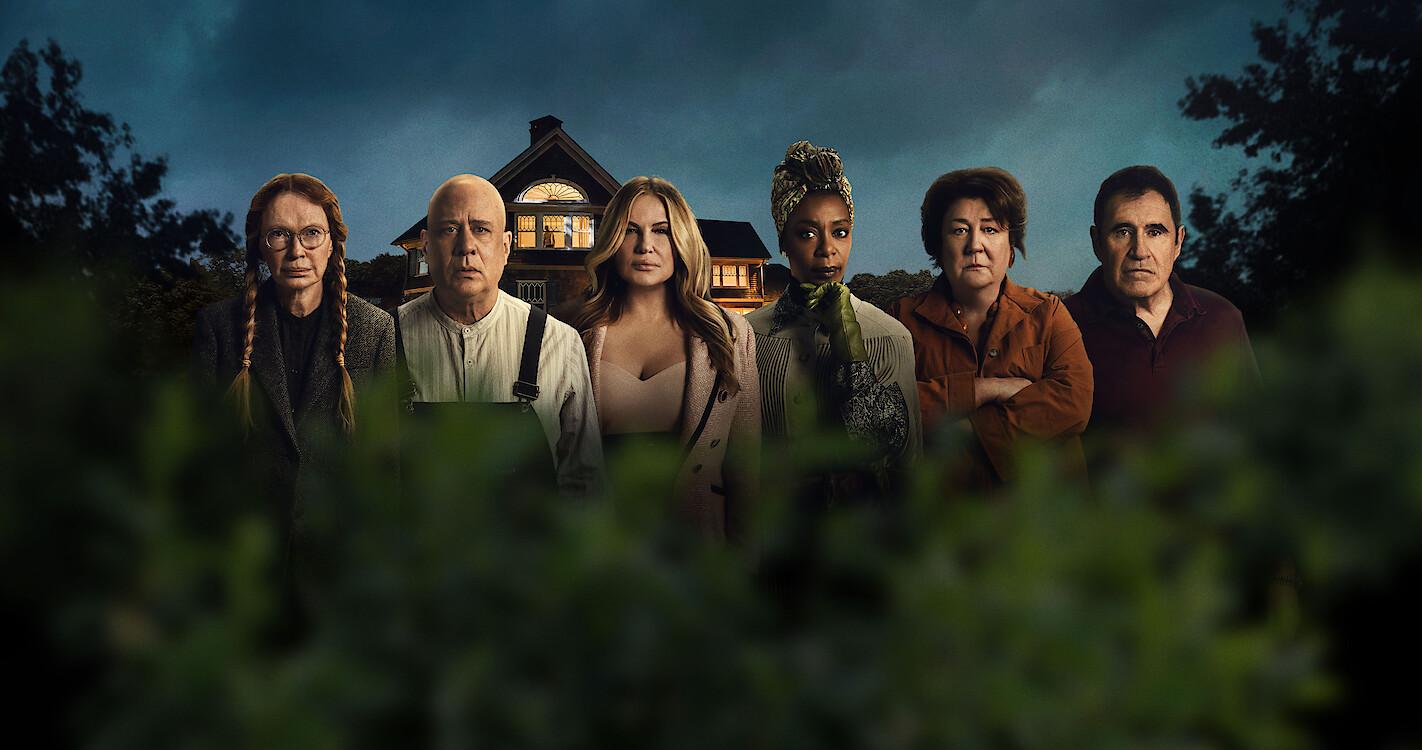 Moving to a new neighborhood is like finding extended family. Neighbors expect things of you. You fake your way out, you eventually fall into their trap and they change you. Jennifer Coolidge is in it. She was mighty confident pulling out question marks. She's all you'd expect and more. Margo Martindale is sublime as a sparring neighbor that's always lawfully right. The asshole who I think claimed all men want to sleep with their daughters was intriguing. Mia Farrow was wasted as a tree communicator/hugger/companion. A neighbor that excludes humans from the safety of the environment is a nag. Every time Papa Cannavale raged, my loins pleasantly shifted but when he didn't stop, I got ED. The Wakandan investigator seemed too fabulous to be in this realm. Real-life haunted house stories are bullshit. A bunch of brilliant people coming up with an idea of creating history by actually destroying people's lives and documenting it. All I wanted was to see Martindale and Coolidge go at it. Coolidge as a porn star neighbor with loud parties and sex orgies (ooh ooh, she can invite Stifler), colorful guests and Martindale doing what she does best with lesbian tendencies. Ryan puts our head in a tumbler and expects us to figure it out. On what basis?
14-Oct-2022
---
Werewolf By Night (2022)
A monster mash that returns to its cinema roots to re-establish itself in the present. Story over matter, acting instead of over-compensation and violence with a due purpose. Harriet Sansom Harris has a voice you shyly obey, Laura Donnelly's spirit has cool tendencies and Buffy skills, I prefer Mr. Bernal in shorts and no makeup but I'll take him however he is served. Please, remember the shorts, though.
12-Oct-2022
---
Mandy (2018)
An artful relentless mess in which Lord Nicholas takes on religion and splits his asshole kicking its butt.
12-Oct-2022
---