All Posts Tagged as 'Sex'
Welcome to Errattic! We encourage you to customize the type of information you see here by clicking the Preferences link on the top of this page.
Texas Boy, 5, Was Playing with Dad on Balcony When Stray Bullet Struck and Killed Him 
A Houston family was sitting on their second-floor balcony just after 9 p.m. on March 31 when tragedy struck.

Jordan Allen Jr., 5, and his dad had been making TikTok videos when the boy asked for some juice. As his dad stepped into the house to get him a drink, he heard five to six gunshots — followed by his son's pleas for help. Jordan had been struck in the head by a stray bullet.

"Everybody ran in the house and the kids' room in the house," Jordan's father, Jordan Allen Sr., told ABC13.com. "So I ran to the porch, and then I see my son on the ground holding his head asking for my help."
Tx. Baby Clinging to Life After Mom's Boyfriend Allegedly Shot Him, Plus His Mother, Sister
'I'm disgusted': Father of choirboy who accused George Pell of sexual abuse says he has lost faith in the justice system after cardinal was released on appeal
---
I have chosen to live my life as a celibate man. (2 years and counting.)
(the gif explains how celibate I am. I wouldn't break it even for superdaddies.)
03-Apr-2020
---
Legal Sex Workers And Others In Adult Industry Denied Coronavirus Aid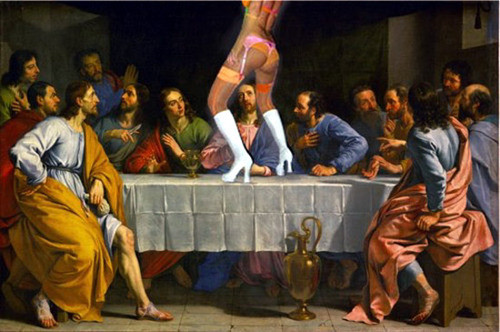 When Congress passed the massive $2 trillion bailout bill last week, it made sure that self-employed people or other independent workers could apply for loans or grants from the Small Business Administration. But there was one very specific ? and puritanical ? exception: legal sex workers and others in the adult entertainment industry.

The very first page of the online application says that in order to be an "eligible entity" that can receive monetary relief from the bill, an applicant cannot "present live performances of a prurient sexual nature or derive directly or indirectly more than de minimis gross revenue through the sale of products or services, or the presentation of any depictions or displays, of a prurient sexual nature."

Prurient, which is defined by Oxford as "having or encouraging an excessive interest in sexual matters," is a vague categorization that broadly includes thousands of workers in the U.S. As stated, the clause excludes everyone who works in the legal (and, worth noting, booming) sex industry including strippers, porn performers, producers, directors, sex toy manufactures and many others. It's unclear whether this clause includes other professions that don't explicitly deal in the sex industry, but do cover subjects that are of a "prurient sexual nature" such as sex therapists and authors of erotica novels.
---
'Shoot them dead,' Philippine's Duterte warns coronavirus lockdown violators 
In a televised address, Duterte said it was vital everyone cooperates and follows home quarantine measures, as authorities try to slow the coronavirus contagion and spare the country's fragile health system from being overwhelmed.

The Philippines has recorded 96 coronavirus deaths and 2,311 confirmed cases, all but three in the past three weeks, with infections now being reported in the hundreds every day.

"It is getting worse. So once again I'm telling you the seriousness of the problem and that you must listen," Duterte said late on Wednesday.

"My orders to the police and military ... if there is trouble and there's an occasion that they fight back and your lives are in danger, shoot them dead."

"Is that understood? Dead. Instead of causing trouble, I will bury you."
New York City murders rise from one to five in a week and burglaries increase 18% as overall crime drops during the coronavirus lockdown and residents report more minor incidents
Here's a look at what states are exempting religious gatherings from stay at home orders
MAN JAILED FOR SIX MONTHS AFTER STEALING MASKS AND HAND SANITIZER FROM AMBULANCE
Gay personal trainer epically shuts down guys on Grindr who're begging to use his gym during coronavirus crisis
99-year-old in New Jersey charged after attending party during state ban on gatherings
Staff Said The Free Mask Kits At Jo-Ann Fabrics Are Just Scraps From The Clearance Bin
Trisha Paytas spreads more misinformation about the coronavirus in a new video, saying it's just 'the flu' and young people can't catch it
Regina police chief promotes new tip line for public health order violations
---
Sex predator William Gordon carried out 'horror' attack on stranger after early prison release 
A serial sexual predator who carried out a "horror" attack on a stranger had been set free from prison despite posing a known risk to women and girls, a court heard.

William Gordon, 34, was released just weeks before he stalked a series of women in south London late at night while "scouting" for a victim.

When he struck, Gordon pinned a woman against an alleyway wall as he sexually assaulted her and, after she broke free, chased her down to continue the attack.
Girls sexually assaulted while mom underwent chemo, charges state
Watch Teen Wrestling Champ Manhandle 'Superhuman' Kidnap Suspect In New Mexico Gas Station Rumble
St. Louis Brass Remained Silent for Years as Women Accused Cops of Drugging, Raping Them
---
I'm Having a Lifesaving Affair, but Social Distancing Is Keeping Us Apart
Dear How to Do It,

I'm having a wonderful affair with a man. We're both married, but we're careful and responsible—it's what we both need to survive in our marriages, and it's what's best for both of us. (Without saying too much, in our situation, divorce would destroy our big, happy, extended immigrant families. I'm not looking for judgment on that.)

The problem is social distancing because of the coronavirus. Our spouses and kids are now both home full time, and getting away to see each other has been impossible. I'm miserable without the sex and companionship, and so is the man I'm seeing. At one point, he suggested meeting in our cars by the grocery store. I obviously declined. Then today, he called me and said to go to my window and waved to me from his car (we live about two neighborhoods apart). I was moved by the gesture, but it worried me. I feel like I am on the verge of doing something risky, and all this time with my husband, who is a kind man, is making me want to lash out and tell him I don't love him.

What can I do to keep my head on straight here? I would be cast out of my family if this came out, but this whole situation is making me feel out of control.

—Swelter in Place
---
HIV patients left vulnerable amid pandemic, experts say 
The Trump administration's goal of halting HIV transmission by 2030 is being swamped by the coronavirus crisis, with many sexual health clinics closing their doors and local health departments' infectious disease staff being redeployed to emergency response roles.

That's raising concern about the large population of people living with undiagnosed and untreated HIV, whose compromised immune systems could put them at higher risk of succumbing to coronavirus.

"Those individuals are going to be susceptible to opportunistic infections and would be at considerable risk if they are exposed to Covid-19," said Christopher Hall, an infectious disease physician in San Francisco and the chairman of the clinical advisory council for the National Coalition of STD Directors.

It's an especially vulnerable population, Hall said. Nearly half of people living with HIV in the U.S. are over 50 years old. Up to half smoke cigarettes, potentially worsening their outcomes from respiratory infections like the coronavirus. And many have preexisting health conditions like diabetes and hypertension that dramatically increase the odds of mortality.
---
This 'mostly straight' guy is falling for his bisexual roommate while they're trapped together in coronavirus lockdown
He wrote: "Jake's a pretty casually physically affectionate guy in general… I'm not as much that way as he is because I was kinda raised in 'men don't hug' kinda household where physical affection was rarely given, if it was given at all, but I'm cool with him being like that and actually kinda appreciate it."

The two men are currently on lockdown because of the coronavirus pandemic, and have only had each other for company.

The original poster (OP) said he has a condition which causes extreme fatigue and so he needs to take naps during the day, and used to do this on the sofa when his roommate was out.

He said: "Since quarantine, he's obviously been here every time. He's been very accommodating and sweet about it.
---
A gay sex club has taken its naked party online and proved more popular than ever
A UK gay sex club has responded to coronavirus by taking its popular naked party online – and it's proved a massive hit.

While many workers are resorting to online video conference services for their regular meetings, sex club promoter Jamie HP decided to put the same tech to a more enjoyable use.

SBN, which stands for 'stark bollock naked', holds regular Sunday afternoon parties in a club in Vauxhall, south London. Usually up to 600 guys strip off for the event.

However, yesterday (29 March) 3,000 attended the online equivalent, Jamie told GSN.

Meanwhile it seems the communities who use online cruising sites and hook-up apps are policing the coronavirus quarantine for themselves.
---
Guy in an open relationship has the absolute worst reaction to his wife getting a girlfriend
Writing anonymously on Reddit, the woman said she is "confused and hurt" by her husband's hostile response to her new partner.

She explained that she has been with her husband for seven years. For around six of those years, they were in a monogamous relationship, but last year her husband suggested they open up their marriage to include other people.

The woman was scared about the prospect of an open relationship, and not entirely comfortable with the idea, but her husband said he would leave her if she didn't agree as it was what he wanted.

But the man apparently got more than he bargained for when his wife introduced a female partner into the mix.

Initially, the couple encountered stumbling blocks when her husband's partners did not want to have threesomes, which left the woman feeling "dejected and upset".
---
French Montana sued for sexual battery, allegedly drugged victim
A woman is suing French Montana for sexual battery, alleging she was drugged and raped in his home.

The victim, referring to herself by the pseudonym Jane Doe, is also suing Montana's employee, Mansour Bennouna, and Coke Boy Records for assault and battery, sexual battery, intentional infliction of emotional distress, negligent hiring, supervision and retention and negligence.

In legal documents, obtained by The Blast, Doe claims the 35-year-old rapper "had a longstanding practice of inviting women to their recording sessions, or choosing women at bars, and inviting them back to the Hidden Hills house."

Doe goes on to allege that the defendants would supply women with drinks and drugs, "with the purpose of engaging in sexual acts with them, without any regard to whether or not they consented, or were able to consent."
---
Lesbian sexually assaulted by man who told her he would 'fix the gay', police say
According to Deseret News, Adam Quinn Atwood, 34, was arrested on Wednesday March 26 and police in Salt Lake City, Utah, are investigating the sexual assault as a possible hate crime.

He has been arrested on charges of object rape, forcible sodomy, kidnapping, aggravated sexual assault and forcible sexual abuse.

The lesbian woman told police that Atwood was her friend's husband, and that she visited the couple on the evening of Sunday, March 22, in Salt Lake City.

At some point during the night, her friend fell asleep and she said that Atwood began "touching and grabbing her".
---
Do not attempt to hook up during the coronavirus lockdown, says Terrence Higgins Trust
"You are your safest sexual partner right now."

The Terrence Higgins Trust has advised those in lockdown to not seek hook ups.

Due to the misinformation online about sex and the coronavirus, medical director Dr. Michael Brady has written an educational blog post clarifying the NHS and government's guidelines on how to keep safe during this pandemic.

"This follows the new measures which have been announced by the Government telling everyone to stay at home, to stop face-to-face socialising, to stop all non-essential journeys and to limit our movement," he writes.

"Unless you have sex with someone within your household, it's important to find sexual pleasure in other ways. Sex is an important part of life, but right now we have to find other ways to achieve sexual pleasure and satisfaction."

Although there is no evidence to suggest that the coronavirus can be transmitted through sexual contact, Brady stresses that it can be spread through close physical contact, rimming and kissing because of saliva and mucus.
---
Groom calls off wedding after cheating fiancé is quarantined with another man right before ceremony
Matt Hillier has put his wedding plans on hold after discovering his fiancé was sleeping with another man. Two weeks before the ceremony, his would-be husband was put in quarantine after coming down with the symptoms of coronavirus infection.

Hillier had moved from England to Brazil to marry Octavio Santos and didn't find out until Santos confessed – because the other man was quarantined with him in the same apartment.

"I am angry and bitter," Hillier told the British tabloid The Daily Mail. "He is a cheat and this is a total slap in the face. I've moved to the other side of the world to start a life with this man. I've spent so much time stressing over organizing our wedding so that it's perfect."

"I even flew my parents and sister out in February to hear the reading of our wedding banns and I've got everything ready for our ceremony at the beginning of April."

The other man, identified as Nathan, is a mutual friend. The three had plans to travel to Rio for the weekend when the AirBnB told them they couldn't bring Santos' dog.
---
Jerry Falwell Jr.'s Christian University Welcoming Students Back to Campus Amid COVID-19
Liberty University, a private evangelical Christian university in Virginia, is welcoming students back to campus this week despite a little something known as COVID-19.

"I was on a conference call with other college presidents and representatives from private colleges, and we listened to what other schools were doing," president Jerry Falwell Jr. said in a statement shared to the school's site this week. "Many were throwing their hands up and saying they would just close and others were going to extend their breaks. At that time, we were on Spring Break, so we had time to work on it."

This process of choosing to "work on it" ultimately resulted in the decision to "get [students] back as soon as we can, the ones who want to come back."

A report from the Richmond Times-Dispatch noted that between a few hundred to more than 5,000 students were projected to be living in Liberty dorms as classes resumed this week. The majority of those classes have moved to online formats. Staff and faculty, however, are said to be coming to work in their usual capacity.
Survey reveals how many LGBT+ people will still date and hook-up during coronavirus
"I'll do what I want": Why the people ignoring social distancing orders just won't listen
'Corona, OK!' Yelled College Student Before Coughing Into Cop's Face, Police Say
Eight men arrested after hosting cocaine-fuelled orgy during coronavirus lockdown
Pastor again defies state order not to hold large gatherings. He says 1,000 people came to his church Sunday
The UK is in lockdown, but this church is suing Edinburgh because the city refused to host a homophobic preacher
When faith threatens public health
---