All Posts Tagged as 'Entertainment'
Welcome to Errattic! We encourage you to customize the type of information you see here by clicking the Preferences link on the top of this page.
Baseball Team's LGBTQ Pride Night Featured Chick-fil-A, Sean Spicer
The minor league Pawtucket Red Sox delivered a double header in bad taste Friday night, giving out free Chick-fil-A and having a former Trump administration official throw out the first pitch on Pride Night.

Sean Spicer, President Trump's first press secretary, tossed the first pitch, according to The Boston Globe. Spicer appeared as a representative of the Independence Fund, a nonprofit that serves wounded veterans.

The former press secretary made no reference to Friday also being Pride Night at the stadium, but critics noticed.

"The PawSox are having Sean Spicer throw out the first pitch on Pride Night. What an insult to all their queer fans," wrote Longreads sports columnist Britni de la Cretaz on Twitter.
---
Odell Beckham Jr. not bothered by people speculating he is gay
GQ: There was a period of time when a lot of gossip sites — specifically black gossip sites — would constantly say that you were closeted. They'd call you "excited" in a hot-tub photo with your teammates or simply just say you're gay. How'd that make you feel?

Beckham: I've never had an opportunity to talk about this. Honestly wasn't offended. I've never once had no problem with anybody who has their own personal life that they live. I have friends who are gay. It was almost more funny to me. I almost messed with them even more. It's like when someone gives me an ultimatum, I'm usually always going to go to the opposite way of what you want me to go. So when they would say that, I would almost mess with them even more. I have no problem with anyone's sexual orientation.
---
---
Wil Wheaton: As a child, none of the adults in my life listened
Wil Wheaton got candid about what life was like as growing up as a child actor on Friday.

Wheaton, 46, posted a photo of a vintage spread from a late-1980s teen magazine, in which he shared a series of fun facts with fans. However, the caption alongside the picture revealed the hurt he was experiencing at that point in his life.

"This weird kid was so self-conscious about these things, didn't want to do them, felt awkward and embarrassed by the attention and did it anyway because none of the adults in his life ever listened to him," the "Star Trek: Next Generation" actor wrote.
---
Listen: Carol Burnett on Her 'Unbelievable' Emmy Nod, 'Ridiculous' Network Notes 
Welcome to "Remote Controlled," a podcast from Variety featuring the best and brightest in television, both in front of and behind the camera.

In this week's episode, Variety's executive editor of TV, Debra Birnbaum, talks with comedy legend Carol Burnett, who scored her 23rd Emmy nomination for "The Carol Burnett Show 50th Anniversary Special."

Even with six Emmy Awards under her belt, Burnett is still immensely grateful at the recognition by the TV Academy, as well as audiences. "To have this happen now, it's kind of unbelievable," Burnett says. "I was happily surprised."

The program, which is in contention for variety special, celebrated the 50th anniversary of "The Carol Burnett Show," the variety series which ran from 1967 to 1978, and won 25 Emmys over the course of its run.
Hilarity and bear hugs
20-Jul-2019
Carol Burnett
20-Jul-2019
---
An original being
20-Jul-2019
---
She always represented.
20-Jul-2019
---
Because I like her spirit.
20-Jul-2019
---
Cameron Boyce's death shines a light on fatal stigma
The death of Cameron Boyce, the talented Disney actor who according to his family died in his sleep following a seizure at the age of 20, resonates deeply with the experiences of so many other families who have lost their loved ones to Sudden Unexpected Death in Epilepsy (SUDEP). Boyce's family has said his fatal seizure was the result of epilepsy, and while Boyce's final cause of death has yet to be determined, his tragic loss is a reminder that every year, about 1 in 1,000 people with epilepsy suddenly die. Among those whose seizures are not controlled by medicine, the rate rockets to a stunning 1 in 150.
---
Actually, Madonna Was the First to Subvert Country Music Style
I remember seeing Madonna's "Don't Tell Me" on MTV in 2000 when I was 11 years old. It was mind-blowing. Growing up in New England, country music never hit close to home. It was all Garth Brooks singing about driving a truck with a fat engine and cracking a warm beer by the lake. But Madonna took the genre and spun it on its head in one of the most transportive videos of her career: steamy cowboys and a dark ranchero vibe, mixed up with a lot of sand-strewn cheek. (It was also the first time Madonna played guitar on an album.) It's almost hard to believe that the music video is almost 20 years old. "Don't Tell Me" was the OG beginnings of country music style breaking into the pop world. Subversive twang is going mainstream in the form of Lil Nas X's "Old Town Road," Orville Peck's masked exploration of masculinity in country music, and Diplo brooding in a Nudie suit on Instagram. But let me remind you that Madonna was the first to pave the way for giddy-up pop.
---
MILEY CYRUS WON'T HAVE CHILDREN BECAUSE 'THE EARTH IS ANGRY'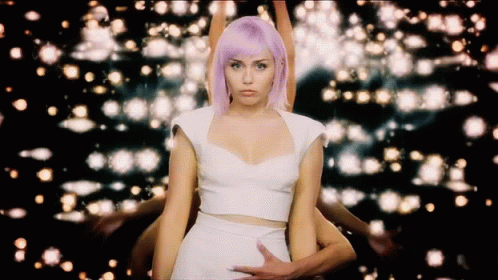 The "Mother's Daughter" singer said the planet has been depleted and that she will not have children "until I feel like my kid would live on an earth with fish in the water".

"We've been doing the same thing to the earth that we do to women. We just take and take and expect it to keep producing. And it's exhausted. It can't produce," the 26-year-old said. "We're getting handed a piece-of-shit planet, and I refuse to hand that down to my child.
---
k.d. lang Says Coming Out Denied Her a Chance to Remain Mysterious
Singer k.d. lang stunned the world coming out to The Advocate in 1992. But she says now the experience ultimately proved 'exhausting' and stripped the singer of some public mystery.

"I grew up with the adage that there is a wealth of purpose in being mysterious," lang said in a new interview with The Guardian. "And I feel like I haven't had the chance to be mysterious. My sexuality, and everything, was so much out in the open, and has been for many years. I feel exhausted by being exposed."
---
Your Alt Account (and Favorite Porn Star) Have a Home on Twitter
In the wake of Tumblr banning porn and the increasing censorship of pornography as well as suggestive material online, many began to flock to Twitter as an outlet to share and consume pornographic content. But this week, a report from XBIZ pointed out that the service's newly updated Terms of Service could put an end to communities that include porn stars, other sex workers and "alt accounts." The social media platform, however, has no plans to restrict such content.

"We recently updated our rules to better demonstrate what is and is not allowed on Twitter," a Twitter spokesperson told Out in an email statement about the changes. "The updates were made to provide more clarity, not to reflect changes in our policies or enforcement practices."

In a section of their Terms of Service titled "Sensitive Media Policy," updated on March 2019, Twitter has, among other things, introduced a few new guidelines. Sensitive media, for the company, includes media that depicts graphic violence, adult content, violent sexual content, and gratuitous gore. This content is not allowed to be shared in profile photos or header imagery. As for "graphic violence and consensually produced adult content," it can be shared within tweets but it will be marked as sensitive and will be available behind a warning. But one new section in particular stood out to many.
---
The Little Mermaid was originally a 'love letter' to the author's male crush
As you know, Disney's 1985 animated film The Little Mermaid is being made into a live-action movie. And while some white fans are upset that the titular heroine will be played by black R&B singer Halle Bailey, many others overlook the story's interesting gay origins.

When Danish author Hans Christian Andersen wrote "The Little Mermaid" as a short fairy tale in 1837, he did so as a way to illustrate his failed attempt to woo a heterosexual man named Edvard Collin. Many biographers say that Andersen, who was attracted to both men and women, long pined for Collin even though Collin was of a higher class and disapproved of Andersen's romantic overtures towards him and possibly one of his sisters.

---
Disney Channel star Cameron Boyce dies at 20
Actor Cameron Boyce, known for his roles in the Disney Channel franchise "Descendants" and the TV show "Jessie," has died. He was just 20 years old.

Boyce's death was confirmed to ABC News by his family Saturday night.

The cause of death was announced as due to "an ongoing medical condition."
---