All Posts Tagged as 'Support'
Welcome to Errattic! We encourage you to customize the type of information you see here by clicking the Preferences link on the top of this page.
---
Please, I Beg You, a Moratorium on Even Joking About Celebrities Running for President 
Billboard reports that Taylor Swift fans are trying to get her to run for president, a likely callback to the time West infamously jumped onstage at the MTV Awards to dis her Best Album win. "How about taylor swift as the president and selena gomez as vice president?" one fan tweeted. "okay so i need @JoeBiden to announce @taylorswift13 as his vice-president in order to defeat Kanye West & Trump. enough is enough. we're tired af," wrote another. A third wrote, "@taylorswift13 running for president, and winning obvi, would honestly be the end of all the kimye drama."
Treasury reveals 700,000 of the companies and non-profits who got PPP bailout - with Kanye West company and Donald Trump lawyer's firm among those benefiting
Kanye West's late registration (again): Yeezy's 2020 bid is facing failure because he has missed key deadlines to get on the ballot
Britney Spears Fans Push #FreeBritney After Kanye West Runs For President -- He Was Hospitalized Too!
---
77% of White Voters Approve of Police, Just 26% of Black Americans Agree 
While approximately 68 percent of American voters approve of the job the police are doing, according to a new Hill-HarrisX poll, that percentage drops down to 26 when only Black voters are counted. Comparatively, 77 percent of white voters approve of how police are doing their jobs, revealing a racial divide when it comes to how police are perceived.

An online poll of 951 registered voters conducted between June 22 and 23 asked respondents whether they approved or disapproved of the jobs of different workers. These groups included the police, healthcare workers, local politicians, journalists and national politicians.

Overall, healthcare workers had a 94 percent approval rating amongst all voters, local politicians received 62 percent, journalists got 59 percent and national politicians got 56 percent.
There is no epidemic of fatal police shootings against unarmed Black Americans
Controversy over keeping police in Chicago schools rages on, moves to City Council
Wealthy Hamptons Residents Are Hiring Security Guards After Protests
Portland police declare riot as protests turn violent again
Fact check: 1994 crime bill did not bring mass incarceration of Black Americans
---
Couple Married for 53 Years Hold Hands as They Die of Coronavirus on the Same Day 
A couple who were married for more than half a century reportedly succumbed to coronavirus complications on the same day in Texas.

According to CNN, Betty and Curtis Tarpley, 80 and 79, died within an hour of each other on June 18 and held hands during their final minutes together.

The couple's son, Tim Tarpley, told the network that Betty showed symptoms of the deadly disease just before she was taken to Texas Health Harris Methodist Hospital Fort Worth on June 9. Curtis was admitted to the same hospital just two days later.

Tarpley said Betty phoned both him and his sister, telling them she was at peace with dying as her condition continued to decline.

"I just screamed, 'No!' I was like, 'I've got too much, too many other things to do in this life that I want to show you, and I'm not ready,'" he recalled to CNN.
America's dad Tom Hanks is very disappointed in you for not wearing a face mask in public
Controversy Brews Over D.C. Socialite's Backyard Party After Guests Reportedly Get COVID-19
Groom dies after infecting over 100 wedding guests with coronavirus in India
Cold Stone Employee Fired After Woman Says Kids Were Discriminated Against for Not Wearing Masks
India coronavirus: Official asked to wear mask assaults female worker
---
Brayla Stone, Black Trans Teen, Killed in Apparent Hit 
Local police in Arkansas are treating the death of a 17-year-old transgender Black woman as a homicide. The body of Brayla Stone was found in a car on a walking path in the Little Rock suburb of Sherwood last Thursday, and a person on social media later claimed he was paid five thousand dollars to kill her. Stone is the eighth trans person violently killed in the last seven days.

"Brayla Stone is the 8th transgender person killed in the last seven days," David Johns, Executive Director of the National Black Justice Coalition, said in a statement. "Brayla Stone was seventeen years young when someone murdered her because we live in a society where it is not yet explicit that when we say BlackLivesMatter we mean all Black lives, which includes Black trans women and girls."
Stephen King says 'trans women are women' after J.K. Rowling thanks him for retweeting remarks on recent controversy
---
A Black man said he was afraid to walk in his own neighborhood. So hundreds of people joined him 
Hundreds of people in a Tennessee man's community are marching by his side after he shared his fears of walking in his neighborhood because he is Black.

Shawn Dromgoole, 29, grew up in the 12 South neighborhood in Nashville, where his family has lived since 1966 when his grandmother bought a home there. They were once surrounded by other Black families, businesses and communities -- and for decades, they felt like they belonged.

But 54 years after his grandmother first moved there, Dromgoole said he felt like he couldn't even safely take a walk in his neighborhood without fearing for his life.

"Yesterday I wanted to walk around my neighborhood, but the fear of not returning home to my family alive kept me on my front porch," he wrote on May 27, in a post on the neighborhood social network app Nextdoor and on Facebook.
---
Nextdoor Ends Its Program for Forwarding Suspicions to Police
Nextdoor.com Inc., the neighborhood social networking app, is discontinuing a feature that allowed users to forward their posts directly to local police departments, the company announced late Thursday. The move comes as Nextdoor faces scrutiny over its role as a platform for racial profiling, its increasingly cozy partnerships with law enforcement, and after reports that some of its community moderators were removing posts that mentioned Black Lives Matter. But the company is retaining other features that facilitate communication with police through the app, including one that allows direct messages to law enforcement.

"As part of our anti-racism work and our efforts to make Nextdoor a place where all neighbors feel welcome, we have been examining all aspects of our product," the post read. "After speaking with members and public agency partners, it is clear that the Forward to Police feature does not meet the needs of our members and only a small percentage of law enforcement agencies chose to use the tool."
---
Publix supermarkets won't allow Black Lives Matter garb, responds to Black teen employee
Publix supermarkets said it won't allow workers to wear Black Lives Matter garb due to the company's prohibition against any messaging not associated with the chain's brand.

The company's statement came in response to a Black teen employee at a supermarket in Florida who saying he was sent home after wearing a Black Lives Matter mask to work.
---
Fears over domestic abuse when football comes home
With the Premier League returning tonight, the first football game kicking off this week, people will be watching the games from their homes due to the pandemic. There are fears this could increase tensions within households, resulting in incidences of domestic abuse.

In response to this, the Cannock Chase Council's community safety partnership has teamed up with local partners including Staffordshire Police, New Era (domestic abuse service), the Staffordshire Commissioner's Office and local authorities across Staffordshire to deliver some messages around the issue.

The new campaign 'Football is coming home' raises awareness of the support services available for both victims and perpetrators during these unprecedented times.
---
Hollywood Celebs Are Praising an Anti-Semitic Hatemonger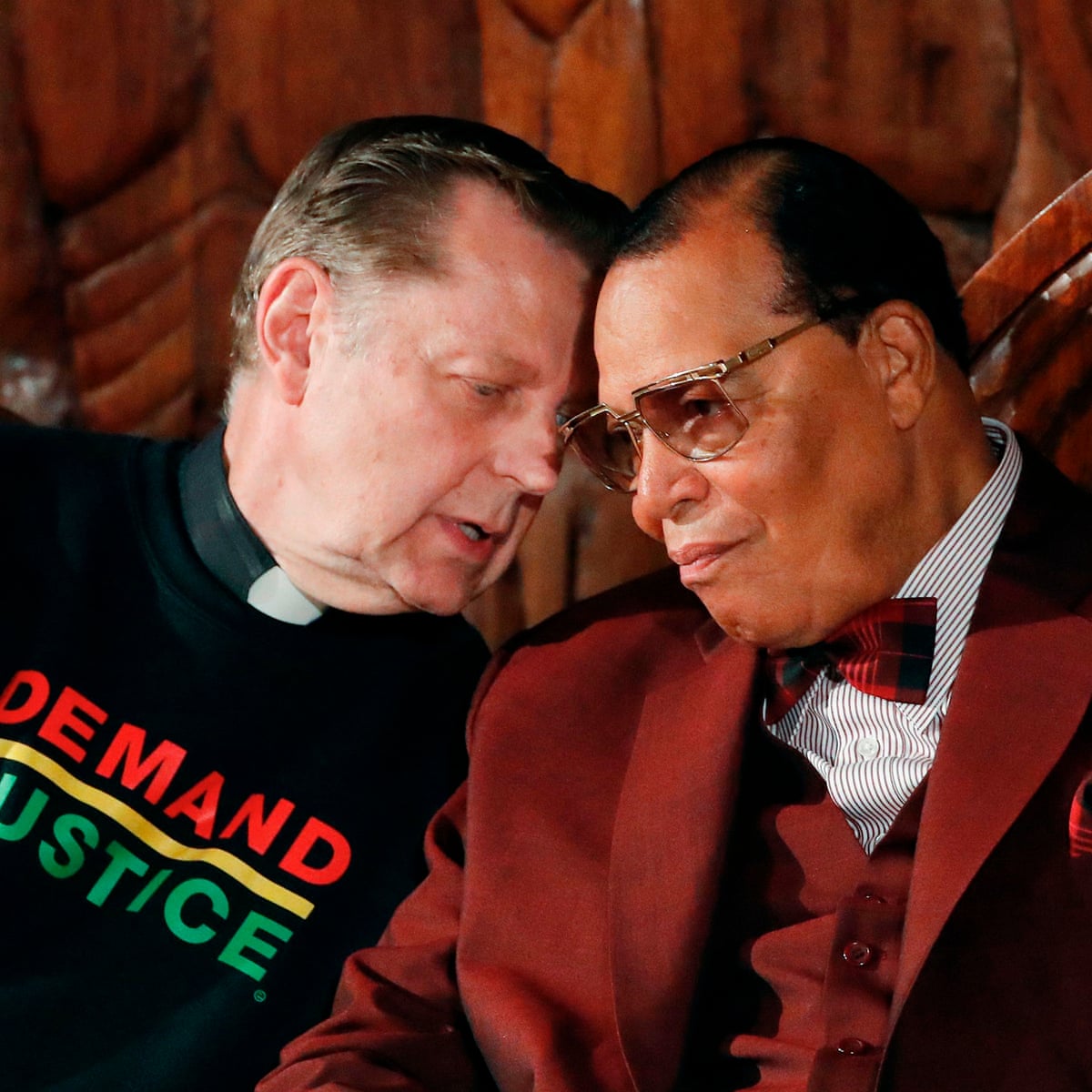 I regret to inform you the celebs are at it again.

On Sunday, in lieu of posting Instagram-friendly protest content, discussing White Fragility in a Zoom book club, or recording a mortifyingly tone-deaf PSA renouncing racism, the comedian Chelsea Handler shared a video clip to her 3.9 million Instagram followers. The clip featured Louis Farrakhan, leader of the Nation of Islam, during a 1990 appearance on The Phil Donahue Show.

In the clip, Farrakhan attempts to educate the rowdy, majority-white daytime TV audience on the subject of white supremacy.

"I really don't think you fully understand what has happened to these people you look at as second-class or inferior citizens in this nation," Farrakhan explains. "Black people who were brought to this country were stripped of their names, language, culture, religion, God, and taken totally away from the history of themselves. Here are 30 million people who don't wear their own names—they wear your names."
'Siesta Key' Fired Alex Kompothecras, Reportedly For Racism On Instagram
---
I am for equality and respect for all. I think mathematically and look for truth so I can fully assess the chaos and decipher it. I don't stand for causes but I regard everyone. The bad eggs are stopping the community from moving forward because they are the problem. You have every right to peacefully protest for our rights but if you don't acknowledge or condemn the problem you might become the problem. The bad eggs represent everything that destroys a community, making it difficult for cops to enforce peace which leads to overreaction, until it becomes a pattern. The people who cross the community bridge for an honest life are the ones being punished for bad egg action. They represent the superficial gods you worship and I think you need to acknowledge them, for history's sake. The future will ask. Empathy doesn't start with somebody else, it starts with you.
03-Jun-2020
---
---
Without empathy the term 'community' is redundant
This idea of belonging and imagined private utopias were characterised in the subvertive explorations of the mid-twentieth century works of David Hockney's pictorial escapes in Domestic Scene (1963), retreats in his Cavafey poetry inspired The Beginning (1966), or differently in a more sexually liberating yet overtly violent esoteric excess William Borough's novel Wild Boys (1971). However courageous in their time for avocation for same sex relations, in retrospect collectively they portray queer visibility as lacking in outward empathy and visibility for others. This has become confounded.

Such manifestos for a vision for a supposed utopia doesn't widen for the inclusion for lesbians, transgender and BAME individuals. Also how does their context fit within the queer landscape of today given the lack of presence for others, especially where historically queer spaces and our representation are largely tailored and dominated by cis white gay men. This hasn't largely been questioned to the extent till now in which Rosie Hastings and Hannah Quinlan's practice observes and rightly exposes.
---
New coronavirus cases across the world jump by the most ever in a single day, WHO says 
The number of newly reported coronavirus cases worldwide hit a daily record this week with more than 100,000 new cases over the last 24 hours, according to the World Health Organization.

Almost two-thirds of the cases were reported in just four countries, WHO Director-General Tedros Adhanom Ghebreyesus said during a press conference Wednesday at the agency's Geneva headquarters. "We still have a long way to go in this pandemic."

The majority of new confirmed cases are coming from the Americas, followed by Europe, according to WHO's daily report. The U.S. reported 45,251 new cases on Tuesday, according to the agency. Russia had the second-most reported cases Tuesday at 9,263, according to WHO.
---
If travel is, indeed, an essential for knowledge and cultural suction, why not visit the communities? You'll contribute much needed funds to the poor and America, it's very cheap, your heartbeat will rise and you'll eat real food. You will drown in color and once your children take a breath of organic suffering, they will behave throughout their stay. When you return to your podium, you'll understand and better explain our struggle, without presumption.
18-May-2020
---