All Posts Tagged as 'Violence'
Welcome to Errattic! We encourage you to customize the type of information you see here by clicking the Preferences link on the top of this page.
Fast food worker fired after mob beat him & called him a "faggot" in shocking video
A fast food employee in Florida was called anti-gay slurs as he was allegedly beaten by a mob of customers, left bruised and injured.

Later that same day, after he filed a police report, the victim was fired.
Black Trans Woman in Critical Condition After L.A. Shooting
Two Texas LGBT Facebook groups are sharing Islamophobic & anti-Black Lives Matter posts
Turk of Hot Boyz Criticized for Saying Trump Administration Has Done More for Black People Than Obama
Detroit Man Sentenced to Life in Murders of Two Gay Men, Trans Woman
RuPaul Just Inexplicably Wiped His Instagram — After Hiatus
German pastor charged with incitement for anti-gay comment
---
Tragedy of the teen killed by CHOP security revealed: Homeless 16-year-old's friend reveals he drove the stolen Jeep into the 'cop-free' zone for safety and then told her on the phone: 'I don't want to die'
The 16-year-old boy who was shot dead by CHOP security in Seattle was homeless and had just carjacked a Jeep when he was told by a friend to drive to the cop-free zone 'for safety', DailyMail.com can reveal.

Antonio Mays Jr died in a hail of bullets in the early hours of Monday morning and his passenger, a 14-year-old, was critically injured after armed security guards fired on their white Jeep Cherokee, which crashed into the barriers of the Capitol Hill Organized Protest (CHOP) security zone.

Ciara Walker, 25, described the two boys as her 'street brothers' and said Mays Jr and the other teen had been living with her and her husband in a tent at the nearby Cal Anderson Park, located just outside the CHOP zone.

Walker revealed she was on the phone with the boys when they were shot, saying: 'The last thing I heard was a crash and pop pop pop, I'm not sure who said what, but one of them said, '''Ah s**t I'm hit, I don't wanna die.'' Then the phone went dead.'
---
Black Trans Woman Merci Mack Shot to Death in Dallas
Merci Mack, a 22-year-old Black transgender woman, was found shot to death Tuesday in Dallas.

A passerby called police and emergency personnel after noticing Mack lying unresponsive in the parking lot of an apartment complex about 6:15 a.m., TV station KXAS reports. Dallas Fire-Rescue workers pronounced her dead at the scene. Neighbors had heard gunshots in the area about 5 a.m.

Dozens of Mack's friends posted messages of sorrow and remembrance on her Facebook page. "My heart is very heavy, Merci you will be truly missed, I am going miss arguing with you, laughing, singing dancing and mostly watching them fine Men!" one wrote.

Over the last five years, more trans people have died by violence in Texas than in any other state, according to The Dallas Morning News, and almost half of those homicides have been in Dallas. Nationwide, Mack's death is at least the 19th homicide of a trans person this year, with most of the victims being Black or Latinx.
---
Case Of Parents Who Allegedly Used Cattle Prod To Punish Kids Also Involves Horrific Rape Accusations 
A South Dakota couple accused of giving their children drugs and shocking them with cattle prods has pleaded not guilty to the charges against them.

One of the children told investigators Lance had physically and sexually abused her—raping her at least 150 times since she was 14 years old. The teen alleged that if she refused to have sex with him, Lance would use the cattle prod or hit her or tie a dog collar around her thigh to shock her, court documents said.
Fla. Middle School Teacher Allegedly Admitted Sex Abuse of Minor at Party Before Mom Confronts Her
---
A White Couple Was Caught on Video Pointing Guns at Black Lives Matter Protesters in St. Louis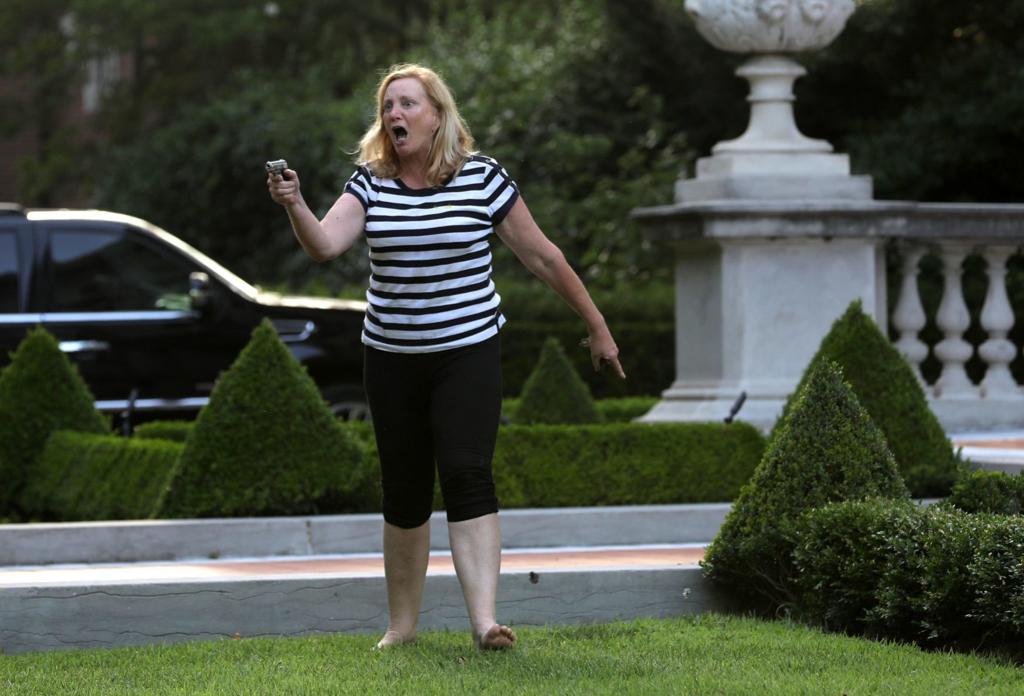 An armed white couple waved their guns and yelled at Black Lives Matter demonstrators in St. Louis on Sunday, during a protest march to St. Louis Mayor Lyda Krewson's home.

At least 500 people peacefully marched through St. Louis' Central West End neighborhood on Sunday demanding Krewson's resignation, according to the St. Louis Post-Dispatch. Krewson appeared in a Facebook Live video last week reading the names and addresses of people who had called for defunding the city's police department.
Man Fired for Racist Rant Supporting Slavery and Lynchings of Black People
John Wayne's son responds to resolution calling for John Wayne Airport to be renamed
Michigan Woman Yells Racial Slurs at New Neighbors in Viral Video
San Jose man charged with hate crime in Santa Cruz assault incident
Adam Carolla defends Jimmy Kimmel over blackface backlash: 'We've lost our minds'
Little Caesars fired two employees after a couple found a swastika made of pepperoni on their pizza
---
N.Y.C. Basketball Star, 17, Is Fatally Shot Days After Graduating from High School 
A 17-year-old high school basketball star was fatally shot in the neck Saturday night— just days after graduating.

Shortly before midnight, New York City police responded to a shooting in the Bronx where they discovered 17-year-old Brandon Hendricks suffering from a gunshot wound to the neck, the NYPD confirms.

Hendricks was transported to Saint Barnabas Hospital, where he was pronounced dead from his injuries, according to the NYPD's statement.

Hendricks graduated from James Monroe High School last week and was a star on the school's basketball team.
How Dollar Stores Became Magnets for Crime and Killing
---
Right Wing Pastors Claim "Homosexuality" Worse Than Slavery 
A pair of controversial right-wing Evangelical pastors have come under fire after stating that homosexuality is a worse sin than slavery. Scott Lively and Tennessee Pastor Richard May made the inflammatory statement on Lively's Breaking News Bible Study program.
Taxpayer funded Catholic schools given secret edict to ban kids who don't conform to gender norms
A sex worker was stabbed 11 times and killed by a client. Her family wouldn't collect her body from the morgue because she's trans
---
Anti-cop protesters make Portland 'look like a war zone' with fires, looting
Anti-cop protesters started huge fires near a Portland police precinct early Friday, as looters plundered nearby stores, according to police and local reports.

"North Portland looks like a war zone right now," journalist Andy Ngô tweeted alongside videos of numerous large fires in the Oregon city.

He said militants "tried to establish an autonomous zone outside" the North Precinct in the city and "they then started fires in the street."
---
White couple blocks Mexican American from entering his building, called him 'criminal' 
A white couple blocked a young Mexican American man from entering the San Francisco apartment complex where he lives in, saying "they would not let a criminal into their complex as they needed to protect it."

Michael Barajas, a UC-Berkeley graduate and a community educator for a biopharmaceutical company, tried to park his car in the apartment complex's garage Tuesday night when the driver in front of him refused to pull forward.

Barajas, 28, told NBC's Bay Area affiliate KNTV that the situation kept escalating and turned dramatic when the white man in the car got aggressive, which prompted him to start recording.
White Men Light Black Teenage Girl's Face on Fire in Wisconsin
Kansas State players speak out after offensive George Floyd tweet made by student leader of white nationalist group
Whole Foods workers sent home for wearing Black Lives Matter masks
White man called police on Black and Hispanic men at marina
Indian restaurant vandalized with 'White power' and Trump 2020' gets donations, support
---
7-Year-Old N.C. Girl Is Fatally Shot, Allegedly by Man Who Was Released from Jail Hours Earlier 
A 7-year-old North Carolina girl was fatally shot in the head while sitting in a car eating ice cream.

"We just lost a 7-year-old innocent child in our family for no reason," Kenneth Woods, a relative of Aaliyah Norris told WLOS at a memorial for the girl Thursday night.

Aaliyah was sitting in a car in Forest City when she was shot in the head. She was taken to a local hospital, where she remained on life support until succumbing to her injuries two days later, according to a Forest City police news release obtained by PEOPLE.

On Wednesday, Shaquille Marshon Francis, 26, was arrested and charged with murder.
Georgia Driver Charged With Homicide In Alleged Hit-And-Run Death Of 13-Year-Old
Missing Pennsylvania Woman Found Dead In Abandoned Lot, Man She Met On Train Charged With Murder
---
Man viciously stabbed in the stomach by someone who thought he's gay 
A man in the state of Washington has been taken into custody for allegedly stabbing two people he was hanging out with, and investigators believe that the attack was motivated by homophobia.

Court records say that Jose Mendoza Sandoval, 26, was at his home in Pasco this past Saturday night when he got into an argument with another man who was there, the Tri-City Herald reports.
Detroit Catholic Church Fires Music Director for Same-Sex Marriage
---
Fans speculate as Billie Eilish unfollows everyone on Instagram 
One fan wrote on Twitter: "Billie Eilish did a social media cleanse and unfollowed EVERYONE on Instagram," adding that "apparently, earlier today she posted an Instagram story saying "dm me if I'm following your abuser" but deleted it 30 minutes later."
15 of Our Favorite Celebrities Accused of Sexual Assault
---
3-Year-Old Chicago Boy Is Fatally Shot While Riding in Car with Stepfather, as Police Seek Suspects 
A $4,500 reward is being offered for information that leads to the arrest of a suspect in the fatal shooting of a 3-year-old boy during a violent weekend in Chicago.

According to police, Mekhi James, 3, was shot Saturday night while in the back of his stepfather's car.

The stepfather was driving them home after both had gotten haircuts.

The shooting unfolded shortly after 6:30 p.m. along Chicago's Huron Street.

Investigators said a blue Honda SUV pulled up alongside the stepfather's vehicle and opened fire.
A Black Teen Died After Screaming 'I Can't Breathe' as Youth Home Employees Put Their Weight on Him
SEE IT: Man left with knife sticking out of head by Harlem mugger
Accused killer caught in Brooklyn gang bust left trail of Facebook posts boasting of violence: feds
White men in car chased down Black teens on bikes in Connecticut, 1 hurled slurs, police say
3 charged over killing of Black teenager who reportedly cried out 'I can't breathe' while being restrained at Michigan facility for 'at-risk youth'
Pa. Woman Who Vanished Last Month Is Found Dead in Trash Bag, and Man Is Arrested
Ga. Boy, 13, Was Walking with Dad on Sidewalk When Driver Allegedly Killed Him in Hit-and-Run
Baseball bat-wielding brute sought in unprovoked Bronx attack
Protestors brutally beat a gay Democratic lawmaker in Wisconsin. He says he's still "on their side."
---
5 retired priests arrested after allegations they sexually assaulted minors 
The abuse is alleged to have occurred while the men were teachers at a high school in Rigaud and at two institutions in Matane and Pohénégamook.

In 2016, the religious order agreed to a $30-million payment to students who attended the Montreal Institute for the Deaf.

In 2012, a number of former students said they were sexually assaulted by priests who worked there.

At least 60 deaf students were assaulted by members of the religious community and lay people working at the school between 1940 and 1982. The school changed its name to the Institut Raymond-Dewar in 1984.

About 270 alleged victims have joined a class action lawsuit against the order.
A Flood of Sexual Assault Allegations in the Porn Industry Are Met With Deflection
Foul Play Suspected in Case of Solider Who Complained of Sexual Harassment Before Vanishing: Army
Jeff Ross Denies Raping Underage Girl, Says 'Dangerous Environment' at Comedy Clubs Is 'Real'
RELATED VIDEO: Justin Bieber Refutes Sexual Assault Allegation: 'Sexual Abuse Is Something I Don't Take Lightly'
As sexual abuse allegations flood in, the world of video games faces a reckoning
---
Gay trans teen mocked on the street while cis woman laughs and points at his crotch in hate-filled, disturbing video 
Gay trans man Jasper Lauter has shared a video of the horrific moment when two cisgender people verbally assaulted him in a hate-filled, transphobic incident in California.

Lauter, who lives in Fairfax, California, was putting rainbow flags up around his hometown on June 20 when he noticed a bake sale benefiting the Black Lives Matter movement had attracted negative attention.

When Lauter noticed that a male and a female were giving a hard time to the volunteers, he decided to intervene.
All 3 victims stabbed to death in U.K. park were reportedly members of the LGBTQ community
Transgender woman was "karate chopped" by drunks for using the women's bathroom
A 'real life Mister Rogers' hung a rainbow outside his home for Pride. A homophobic neighbour told him he 'shamed the community'
---