All Posts Tagged as 'Youth'
Welcome to Errattic! We encourage you to customize the type of information you see here by clicking the Preferences link on the top of this page.
Girl Found Dead on Md. Trail Day Before Her 18th Birthday, and Police Think She Was Murdered 
Maryland police are investigating the death of a 17-year-old girl whose body was found in a wooded area off a walking trail in Frederick County – and they believe she may have been murdered.

On Saturday at about 5 p.m., a woman was walking along a path in the woods behind Briargrove Court in Ballenger Creek when she came upon the body of a teenage girl just off of the trail, local station WJZ reports.

"When I saw her, I screamed and she didn't even flinch," Isabelle Weissend told WJZ. "She wasn't moving or anything."

The victim's family identified her as Ty'kerria Dawson of Hagerstown, the outlet reports.
Family and Friends Will Gather to Remember Robert Fuller at Funeral
---
Brayla Stone, Black Trans Teen, Killed in Apparent Hit 
Local police in Arkansas are treating the death of a 17-year-old transgender Black woman as a homicide. The body of Brayla Stone was found in a car on a walking path in the Little Rock suburb of Sherwood last Thursday, and a person on social media later claimed he was paid five thousand dollars to kill her. Stone is the eighth trans person violently killed in the last seven days.

"Brayla Stone is the 8th transgender person killed in the last seven days," David Johns, Executive Director of the National Black Justice Coalition, said in a statement. "Brayla Stone was seventeen years young when someone murdered her because we live in a society where it is not yet explicit that when we say BlackLivesMatter we mean all Black lives, which includes Black trans women and girls."
Stephen King says 'trans women are women' after J.K. Rowling thanks him for retweeting remarks on recent controversy
---
N.Y.C. Basketball Star, 17, Is Fatally Shot Days After Graduating from High School 
A 17-year-old high school basketball star was fatally shot in the neck Saturday night— just days after graduating.

Shortly before midnight, New York City police responded to a shooting in the Bronx where they discovered 17-year-old Brandon Hendricks suffering from a gunshot wound to the neck, the NYPD confirms.

Hendricks was transported to Saint Barnabas Hospital, where he was pronounced dead from his injuries, according to the NYPD's statement.

Hendricks graduated from James Monroe High School last week and was a star on the school's basketball team.
How Dollar Stores Became Magnets for Crime and Killing
---
Police announce charges against suspect who viciously beat Macy's employee in 'unprovoked attack' 
Michigan police have finally announced criminal charges against the suspect who brutally attacked a Macy's store manager.

On Friday afternoon, Genesee County Prosecutor David Leyton announced he has charged 18-year-old Damire Palmer with "assault to do great bodily harm less than murder," WJRT-TV reported.

The crime is a felony and carries a maximum prison sentence of 10 years.
2 teenage boys shot to death after asking man how tall he was while buying candy
Police nab teen gunman who opened fire in East Harlem street, hitting 7-year-old girl with stray bullet
VIDEO: Black Lives Matter mob storms Target, threatens to 'shut down' business if they cooperate with police
What we know about a shooting at a protest in Louisville
---
A Starbucks barista received nearly $80,000 in tips after being singled out for refusing to serve a customer not wearing a mask
A Starbucks barista who was publicly shamed by a customer after asking her to wear a face mask has received nearly $80,000 in virtual tips after a Facebook post that criticized him went viral.

Lenin Gutierrez, 24, was working his usual shift at a San Diego Starbucks on a Monday morning when a woman -- who was not wearing a mask -- walked in and attempted to place an order, he told CNN.

Gutierrez asked her if she had a face mask -- but before he was even able to show her company guidelines requiring customers to wear one, the woman flipped him off and "started cursing up a storm," he said.
---
'Put some clothes on!': Chrissie Hynde slams scantily-dressed feminists
Chrissie Hynde has slammed scantily-dressed feminists saying ''if you walk around looking like a sex worker you will probably be treated like one''.
---
White couple blocks Mexican American from entering his building, called him 'criminal' 
A white couple blocked a young Mexican American man from entering the San Francisco apartment complex where he lives in, saying "they would not let a criminal into their complex as they needed to protect it."

Michael Barajas, a UC-Berkeley graduate and a community educator for a biopharmaceutical company, tried to park his car in the apartment complex's garage Tuesday night when the driver in front of him refused to pull forward.

Barajas, 28, told NBC's Bay Area affiliate KNTV that the situation kept escalating and turned dramatic when the white man in the car got aggressive, which prompted him to start recording.
White Men Light Black Teenage Girl's Face on Fire in Wisconsin
Kansas State players speak out after offensive George Floyd tweet made by student leader of white nationalist group
Whole Foods workers sent home for wearing Black Lives Matter masks
White man called police on Black and Hispanic men at marina
Indian restaurant vandalized with 'White power' and Trump 2020' gets donations, support
---
JoJo Siwa responded to and dismissed accusations of blackface in one of her music videos 
JoJo Siwa is the latest YouTuber to face allegations of racism after some followers said a young actor in her latest music video, for her song "Nonstop," was performing in blackface.

The video, which is set in a circus, features dancers dressed up as all sorts of animals. One of the dancers, a young white girl, is seen in close-up early in the video with brown makeup and what appear to be monkey ears. The comments on the video have been disabled.
Former Mayor Resigns After Comparing BLM Protesters to Monkeys in FB Post
Bernie Ecclestone says 'in many cases black people are more racist than white people'
TikTok Pride event shut down in minutes after homophobes and racists target LGBT+ creators with hate
---
Erin Condren Apologizes for Planning Unsanctioned Grad March During Pandemic and amid BLM Protests
LifePlanner creator Erin Condren has apologized after she came under fire for helping to organize a graduation march for high school students amid the Black Lives Matter protests that also went against social distancing guidelines.

After Mira Costa High School announced they were calling off their traditional graduation ceremony this year due to the coronavirus pandemic, members in the upscale Manhattan Beach community began thinking of alternative events to allow students to celebrate together, Easy Reader News reported.

Condren — the founder of the massively popular planner notebook company, Erin Condren Designs — said one of their ideas included providing hula hoops for all 687 seniors at a local beach.
Jenna Marbles Apologizes for Racist and Offensive Videos, Quits YouTube
---
3-Year-Old Chicago Boy Is Fatally Shot While Riding in Car with Stepfather, as Police Seek Suspects 
A $4,500 reward is being offered for information that leads to the arrest of a suspect in the fatal shooting of a 3-year-old boy during a violent weekend in Chicago.

According to police, Mekhi James, 3, was shot Saturday night while in the back of his stepfather's car.

The stepfather was driving them home after both had gotten haircuts.

The shooting unfolded shortly after 6:30 p.m. along Chicago's Huron Street.

Investigators said a blue Honda SUV pulled up alongside the stepfather's vehicle and opened fire.
A Black Teen Died After Screaming 'I Can't Breathe' as Youth Home Employees Put Their Weight on Him
SEE IT: Man left with knife sticking out of head by Harlem mugger
Accused killer caught in Brooklyn gang bust left trail of Facebook posts boasting of violence: feds
White men in car chased down Black teens on bikes in Connecticut, 1 hurled slurs, police say
3 charged over killing of Black teenager who reportedly cried out 'I can't breathe' while being restrained at Michigan facility for 'at-risk youth'
Pa. Woman Who Vanished Last Month Is Found Dead in Trash Bag, and Man Is Arrested
Ga. Boy, 13, Was Walking with Dad on Sidewalk When Driver Allegedly Killed Him in Hit-and-Run
Baseball bat-wielding brute sought in unprovoked Bronx attack
Protestors brutally beat a gay Democratic lawmaker in Wisconsin. He says he's still "on their side."
---
Resurfaced clip shows Jimmy Kimmel laughing as Megan Fox talks about Michael Bay sexualizing her when she was 15 
"I'm taking this summer off to spend even more time with my family," Kimmel said. "There's nothing wrong. I'm healthy, my family's healthy, I just need a couple of months off."

Many wondered if Kimmel was taking time off to allow the heat die down over resurfaced video clips of him in blackface doing an exaggerated impersonation of former Utah Jazz legend Karl Malone, especially since this has been the summer of canceling people.

On the heels of Kimmel's blackface controversy, another old clip has emerged that shows the progressive TV host in a very negative light.
Old Joe Rogan Podcast Clip Sparks Discussion About Male Comedians and Rape Culture
Megan Fox Clarifies She Was Never Sexually 'Assaulted or Preyed Upon' by Michael Bay
Ron Jeremy Charged With Raping Three Women
Multiple Women Accuse Games Writer Chris Avellone Of Sexual Misconduct
Precinct 4 constable deputy offered $80 to teen for sexual act, police allege
Is Singapore's Pervert Problem Getting Worse?
---
Black Lives Matter activist Shaun King says statues of Jesus Christ should be torn down — but just the white ones 
Black Lives Matter activist Shaun King said that it is permissible to tear down the statues of Jesus Christ that show him with European features because they support white supremacy.

"Yes, I think the statues of the white European they claim is Jesus should also come down. They are a form of white supremacy. Always have been," King tweeted on Monday.

"In the Bible, when the family of Jesus wanted to hide, and blend in, guess where they went? EGYPT! Not Denmark. Tear them down," he added.

"Yes. All murals and stained glass windows of white Jesus, and his European mother, and their white friends should also come down," he explained in a second tweet.
Black graduate student target of racist rant while walking in New York
Ohio Girl Writes 'Black Lives Matter' in Chalk, Neighbor Calls Police
A City Painted Over A Black Lives Matter Street Mural As Protests Continue
Steve McQueen calls race imbalance in UK film and TV "blindingly, obviously wrong"
'The greatest trick racism ever pulled was convincing England it doesn't exist'
Padma Lakshmi Is Tired of Being Delicate
---
Gender questioning teenager dies by suicide after being bullied and body-shamed by classmates
"Papa, I'm sorry as I could not be a good son," the suicide note, seen by the National Indian Herald, said.

The teenager from India said they had started to feel like they could be trans.
"I cannot earn like you. I have girl-like features and even my face is like them," they continued.

"People laugh at me. Even I have started feeling that I am a 'kinnar' (transgender).

"My life will darken your life and that is the reason why my death is necessary. Please bless me that I take birth as a girl. If a girl is born in our family, then you must believe that I have returned."
---
Why China's hip-hop stars are staying silent on Black Lives Matter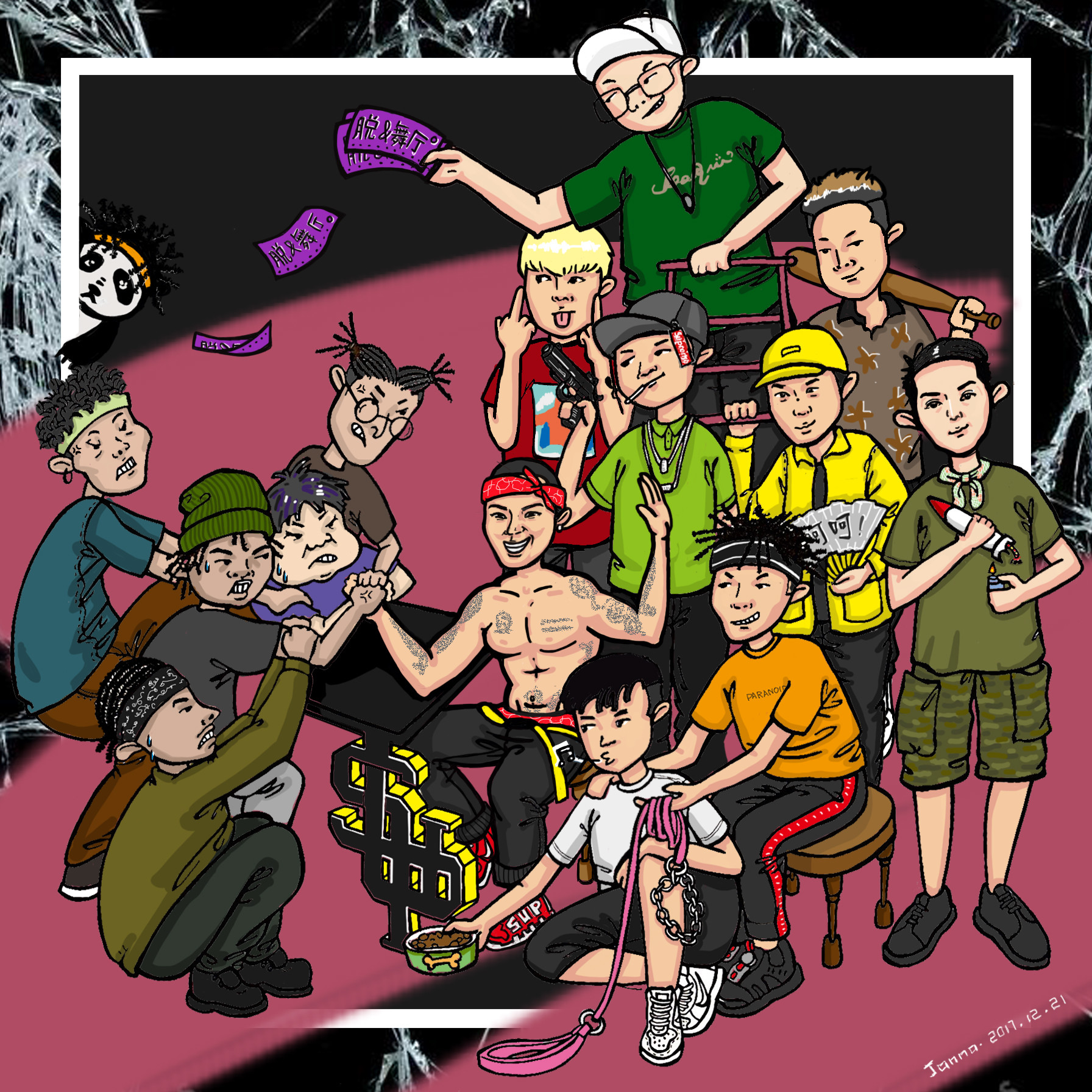 After a 2017 rap show got a generation of China's youth hooked on hip hop, the musical genre has created dozens of Chinese stars and, along with them, billions of streaming views.

But despite their enthusiasm for a culture that originated in the African-American community, Chinese hip-hop stars and their legions of fans have largely stayed silent on the Black Lives Matter movement, which has swept across the world after the police killing of George Floyd, an unarmed black man, in Minneapolis.

Sun Bayi, a Beijing-based rapper, said he was not in a position to comment on the Black Lives Matter movement.

"I know racism in theory, but it's hard to empathise with it," said the rapper, whose favourite artists are Eminem and the Notorious B.I.G. "I'm not black. I have never lived in America. What can I say about it?"
---
Matt Gaetz's bizarre shoutout to his son Nestor instantly became a copypasta meme
Florida Rep. Matt Gaetz wants the world to know about his large adult son, Nestor. And his announcement is now a Twitter copypasta.

Nestor's existence came up during a heated exchange about race and police reform between Rep. Gaetz and Rep. Cedric Richmond during a House Judiciary meeting on Thursday.

During the discussion on whether to label antifa, the decentralized political protest movement, as a terrorist organization, Richmond complained that the Republicans on the committee, who were all white, were stalling. F
---