All Posts Tagged as 'Fear'
Welcome to Errattic! We encourage you to customize the type of information you see here by clicking the Preferences link on the top of this page.
'You've been warned': Florida sheriff says he may deputize gun owners against protesters
Clay County Sheriff Darryl Daniels, no stranger to making viral videos appealing to tough-on-crime politics, released a video Tuesday that said he will make "special deputies of every lawful gun owner in this county" if he feels the county is overwhelmed by protesters.
---
Woman Yells 'You Live Off White People' in Racist Rant at BLM Protesters 
A woman in Pennsylvania shouted racist abuse at Black Lives Matter protesters on Sunday and told them, "You live off white people."

As the protesters in Watsontown chanted "No justice, no peace," the white woman shouted "trash" and "fuck you, we're going to give you no peace."

A protester can be heard off camera shouting "We love you" as the woman says "b****, f****** b****." She shouts at the protesters, "You live off of white people" and they again reply with "We love you," to which she responds: "you f****** communists" and "fuck off, keep your HIV over there."
Employee of a Miami restaurant quit after he says one of its owners jokingly referred to blackened chicken wings menu item as 'I Can't Breathe'
University of North Carolina Wilmington professor behind 'vile' racist and sexist tweets to retire
Univ. of Wisconsin students want Lincoln statue removed: Sure, he was 'anti-slavery,' but he wasn't 'pro-Black'
White man charged with pointing gun at Black homeowner
Former Everlane Employees Are Calling For A Boycott After Speaking Out About Workplace Racism
Restaurant Co-Owner Cites Husband's Mental Health After He Refuses Black Customer in 'I Can't Breathe' Shirt
YouTuber Liza Koshy apologizes after backlash for videos mocking Japanese accent
YouTube Has Suspended Monetization On Shane Dawson's Channels After He Apologized For
Morphe has removed Shane Dawson's makeup range from its online store after he was accused of sexualizing Willow Smith as a minor and wearing blackface
---
A White Couple Was Caught on Video Pointing Guns at Black Lives Matter Protesters in St. Louis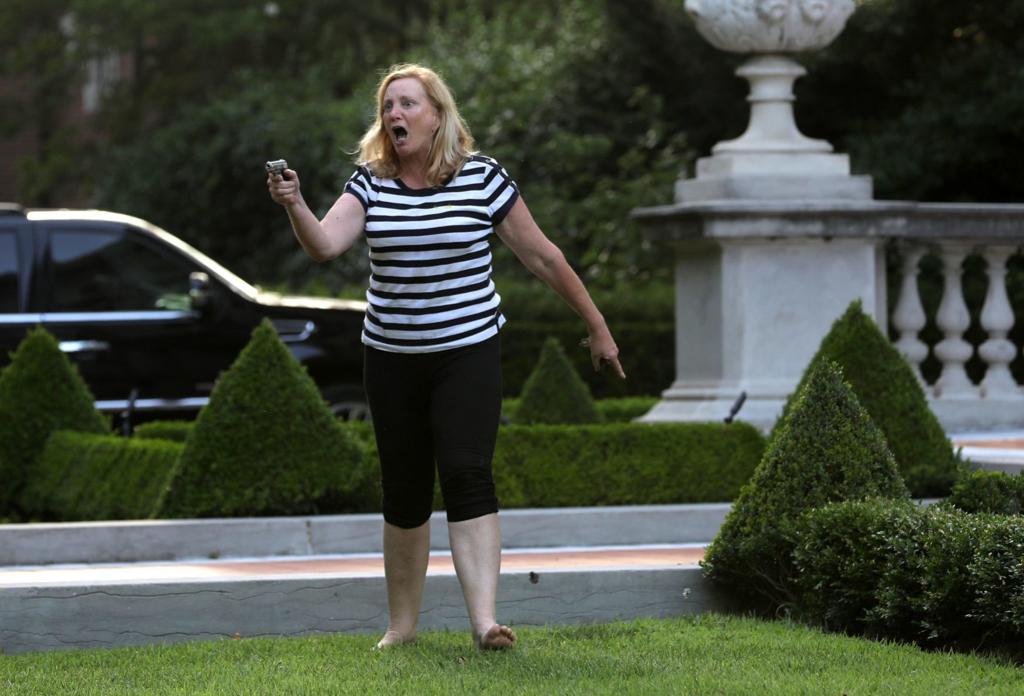 An armed white couple waved their guns and yelled at Black Lives Matter demonstrators in St. Louis on Sunday, during a protest march to St. Louis Mayor Lyda Krewson's home.

At least 500 people peacefully marched through St. Louis' Central West End neighborhood on Sunday demanding Krewson's resignation, according to the St. Louis Post-Dispatch. Krewson appeared in a Facebook Live video last week reading the names and addresses of people who had called for defunding the city's police department.
Man Fired for Racist Rant Supporting Slavery and Lynchings of Black People
John Wayne's son responds to resolution calling for John Wayne Airport to be renamed
Michigan Woman Yells Racial Slurs at New Neighbors in Viral Video
San Jose man charged with hate crime in Santa Cruz assault incident
Adam Carolla defends Jimmy Kimmel over blackface backlash: 'We've lost our minds'
Little Caesars fired two employees after a couple found a swastika made of pepperoni on their pizza
---
A Black man said he was afraid to walk in his own neighborhood. So hundreds of people joined him 
Hundreds of people in a Tennessee man's community are marching by his side after he shared his fears of walking in his neighborhood because he is Black.

Shawn Dromgoole, 29, grew up in the 12 South neighborhood in Nashville, where his family has lived since 1966 when his grandmother bought a home there. They were once surrounded by other Black families, businesses and communities -- and for decades, they felt like they belonged.

But 54 years after his grandmother first moved there, Dromgoole said he felt like he couldn't even safely take a walk in his neighborhood without fearing for his life.

"Yesterday I wanted to walk around my neighborhood, but the fear of not returning home to my family alive kept me on my front porch," he wrote on May 27, in a post on the neighborhood social network app Nextdoor and on Facebook.
---
The stereotype we run from is our family.
24-Jun-2020
---
Publix supermarkets won't allow Black Lives Matter garb, responds to Black teen employee
Publix supermarkets said it won't allow workers to wear Black Lives Matter garb due to the company's prohibition against any messaging not associated with the chain's brand.

The company's statement came in response to a Black teen employee at a supermarket in Florida who saying he was sent home after wearing a Black Lives Matter mask to work.
---
Atlanta Police Officers Call Out Sick After Charges Announced Against Two Officers 
A number of reports out of Atlanta suggest police officers there have called in sick, en masse, in response to the filing of criminal charges Wednesday against the two officers present during the fatal shooting of Rayshard Brooks.

According to CNN, the Washington Post, and WRBL, a "blue flu" has spread across Atlanta's police ranks, with officers insisting Wednesday evening they were too sick for their night shifts.

The Post reports the city struggled to fill the unexpected gaps in its patrols, and actively tried to temper social media chatter about a mass police walkout.
Police have traditionally protested anti-police rhetoric by making fewer arrests. Right now that's exactly what the public wants.
---
Fears over domestic abuse when football comes home
With the Premier League returning tonight, the first football game kicking off this week, people will be watching the games from their homes due to the pandemic. There are fears this could increase tensions within households, resulting in incidences of domestic abuse.

In response to this, the Cannock Chase Council's community safety partnership has teamed up with local partners including Staffordshire Police, New Era (domestic abuse service), the Staffordshire Commissioner's Office and local authorities across Staffordshire to deliver some messages around the issue.

The new campaign 'Football is coming home' raises awareness of the support services available for both victims and perpetrators during these unprecedented times.
---
The effects of your effort will not be felt until you're home.
05-Jun-2020
---
California man who was seen on video pulling AR-15 rifle on George Floyd protesters and yelling 'Back the fuck up' is charged with assault with a deadly weapon
A California man was was caught on video earlier this week pulling an AR-15 and yelling profanities at a large group of George Floyd protesters has been charged with assault with a deadly weapon.

Jacob Bracken, 38, of Rancho Cucamonga, was arrested on two felony counts of assault of a firearm stemming from his actions during a June 1 clash between Black Lives Matter demonstrators and Donald Trump supporters carrying American flags in Upland.
Queens man under fire for tearing down Black Lives Matter sign, using racial slurs
Video: One driver is very upset that the protesters are out tells them to "stop looting." This has been a peaceful protest
Moment a baseball bat-wielding grandmother confronts peaceful protesters in Michigan and accuses them of 'rioting'
---
Questions raised about planned 10 p.m. protest rally at NYC shopping center
Questions were being raised on social media Monday afternoon about plans for a protest rally scheduled for 10 p.m. at a shopping center in a remote area of Brooklyn.

The demonstration at the Gateway Center outdoor mall in East New York was advertised on an Instagram page that's serving as a clearinghouse for gatherings in around New York City over the police killing of George Floyd.

The shopping center is home to nearly 50 stores and restaurants, including JC Penney, Target, Best Buy and Marshall's.

There are also AT&T, T-Mobile and Verzion cellphone stores, as well as a GameStop video game store.
---
Grindr is not a cure for coronavirus anxiety
In moments of great anxiety, it is not uncommon for me to embark on late-night Grindr sessions. My fraught relationship with the ubiquitous gay dating app goes back several years, and doesn't include a whole lot of actual dates, frankly. The endless grid of headless torsos and explicit usernames usually don't want dates; they want "pics." The whole exhausting experience often concludes with me staying up way too late on a weeknight, and uninstalling the app in shame.

But I keep coming back, addicted to the slot machine-like feel of the app, which LGBT researcher Jack Turban defines as the psychological concept of variable ratio enforcement. In his 2018 piece for Vox examining Grindr's impact on the mental health of gay men, Turban says Grindr awards its users for clicking at unpredictable levels, and that's one of the most effective ways to reinforce human behavior. In other words, Grindr works like a slot machine: once in a while you score, but more often, you fail — sending endless inquiries into the digital abyss.

Like many people, I have struggled with my mental wellbeing during the coronavirus pandemic. In a recent poll by the Kaiser Family Foundation, nearly half of Americans said the crisis has negatively impacted their mental health. Early on, I attempted to cure my quarantine despair with Grindr, despite the obvious futility of the endeavor. While I had no intentions of actually meeting up with strangers in the midst of a worldwide pandemic, I still logged onto the app religiously, looking for an escape from my loneliness. Of course, being unable to actually meet up with anybody only increased my feeling of isolation, worsening the vicious cycle.
---
'In Survival Mode': The Pandemic Is Devastating the Black LGBTQ Community
After the COVID-19 pandemic hit, Aiden James Nevils started getting followed. Nevils, who lives in Pittsburgh, is required by Pennsylvania's statewide regulations to wear a face covering while entering essential businesses, such as drug stores, pharmacies, and laundromats. But when he goes to the grocery store in his blue-and-white-patterned mask, he has noticed lingering stares from other shoppers or security guards who trail closely behind as he's picking up food for the week.

As a Black man, Nevils says he is viewed as "inherently dangerous," a reality that's reinforced by centuries of racial biases that send the message that people of his skin color are "wrong, bad, or a menace to society." Being a transgender man and having his face partially obscured by a mask only reinforces that stigma, he said. It's essentially four strikes in a game where Black people barely get one chance to swing and miss.

The COVID-19 pandemic has affected nearly every facet of American life, but perhaps no community has been affected as profoundly as Black LGBTQ people. People who live at this intersection of identity are not only more likely to face higher levels of scrutiny during a crisis in which racial minorities, especially Asian-Americans, are reporting a dramatic increase in hate crimes. They are vulnerable to the novel coronavirus in every conceivable way: from dramatic job loss to unique risks of infection that have yet to be adequately recognized by governmental authorities.
The Coronavirus Is Deadliest Where Democrats Live
The Pandemic Is Exposing the Limits of Science
---
New syndrome in kids could change fate of schools reopening in fall, Cuomo says 
The growing number of New York children diagnosed with a serious inflammatory syndrome possibly connected to COVID-19 may impact whether schools reopen in the fall, Gov. Andrew Cuomo said Sunday.

Health officials are investigating more than 120 cases of pediatric multi-system inflammatory syndrome in New York, according to the governor.

"This is a syndrome that we are only just discovering," Cuomo said. "I think the numbers are going to be much, much higher."

The illness, which causes the inflammation of blood vessels, has been identified in children across 16 states and at least five countries, according to Cuomo. At least three children have died in New York, health officials have said.

Symptoms of PMIS include a persistent fever, rash, abdominal pain and vomiting. Parents should call their pediatrician immediately if their children exhibit symptoms.
Doctors raise hopes of blood test for children with coronavirus-linked syndrome
---
Concern over Pattinson and The Batman is rapidly growing
Is Robert Pattinson going... batty?

Fans are taking to social media to voice their concern following the publication of an in-depth piece in GQ entitled, "Robert Pattinson: A Dispatch from Isolation." In it, the actor describes his existence kicking around the London apartment in which he's hunkered down while production on The Batman is paused due to the coronavirus outbreak.

That concern is twofold: for the movie, and for the actor himself. As far as the film goes, it appears that Pattinson isn't exactly following the kind of workout and exercise regimen that one might expect from the star of a highly anticipated superhero movie. He revealed that his trainer left him with a Bosu ball and a weight that have basically been gathering dust in the corner since his quarantine began. "I think if you're working out all the time, you're part of the problem," Pattinson said. "You set a precedent. No one was doing this in the '70s. Even James Dean — he wasn't exactly ripped."
---