All Posts Tagged as 'Chemistry'
Welcome to Errattic! We encourage you to customize the type of information you see here by clicking the Preferences link on the top of this page.
Below Deck (2013-)
Captain Daddy is helming a boat full of digressing fools. Chief Stew Frasier is waiting for a gangbang to push him into aggression. Chef Loops decided that finagling questionable chemicals into meals for guests is a better option than being addicted. White girls will never get along with black superiors unless they're spraying spritzes of sugar, ie: soda. Chris Lamb is onboard to make us forget him, Ross McHarg was hired to not say "gay," and Tony will suck anybody's dick because in his native country, he would starve, if he didn't.
06-Dec-2022
---
AHS: NYC (2022)
It stayed true to tradition and didn't end with a bang because they yucked it up with mumbo jumbo. Ryan and Co. are gone, lets' show them what we can do. Everything except reigning it in. Add a little magic over here, irony over there and a preach or two around the corner. Charlie Carver's observations as a writer allowed him to present real gay dilemmas. That's a great contribution. The ladies brought depth, strength and full watt. The Brian De Palma glow, was class. Art shouldn't have to explain itself, though. It just is.
04-Dec-2022
Ryan & Co. serve enough gay meat to feed a Texas Chainsaw Massacre. The stories intertwine nicely. Gay is not what it's cracked up to be. We live life waiting for our perversions to be rewarded. It never happens. I have to disagree with the politically correct's hate towards cops. In my day there were good cops and bad cops, like Jedis. A lot of the time, the good cop was gay. I am thankful for that. You almost want to look away every time that smart begins a story because a shitty end awaits it. Russell Tovey peaks our interest with egg-shaped ears, ass encapsulation and making it overwhelmingly and illegitimately hard to listen to a foreign accent without cumming. Zachary Quinto is wolfy and orgasmic. Charlie Carver epitomizes an innocent victim. Joe Mantello is the kind of daddy you want to breathe a moment of life into. Isaac Cole Powell is a body you can only dream about. I know they are going to fuck it up but I'm going to relax and enjoy the ride.
25-Oct-2022
---
White Lotus, The (2021)
My favorite Wednesday Addams, of all time, is Aubrey Plaza. She became a bitch when her mother, Morticia, started boiling everything and aunt Lester lost her hair. Theo James is a fuck kill. Coolidge is being treated like a goddess by the gays and I hope she lets them have it. Hale Lu Richardson is Florence Pugh's Eve. Will Sharpe has to explain himself or show more thigh. Fahey is a rain of artificial sunlight. Michael Imperioli and F. Murray Abraham play a perfect father and son team that identify but don't accept that one begat the other. They fear their beautiful youngling will inherit their sad fate. The bigger you lie, the better the marriage but by then, the soul is gone. Female sexual harassment in the workplace, men expressing the difficulty in containing themselves, the sexes exploiting that, intelligent words coming out of fine actors and a director that provides the vision he describes.
30-Nov-2022
Mike White delivers an itchy script full of descriptive characters and awkward situations. The luscious atmosphere is reduced by human mania and overcompensation. Jennifer Coolidge cracked my funny bone, tore my heart and was masterclass as a woman acquiring power by being weak. Murray Bartlett played an outrageous gay asshole with ridiculous tendencies. Jake Lacy was pure alpha as a newlywed lord ruling over his petty wife. Molly Shannon whipped up a venomous mother-in-law from hell. Steven Zahn and John Gries gripped man sensibilities. Connie Britton and Alexandra Daddario convinced me. Natasha Rothwell spilled her heart and Jolene Purdy split my stitches. The teens were beautifully vacant, troubled, witty and intoxicating, just like vacations.
19-Aug-2021
---
Everything Everywhere All At Once (2022)
It begins with family authenticity, struggling to keep current and afloat. Super reality sets in and the tingles begin. Oh no! It's going to be bonkers. The cast resolves it. I wasn't sure if the husband was Jackie Chan. I spent a lot of the time being jealous of how young he looked. It was driving me crazy. He can't be, right? When he utilized the master's moves, I thought, that's definitely Jackie Chan. It's a tribute to him and Michelle Yeoh as action heroes but why does he look so fucking young? Terrific surgery perhaps? Ke Huy Quan is as adorable now as he was as a kid in a Spielberg classic. The man was precise. To Lady Yeoh, we gently bow. Stephanie Hsu had fun being all iterations of evil because we had fun too. Jamie Lee Curtis was gnarly. James Hong added his queerisms. The film threw as many cliches as it did new ideas. A win win for art. A film that wipes its imperfections with glorious shots of legends reacting to wonder and giving us soul.
27-Nov-2022
---
Disenchanted (2022)
The most enchanting thing about both films is Amy. When her magic is at full tilt, production continues her flow. Dempsey was saddled with a silly storyline and a "send him away" type direction. Women and men no longer want to fight together. It's women's turn to die for what they believe in. Marsden is a pro at acting douchy but cute. Gabriella was just right. Maya stopped fussing and was funny again. The music was almost but it felt like there was an intruder interrupting the grandeur. Some of the songs are juvenile. Idina Menzel wrecking her throat's gift on shitty songs is a never. They made her sing "Let It Glow," again and again. Her magnificent voice gets a full moon. Amy's everything makes you hungry for more. Suburbia works as a stand-in for a magical life but once true magic coaxes itself into reality the ink starts to dry. They gave no magic equations or rules of limitations that we could realistically follow. What kind of magic is in Andalucia? Why did the queen gain power? Is Andalucia in Wakanda? None of the above. They gave no rules because they didn't want to have to follow them. Dude, that's when the best art is created! Full moon to the production in front and back and a boo hoo to the writers for not coming up with something more substantial to say.
18-Nov-2022
---
Wonder, The (2022)
A child fasts to appease god and clear her family of their sins. Faith, in the hands of a child, can be a destructive thing. Pugh remains on, for the duration, as an investigative nurse that wants to clear the bullshit. The director keeps us trapped and enrapt. You can only fight a fable by trading it for another. Well done.
17-Nov-2022
---
Inside Man (2022)
How a good person can be lead to kill. Stanley Tucci is elegant and perceptive as a death row inmate who helps investigate and solve crime. Atkins Estimond supplies "Watson" cuddliness. David Tennant spirals like a rabid dog. The wife is a frantic lunatic and the tutor is the "Karen" that's asking for it. It flourished in the beginning when we were blinded by its freshness but once we analyze the idiocy of it all, it doesn't make much sense. The deductions are grabbed from thin air, some of the reactions are not reasonable and by the end I was irked. Why didn't they just burn the stupid thing? Why did the pervert have to be mentally challenged? All of my perverts had normal capabilities and didn't freak people out. Why are perverts granted mercy but "Karens" are unforgivable? Who gives their perverted porn to a vicar? Your mama don't want it in the house, smash it to smithereens. Yes, anyone can become a killer but many others don't. They are called good dead people.
05-Nov-2022
---
Good Nurse, The (2022)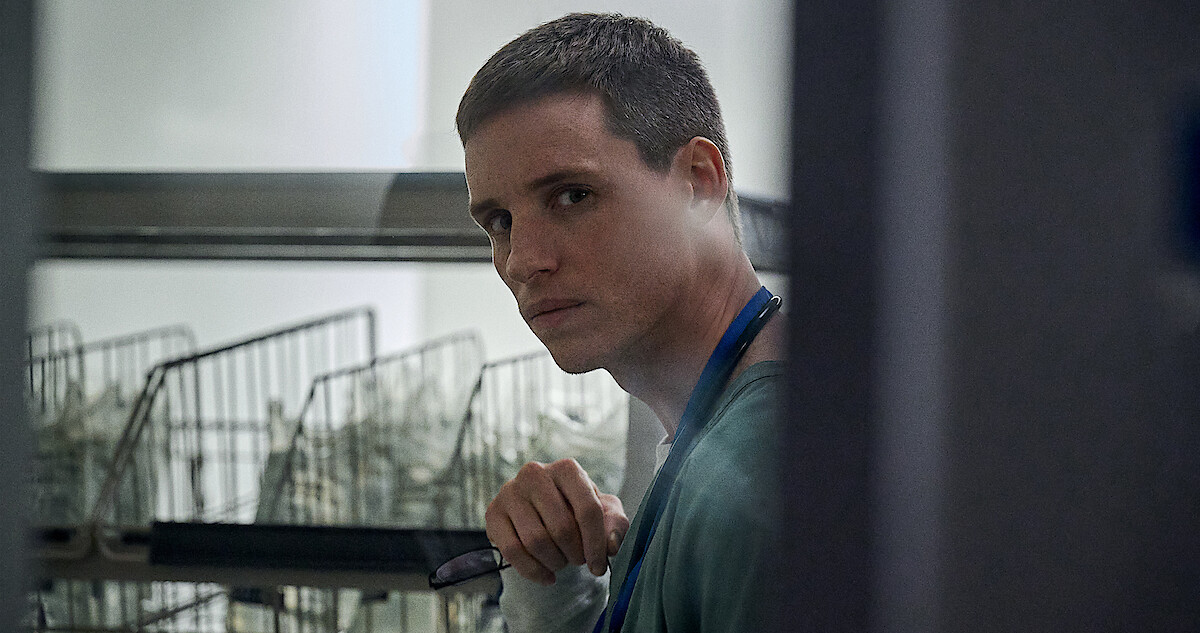 The angel of death is serving the ill and forgotten whilst deciding which deserves to stay amongst us. Lady Chastain introduces the audience to her pain, which we inhale and feel 'til the very end. Asomugha and Emmerich teamed up nicely. Hot boy proving he can investigate using his brain and Daddy Emmerich twitching the way I like. The cast didn't miss a beat, the story was tight, the procession, intriguing and the recapture well plated. Lord Redmayne spends a lot of the time hiding from view because that is how the angel of death would appear at work. Do a great job, kill them with kindness, keep history mum, don't be popular but make one sucker friend and kill up to a 1000 people. I couldn't believe that Redmayne would play a killer so controlled and unassuming until he outrants Ledger's Joker at the police station. I was inhaling Jessica's air when he punched me in the gut. Nice.
27-Oct-2022
---
Day Of The Animals (1977)
Depletion of the ozone layer is making animals at high levels territorial. Crows are the eyes, bears, the muscle, dogs are betrayers and mice, the vermin. There were no cats of the domestic kind. I presumed the dogs ate them. The cast is professional and appealing. The George's marriage radiated on screen. Michael Ansara played a dignified American Indian, proudly. Leslie Nielsen rages in the most asshole kind of way and we love it. He ripped his shirt to shreds because he was committed. I was enthralled. Nice shots of the animals grouping, the child, the after effects of a kill and Andrew Stevens body, face, smirk and Farrah-like hair. A story that deserves what new technology is capable of... without the preach.
26-Oct-2022
---
Last Woman On Earth, The (1960)
While on a scuba diving expedition in Puerto Rico a newly married couple and their lawyer end up the last humans on earth when they resurface. They survive and explain the cause through the progression of the environment and by applying science to their observations. Words were in tune with how a woman might feel being the last one. The men went caveman because the lawyer has needs and his boss' wife was the only relief. I kept feeling the script would have had more depth had it not been costly. Wife is a newlywed who lusts to spend more time with her gangster husband. Lawyer is a do-gooder schmuck whose tired of being manipulated by sore losers. Every time the story filled in a hole the director cut away to something exotic. They hardly pondered whether, as last adults, they were worthy enough to replenish the earth. Wife's legs dangling from atop the boat, the men fish-slapping each other, the atmosphere (Puerto Ricans in 1960), the woman's hair turning from blonde to black and jitter acting that enunciates realness, were shots I will remember.
Remake. (Pssst: I would have given her my sperm and fucked daddy. Yeah, let her decide the future of the world.)
25-Oct-2022
---
A Doll's House (1973)
A woman moving in with a man must turn the home into a dollhouse in order to make her feel like she owns it. She owns him as much as he thinks he owns her, but a toy is the only home she will ever get to own. The cast played it without pity, the story excelled as it moved, even though status has changed, emotions remain the same and Jane Fonda flexed some beautiful muscles. Freedom comes after you stop lying to yourself. A real Christmas story.
17-Oct-2022
---
Girl In The Shed (2022)
By eliminating all references to sex, the film loses its soul and inspiration. Sex is a fact and a trigger. If the creative team can't comply with artistically and forcefully presenting it, it isn't a cautionary tale. We need to talk about the burden god leant us. Over and over. Ben Savage is in kiddie acting mode and gives the monster, no quirks, edges or history. What made this idiot? Abby was an athlete and in top shape. Why didn't she fight more? Why was his violence directed at things he built and not Abby? Masters don't change beating styles. If they hit you on the first date, they will hit you every time esp. if no one can hear you. Erica Durance beautifully played a withering mother and deserves to be in courageous art. According to this film, teen gets kidnapped by craziness because he is lonely, likes her hair, kissed her once over tape and she's weak. They spent the rest of the time bonding. Lots of reading, cooking, getting spoiled, playing board games, sleepovers, hugging but no sex. It sounds like summer camp if you're ugly. There is not much here to make a teen tremble and aware esp. when the imagination can create worst things by hearing the facts on the news.
09-Oct-2022
---
Hocus Pocus 2 (2022)
The witches are back to eat a delicacy known as colored children. No one works harder than Bette and nobody outflanks her. It's her boat. The treat is hard Halloween candy that sometimes melts in your mouth. The trick is to watch without prejudice.
01-Oct-2022
---
DAHMER: MONSTER (2022)
Cinematic art ceases during wind down when Ryan's team inserts modern politics into the victims' families' mouths. Little sympathy is garnered due to the hypocrisy that they expect the police to protect them but be hands off if they themselves commit a crime. You can't have it both ways. The sandwich inspired its most chilling scene. The addition of another gay monster killer paralleling the present one is terrifyingly well done. Evan Peters never lets go of his disguise, Richard Jenkins slaughtered, unrecognizable Molly Ringwald had moments, the actor who played Jesse Jackson was eerie good and Niecy Nash's character stayed too long but she remained great. In the end, everyone exploited a man who felt alive in killing because he was invisible through life. It's a disservice to the victims if we don't learn to protect ourselves from it instead of denying it. Dahmer had the last laugh. He is ever more present and his surroundings are all but invisible.
27-Sep-2022
S1E4. Evan Peters takes us inside a gay serial killer's monster bubble and he gives the impression that his art will be popping iteration balloons for years to come. Niecy Nash is that bossy bitch neighbor that's always in people's business that no one wants to hear but gets politically redeemed by being the right amount of bossy. Nash holds the note a second too long but her character sings. Richard Jenkins used craft in telling the story of a parent that feels pain for raising a monster. Michael Learned reminded me of mama Walton but later, vanquished it. She embodies the bitter old woman that supports you to be whomever you want as long as its made up at church. Did she inspire his racist thoughts? The show obsesses over bloody squishy things instead of sexy, kinky things. I hope it switches. Man's true nature is exposed during sex. At that time, the community agreed that he was scary as fuck because we would have fucked him...and died. Only a victim can describe a monster and only a monster can describe his family. The series proclaims that mothers should not have children if they are mentally suffering, a weird child best ignored is not a happy child, a grown father dissecting animals with his gay kid encourages human devastation, daddy keeps encouraging human devastation because he can't beat his wife and cops get punished for being sensitive to gays. Evan's thought process is to lay blame on the parents and make himself accountable for the joy that chaos brought him and because only fucked up parents can create such a fucked up kid.
23-Sep-2022
---
Morbius (2022)
It's faithful to the psychology of its origins, someone brilliantly decided the actors should play characters instead of costumed heroes and its presentation feels like a team Burton aside. I would trade two investigators for a Krave The Hunter, a Blade or Felicia Hardy/Black Cat to up the flavor and sensuality. An MCU R-rated Batman opportunity best not lost.
13-Sep-2022
---