All Posts Tagged as 'Politics'
Welcome to Errattic! We encourage you to customize the type of information you see here by clicking the Preferences link on the top of this page.
Arizona's ballot rules overturned on grounds they discriminate against minority voters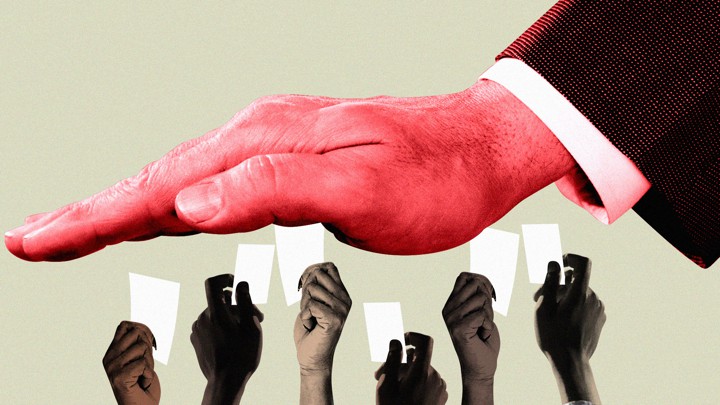 A divided federal appeals court Monday overturned election rules in Arizona that the court said discriminated against Latino, African American and Native American voters.

Ruling in favor of a challenge brought by the Democratic National Committee, the U.S. 9th Circuit Court of Appeals struck down an Arizona requirement that ballots cast in the wrong precinct must be discarded and a state law that made it a crime for someone to deliver another person's ballot to a precinct.

"For over a century, Arizona has repeatedly targeted its American Indian, Hispanic, and African American citizens, limiting or eliminating their ability to vote and to participate in the political process," Judge William A. Fletcher, a Clinton appointee, wrote for the majority.
---
Uber driver tells gay men to stop kissing: "I'm a Christian!"
An Uber driver asked two men to stop kissing in the back of her car because of her Christian faith.

One of the passengers, Finn Davies, had attended a birthday party on Saturday night at his friend's home in London, where he met and flirted with "a handsome man" who it turned out lived in the same direction as he did.
---
LGBTQ people suffer when religion & government mix
A pair of recent decisions from two of the southern federal Circuit Courts of Appeals should be alarming us all. Instead, they're only alarming a handful of us – because, overall, our community still clings to the inexplicable belief that religion can be our friend or, at least, a friend that we will be able to use to defend ourselves from certain others who also claim religion to be their friend.

Of the two recent decisions, only one has a direct LGBTQ component. Even so, it is truly difficult to say which one is the more disturbing, though the non-LGBTQ one, United States v. Brown, probably deserves the nod.

The Brown in question is Corrine, a former member of Congress from Florida, convicted on a slew of counts, the specifics of which are strangely irrelevant for purposes of what makes one of the opinions in her case problematic.

What does matter is that she was convicted by a jury. On appeal she took issue with the trial court's decision to not allow "Juror 13" to contribute to rendering a verdict.

Shortly after deliberations began, "Juror 8" informed the judge that "13" had said, "A Higher Being told me Corrine Brown was Not Guilty on all charges" and that he "trusted the Holy Ghost."

Do those sound like the words of someone who is going to make a decision based on earthly evidence?

What the LGBTQ community has never learned is that, when religion merges with government and science is reduced to having no more standing than faith, our religions and faiths and beliefs (or lack thereof) will never be recognized when they conflict with the particular religion and faith and belief of those who have seized power – legitimately or otherwise.

Once religion enters the government picture, everyone loses – at least everyone not sitting at the table of power.
---
So Long, California? Goodbye, Texas? Taxpayers Decide Some States Aren't Worth It
Two years after President Trump signed the tax law, its effects are rippling through local economies and housing markets, pushing some people to move from high-tax states where they have long lived. Parts of Florida, for example, are getting an influx of buyers from states such as New York, New Jersey and Illinois.

Many people saw their overall taxes go down after the 2017 law was passed. But the law had two main changes making it tougher to live in high-cost, high-tax states, especially compared with lower-taxed options. It essentially curbed how much homeowners can subtract from their federal taxes for paying local property and income taxes, by capping the state and local tax deduction at $10,000. It also lowered the size of mortgages for which new buyers can deduct the interest, to $750,000 from $1 million.

These changes have the biggest impact on a sliver of the population who have high incomes and live in expensive areas. They tend to have white-collar jobs and the ability to pick up and move. Many own their own businesses, work remotely or are nearing retirement.

Critics say the changes have hurt everyone who lives in high-tax states, by taking a bite out of tax revenue. New York Gov. Andrew Cuomo, for example, panned the state and local tax cap last year. "It has redistributed wealth in this nation from Democratic states—we're also called blue states—to red states," he said at the time.
---
NC Pastor Charged With Over 100 Sex Crimes 
A pastor in North Carolina has been charged with over 100 sex crimes involving three children, according to local authorities. Fifty-eight-year-old Rodney Luffman, pastor at Open Arms Outreach Ministries in Elkin, NC, was arrested at his home in Eastern Wilkes County last week, and has since been charged for a decades-long litany of sex offenses against minors that began around 20 years ago.

Time reports that Luffman is accused of abusing three victims, dating back to the late 1990s. At the time of the alleged crimes, the victims were between four and 15 years old. Det. Amanda Boyd with the Wilkes County Sheriff's Office told news outlets that the department believes the crimes continued for around 16 years. Luffman currently remains in prison on $1 million bail, and it is unclear whether or not he is represented by council.
15 year sentence demanded for former coach in French child sexual abuse case
---
Church of England: Sex Is OK Only in Heterosexual Marriage
Sexual activity is only acceptable within the marriage of a man and a woman — so says a new document issued by the Church of England.

That's not a new stance for the church, which is considered the mother church of the worldwide Anglican Communion, of which the much more liberal U.S. Episcopal Church is a member. But the Church of England is putting out the guidance because the British government has made civil partnerships, which are not quite equal to marriage, available to heterosexual couples, The Guardian reports.
---
Michigan court reverses murder conviction, cites rap videos
The Michigan Supreme Court unanimously threw out a murder conviction Friday, saying YouTube rap videos spoiled the verdict by portraying the defendant as a "ruthless and menacing threat to the community."

Jamal Bennett is serving a 32-year prison sentence for the fatal shooting of another man during a fight at a Grand Rapids party in 2013.
---
Chick-fil-A's Last U.K. Location Shutters After Months-Long Protest
The last Chick-fil-A in the United Kingdom has flown the coop.

The restaurant, located in a Macdonald Hotels property in the Scottish Highlands, was controversial from its launch in October due to the fast-food chain's history of donating to anti-LGBTQ organizations.

Due to this problematic history, Scott Cuthbertson, an LGBTQ activist, had launched a petition calling for its closure, which quickly accrued 1,000 signatures.

Additionally, Patrick Harvie, the first out bisexual member of Scottish Parliament, called on a boycott of the restaurant among his fellow politicians, who often stay at the luxury Macdonald Aviemore Resort.
---
Legalise sex toys and pornography to cut rape, says Thai MP
A Thai MP has proposed legalising sex toys and pornography as a way to cut rape offences and other sexual assaults.

Treerat Sirichantaropas, a spokesman for a committee tasked with combating rape, said in a Facebook post on Monday he believed legalising pornography and sex toys would help to cut the number of sexual assault cases reported in the country.

Treerat, who is also secretary of the Pheu Thai Plus think tank, said about 30,000 rape cases were reported every year, the majority of them filed by victims aged between 15 and 19 years.
---
A major church and state case ignites ungodly amounts of debate at US Supreme Court
Few topics arouse the passions of Americans like god and government and whether the twain shall meet.

This was demonstrated by the many "friend of the court" briefs filed ahead of tomorrow's hearing at the US Supreme Court, where the justices will consider arguments on a major case that could have implications for the separation of church and state.

A flurry of 44 filings—a number rivaled only by similarly contentious cases on inflammatory issues like gun rights, abortion, or immigration—urged the court to consider the cultural consequences of the matter. The justices' decision will either hamper religious freedom or erode the precious barrier between church and state, depending on which side the brief writers support.
---
Commercial pilot charged after allegedly writing racist graffiti on bathroom wall
A commercial pilot has been charged with criminal mischief after allegedly writing racist and pro-Trump graffiti at the Tallahassee, Florida, airport, court documents show.

Police charged James Ellis Dees, now a former Endeavor Air employee, with nine counts of criminal mischief after he admitted he wrote such slurs as "#MAGA =NO N**S =NO SP**S" -- derogatory terms toward African Americans and Hispanics -- multiple times, according to court documents. The graffiti was found mainly in airport bathrooms and the parking lot elevator.

Airport police approached Dees and asked about the graffiti earlier this month. When police told him he was identified as the writer after a camera was installed in the parking lot elevator where the graffiti was discovered, the court document said, Dees admitted to writing some of it.
---
Georgetown students are asked if America is the greatest country in the world. Survey says: Um, no. 
Campus Reform's Cabot Phillips visited Georgetown University in Washington, D.C., recently to confirm polling that indicates a large swath of young Americans are declaring that the United States isn't the greatest country on Earth.
---
Kanye West's new religious fanatic friend joins anti-LGBTQ "freedom march" 
Rapper Kanye West announced he will appear at Awaken2020, a stadium-sized prayer rally hosted by some of the nation's most anti-LGBTQ religious conservatives.

Now one of the organizers of the event has announced he will join an upcoming anti-LGBTQ "freedom march."

Related: If you're boycotting Chick-fil-A, why aren't you protesting Adidas & Kanye West?

Pastor Lou Engle will join "former homosexuals" in Boston to help lead a "rainbow revival." Engle has said America has become like Nazi Germany because of gay rights. He helped fan the flames of hate in Uganda at a time when this nation was debating whether to enact the infamous "Kill the Gays" bill.
Kanye West's Dark Turn to the Anti-Gay Christian Right
---
Socialism Will Not Cure LGBTQ Oppression
...a lot of LGBTQ people lately have taken to the media to say that socialism is the answer to LGBTQ oppression and all I can say to that is, "Bullshit." Every last bit of history proves otherwise. Now, I'm not arguing that socialism/communism is anti-LGBTQ, but it hasn't been the best system for LGBTQ people in all cases. Yet, neither has capitalism. In fact, the social progress of LGBTQ rights in different countries under different systems has been so haphazard that it's impossible to argue who has been better for LGBTQ rights. The only logical conclusion, and I know this may sound crazy to a lot of folks, is that somehow, and this is crazy, systems of economics and government don't actually have a lot to do with social values. In fact, and I may be going out on a limb here but I'm feeling crazy, it seems that governments and economic systems reflect what society values. Woah, mindblowing ain't it?
---
Prostitution Legal In The US? New Bill Could Make Vermont The Next Nevada
A new bill introduced by progressive lawmakers in the Vermont Legislature looks to decriminalize adult prostitution in the state while maintaining strict human trafficking laws to protect victims, especially those under the age of 18.

Bill H.569 was introduced in the Vermont House of Representatives by four female representatives, led by Rep. Selene Colburn of Burlington. The bill would legalize prostitution in Vermont, so long as it is between consenting adults over the age of 18.
---