All Posts Tagged as 'Relationships'
Welcome to Errattic! We encourage you to customize the type of information you see here by clicking the Preferences link on the top of this page.
Kids of gay parents fare worse, study finds, but research draws fire from experts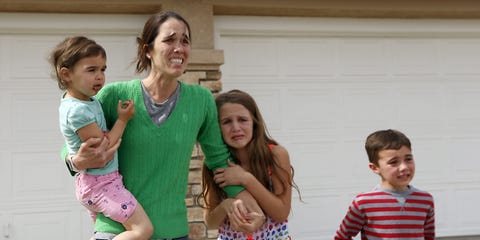 A new study that finds children of a gay or lesbian parent may be more likely to have social and emotional problems has sparked controversy on both sides of the same-sex marriage debate.

The study, from Mark Regnerus, an associate professor of sociology at The University of Texas at Austin, surveyed more than 15,000 Americans between the ages of 18 and 39, asking them questions about their upbringings. Its findings are published in the July issue of Social Science Research.

One survey question asked whether a parent had been in a same-sex relationship during a child's upbringing; Regnerus wanted to see whether there were differences between kids raised in a household by a parent in a same-sex relationship compared with those who were raised by biological parents who were married and heterosexual.

Sixty-nine percent of children of lesbian mothers reported that their family received public assistance, such as welfare at some point, compared with 17 percent from intact biological families. About half of children of an intact biological family said they were employed full-time, compared with 26 percent of those born to a lesbian mother. Fourteen percent of kids of a lesbian mom spent time in foster care at some point, compared with 2 percent of the rest of the children studied. Overall, less than 2 percent of all respondents who said their mother had a same-sex relationship reported living with their mom and her partner for all 18 years of their childhood.
---
Almost Half of Gay Male Couples Experience Intimate Partner Violence, Study Says 
This latest study deepens that existing knowledge with surprising results. After asking both members of couples surveyed whether they experienced violence, researchers were surprised to find that there was very little agreement between partners. Study participants were more likely to report perpetration than victimization.

"My hunch is that it's to do with concepts of masculinity," says Dr. Stephenson. "It's [perceived as] more masculine to say that you beat someone than that somebody beat you."

The study also measured internalized homophobia, using a method known as the Gay Identity Scale. Men who had negative feelings about their sexuality were more likely to experience or perpetrate IPV.

It's difficult to say exactly why this is without further research, Dr. Stephenson notes, although he has some hunches. "We know that violence is often a stress response behavior," he says. "What I'm finding through studies with male couples is in addition to stresses like unemployment, there's additional stress of being gay. They could be exteral, like experiencing homophobia, or it could be an internal struggle. … There are very few media representations of male couples and we're constantly being told that same sex couples are wrong. … If you don't have the right nurturing environment, it can make you worry about your own sexuality."

That matches previous research indicating that IPV is more common among people who have themselves been victims of homophobic violence. It's also more prevalent among whose attitudes about masculinity conformed to what a 2016 study referred to as "struggling to be the alpha."
Emotional intimate partner violence experienced by men in same-sex relationships
---
If I Killed Someone For You - Alec Benjamin
---
Better Than Us (2018-)
The show is better than us. It carves a world where man can receive restitution for a feminist movement. It's not about robots but how we perceive them to be the sexual gratifiers, the mothers and the household maintainers of the future world. The more freedom granted to a woman the less a man needs her. The men are also tested by libido, masculine energy and faithfulness. Women have the capacity to liberate themselves from subjugation, even in a robotic state.
For every false move there are two excellent ones to eclipse it. This is the robot myth that should have preceded Battlestar.
11-Sep-2019
Robot fabulosity pulls you in but it's the intertwining story threads that keep you posted.
08-Sep-2019
---
90 Day Fiance: What Now? (2017-)
Where punishment is served with impunity.
11-Sep-2019
---
90 Day Fiance: The Other Way (2019-)
It's all about control. They all have dwindling assets they need to cash in before their reality becomes dire. It's scary, demented and addictive. For the burden's sake, I hope a lot of it is fake.
04-Sep-2019
---
The new relationship.
30-Aug-2019
---
Euphoria (2019-)
Misfits are created when the understanding of being born is confounding.
Each episode incorporated a distinct flavor that elevated character development and story arc. The whole is a buoyant and succulent melange.
The writing was sharply on edge, the directors' wings were boundless and the actors (especially Z) rose to every unforgiving task.
Z's parade at finale was unexpected, deserved, joyous and brilliant. The music speaks.
01-Sep-2019
The carnival episode was a modern Hitchcock delirious delight. Zen's etch of a drug addict cuts deep.
31-Aug-2019
Etching a recognizable world and stripping Zendaya of Disney cuteness. Feels like home.
28-Aug-2019
---
Always Be My Maybe (2018)
Cuteness chokes us in, Keanu's monster beard cues us out and inequality kills it. Having the woman win doesn't make it equal, it makes it supremacist.
30-Aug-2019
---
LSD - Genius featuring Sia, Diplo, Labrinth
---
Gorgeous ladies...and men, musical zest, smashing show and a hopeful ending. It broke it and healed it...the heart.
28-Aug-2019
"The Man That Got Away." Judy defined it and Billy spelled it out.
25-Aug-2019
It gave us a vogue teaser, it made gold edible and the love story was sexy.
23-Aug-2019
Ryan's episode didn't hand me an enigmatic vogue but it gave me beauty of soul.
23-Aug-2019
Do I have to vogue to earn a gay family like this or is that sentiment stuck in the past? The show retains its high sheen fabulosity but ballroom direction needs to stress its entertainment notch in order to fly closer to Billy Porter's coordination.
21-Jul-2019
The release was due to its faithful history and devotedly charged performances.
10-Jul-2018
Every week it grows in beauty and endearment. One more moon and Papa Murph makes me blow.
Christopher Meloni is now inducted into Daddy Squish Hall of Fame.
03-Jul-2018
It's about family.
27-Jun-2018
Ryan is tapping into the artistic awakening of its raw talent. Learning as they go.
24-Jun-2018
The seed has been planted but in order for it to grow it needs to escalate the celebration.
23-Jun-2018
---
Jawline (2019)
I watched pretty boys struggling to exploit themselves on social media for no tangible life reward with trepidation and confusion because I thought there'd be no commonality. The pursuit consists of laidback and fellow conjured positivity with little talent to catapult the boys forward. The doc's reach is distant but youth has a way of conveying the limitations that life deposits on them. Once realization hits and catechism results, the age difference intertwines and you realize it's a lifelong struggle. It actually prompted me.
PS: The girls will never wreck if they keep fainting for "pretty boy face."
28-Aug-2019
---
How A Horror Movie About Trauma Made Me Realize How Toxic My Friendships Had Become
For many victims of trauma, especially childhood trauma and abuse, one of the hardest parts of recovery can be forming and maintaining healthy relationships. In my case, childhood trauma led to a serious distrust of others, a need for and fear of intimacy, and the frustrating symptoms of post-traumatic stress disorder (PTSD). I ended up seeking out other trauma survivors as friends, because we shared the language of pain. Years after those friendships died out, I saw myself in Pascal Laugier's Martyrs (2008), a film about two deeply traumatized women whose unusual bond enables terrible violence. While I never helped my friends hide any bodies, the relationship between Lucie (Mylène Jampanoï) and Anna (Morjana Alaoui) reflected many of my troubled adolescent friendships. Sometimes we're so desperate to fix what's "broken" in ourselves and each other that we can't see we're only causing more damage.

A 2009 study published in the journal Depression & Anxiety showed that women are more likely than men to experience depression or anxiety as a result of childhood neglect or emotional abuse. In addition, researchers found that in women, but not men, "perceived friend social support protected against adult depression" — and this was even after they accounted for "the contributions of both emotional abuse and neglect."

In my own experience, I find that the danger may be that some women cling to these friendships even if they become unhealthy, because they have a significant sentimentality toward them. I certainly did.
---
Boys, The (2019-)
Shue clenches frustration devoutly, Starr chomps evil gleefully and the end punctuated surprisingly.
26-Aug-2019
Graduating superheroes to the next level...consequences.
17-Aug-2019
---
Canadian fashion designer and boyfriend attacked in suspected homophobic assault
Canadian fashion designer Markantoine Lynch-Boisvert and his boyfriend, Alex James Taboureau, have been attacked, with what is believed to be a homophobic motive.

The pair were targeted as they left a bar in La Malbaie by a man who threw homophobic insults their way. The man later approached Markantoine and headbutted him, while two men targeted his partner.

The group then later approached them again, this time pushing Markantoine to the floor.
---