All Posts Tagged as 'All Rights'
Welcome to Errattic! We encourage you to customize the type of information you see here by clicking the Preferences link on the top of this page.
The most dishonest, biased news coverage of our lifetimes — and it's about to get worse
'I don't think I've ever seen such dishonest and biased coverage of any event." That was Brit Hume, who has been covering events for more than 50 years for Fox News, ABC News and investigative reporter Jack Anderson.

The great bulk of Trump's speech was a celebration of American history, American principles, American leaders. He spoke extensively of the four presidents whose visages were sculpted on the mountain above him and paid tribute more succinctly to others.

He said: "We are the country of Andrew Jackson, Ulysses S. Grant and Frederick Douglass. We are the land of Wild Bill Hickock and Buffalo Bill Cody. We are the nation that gave rise to the Wright brothers, the Tuskegee Airmen, Harriet Tubman, Clara Barton, Jesse ­Owens, George Patton — Gen. ­George Patton — the great Louie Armstrong, Alan Shepard, Elvis Presley and Muhammad Ali."

Dark and divisive? Dystopian? Amplifying racism?

What really seems to have raised the press' hackles was Trump's dissent from their reverent attitudes toward Black Lives Matter and apparent indifference to those tearing down statues of Lincoln, Douglass, Grant, abolitionists and women's-rights advocates.

"Angry mobs are trying to tear down statues of our Founders, deface our most sacred memorials and unleash a wave of violent crime in our cities," Trump said, accurately.

That's not the message most in the media want voters receiving in the months running up to ­November. TV viewers have been assured Black Lives Matter protests are "mostly peaceful," even while fires are blazing fiercely within camera view.

Newspaper readers have been assured that those seizing streets and ousting police are promoting, in the Seattle mayor's words, a "summer of love," even as their camp becomes the scene of multiple homicides.
---
How Lies Of Systemic Police Racism Fuel The War On Cops 
The big lie that American policing is systemically racist poses an existential threat to the rule of law, racial harmony, and the social fabric of the United States of America. This dangerously false narrative is a complete fabrication, manufactured and perpetuated by an alliance of loud and powerful voices. These include the mainstream advocacy media, Antifa anarchist and terrorists, Black Lives Matter, woke Hollywood celebrities, university elites, activist professional athletes and many politicians.

No one, starting with the police themselves, wants bad cops. Police who commit crimes cannot be tolerated and must be held accountable. But while the gross police misconduct and killing of Mr. Floyd was terrible, it was also an exceedingly rare incident. Despite this fact, the media, Black Lives Matter, Antifa and politicians claim that American policing as an institution is systemically racist—but this is a proven lie.

The most definitive study to-date, published by the National Academy of Sciences, shows that 55% of all people fatally shot in America by the police are white — more than double the number of black (27%) or Hispanics (19%). And while black citizens make up 27% of the people shot and killed by the police despite making up only 14% of the U.S. population, the racial disparities in police shootings are not caused by racism. Analysis of crime data from more than 200 U.S. counties show the strongest predictor of being shot by the police is not race, but whether the person is engaging in violent criminal behavior. Just this week, the study was retracted by its authors–not because any of the data was faulty, but because they didn't like how it was being used, to the embarrassment of BLM and their media allies.

The authors of the NAS study concluded that racial disparities in rates of police shootings are entirely consistent with the rates at which individuals of different races are accused by victims of committing violent crimes. Consequently, the greater number of crimes committed by white people in a county, the more likely white people will be shot by the police. The greater number of crimes committed by black people in a county, the more likely it is that black people will be shot by the police. The same is true for Hispanics. As this writer noted in November 2019, if anyone is sincerely looking for a guaranteed way to reduce the number of fatal police shootings for any racial group, the answer is simple: Don't commit crime.
Man charged with fatal May shooting in Englewood
Chicago police launch new effort to reduce crime by building trust
Suspect arrested in 'unprovoked attack' on Macy's manager
Feds kick off crime-fighting effort in Kansas City by disrespecting local leaders
3 deputies shot in deadly attack released from hospital
National Police Assoc. launches petition urging Palo Alto to remove fugitive from Black Lives Matter mural
Hate crimes rose in Idaho last year, state police say. This city had the most reported
'He murdered someone, but he's cute': TikTokers are writing prisoners to find love
Florida Man's Racist Rant at California Bartender Caught on Video
---
Black lives matter — so stop supporting policies that have failed Black communities 
Although some of the leaders of the best-funded Black Lives Matter organizations seek to move the United States toward socialism and impose other far-left goals (the co-founder of BLM, Patrisse Cullors, acknowledged in a 2015 interview that she is a "trained Marxist"), millions of others who identify with the BLM movement merely want police and criminal justice reforms and greater racial equality.

Improving African American communities is, of course, a noble goal. But it's exceptionally difficult to fix a problem if one doesn't identify its cause. And it seems, based on some of the rhetoric from the BLM movement, that many have failed to realize that an important reason why so many Black communities remain impoverished is that liberal politicians have imposed destructive policies on them for decades.
Black Lives Matter's surprising target: Los Angeles County's first Black district attorney
---
Black Lives Matter Gets Indians Talking About Skin Lightening And Colorism 
In India, colorism is rampant. Darker-skinned Indians, especially women, face discrimination at work, at school — even in love. Some arranged marriage websites let families filter out prospective brides by skin tone.

So it may be no wonder that about half of all skin care products in India, according to the World Health Organization, are lighteners designed to "brighten" or "lift" — essentially to whiten — a user's skin color. WHO estimates that such products amount to about a $500 million industry in India alone. Until recently, some of them even came with shade cards — like paint swatches — so that users could track the lightening of their skin.
The Tale of 2 Black Chicago Police Veterans, 1 of Whom Does Not Patrol the Sunken Place
---
Ben Stiller defies critics calling for Trump to be cut from 'Zoolander' 
Can't Trump this.

Ben Stiller, who directed and starred in the hit 2001 comedy film "Zoolander" — which features a brief cameo from Donald Trump — said this week he won't cut the president from the movie, despite critics' calls for Stiller to erase him.

Stiller portrays male supermodel Derek Zoolander in the nearly 20-year-old flick — and said on the Daily Beast podcast "The New Abnormal" that when an opportunity arose for The Donald to be part of the production, he jumped on it.
Twitch pulls Black Lives Matter video after criticism from Black creators
---
Trump signs executive order to expand school choice for Hispanic students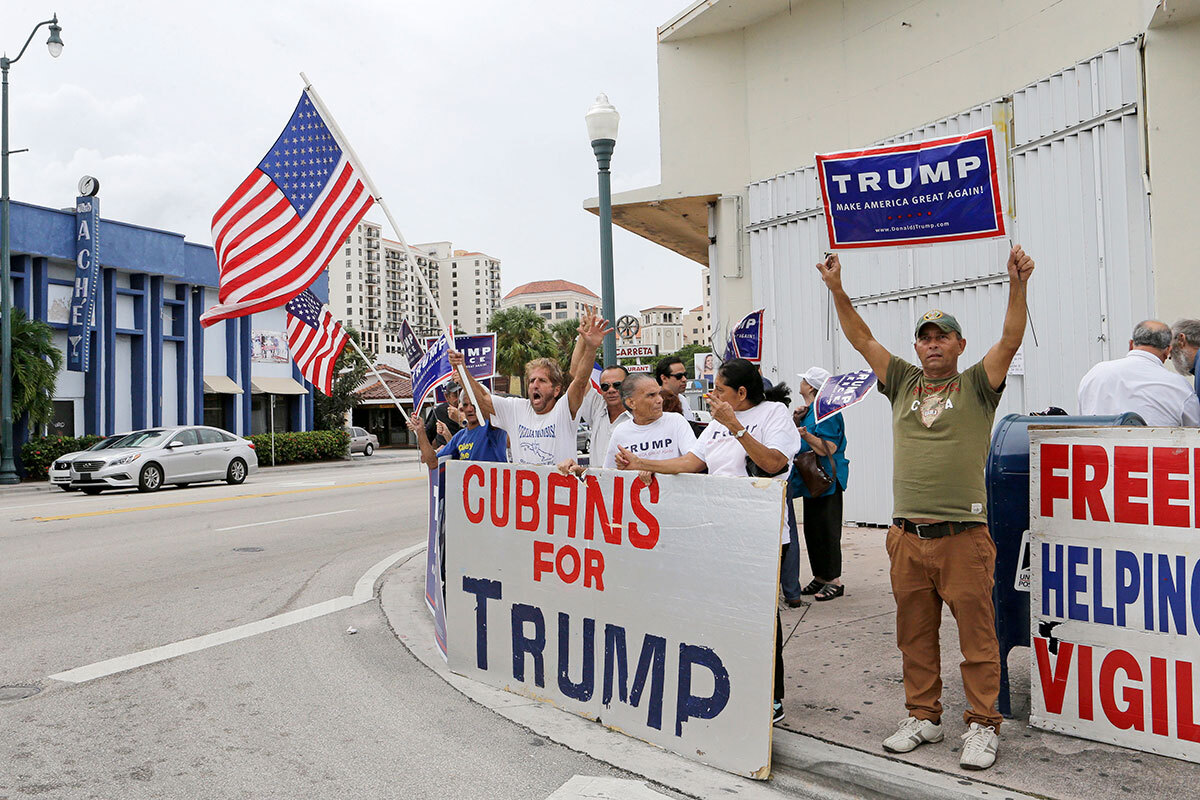 In a speech in the White House Rose Garden before signing the order, Trump touted the initiative as expanding school choice for Hispanics and one that would improve access to charter schools for students.

The initiative is also meant to create more career pathways for Hispanic students as well as boast investment in economically distressed communities, including Opportunity Zones, and offer more economic opportunities for small and minority-owned businesses.

"School choice is an incredible issue in many ways," Trump said. "Most people agree with us, the smart ones agree with us."
---
Liberalism Has Failed / Opinion
American liberalism was feasible only because America wasn't fully liberal. But today, we have become what our liberal philosophy imagined us to be: free of obligation and responsibility to each other, free of duties to past and future generations, masters of nature that we regard as our possession to use and abuse, consumers rather than citizens. With the weakening of religion, the centralization of our politics, a globe-straddling market and the loss of civic responsibility, we have willfully created the conditions of the state Hobbesian of nature, a war of all against all. The tools of the liberal order that were intended to free us from interpersonal obligations—the state and a market—seem no longer under our control; in poll after poll, and expressed in film and song, Americans express the anxiety and fear that they no longer feel free. Rather, they feel as if they are subjects to the impersonal forces of our liberation: state, market and technology. Paradoxically, as liberalism became fully itself, it undermined the conditions that made a modest liberalism possible. We faintly recall that Gatsby died alone, his funeral almost devoid of friends and family.

Moreover, this system that came into being to overthrow the arbitrary rule of the old aristocracy has given rise to a new powerful elite. A system that promised freedom by liberating people from others—from place, family, traditions and history—has proven ideal for a small subset of people who thrive in a borderless world of unbounded choice, amid the weakening of traditional institutions that once instructed us to be public-spirited and generous with those choices. So-called "conservatives" advanced the liberal free market while claiming to support "family values" that unfettered capitalism undermines; while so-called progressives dominate the elite institutions, such as the academy, where they spout egalitarian bromides and limit admission to a tiny fraction of the well-heeled subpopulation. Today's elites congregate in a narrow band of wealthy and expensive urban areas of the country, no longer living alongside the working class, and increasingly viewing the more traditional views of those in the heartland with contempt and derision. Tocqueville's praise of "the arts of association" has been replaced by the virtue-signaling of an elite that professes its ferocious egalitarianism.
---
Attorney General William Barr admits unfair policing of African Americans is a 'widespread phenomenon' but rejects calls to defund the police and says 'black lives are protected' by cops 
Attorney General William Barr said on Wednesday that the unfair policing of African Americans is a 'widespread phenomenon' before rejecting calls to defund the police.

Protests over the recent police killings of George Floyd, Breonna Taylor, Tony McDade and other African Americans have ignited a national conversation about the role of law enforcement in society.

During an interview with ABC News' Pierre Thomas, Barr addressed policing in America, saying: 'I do think it is a widespread phenomenon that African American males, in particular, are treated with extra suspicion and maybe not given the benefit of the doubt.'
Young Trump supporter, 18, says Marquette University threatened to rescind her offer after she posted TikTok videos in favor of the president that sparked death threats from students
Driver, 27, who hit Seattle protesters, killing one and injuring another, is charged with vehicular homicide and remains in custody on $1.2million bail
White woman attacks a black and indigenous protester with a HOCKEY STICK for laying in the road and blocking traffic during a demonstration in Canada
Kansas man, 55, sentenced to 12 years in federal prison for strangling his 50-year-old girlfriend and then pushing her over the balcony of a cruise ship
Man with COVID-19 who was arrested for breaking a mandatory quarantine several times is released because of New York's bail reform laws
Seven protesters arrested during Portland riots over Fourth of July week hit with federal charges for vandalizing courthouse and assaulting cops with high intensity lasers
Man 'stabs a grandmother, 96, to death with a PITCHFORK in Chicago'
California church officials tell black Star Wars stunt woman 'All Lives Matter' as they put up 'no trespassing' signs after she sat on their lawn
Man faces hate crime charges over string of racist graffiti in Arlington Heights
---
Lady A, Formerly Lady Antebellum, Sue Seattle Blues Singer Lady A
"Today we are sad to share that our sincere hope to join together with Anita White in unity and common purpose has ended," the group said in a statement. "She and her team have demanded a $10 million payment, so reluctantly we have come to the conclusion that we need to ask a court to affirm our right to continue to use the name Lady A, a trademark we have held for many years." Read the band's full statement below.
---
'Dukes of Hazzard' Stars John Schneider and Tom Wopat Respond to Renewed Controversy Over Car's Confederate Flag 
For a family show about two good old boys, The Dukes of Hazzard has seen its share of controversy.

Before it even premiered on CBS on Jan. 26, 1979, then-CBS programming chief B. Donald Grant squared off with a roomful of TV critics who hated it. Among their objections was that "the two male leads appear to be on the wrong side of the law, that the subject of illegitimate parenthood was treated humorously, and that one of the female regulars is often seen in skimpy costume," according to a Hollywood Reporter account. One North Carolina critic went further, calling the show's stereotypes "out of line with the New South."

Grant ignored the critics and Hazzard went on to air on CBS from 1979 to 1985, winning over millions of ardent fans in the process. In its initial run, the series drew as many as 20 million viewers per episode and by its third season had become the second-biggest show on TV.

"I have never had an African American come up to me and have any problem with it whatsoever," John Schneider (Bo), 60, tells THR, adding that "the whole politically correct generation has gotten way out of hand."

"There are 80 million descendants of the Confederacy — one out of four people has that heritage. Most of them have no problem with the flag at all," Jones asserts. "This was a family show. Black families watched it for generations. I know this. I had a [congressional] office right there in the Martin Luther King district. King's right-hand man Andy Young is a dear friend of mine. We couldn't care less about rebel flags."
Liberal writers, activists sign open letter calling to end 'cancel culture'
---
Eagles' DeSean Jackson says he doesn't hate Jewish community after posting anti-Semitic messages 
Philadelphia Eagles wide receiver DeSean Jackson said he has no hatred toward the Jewish community and issued two separate statements of apology with "a promise to do better" after he posted on social media Monday an anti-Semitic message that he attributed to Adolf Hitler and admiration for Nation of Islam leader Louis Farrakhan.

The Eagles on Tuesday responded by calling Jackson's posts "offensive, harmful and absolutely appalling" and said the team would take "appropriate action." Team owner Jeffrey Lurie and general manager Howie Roseman are Jewish.
Woman loses her job after being filmed yelling 'white lives are better' at Black Lives Matter protesters in Tennessee
---
MISSOURI ASSAULT

Sucker Punch on Dancer

GETS MAN CHARGED WITH 2 FELONIES
The victim's mom, Stephanie Hagler, tells TMZ ... she hopes once Moore's arrested, nobody posts his bail. In a perfect world, Moore wouldn't get bail. That being said, she says, "I appreciate the police department for taking the case so seriously, and I know my son appreciates it too. I don't think I will feel any relief until he is arrested. As of now it's just words on paper there hasn't been any real consequence."

The man who shot the video, Micheal Curry, tells us Moore MUST be arrested because "anyone who's willing to hit a kid like that, there's no telling what they're going to do next."

The scumbag who sucker punched a 12-year-old boy dancing on a sidewalk has been charged with 2 felonies, but cops are still searching for him.
A Black Lives Matter Protester Was Injured After A Car Struck Her And Sped Away With Her On The Hood
VIDEO: Black Lives Matter activists — triggered by AR-15 giveaway — physically attack church members
Suspect charged in fatal shooting of 7-year-old Chicago girl Natalia Wallace
Ala. Detective Had Restraining Order Against Ex Who's Now Accused of Fatally Shooting Her
Pregnant Woman Shot on Minneapolis Street Dies in Hospital Where Baby Is Delivered
SEE IT: Gunman opens fire at rival as child scrambles to get inside Brooklyn NYCHA apartment building
Calif. Girl, 13, Went Missing Last Week, and Suspect Is Arrested on Murder, Sex Assault Charges
Suspect Arrested in Death of Arkansas Trans Teen Brayla Stone
EXCLUSIVE: Black man who was put in a chokehold by a New York cop is arrested and charged with a hate crime for attacking a gay couple with a box cutter, spewing homophobic slurs at them and trying to snatch their Vuitton bag
---
Black Women Are Getting Left Behind In The Black Lives Matter Movement 
The #SayHerName campaign was created by the African American Policy Forum in December 2015. This movement was created to uplift the voices of Black women who have become victims of police brutality, established in an attempt to rectify the lack of coverage Black women received in comparison to men. Recent headlines make it more apparent than ever that this is still an ongoing problem. We are standing by as Black women fight for visibility, allowing the media to let another Black woman slip under the radar.

It's important we adjust our allyship quickly, as Breonna Taylor is not the only woman who needs our action. Black Lives Matter activist Oluwatoyin Salau was just 19 years old, found dead in Tallahassee, Florida at the hands of Aaron Glee Jr. In the same week, we lost two Black trans women: Dominique Fells and Riah Milton. These and other Black women are not pawns for you to use for social activism points. None of these women have been fought for with enough fire and passion. Black women are not getting the attention they deserve.
Painful Reckonings About Black Lives Matter / Opinion
New York Attorney General Orders Black Lives Matter Foundation to Halt Donation Collection
If your idea of equality doesn't include black trans lives, it isn't equality
Taraji P. Henson on stigma over terms like 'strong black woman' or 'black girl magic': 'We're not fairies!'
---
Mayor Lightfoot calls violence against the city's children personal, as one person is charged in weekend shooting death of 7-year-old girl
Mayor Lori Lightfoot on Monday said she wants "all of us to feel this loss" after another weekend of violence in Chicago yet again took a toll on the city's children, including the killing of a 7-year-old girl.

Lightfoot said she outlined an "all hands on deck" strategy on Thursday to head off another weekend of bloodshed, a plan that included police and street outreach groups. And yet, "we still saw a four-day weekend of 87 Chicagoans shot, 17 Chicagoans killed, and two of them children. Our children," the mayor said at a news briefing.
Girl, 13, dies after violent carjacking of family van with 4 kids inside
Boy, 15, joins 14-year-old facing 1st-degree murder charge in shooting death of Danielle Cote
NYPD commissioner slams Bill de Blasio for slashing police budget as gun violence in the city surges 130% and video emerges of a father being shot dead while holding his four-year-old daughter's hand
Aaron Glee has been charged with murders of Oluwatoyin Salau and Vicki Sims in Florida. He 'would have killed again,' experts say.
Three More Trans Americans Killed; Another Hospitalized for Injuries
Chicago pastor says people are afraid to leave their homes and backs bringing in the military after 17 people - including a 7-year-old girl - were shot and killed during a July 4th weekend of bloodshed
Ex-Porn Star Mia Khalifa Slammed BangBros For Allegedly Capitalizing On Eric Garner's Death
Florida Prisoner Ripped Off Lowe's to Build Home—From Jail, Feds Say
Family Searches for Missing Trans Woman Dawn Manson
---
Black Lives Matter's Silence on a Champion of Racial Equality
One name that goes conspicuously unmentioned by those self-proclaimed champions of racial justice such as Black Lives Matters is an internationally acclaimed American hero who lived his life for racial equality. Martin Luther King Jr. gave his life for it, too. King's quest for equality and his legacy are inconvenient for today's vigilantes, because his efforts contrasted sharply with theirs—both with regard to their goal and means.

While today's self-righteous violent protesters have left vulnerable inner-city neighborhoods devastated and residents in tears of anguish, King staked all he had on a belief in the unifying power of passive resistance and nonviolence, as did others who brought about worldwide change, from Mahatma Gandhi to Nelson Mandela.

Today's racial-grievance opportunists portray blacks as impotent victims, unable to move forward or upward under the weight of a legacy of slavery and the all-purpose villain of institutional racism. In their agenda, equality of opportunity makes no difference. Instead, their proclaimed goal is to demand equality of outcome by monetizing the suffering of their ancestors as reparations—checks that would be handed to them. The demand for reparations ignores problematic issues of who should pay for and who should receive remuneration and the situation of the descendants of blacks who owned slaves and of those who arrived on our nation's shores—penniless but filled with hope—long after the end of slavery. The accounts of sports superstars of the NFL and NBA who were once millionaires but ended up bankrupt can serve as cautionary tales regarding the inconsequential impact of cash payouts in the absence of qualities such as delayed gratification, personal restraint, and foresight.

In contrast with today's racial justice vigilantes, King did not advocate lowering the bar for standards of behavior and ethical values among those he represented. The most aspirational element of his famous Dream was that his children would one day be judged by the content of their character. The history of the black community is replete with evidence that, even against the greatest odds and oppression, moral qualities of personal responsibility, determination, integrity, and mutual assistance were sufficient to empower men and women to achieve success.
---