All Posts Tagged as 'All Rights'
Welcome to Errattic! We encourage you to customize the type of information you see here by clicking the Preferences link on the top of this page.
Texas Boy, 5, Was Playing with Dad on Balcony When Stray Bullet Struck and Killed Him 
A Houston family was sitting on their second-floor balcony just after 9 p.m. on March 31 when tragedy struck.

Jordan Allen Jr., 5, and his dad had been making TikTok videos when the boy asked for some juice. As his dad stepped into the house to get him a drink, he heard five to six gunshots — followed by his son's pleas for help. Jordan had been struck in the head by a stray bullet.

"Everybody ran in the house and the kids' room in the house," Jordan's father, Jordan Allen Sr., told ABC13.com. "So I ran to the porch, and then I see my son on the ground holding his head asking for my help."
Tx. Baby Clinging to Life After Mom's Boyfriend Allegedly Shot Him, Plus His Mother, Sister
'I'm disgusted': Father of choirboy who accused George Pell of sexual abuse says he has lost faith in the justice system after cardinal was released on appeal
---
Irony: Hate Crimes Surge Against Asian Americans While They Are On The Front Lines Fighting COVID-19
There have been a lot of encouraging stories about peoples' acts of generosity and kindness during the COVID-19 crisis. Unfortunately, human nature has its bad side too and the crisis has brought out some of our worst qualities including xenophobia, racism and, in some cases, violence.

Hate crimes against Asian Americans and Asian immigrants in the United States have been surging. It has ranged from verbal harassment to denial of services to physical attacks. There is no way to know, but President Trump's insistence on calling COVID-19 the "China Virus" certainly doesn't help. It is true that the Chinese government acted abysmally, for example, initially denying that the virus could be transmitted person to person. But China is hardly a democracy and the Chinese people were the victims rather than the perpetrators of this cover-up.

In fact, Asian Americans and Asian Immigrants to the U.S. deserve our thanks for their role in responding to the COVID-19 crisis. First of all, they are vastly over-represented among the front line medical workers who are treating those who have been infected. Seventeen percent of doctors, 9 percent of physician's assistants and nearly 10 percent of nurses in the United States are of Asian descent.
---
Coronavirus hits poor, minority communities harder
The coronavirus doesn't discriminate, but minorities and low-income families are bearing the brunt.

Why it matters: The impact of the coronavirus is reflecting the racial and socioeconomic disparities of the cities where it's spreading and the health care system that's struggling to contain it.

The big picture: New York Gov. Andrew Cuomo last week called the virus "the great equalizer," because anyone can get it. And while it's true everyone's at risk, New York itself is a stark illustration of just how unequal the virus' toll really is.

The highest concentration of cases in New York City are in neighborhoods in Queens with large immigrant populations and low average incomes, according to city data analyzed by the Wall Street Journal.

And New York is not alone.

By the numbers: Nationwide demographic data aren't available, and the quality of state and local recordkeeping varies widely. But the clear trend in preliminary data from multiple metro areas is hard to ignore.

The county that contains Charlotte, N.C. is about 33% black, but black residents make up roughly 44% of its coronavirus cases, according to the Charlotte Observer.
Doctors say India must prepare for an 'onslaught' as one of Asia's biggest slums reports first coronavirus death
Bodies are being left in the streets in an overwhelmed Ecuadorian city
Early Data Shows African Americans Have Contracted and Died of Coronavirus at an Alarming Rate
'Children in a dog cage': how coronavirus puts Asia's most vulnerable at greater risk of homelessness, human trafficking
'We could get wiped out': American Indians have the highest rates of diseases that make covid-19 more lethal
---
Legal Sex Workers And Others In Adult Industry Denied Coronavirus Aid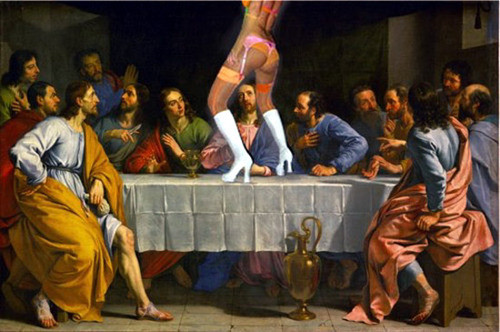 When Congress passed the massive $2 trillion bailout bill last week, it made sure that self-employed people or other independent workers could apply for loans or grants from the Small Business Administration. But there was one very specific ? and puritanical ? exception: legal sex workers and others in the adult entertainment industry.

The very first page of the online application says that in order to be an "eligible entity" that can receive monetary relief from the bill, an applicant cannot "present live performances of a prurient sexual nature or derive directly or indirectly more than de minimis gross revenue through the sale of products or services, or the presentation of any depictions or displays, of a prurient sexual nature."

Prurient, which is defined by Oxford as "having or encouraging an excessive interest in sexual matters," is a vague categorization that broadly includes thousands of workers in the U.S. As stated, the clause excludes everyone who works in the legal (and, worth noting, booming) sex industry including strippers, porn performers, producers, directors, sex toy manufactures and many others. It's unclear whether this clause includes other professions that don't explicitly deal in the sex industry, but do cover subjects that are of a "prurient sexual nature" such as sex therapists and authors of erotica novels.
---
Study Reveals Gay and Bi Individuals Are 23% More Likely to Masturbate Weekly Than Their Heterosexual Counterparts 
The results of a major study exploring the masturbation habits of men and women around the world have just been revealed. Sexual pleasure brand TENGA, in conjunction with pollsters PSB, conducted the masturbation study and polled 13,000 men and women, aged 18 to 74, in 18 countries. This included the United States, India, United Kingdom, Australia, Japan, Russia and Germany.

It identified a handful of differences between LGB people and straight people. These include gay/bi people saying they started masturbating, on average at age 13, compared with 15 for heterosexuals.

Some major takeaways from that study included:

Globally, on average, 78% of people masturbate. This figure tends to be higher for men than women.

The top 5 male celebrities American fantasize about while masturbating are: ..., ..., Chris Hemsworth, ... and ...
---
Asian Student Reported Her Ex-Friend Over a Racist Instagram Post, She Was Accused of LYING Instead 
A Korean American high school senior in Georgia is being praised on social media for speaking up against racism toward the Asian community in this time of coronavirus pandemic — especially after her authenticity was questioned by no less than a principal.

On Sunday, the student, identified only as Madison, took to Instagram to expose a former friend who complained about missing her graduation because "some ch*nkeye piece of shit decided to eat a bat."
Texas Sam's Club Stabbing of Burmese Man and Son Confirmed by FBI as Hate Crime
---
Stop pondering why people hate us.
31-Mar-2020
---
New York woman punched, robbed for wearing respirator mask at store, authorities say
HILTON, N.Y. – Four teens are accused of punching and robbing a woman at a Hilton, New York, business because she was wearing a respirator mask, authorities announced Tuesday.

Deputies responded to a Family Dollar on March 23 for the report of a robbery.

A woman said a group of people confronted her because she was "wearing a respirator mask" inside the store, officials with the Monroe County Sheriff's Office said. "The victim was being harassed by the group of people who were stating she was infected with the coronavirus."

As she exited the store, the woman was punched in the face by multiple people and her keys and wallet were stolen, deputies said. The victim sustained minor injuries.
---
Assault charges against workers in wild nail salon brawl thrown out
A Brooklyn judge has tossed out assault charges against two nail salon workers arrested for bashing customers with broomsticks during a 2018 melee over a botched eyebrow wax job that was captured in a viral video.

Brooklyn Supreme Court Justice John Hecht said prosecutors did not have sufficient evidence to continue pursuing charges against Huiyue Zheng and Ni Len, who worked at the now-shuttered Happy Red Apple Nails.

The brawl between black customers and Asian workers at the East Flatbush salon fanned racial tensions in the area, leading to protests outside the business and attracting the attention of elected officials who condemned the workers.

Scott Tulman, Zheng's lawyer, insisted that public backlash over the case was inflamed in part because the portion of the tape showing his client and Len striking Thomas with brooms was more widely circulated than the full video — in which Thomas is seen going ballistic on the workers.
---
The Supreme Court handed down a unanimous decision that bodes ill for the future of civil rights
Like most of the country, the Supreme Court is in coronavirus lockdown, closing its building to the public and postponing oral arguments until some future date.

Yet even as the justices seek shelter from a pandemic, they still managed to hand down five opinions on Monday. One of them, in the case Comcast Corp. v. National Association of African American Media, is a blow for the civil rights community — and a potential harbinger for civil rights cases to come.

The case involves a dispute between the cable TV company Comcast and a business that alleged the telecommunications conglomerate refused to carry its channels because it disfavored "100% African American-owned media companies." (Comcast Corporation, the defendant in this lawsuit, is an investor in Vox Media.)

The Comcast decision, according to NAACP President and CEO Derrick Johnson, "is a huge step backward in our march toward achieving equal opportunity for all." He warned that the Court's decision will "significantly restrict the ability of discrimination victims to prove their claims under one of our nation's premier civil rights laws."
---
Tone-deaf NYU dean sends video of herself dancing to students seeking tuition refunds
Hundreds of students at NYU's Tisch School of the Arts demanded a partial tuition refund since spring classes were moved online amid the coronavirus pandemic –and their dean responded with a bizarre video of herself dancing to REM's "Losing my Religion.''

As of Friday evening, a Change.org petition started by NYU students has garnered more than 2,600 signatures from people seeking the tuition relief.

Students say online classes and remote learning via video conferencing app's like Zoom are not worth the school's $58,000-a-year tuition.

The petition is pushing for the NYU Board of Trustees "to refund a portion of our Spring 2020 tuition paid for the resources, universally deemed crucial to arts education, lost in the recent switch to remote teaching."
---
JoAnn Fabrics Employees Are Furious They're Working in Crowded Stores After the Company Declared Itself 'Essential'
Well-intentioned crafters have been flocking to JoAnn Fabrics this week for free, do-it-yourself mask and gown kits so they can make crucial medical gear that's currently in short supply at hospitals treating coronavirus patients around the country.

But several employees who spoke to VICE News felt the company hadn't considered their health and safety — or their customers' — before making the decision to declare stores "essential," remain open during states' lockdowns, and launch an effort to draw even more shoppers.

At one store location in Colorado Springs, employees even picketed outside their store Wednesday. They stood a safe distance apart while holding signs that read "our health over their profit" and "fair wages for retail workers."
---
"We Can't Be Silent": Asian Americans in Hollywood Denounce "Chinese Virus" and Racist Incidents
"I want us all to understand there is no 'Chinese Virus.' A virus knows no nationality, and wherever and however it started, it does us no good to point fingers, ostracize, attack or demonize Asian people."

Shannon Lee, daughter of martial arts film star Bruce Lee, recently wrote this message on her late father's Instagram, offering a not-so-subtle criticism of President Donald Trump and senior members of his administration who have continually referred to the novel coronavirus — which has caused a global pandemic comprising almost half a million confirmed cases of the disease COVID-19 and over 20,000 deaths — as a "Chinese virus," despite the World Health Organization's warning against using geographic locations when naming illnesses.

The phrase is now linked to a wave of racist attacks against Asians and Asian Americans, from hate-filled messages on social media platforms to physical assaults in public.

The Young Turks host Cenk Uygur tweeted about his children being bullied by classmates. Weijia Jiang, CBS News' White House correspondent, revealed that a White House official had referred to the coronavirus as the "Kung Flu" "to my face." Actor Daniel Dae Kim, who recently tested positive for the novel coronavirus, wrote that it had been "too heartbreaking" to initially comment on the "blatant acts of racism against Asian people during this outbreak."
---
Coronavirus: American children are dying because of quarantine, doctors warn
Children kept at home due to the coronavirus pandemic may be putting them at greater risks of harm from both accidents and - tragically - abusive parents, according to a doctor.

In Fort Worth, Texas, a sudden surge of child abuse cases has raised red flags for doctors at the facility.

Speaking to Newsweek, Dr Jamye Coffman, the medical director of the Child Advocacy Resources and Evaluation team at the Cook Children's Hospital, said a rise in child-abuse related injuries could be the result of children spending greater time at home with parents amid increased stress levels caused by coronavirus fears.

"I can't say for sure that this is related to [COVID-19]" she said. "I can't say for sure that this isn't just a fluke, but we know that when there's increased stress ... within families there's an increased risk of abuse to children."
Why we must never exalt parents to the point where they become hostile gods in their children's lives. (No one knows what goes on behind closed doors. We celebrate an unknown.)
24-Mar-2020
---
Ed Asner Urges Trump Not to Kill Betty White
Ed Asner would very much like Betty White to live. Also Carl Reiner, William Shatner, Mel Brooks, and Cloris Leachman. Oh, and himself.

On Tuesday afternoon, the Emmy-winning TV legend (The Mary Tyler Moore Show, Lou Grant) directed a tweet at Donald Trump in response to the president's comments which insinuated that he plans to reopen the country in weeks. Doing so would defy the pleas of public health experts and put vulnerable populations of the country, including the elderly, at higher risk of deadly battles with the novel coronavirus.
---