All Posts Tagged as 'Safety'
Welcome to Errattic! We encourage you to customize the type of information you see here by clicking the Preferences link on the top of this page.
Outcry over racial data grows as virus slams black Americans 
As the coronavirus tightens its grip across the country, it is cutting a particularly devastating swath through an already vulnerable population — black Americans.

Democratic lawmakers and community leaders in cities hard-hit by the pandemic have been sounding the alarm over what they see as a disturbing trend of the virus killing African Americans at a higher rate, along with a lack of overall information about the race of victims as the nation's death toll mounts.

Among the cities where black residents have been hard-hit: New York, Detroit, New Orleans, Chicago and Milwaukee.

"Everywhere we look, the coronavirus is devastating our communities," said Derrick Johnson, president and CEO of the NAACP.
Michigan Gov. Gretchen Whitmer Weighed In On Why So Many Black Americans Are Dying Of COVID-19
Diamond and Silk's Twitter account locked for breaking coronavirus misinformation rules
In These States, the Disabled Could Go to the Back of the Ventilator Line
This South Florida City Is a Looming Coronavirus Hot Spot You Haven't Heard About
---
Career thief released from jail over coronavirus fears breaks into shuttered subway newsstand: sources 
A career subway thief who was released from jail over coronavirus concerns is back in cuffs, accused of breaking into a shuttered subway newsstand a few days later.

Darryl Naser, 25, got out of jail on Rikers Island on March 27 after he was ordered held on $25,000 bail for skipping a court date in a grand larceny case.

On April 1, police allege Naser and a buddy broke into a closed newsstand in the 34th St.-Herald Square subway station. He was arrested on a subway on Canal St. Monday night, police said.

Naser, who's racked up two felony convictions and nine misdemeanor convictions, typically targets subway riders for theft, police sources said.
R. Kelly requests bail because of Covid-19, but a federal judge turns him down
Cops bust Texas teen who boasted about spreading coronavirus
Actress who fronted coronavirus PSAs busted for throwing wild house party
Coronavirus: Former police officer handcuffed in front of six-year-old daughter due to social distancing measures
White Supremacist Groups are Recruiting With Help From Coronavirus – and a Popular Messaging App
---
Child Sex Abuse Reports Spike As Country Shelters In Place, Advocates Say 
For most Americans, sheltering in place is a sensible act of self-protection amid the coronavirus pandemic. But home can be a dangerous place for some ? like children in abusive situations.

Children face a heightened risk for sexual abuse during this time, child advocates told HuffPost. Scott Berkowitz, president of the Rape, Abuse and Incest National Network, said RAINN has seen an uptick in minors reporting sexual violence in March, the month most shelter-in-place orders were implemented across the country.

"Last month, for the first time ever, a majority of RAINN's sexual abuse hotline users were minors," he told HuffPost.

Just over half of the people who called RAINN's hotline last month who identified their age were under 18. Of those, 67% identified their perpetrator as a family member and, within that group, 79% said they were living with that perpetrator. RAINN's victim service programs help on average about 25,000 people every month.

Berkowitz said the reason for the increased calls from minors could be that children can't access the safety net of other adults they usually see outside the home.
Staying At Home Has Led To An Increase In Child Abuse Cases — Here's How To Help
---
The thugs who doused a trans woman with petrol and burned her alive will not face murder charges
The 42-year-old woman, named locally as Mira, was set upon by a gang of thugs for allegedly stealing a truck driver's phone and wallet.

When the mob was unable to find any of the possessions she was accused of stealing, they beat her, poured two litres of gasoline on her, and burned her alive. She died in hospital a day later on Sunday.

As international human rights groups called for justice, Indonesian police declared they would not be bringing murder charges because they believe the suspects who set the fire had not burned the trans woman intentionally.

Six suspects have been identified, three of whom had been arrested. North Jakarta police chief Budhi Herdi Susianto acknowledged that one of them lit a match but said they did not mean to burn her.
---
SPEAKING CAN TRANSMIT CORONAVIRUS DUE TO TINY DROPLETS OF SALIVA, NIH STUDY SUGGESTS
arly results of a study from the National Institutes of Health (NIH) suggest that coronavirus can be transmitted through the air from tiny saliva droplets that are expelled when people speak.

Although the research is yet to be published or peer reviewed, the preliminary findings could have major implications in developing strategies for halting the spread of the COVID-19 pandemic, according to a Monday letter from the study's authors.

"Further studies are needed to assess the viral titer [concentrations] present in speech-induced droplets in asymptomatic COVID-19 positive persons, but our results suggest that speaking can indeed be a major mode of SARS-CoV-2 transmission," wrote the researchers.

The study used laser imaging to detect thousands of droplets ejected when a person said the words "stay healthy." Researchers said that although droplets produced during speech are tiny, they can transmit a broad range of respiratory diseases. Speech is also said to produce more droplets than coughing, which may be a more obvious mode of transmission.

"Droplets emitted while speaking are much smaller than those emitted when coughing or sneezing," the researchers wrote. "Nonetheless they are sufficiently large to carry a variety of respiratory pathogens, including the measles virus, influenza virus, and Mycobacterium tuberculosis. Moreover, multiple studies have shown that speaking actually produces significantly more droplets than coughing."
---
Police demand spit guards to protect them from coronavirus thugs who try to cough in their face during lockdown 
Spit guards should be carried by all frontline police to protect officers from thugs spitting and coughing at them during the coronavirus pandemic, a senior figure has demanded.

Sergeant Simon Kempton, the operational lead for Covid-19 at the Police Federation, told MPs the virus was being 'weaponised' by criminals after dozens of such assaults in recent weeks.

He said: 'Now more than ever, while Covid-19 is being weaponised, we need those spit guards in the pocket of every single police officer, not just in custody, on the street as well.'
Chopper Video Shows Large Groups at NYC Parks Despite Cuomo Extending PAUSE Order
---
The rise of domestic abuse during COVID-19 in LGBTQ relationships and how you can get help 
The data I have been able to collate tells me this: that 1 in every 4 lesbians and up to half of gay men have been a victim of domestic abuse at one time in their adult lives and that this figure is nearly at 80% if you are a transgender. The Office for National Statistics collated "experimental" data that informed the reader as of 2017: 1.1 million people over 16 identified themselves as LGB (there is currently no data for those identifying as transgender) out of a UK population aged 16 or over of 52.8 million, just 2% of the population.

However, what do the figures tell us about right now for LGBTQ victims? Sadly nothing. If you were heterosexual I would be able to tell you that every domestic abuse charity in England and Wales has seen a rise in calls to their helplines and in daily visits to their websites (Refuge has recorded a 25% rise in calls and over 100% rise in daily visits to their website). I could even tell you with (disturbing) confidence that this rise has been recognised across the world, but the LGBTQ victim's voice remains shrouded.
Elderly San Francisco Woman Assaulted and Robbed In Home Invasion
Sheriff: 2nd arrest in connection with kidnapping, killing
A trans woman was out drinking with her friends. Minutes later, she was shot to death by a gang of thugs
Transgender people in Panama alarmed by gender-based coronavirus quarantine rules
New York Man Kills 12-Year-Old Daughter, Wife, Himself In Suspected Double Murder-Suicide
1,500 more county lines drugs gangs in just a year: New figures reveal shocking rise in number of young people being groomed into trade as cocaine consumption in the UK rockets 290 per cent since 2011
Police: Florida man fatally shoots wife, 2 sons and self
Tori Spelling slammed for charging $95 fee for virtual meet-and-greet
Blend is a powdery substance or paintball liquid that you apply to your skin so the blotches disappear and you shimmer even tones.
07-Apr-2020
I say, you do what you need to and survive, fuck politically correct because for as long as you didn't hurt anyone, we'll forgive it... later. Be safe.
Remember the Yentl model. She was a woman pretending to be a man so she can prove to the world she was an equal and a survivor. Do what looks best on you. Bring gender back! We need to blend, just for a little bit.
07-Apr-2020
---
'Most homophobic' minister in Israel, who thinks all LGBT+ people are sinners, tests positive for COVID-19
According to The Times of Israel, Litzman, 71, has been accused of violating his own ministry's guidelines on social distancing in order to continue to attend prayer services.

As well as being Israel's health minister, he also leads the ultra-Orthodox United Torah Judaism party and witnesses said he was seen praying at the home of another member of his sect three days after indoor services were banned.

His own department's guidelines became stricter, barring prayer services altogether, but Litzman was later seen attending a service at a synagogue near his home.
Flight attendants are still working during coronavirus lockdowns and they worry that they're spreading the virus
Vogue Editor Anna Wintour Shares HerDoctor Son Charlie, 35, Is 'Quite Ill,' WithCoronavirus In New Video
NBC New York anchor says his father died from coronavirus 'with a stranger holding his hand'
Study finds link between air pollution and increased COVID-19 death rates
Texas woman claimed COVID-19 is a media hoax & can be stopped by "faith." Days later she died.
---
Los Angeles has notoriously polluted air. But right now it has some of the cleanest of any major city
The mental image many people have of the Los Angeles skyline is one obscured by smog, with thick air pollution hanging over its downtown buildings.

But with the city -- and the entire state of California -- under stay-at-home orders to stem the deadly outbreak of coronavirus, something dramatic has happened to the air in LA.
On Tuesday, LA saw some of the cleanest air of any major city in the world, according to IQAir, a Swiss air quality technology company which also monitors pollution levels in cities around the globe.

EPA data shows that in March of this year, the Los Angeles area experienced the longest stretch of "good" air quality since at least 1995.
---
Texas Boy, 5, Was Playing with Dad on Balcony When Stray Bullet Struck and Killed Him 
A Houston family was sitting on their second-floor balcony just after 9 p.m. on March 31 when tragedy struck.

Jordan Allen Jr., 5, and his dad had been making TikTok videos when the boy asked for some juice. As his dad stepped into the house to get him a drink, he heard five to six gunshots — followed by his son's pleas for help. Jordan had been struck in the head by a stray bullet.

"Everybody ran in the house and the kids' room in the house," Jordan's father, Jordan Allen Sr., told ABC13.com. "So I ran to the porch, and then I see my son on the ground holding his head asking for my help."
Tx. Baby Clinging to Life After Mom's Boyfriend Allegedly Shot Him, Plus His Mother, Sister
'I'm disgusted': Father of choirboy who accused George Pell of sexual abuse says he has lost faith in the justice system after cardinal was released on appeal
---
In the poorest county, in America's poorest state, a virus hits home: 'Hunger is rampant'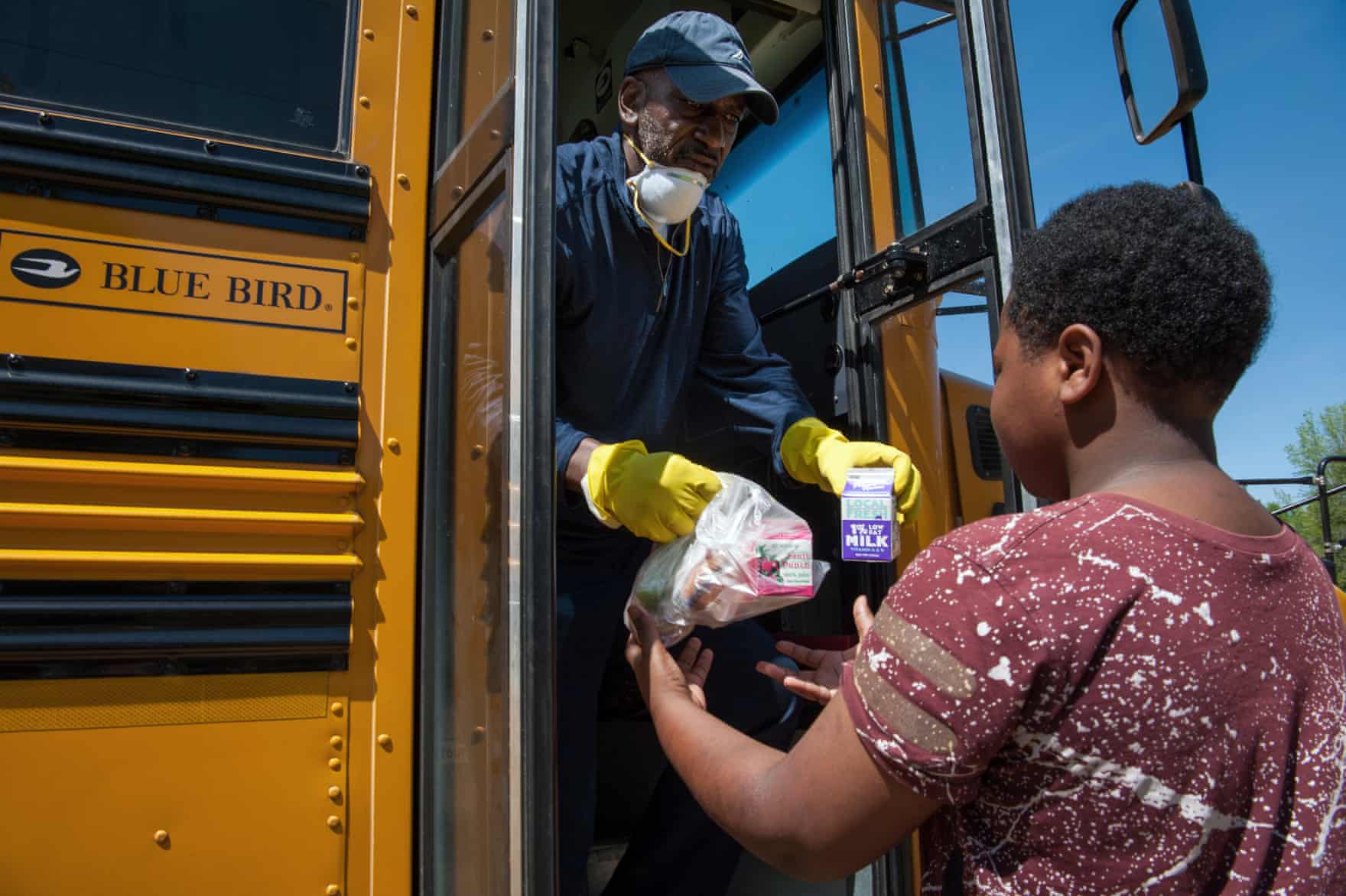 On the cracked country roads of Lexington, deep in the Mississippi delta, an empty yellow school bus drives slowly, making life-sustaining drop offs on the way.

Here, in the poorest county, in America's poorest state, the coronavirus has yet to ravage the jurisdiction with infection. There has been one recorded Covid-19 death in the county, Clinton Cobbins, Lexington's first African American mayor. But even now the coronavirus still poses a serious threat to life.

In Holmes county consolidated – the school district to which Lexington belongs – every single child qualifies for free school meals, a marker of pervasive poverty. For many, said superintendent Dr James L Henderson, breakfast and lunch at school are the only nutritious meals a student will eat in a day. For a few, they are the only meals.

When the coronavirus pandemic led to statewide school closures, Henderson, who was born in the county, left for most of his adult life, but returned in 2018 to assume his position, was left with a significant dilemma: how to feed the 3,000 children under his authority.
---
Cuomo urges the NYPD to be 'more aggressive' in breaking up funerals, large gatherings and people 'playing Frisbee in the park' as he raises fines to $1,000 for people who flout social distancing rules 
New York Governor Andrew Cuomo is urging the NYPD to be more aggressive in breaking up large gatherings, including funerals, as people continue to flout social distancing guidance rules.

On Monday, he announced he was increasing fines for individuals caught breaking the rules from $500 to $1,000 and said it was 'everyone's responsibility' not to be reckless.

New York is seeing its curve flatten - the death rate is slowing for the first time in weeks and while the number of cases and infections is still growing, it means social distancing has been effective until now.

Cuomo has extended the state-wide lockdown on non-essential businesses until the end of April and is telling people not to become 'over confident' because of the new figures.
Louisiana pastor cited for defying coronavirus order hosts hundreds on Palm Sunday
'Welcome to Nazi Germany': Cops get earful of 'fuck the police' while shutting down NJ house concert — with middle-aged attendees in lawn chairs
Police Break Up Hasidic Jewish Funerals in NYC: 'These Gatherings Must Cease' amid Pandemic
Anti-abortion activists in North Carolina are suing because they can't get together to protest
Tybee Island mayor fights Georgia governor's re-opening of city's beaches
Coronavirus: South African bride and groom arrested over lockdown wedding
Fox News Is Preparing to Be Sued Over Coronavirus Misinformation
Ongoing religious services spark debate over faith verses safety
Hobby Lobby closes all stores and furloughs most employees after initially resisting coronavirus shutdown orders
---
Vampire-obsessed teen murdered 90-year-old, ripped her heart out and drank her blood
A TEENAGE paperboy obsessed with vampires murdered a 90-year-old woman, ripped her heart out and drank her blood in the belief that he would become immortal, a new documentary reveals.

And Mathew Hardman would have gone on to prey on other elderly people had he not been caught for the murder of Mabel Leyshon, described by an officer as one of the most gruesome in British legal history. Mabel had been widowed for 40 years and had lived in her bungalow in Anglesey for 50 years when Hardman broke in as she watched TV on a 2001 December evening. Mabel, hard of hearing, 4ft 9in, and very thin, suffered 22 stab wounds as she tried to defend herself from Hardman, 17.
---
Some may joke about a coronavirus baby boom. Here's why you shouldn't try to conceive in quarantine 
As much of the world settles into a new routine of social distancing, couples are likely to have a lot more free time at home to snuggle together.

At first blush, you might think couples with some extra time on their hands would do things that could lead to a stork visiting nine months from now.
Yet with US Treasury Secretary Steve Mnuchin warning of dire scenarios and a possible 20% unemployment rate, couples whose jobs are vulnerable in this economy are likely to think again about kicking off their parenting journeys this spring.

Then there's the possibility of more couples splitting up. One marriage registry official in China said he saw a quarantine-related spike in divorces, showing that more time in closed quarters may be doing some couples more harm than good.

But for couples weathering this storm together, is this a time when many will choose to add to their brood?
Condom factory workers are considered "essential" now that a global shortage looms
A gender reveal party ignited a 10-acre brush fire in Florida, fire officials say
---
Drill rapper M24 sparks outrage as he shares footage of himself defying COVID-19 lockdown to film music video at crowded outdoor gathering 
Drill rapper M24 has sparked outrage, after he shared footage of himself defying lockdown rules to shoot a music video at an outdoor gathering on Saturday night.

The musician – a rising member of Brixton, south London, crew 150 – took to his Instagram account to upload clips of himself rapping to his latest track as a crowd surrounded him on a housing estate, clearly flouting social distancing rules.

Showing that they were aware of the risks of their actions amid the COVID-19 pandemic, a number of those featured in the clip were seeing sporting surgical masks as they danced and rapped along to his track in unison.
Coronavirus: Police pour water on barbecue amid lockdown
Man who narrated an expletive-filled video depicting people not social distancing arrested
Louisiana church holds services, defying coronavirus stay-at-home order
Woody Harrelson among stars sharing COVID-19 conspiracy theories tied to 5G
Woman spat, coughed on officers while claiming to have COVID-19, police allege
California Is Forcing Nursing Homes To Take COVID-19 Patients
---