TV Posts Tagged as 'Great Acting'
---
Rating key:
Welcome to Errattic! We encourage you to customize the type of information you see here by clicking the Preferences link on the top of this page.
Fall Of House Of Usher, The (2023)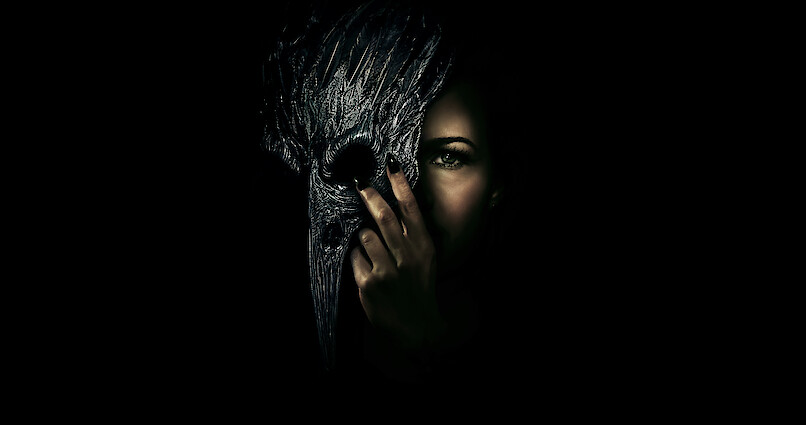 I understood the excuses but I didn't get the obscurity. The finale was a realization of how much of a merry-go-round the production put us through. The Final Destination kills should have ascended from that. When you add magic to horror it teeters on fanto realism. It made my head overload...with questions. Where was Lenore when daddy redecorated her mother's room? She asks to see her mom 5 days later? I believe one of the Dupin's got taller? Bless you, Sir Hamill. Once his character clicks we look forward to seeing him again. The mumbo jumbo accommodated what was easiest for the storytellers. The merry go round speeds up, there are few surprises but the cast and dialogue are superb. What fabulous creature is Gugino's character supposed to be? Is Pinhead her boss? I hope it's the girl one.
21-Oct-2023
SE5. There are so many crisp performances to marvel at. The story captivates but the horror aspect diminishes it. Whenever he gets a vision, we realize how the next victim will die. Stretching the story doesn't mean much if it once ended up in the trash because it contained too much information. The flashbacks are served nilly willy. The saboteur has no meaning but I love her. Poe's themes are observed but not acknowledged. When a creator succumbs to the title of the story he is manipulating things to fit not click.
20-Oct-2023
S1E2. Succession musical score adaptation is too blatant and soon to describe rich family hierarchy. The actors play it well but the characters are as interchangeable as their sexual proclivities. The scares are great ideas that are poorly executed. The mother's beginning is a testament of that. It should be scary but it's not, it didn't grip or create empathy. Flanagan name drops everything but the art he's pilfering. The story does not flatter Gugino and her character is beyond mysterious. I heard Hamill do a Joker laugh and I was amused. Flanagan still hasn't figured out how to shoot in the dark. The admirable parts are the ones created by accident.
19-Oct-2023
---
Danny Thomas Show, The (1953-1965)
There seems to be silence on the legacy of this classic sitcom. It started as Make Room For Daddy and mushroomed into The Danny Thomas Show. I saw all of the latter and only a handful of the other. The actress playing his wife, in the first half, had disdain for the man and it showed. Her composure did not scream nurturing, romantic or in love. Wrong place for the wrong actress. Danny played a version of himself. He was a singer/comedian who worked nightclubs. Jabbing at Danny's Lebanese culture was open, respectful and knowledgable. Lucy & Desi were his parents (friends) and Dick Van Dyke was his cousin (spin-off.) The show was blessed with energetic ideas, comic genius and non-stop showmanship. Danny must have learned how Lucy did it because he found his cute and sarcastic wit. Second wife was glamorous, vindictive, funny and hot. Marjorie Lord went shopping with Lucy Ricardo, cooked in fashion, got him in the mood and plotted her revenge in a very elegant and comical manner. The son is a scene stealer. Even when he made a mistake he diverted it with more funny. His adorability peaked in his tweens and crashed in his teens but he had a memorable run. Funny as fuck. The daughter was a prime teen that left before her character became unbearable. She had her moments. Louise was the household maid that was played by two elder pros. She got to hug white children, gossip with the wife, celebrate as a family member and sass the boss. A proud black woman. She isn't in all the episodes but the character remained til the end. The guest stars were numerous. The writers succeeded in incorporating them into strong storylines. The topics were basic, like feminism, how men can't do anything right, a woman can do anything men can do, a gift abolishes snarls and make-up sex is her way of accepting an apology. Penny from Lost In Space enters as a cute sister moppet that was supposed to bring adorability and sunshine. She was a work in progress. She laughs during line readings and when Mr. Thomas is doing his thing. She's cute and annoying. He was a great teacher, though. He hands a season to his working buddy and his domineering wife, played by the original Ursula from the Little Mermaid. It was an odd experiment giving supporting players full reign. They had to fill really big shoes and were no longer the sitcom air freshener. Ursula flopped around like she was getting paid to play charades on land. She was a bit too much. Danny was a ham. He sang in almost every episode. He shoved it down our throats but was so adamant and easy going that we learned to accept it and stopped praying that he didn't sing in the next episode. They had minorities galore and a successful run from the 50s through the 60s. Well-written, comical, consistent and timeless. One of a kind. Why don't we ever celebrate it?
06-Jun-2023
---
Sticks were lit. Just when I thought someone needed to slap Greg, he gets into a brawl. Baby prince stays hurt because his stick is not invincible, it didn't absolve him from violence. Kendall conjured many joyous and catastrophic emotions impressively. It's all about Shiv. Bound by family and inheritance but destined to never ascend the heights of her brothers' success and doomed to feel cheated. The only thing she can own, with no help from her dysfunctional family, is how she wants to live. Mattson was a prickly genius. Mother In Charge was defiant in her opinions and uttered her lines like they were Mr. Freeze popsicles. The best way to deal with family angst is to join it, beat it or annihilate it. The series dealt with all of it. Even emotionally dead mother fuckers can teach you that.
29-May-2023
Roman broke his stick. Daddy Prince sat and ate his stick. Shiv grew a different kind of stick. Greg towering over Mattson made my stick hard. The boredom and responsibility of a funeral was deftly created. Everyone was pondering death or trying to ignore it. Shiv is most like her father.
22-May-2023
Shiv is an accomplice to earth's destruction. The reds are absolutely wrong about everything but are our only salvation. A parent's misery festers like a ghost. It clings to others but is disabled by future reference. I want to shove a stick up Greg's ass and lick his face. I want to pay Shiv to shove anything up Tom's ass. I want to lick daddy's supreme balls as he describes how it feels like to eat a bacon cheeseburger. Mattson is a foot in our mouths. Connor is on the list of ok must fucks. I hope it strangles us in the end.
19-May-2023
I give a fuck!
19-Apr-2023
S3. Daddy Prince of Darkness battles Daddy Succession Supreme. Every "fuck" made me hard, every "you" made me cum. Daddies were exploding beautifully. Women sewed their own armor. Shiv is beloved, mother is a cunt, Geri is the family dog, Roman is a mutt, Tom is bewildering, Willa keeps up, Connor won't give up, Greg is a kitten and Mencken is a game. The fight would add up to very little if the top masters didn't emote so precisely. Daddy Succession bleeds every decision to keep his dynasty and children afloat. All he wants is respect. Daddy Prince is impatient about the future. He wants to be woke, now, when it matters. Daddy S knows better. Daddy P always gets what he wants because Daddy S spoiled him. There is a study of art that defines Daddy P because of his intensity but when he calms and speaks his pathetic truth, we want to fuck him, again. Yes, his pathetic is even hotter than his cocky. It's called parenting. The writers convey our thoughts instead of our speak because, in reality, we can't do so. But we would like to. We are not animals in cages. You cage the word and the animal comes out. Let it speak. The show spoke, delivered whoppers, kept to its guns and secured a successful season.
20-Dec-2021
Daddy suffering (Ken) hijacked it with an hilarious rap and alpha domination. I like to hear Shiv, I like to say Shiv, I love to watch Shiv. Holly Hunter (Rhea) is the clamped whisperer. When she nips it she doesn't let go. Tom shreds himself to death attempting to bare the soul of a character that rarely sees it. Culkin plays his character like he has no dick. Funny. Nobody messes with daddy. Writers that want to keep their jobs and a production that keeps on pushing it. It consummates on a boat big enough to fit two Below Decks in it. It was all about respect.
08-Aug-2020
The best corporate fuckers on TV.
06-Aug-2020
A malted shake with only whipped cream. That's a lot of protein.
24-Jul-2020
S1E3 found daughters giving handjobs, alphas verifying status on staircases and daddies snapping their tongues. I am no longer floating, my feet are firmly planted.
18-Oct-2019
Exposing how the family dynamic exploit each other for success. The sticks have returned:
Brian Cox - daddy doesn't need a stick
Nicholas Braun (Greg) - he'll carry anyone's stick
Alan Ruck (Connor Roy) - he licks them
Kieran Culkin (Roman Roy) - he shoves them up his nose
J Smith-Cameron - she's not carrying anyone's stick
Jeremy Strong (Kendall Roy) - alpha in the making swings his own.
18-Oct-2019
---
It gassed up, almost made it out of the parking lot, but got blindsided by a food truck. What is the commonality between the women Joe obsesses over? They are very different. At least now he can afford to buy more cages.
12-Mar-2023
S3E9. The dork talks to dead people, now? It's a lazy writing gimmick. Who's bankrolling the fancy cages? Why is the entrance to the cage not padlocked? How do people shit in that cage? Shouldn't they, at least, be wearing diapers? Why do all movie assholes like to be tied up? Greg Kinnear seems to be the only one that understood the assignment.
12-Mar-2023
I heard it gets better but the 2 new episodes I watched seemed like they ran out of gas at the CW parking lot.
12-Mar-2023
It's indifferent to the story. Joe is surrounded by people that are too cliche to make fun of. He is being uncharacteristic, it made me forget what his fetish is and he has no equal match.
19-Feb-2023
Psycho settles into suburban madness. The psychology is rewritten to fit a desperate suburbanite. Pretension is the clarification of ascension. Psychos don't have bouts of good feelings. If they do it's the reason they're killing. Silence as I listened to Penn Badgley make me laugh, hurl and cum. Respect to Victoria Pedretti's restraint as a frustrated woman. Shalita Grant filled her empty cup. Travis Van Winkle enshrined it. Dylan Arnold needed more daddy laps. Tati Gabrielle was feathery. Daddy Speedman needed Dylan Arnold to sit on his lap. The whole was to make a monkey out of me. I love that shit!
02-Nov-2021
Leave it to California ("the Hellmouth") to turn a serial into a romantic victim. The pyschology was bi-polar and the disentanglements were happenstance and charred. I'm not excited to see a third season.
31-Dec-2019
The thrill of the cum trampled by a kick in the balls. The delicacies of love entrenched by intrinsic mind bending. Badgley steals the crown structuring the depth of his humanity and indignation.
20-Apr-2019
---
I didn't know Coolidge had more acting tricks up her sleeve. The lady was hiding a cowgirl and the funniest stunt woman, ever. The jump was everything. Will Sharpe expressed himself beautifully and he showed some thigh. Aubrey Plaza remained steady and to the back. Fahey and James remained fake versions of themselves and didn't express anything besides animal instinct. It was shocking, on point and masterclass.
12-Dec-2022
My favorite Wednesday Addams, of all time, is Aubrey Plaza. She became a bitch when her mother, Morticia, started boiling everything and aunt Lester lost her hair. Theo James is a fuck kill. Coolidge is being treated like a goddess by the gays and I hope she lets them have it. Hale Lu Richardson is Florence Pugh's Eve. Will Sharpe has to explain himself or show more thigh. Fahey is a rain of artificial sunlight. Michael Imperioli and F. Murray Abraham play a perfect father and son team that identify but don't accept that one begat the other. They fear their beautiful youngling will inherit their sad fate. The bigger you lie, the better the marriage but by then, the soul is gone. Female sexual harassment in the workplace, men expressing the difficulty in containing themselves, the sexes exploiting that, intelligent words coming out of fine actors and a director that provides the vision he describes.
30-Nov-2022
Mike White delivers an itchy script full of descriptive characters and awkward situations. The luscious atmosphere is reduced by human mania and overcompensation. Jennifer Coolidge cracked my funny bone, tore my heart and was masterclass as a woman acquiring power by being weak. Murray Bartlett played an outrageous gay asshole with ridiculous tendencies. Jake Lacy was pure alpha as a newlywed lord ruling over his petty wife. Molly Shannon whipped up a venomous mother-in-law from hell. Steven Zahn and John Gries gripped man sensibilities. Connie Britton and Alexandra Daddario convinced me. Natasha Rothwell spilled her heart and Jolene Purdy split my stitches. The teens were beautifully vacant, troubled, witty and intoxicating, just like vacations.
19-Aug-2021
---
DAHMER: MONSTER (2022)
Cinematic art ceases during wind down when Ryan's team inserts modern politics into the victims' families' mouths. Little sympathy is garnered due to the hypocrisy that they expect the police to protect them but be hands off if they themselves commit a crime. You can't have it both ways. The sandwich inspired its most chilling scene. The addition of another gay monster killer paralleling the present one is terrifyingly well done. Evan Peters never lets go of his disguise, Richard Jenkins slaughtered, unrecognizable Molly Ringwald had moments, the actor who played Jesse Jackson was eerie good and Niecy Nash's character stayed too long but she remained great. In the end, everyone exploited a man who felt alive in killing because he was invisible through life. It's a disservice to the victims if we don't learn to protect ourselves from it instead of denying it. Dahmer had the last laugh. He is ever more present and his surroundings are all but invisible.
27-Sep-2022
S1E4. Evan Peters takes us inside a gay serial killer's monster bubble and he gives the impression that his art will be popping iteration balloons for years to come. Niecy Nash is that bossy bitch neighbor that's always in people's business that no one wants to hear but gets politically redeemed by being the right amount of bossy. Nash holds the note a second too long but her character sings. Richard Jenkins used craft in telling the story of a parent that feels pain for raising a monster. Michael Learned reminded me of mama Walton but later, vanquished it. She embodies the bitter old woman that supports you to be whomever you want as long as its made up at church. Did she inspire his racist thoughts? The show obsesses over bloody squishy things instead of sexy, kinky things. I hope it switches. Man's true nature is exposed during sex. At that time, the community agreed that he was scary as fuck because we would have fucked him...and died. Only a victim can describe a monster and only a monster can describe his family. The series proclaims that mothers should not have children if they are mentally suffering, a weird child best ignored is not a happy child, a grown father dissecting animals with his gay kid encourages human devastation, daddy keeps encouraging human devastation because he can't beat his wife and cops get punished for being sensitive to gays. Evan's thought process is to lay blame on the parents and make himself accountable for the joy that chaos brought him and because only fucked up parents can create such a fucked up kid.
23-Sep-2022
---
Euphoria (2019-)
The music represents the burden of being a child and the parent who never considers it. Younglings fight pain by listening to adults in pain without it causing distress or an ironic thought. Specified music with taste and glory.
12-Mar-2022
The creator drops his characters into a hole where the act of falling stops when they reach up. The actors succumbed and conquered. Z broke my heart. The writing spun out of control because that is the consequence of addiction. It pounds us with fists throughout then pummels us with pillows at the end. The season finale was a bitter "Glee" spectacle.
12-Mar-2022
Misfits are created when the understanding of being born is confounding.
Each episode incorporated a distinct flavor that elevated character development and story arc. The whole is a buoyant and succulent melange.
The writing was sharply on edge, the directors' wings were boundless and the actors (especially Z) rose to every unforgiving task.
Z's parade at finale was unexpected, deserved, joyous and brilliant. The music speaks.
01-Sep-2019
The carnival episode was a modern Hitchcock delirious delight. Zen's etch of a drug addict cuts deep.
31-Aug-2019
Etching a recognizable world and stripping Zendaya of Disney cuteness. Feels like home.
28-Aug-2019
---
Maude (1972-1978)
S1 & 2. Maude was the perfect feminist. She wasn't afraid to let a man speak, weighed the options, argued them and resolved it like a scientific adult. Maude didn't need to win every argument. It wasn't necessary. The point of an argument is to be heard. She recognized a man's shortcomings and was willing to stroke it for peace. Bea Arthur was a force of wit, sarcasm, genius understanding and distribution. Adrienne Barbeau put the lib in life and the fighter in mother whilst shaking her gorgeous bon bons. She was a thespian. Conrad Bain understood why doctors are supposed to be stupid and funny. Rue McClanahan was giggly and neurotic before she became a slut. Bill Macy was the perfect foil because he was married to the perfect feminist and he had something to shout about. Forida (Esther Rolle) was so intoxicating that she blows away in season two to be upstaged by a stupid clown. Women are fighting to be equal to men they can't stand. It fits our time zone and it scratches my funny bone. I hope that when Betty made it to heaven that Bea was standing there to congratulate her. ("Kindness nullifies bitch, every single time.")
06-Jan-2022
---
Will & Grace (1998-2006)
S1E3. The gay bestie is the only man that gets pretend husband right. Jack was the clown stereotype that exploded. Karen hadn't evolve but she was super bitchy. Grace and Will's beautiful relationship ends when the other sucks the other's partner off on a whim, just like in real life.
10-Dec-2021
---
Luis Miguel (2018-)
Children connected to great art are drippings. It doesn't bang at the end because the legend pulls back and stops talking. It becomes a showcase for why he agreed to do the series in the first place. Art is bigger than a man's character.
23-Nov-2021
S3E2. Mariah needs more bleach. Mariah's raspy voice and street smarts are reimagined as a black person with perfect diction trying to pass as white. Did anybody study Mariah Carey? Mariah looks white but sounds black. Fake Mariah looks black and sounds white.
21-Nov-2021
S1E12. Enacting the miserable life of a wonder boy. His beauty, talent, luck, success, sex and family disappointment. Diego Boneta swags like the legend and is pretty too. Oscar Jaenada played the conniving dad like the aggressive uncle we all know and don't want to talk to. Mom and dad spew fine words without mental insight. Mother is saintly. A woman lost in the clouds, attempting modernization, succeeding at it but getting distracted by birthing and security. Her story is incomplete. The baby Luis' were great. The voices enchanted. It compelled as many times as it expired. Like organic.
14-Nov-2021
---
Mary Tyler Moore Show (1970-1977)
S7E12. Ted is sexually harassed and Mary and Murray tease him into temptation. A man asks Murray out for a date.
24-Oct-2021
S7E7. The only way to deal with a gifted child is to beat the crap out of him.
17-Oct-2021
S7E6. Ted describes The Happy Homemaker as a pig in a trough on broadcast news.
15-Oct-2021
S7E4. How Mary, Lou and genius handle a "woke" feminist hired as a sportscaster even though she is unqualified and doesn't respect management.
15-Oct-2021
S5E21. Mary rocks stripper gear and a prostitute teaches Georgette how to call business clients "tricks".
11-Mar-2021
S5E7. The episode where Betty White outcunts Bea Arthur.
24-Jan-2021
S4E8. Grandmas get horny too.
24-Dec-2020
S4E5. Super silver daddy with big brother ass wears hooker pumps to work. Yum!
23-Dec-2020
S4E1. Before Betty White drowned us in honey she perfected an empowered slut known as "The Happy Homemaker." She is introduced during one of Mary's lousy parties in which Phyllis' husband takes her home and almost never returns. The affair is handled with aplomb. A well versed human rights campaigner versus an eager and empowered cunt. The ladies are fabulous, Mary has the best solution and Teddy/Aquaman was delicious.
20-Dec-2020
S3E17. Classic sex identification episode. It's Mary's first party, Georgette is on hand to steal it and Rhoda is dating Phyllis' brother whose meant for Mary. The adult banter is resplendent, the emotions are on cue and the acting is sublime.
05-Dec-2020
The better Mary's hair gets, the more brilliant the show.
26-Nov-2020
S1E22. The origin of twinks.
04-Nov-2020
---
Elite (2018-)
Sexy gorgeous creatures don't preach, they do.
04-Jul-2021
The beautiful ones return in high style and peak bloom.
Fluidity is tunneled, pummeled and charged. The freedom to inherit all relationship prospects is an elite politic that facilitates mass hurt because the kids that invented it are incapable of successfully mastering it. They're human.
The parents do as Oprah taught them and heal most of their miracles' hemorrhage with gifts and money.
The beauties confusing the system to reclaim justice was resplendent.
The mystery continues and concludes, the ones are masters of bitchiness and heartbreak and the thread is reinforced nylon. Brava!
29-Mar-2020
The season was mapped mathematically and it hit every point. The actors are snug in their roles and stamping their characters. The drama makes you talk to yourself, the police work is thought out and everything looks delicious. Cool as fuck.
23-Sep-2019
They represent with no restraints and the teens are regarded with soul. The societal menace is heavier, coddling is out and the hurt is overwhelming. They are fighting a world adults complicated with wee survival skills. Beauty is diverse and it lingers because the writers keep tearing at it.
23-Nov-2018
---
If you preach and back it up with great talent, you supersede.
30-Jun-2021
Gorgeous ladies...and men, musical zest, smashing show and a hopeful ending. It broke it and healed it...the heart.
28-Aug-2019
"The Man That Got Away." Judy defined it and Billy spelled it out.
25-Aug-2019
It gave us a vogue teaser, it made gold edible and the love story was sexy.
23-Aug-2019
Ryan's episode didn't hand me an enigmatic vogue but it gave me beauty of soul.
23-Aug-2019
Do I have to vogue to earn a gay family like this or is that sentiment stuck in the past? The show retains its high sheen fabulosity but ballroom direction needs to stress its entertainment notch in order to fly closer to Billy Porter's coordination.
21-Jul-2019
The release was due to its faithful history and devotedly charged performances.
10-Jul-2018
Every week it grows in beauty and endearment. One more moon and Papa Murph makes me blow.
Christopher Meloni is now inducted into Daddy Squish Hall of Fame.
03-Jul-2018
It's about family.
27-Jun-2018
Ryan is tapping into the artistic awakening of its raw talent. Learning as they go.
24-Jun-2018
The seed has been planted but in order for it to grow it needs to escalate the celebration.
23-Jun-2018
---
Married With Children (1987-1997)
I never realized how much female input there was in scouring the marriage of an alpha fucker and our mothers.
15-Apr-2021
---
Casados Con Hijos (2004-)
Married With Children adapted for Colombian TV. The cast and writers are frying the American version in nastiness. They break all the rules that we police. Al is ridiculous and mama makes Peggy proud. Bud fucks his uncle's wife before the wedding and Kelly literally fucks the whole town. It's free, it's stupid, it makes me laugh before singing me to sleep. There's nothing like family.
06-Mar-2021
---