Health/Food Posts Tagged as 'Education'
---
Welcome to Errattic! We encourage you to customize the type of information you see here by clicking the Preferences link on the top of this page.
Trump signs executive order to expand school choice for Hispanic students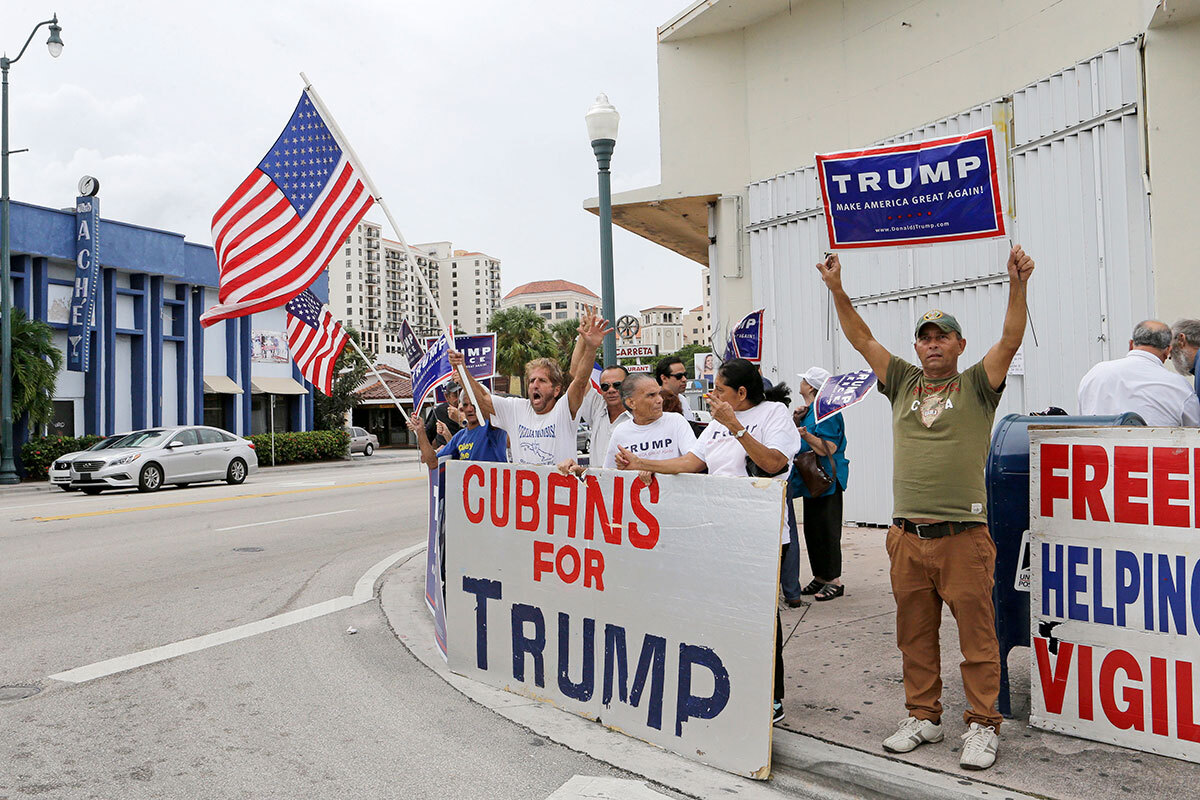 In a speech in the White House Rose Garden before signing the order, Trump touted the initiative as expanding school choice for Hispanics and one that would improve access to charter schools for students.

The initiative is also meant to create more career pathways for Hispanic students as well as boast investment in economically distressed communities, including Opportunity Zones, and offer more economic opportunities for small and minority-owned businesses.

"School choice is an incredible issue in many ways," Trump said. "Most people agree with us, the smart ones agree with us."
---
How Tracy Sherrod Came to Lead America's Oldest Black Publishing Imprint
Lauren Michele Jackson recently wrote a piece for Vulture, looking at lists of Black texts that pop up whenever there's a galvanizing incident of racial violence. A lot of the magazines and websites will publish a list like, here's what to read to think about race. Jackson wrote. "Aside from the contemporary teaching texts, genre appears indiscriminately: essays slide against memoir and folklore, poetry squeezed on either side by sociological tomes. This, maybe ironically but maybe not, reinforces an already pernicious literary divide that books written by or about minorities are for educational purposes, racism and homophobia and stuff, wholly segregated from matters of form and grammar, lyric and scene." I'd really like to hear your perspective on this, because you publish books about race, but you publish books about everything. Do you think readers should be looking at books as curative or as medicine for toxicity and racism in this culture?
---
Florida State University tells staff they can't care for kids while working remotely
Florida State University has informed its employees that as of Aug. 7 they will no longer be allowed to care for their children while working from home during the coronavirus pandemic, according to reports.
---
Black chefs on the tradition of Juneteenth and need for diversity in the food industry
Ahead of Juneteenth, a holiday celebrating the end of slavery in America, Black-owned restaurants and services are highlighting the underrepresented tradition of Black cooking and advocating for increased diversity in restaurant kitchens.
---
CDC tracks cluster of coronavirus cases in rural Arkansas to church, raising alarm on religious gatherings
The Centers for Disease Control and Prevention tracked a cluster of coronavirus cases in rural Arkansas back to a church pastor and his wife, indicating that faith-based organizations and events could be sources of Covid-19 transmission, according to a new study published Tuesday.

"This outbreak highlights the potential for widespread transmission of SARS-CoV-2, the virus that causes COVID-19, both at group gatherings during church events and within the broader community," the researchers wrote. "Faith-based organizations that are operating or planning to resume in-person operations, including regular services, funerals, or other events, should be aware of the potential for high rates of transmission of SARS-CoV-2."
Possible coronavirus-linked inflammatory illness in kids identified in Virginia for first time: officials
Texas church cancels masses following death of a possibly Covid-19 positive priest
NYPD shuts down a Yeshiva school in session in Brooklyn
---
New syndrome in kids could change fate of schools reopening in fall, Cuomo says 
The growing number of New York children diagnosed with a serious inflammatory syndrome possibly connected to COVID-19 may impact whether schools reopen in the fall, Gov. Andrew Cuomo said Sunday.

Health officials are investigating more than 120 cases of pediatric multi-system inflammatory syndrome in New York, according to the governor.

"This is a syndrome that we are only just discovering," Cuomo said. "I think the numbers are going to be much, much higher."

The illness, which causes the inflammation of blood vessels, has been identified in children across 16 states and at least five countries, according to Cuomo. At least three children have died in New York, health officials have said.

Symptoms of PMIS include a persistent fever, rash, abdominal pain and vomiting. Parents should call their pediatrician immediately if their children exhibit symptoms.
Doctors raise hopes of blood test for children with coronavirus-linked syndrome
---
INTERVENTIONS BOOST SEXUAL HEALTH FOR BLACK TEENS
The new paper in JAMA Pediatrics draws on data from 29 studies that reported 11,918 black teens. Sexual health interventions included, among other things, school-based health classes and community organization programs.

"We focused on black adolescents because they face greater health disparities when it comes to the risk of unplanned pregnancy and contracting sexually-transmitted infections (STIs) compared to other adolescents," says first author Reina Evans, a PhD student at North Carolina State University.

"This disparity stems, in large part, from the context in which black teens make decisions about their health. For example, stress from racism and discrimination, as well as unequal access to health care can impact the health of black teens. We wanted to see whether sexual health interventions can be a valuable tool in addressing this disparity."

The findings show that young people were slightly more likely to abstain from sex if they took part in one of these programs—particularly if the intervention occurred at school. The researchers also found a modest increase in condom use for adolescents who took part in an intervention.
---
Dr. Oz Under Fire After Saying Risk Of Reopening Schools Would Be A "Tradeoff"
In an interview with Fox News' Sean Hannity on Wednesday, Dr. Mehmet Oz discussed reopening schools amid the coronavirus pandemic and said that doing so "may only cost us 2 to 3% in terms of total mortality." The television personality suggested that the potential deaths "might be a tradeoff some folks would consider" and has since come under fire for his comments, with some on social media calling him "heartless."

"We need our mojo back," Oz said in reference to the American economy. "Let's start with things that are really critical to the nation, where we think we might be able to open without getting into a lot of trouble. I tell ya, schools are a very appetizing opportunity."
---
Inside the Sex-Positive, Socially Distanced Rebirth of Sex Ed
Melissa Pintor Carnagey's puberty workshops still feature the same genital anatomy models and quizzes around body care, but these days she looks out on a virtual classroom of adolescents sitting at home alongside a parent. A few weeks ago, she took her in-person classes to Zoom, where familiar exercises have gotten a technological update: a software program allows students to text her their associations with puberty. A colorful on-screen collage of words like "pimples," "breasts," "hair," "acne," and "sex" show up on the screen, each growing in size relative to the number of students who submit it.

Since Carnagey's puberty workshops went online, they continually sell out within 48 hours of open registration. "We've definitely seen an influx in families seeking out resources for sex ed," said Carnagey, founder of the organization Sex Positive Families. "Parents are very hungry for access to these conversations, the information, and the resources."
---
College Made Them Feel Equal. The Virus Exposed How Unequal Their Lives Are. 
The political science class was called "Forced Migration and Refugees." Students read accounts of migrants fleeing broken economies and seeking better futures, of life plans drastically altered and the political forces that made it all seem necessary.

Then suddenly, the subject matter became personal: Haverford College shut down and evicted most students from the dormitories as the coronavirus spread through Pennsylvania.

Like many college courses around the country, the class soldiered on. The syllabus was revised. The students reconvened on a videoconferencing app.

But as each logged in, not everyone's new reality looked the same.

One student sat at a vacation home on the coast of Maine. Another struggled to keep her mother's Puerto Rican food truck running while meat vanished from Florida grocery shelves. As one young woman's father, a private equity executive, urged the family to decamp to a country where infections were falling, another student's mother in Russia couldn't afford the plane ticket to bring her daughter home.
Yale students are using the coronavirus crisis as an excuse to lower standards
---
Will Coronavirus Be Gone by Summer? An Expert Provides Updates on the Pandemic 
The United States now has the most cases of the new coronavirus, COVID-19, in the world, and the majority of the country is under strict stay-at-home orders to slow the rate of infection. As Americans approach one month since the start of intense social distancing measures, everyone is wondering the same thing: When will this end?

To get a better understanding of what people can expect from COVID-19, Dr. Robert Norton, a professor of public health at Auburn University and member of several coronavirus task forces, answers questions about the virus.

Will COVID-19 be gone by the summer?

"Realistically, I think it's going to be going well into the summer in some areas," Norton says.
Gov. Newsom Says Schools Unlikely To Open For Rest Of School Year
Bill Gates Calls for National Lockdown: 'Shutdown Anywhere Means Shutdown Everywhere'
---
Tone-deaf NYU dean sends video of herself dancing to students seeking tuition refunds
Hundreds of students at NYU's Tisch School of the Arts demanded a partial tuition refund since spring classes were moved online amid the coronavirus pandemic –and their dean responded with a bizarre video of herself dancing to REM's "Losing my Religion.''

As of Friday evening, a Change.org petition started by NYU students has garnered more than 2,600 signatures from people seeking the tuition relief.

Students say online classes and remote learning via video conferencing app's like Zoom are not worth the school's $58,000-a-year tuition.

The petition is pushing for the NYU Board of Trustees "to refund a portion of our Spring 2020 tuition paid for the resources, universally deemed crucial to arts education, lost in the recent switch to remote teaching."
---
Parents Say School Expelled Elementary Students After Raising Coronavirus Concerns
As the second full week of school closures comes to an end, many Bay Area parents are anxiously waiting to hear that it's safe for their kids to return to class. But for a group of parents in the South Bay, their kids still won't be allowed back on campus when classrooms reopen after administrators decided to withdraw their children from school in a move that left parents stunned.

The school's decision comes after a series of critical Facebook comments from parents questioning the school's response to the coronavirus pandemic.

"I was devastated," a parent told NBC Bay Area when she learned her child is no longer enrolled. "I feel the school is just retaliating against us."
Coronavirus Heroes Are Getting Tossed From Their Homes by Scared Landlords
'It's just despair': Many Americans face coronavirus with no water to wash their hands
---
Philadelphia schools, citing inequity, won't teach online 
The Philadelphia School District will not offer remote instruction during the coronavirus shutdown, the superintendent announced Wednesday, citing equity concerns in a city where many students lack computers or high-speed internet at home.

School districts nationwide have been wrestling with the same issues as they explore ways to keep children engaged as classrooms are shuttered for weeks or longer.

In Philadelphia, where some teachers had been offering forms of optional remote instruction on their own, Superintendent William R. Hite Jr. said at a City Hall news conference that no students will be required to log on to a computer or submit assignments.

"If that's not available to all children, we cannot make it available to some," Hite said.
---
College student faces felony terrorism charges after he took a photo with an AR-15 and joked about melting 'snowflakes'

A college student from Michigan is facing felony terrorist charges after sending a photo of an AR-15 to friends, and joking about how the gun would "make the snowflakes melt."

Lucas Gerhard, 20, shared the image of him touting the firearm with a private group of friends on Snapchat on Aug. 22, the night before he was scheduled to return to Lake Superior State University for the fall semester, according to the College Fix.

"Takin this bad boy up, this outta make the snowflakes melt, aye? And I mean snowflakes as in snow," a caption for the image read.
---