Health/Food Posts Tagged as 'Support'
---
Welcome to Errattic! We encourage you to customize the type of information you see here by clicking the Preferences link on the top of this page.
New coronavirus cases across the world jump by the most ever in a single day, WHO says 
The number of newly reported coronavirus cases worldwide hit a daily record this week with more than 100,000 new cases over the last 24 hours, according to the World Health Organization.

Almost two-thirds of the cases were reported in just four countries, WHO Director-General Tedros Adhanom Ghebreyesus said during a press conference Wednesday at the agency's Geneva headquarters. "We still have a long way to go in this pandemic."

The majority of new confirmed cases are coming from the Americas, followed by Europe, according to WHO's daily report. The U.S. reported 45,251 new cases on Tuesday, according to the agency. Russia had the second-most reported cases Tuesday at 9,263, according to WHO.
---
If travel is, indeed, an essential for knowledge and cultural suction, why not visit the communities? You'll contribute much needed funds to the poor and America, it's very cheap, your heartbeat will rise and you'll eat real food. You will drown in color and once your children take a breath of organic suffering, they will behave throughout their stay. When you return to your podium, you'll understand and better explain our struggle, without presumption.
18-May-2020
---
Asian American eligible voter population has ballooned 139 percent in 20 years: report
As the U.S. moves closer to the November election, the number of Asian American eligible voters will hit a record high, a new report from the Pew Research Center revealed Thursday.

The report examines the Asian American electorate, which is made up of more than 11 million eligible voters. Among the significant findings, the research noted that the number of those voters ballooned by 139 percent in the past 20 years, making Asian Americans the fastest-growing demographic of eligible voters compared to all other major races and ethnicities. In contrast, the white electorate grew by 7 percent in the same period.

Christine Chen, executive director of the civic engagement nonprofit APIAVote, said the group has amassed enough influence to have a profound impact in some races and, in some cases, swing districts.
---
Could Artificial Intelligence Have The Answer To America's Coronavirus Economic Woes?
Unless the American economy somehow gets way more productive. More innovative. Technology optimists hope artificial intelligence is the "next big thing" that will drive the next big productivity boom. Eventually. The history of important "general purpose technologies" — such as the steam engine, electrification, and personal computing — is that it takes a while for them to achieve significant economy-wide impact. (Although that diffusion lag has shortened.) They need supporting investments in physical and human capital to achieve full potential. As economist Erik Brynjolfsson told me recently on my Political Economy podcast, we need more people "who know how to take these new technologies and translate them into new products. The more of those we have, the better because there are intangible capital and business processes that need to be reinvented."
---
My Husband Wants to Bone Through the Pandemic. I Keep Thinking About My Parents Dying.
Dear How to Do It,

I live in a small apartment in New York City, and I'm currently "sheltering in place"/self-isolating with my family (husband, two small kids). I was sent home from my job that I love, with no idea if or when they will ever reopen. My parents fall in the coronavirus "at risk" category of 60+ with underlying conditions. I, myself, have a rare lung condition, and I don't know if that puts me in a higher risk group, too. So, having said all that, I'm struggling with thoughts of existential anxiety 24/7 and have zero libido. My husband, while largely in the same boat, does not have this problem and his sex drive is as high as ever. He thinks I should try to take my mind off things, and the best way to do that is with an orgasm. I think the odds of me orgasming right now are … zero. I can't turn my brain off. Even during foreplay, I find myself worrying about my parents dying, worrying about the upcoming bills we have with only one income, worrying about going grocery shopping and contracting COVID-19, even if we take precautions. I feel guilty for denying my high-sex-drive husband sex, but I just don't know how to relax enough to enjoy myself while we're staying inside for the next weeks during this pandemic.

—COVID Coitus
---
'It's taking us out': Oprah Winfrey warns coronavirus is 'ravaging' the black community and reveals concern for her own health after battling pneumonia six months ago 
Oprah Winfrey has warned African Americans to take the coronavirus outbreak seriously because it is 'ravaging our community' and 'taking us out'.

The TV mogul said the coronavirus outbreak continued to have a devastating impact on black communities across the United States but that people weren't getting the message about the risk of asymptomatic carriers.

Speaking to CBS This Morning on Tuesday, Winfrey said it was important for black people to understand that pre-existing conditions including diabetes and asthma put them at greater risk if they contracted the virus.

She also voiced concerns for her own health, saying she was staying indoors because she suffered from pneumonia last year and that her 'lungs never really fully cleared'.
Black grocery workers feel increasingly vulnerable to coronavirus
African American pastors call for equal treatment for people of color in coronavirus response
Tiny Louisiana parish has highest Covid-19 death rate in US
Michael Che Says He'll Pay Rent For 160 Apartments in Honor of Grandmother Who Died of COVID-19
---
Inside the Sex-Positive, Socially Distanced Rebirth of Sex Ed
Melissa Pintor Carnagey's puberty workshops still feature the same genital anatomy models and quizzes around body care, but these days she looks out on a virtual classroom of adolescents sitting at home alongside a parent. A few weeks ago, she took her in-person classes to Zoom, where familiar exercises have gotten a technological update: a software program allows students to text her their associations with puberty. A colorful on-screen collage of words like "pimples," "breasts," "hair," "acne," and "sex" show up on the screen, each growing in size relative to the number of students who submit it.

Since Carnagey's puberty workshops went online, they continually sell out within 48 hours of open registration. "We've definitely seen an influx in families seeking out resources for sex ed," said Carnagey, founder of the organization Sex Positive Families. "Parents are very hungry for access to these conversations, the information, and the resources."
---
Police demand spit guards to protect them from coronavirus thugs who try to cough in their face during lockdown 
Spit guards should be carried by all frontline police to protect officers from thugs spitting and coughing at them during the coronavirus pandemic, a senior figure has demanded.

Sergeant Simon Kempton, the operational lead for Covid-19 at the Police Federation, told MPs the virus was being 'weaponised' by criminals after dozens of such assaults in recent weeks.

He said: 'Now more than ever, while Covid-19 is being weaponised, we need those spit guards in the pocket of every single police officer, not just in custody, on the street as well.'
Chopper Video Shows Large Groups at NYC Parks Despite Cuomo Extending PAUSE Order
---
In the poorest county, in America's poorest state, a virus hits home: 'Hunger is rampant'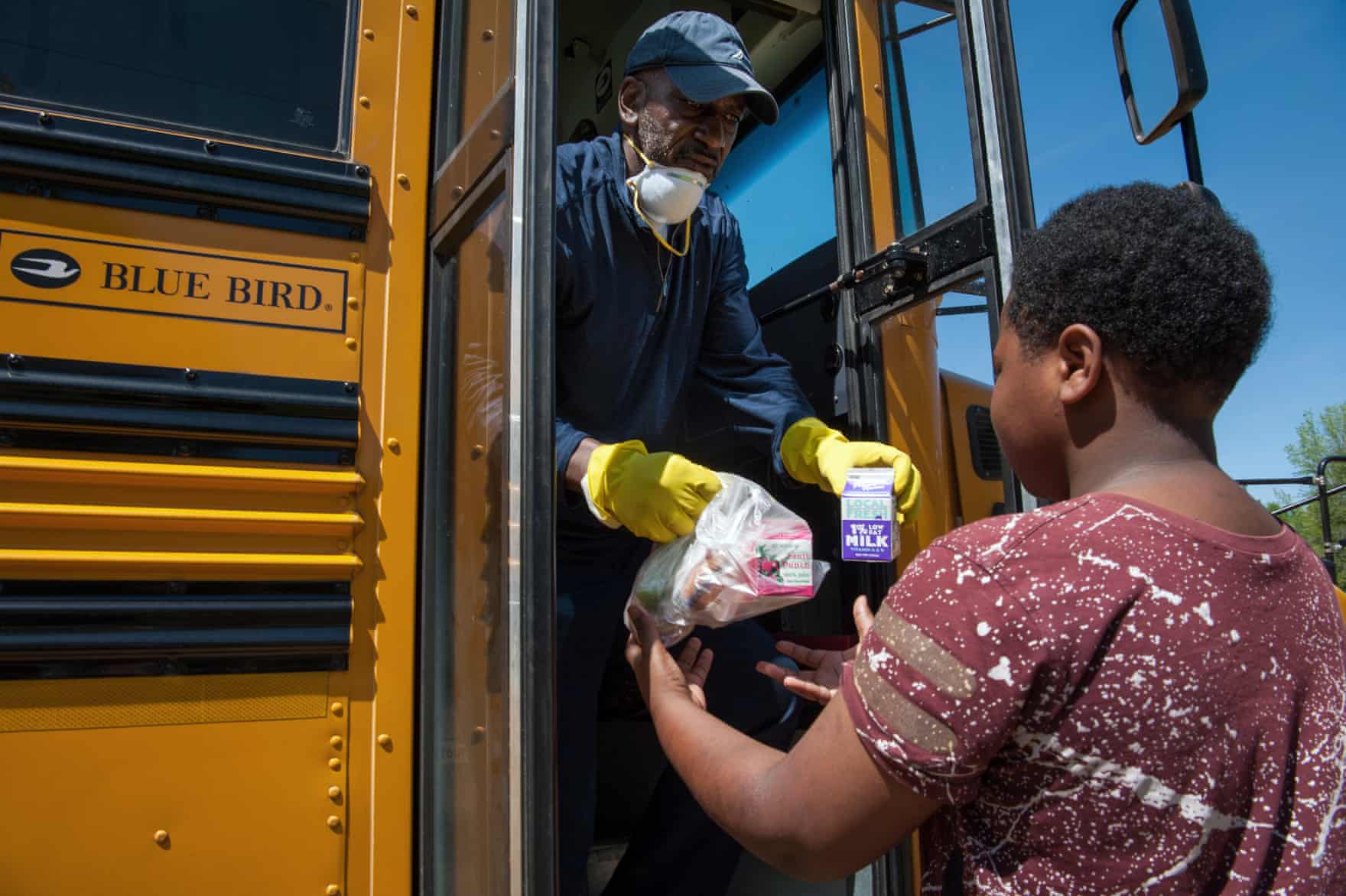 On the cracked country roads of Lexington, deep in the Mississippi delta, an empty yellow school bus drives slowly, making life-sustaining drop offs on the way.

Here, in the poorest county, in America's poorest state, the coronavirus has yet to ravage the jurisdiction with infection. There has been one recorded Covid-19 death in the county, Clinton Cobbins, Lexington's first African American mayor. But even now the coronavirus still poses a serious threat to life.

In Holmes county consolidated – the school district to which Lexington belongs – every single child qualifies for free school meals, a marker of pervasive poverty. For many, said superintendent Dr James L Henderson, breakfast and lunch at school are the only nutritious meals a student will eat in a day. For a few, they are the only meals.

When the coronavirus pandemic led to statewide school closures, Henderson, who was born in the county, left for most of his adult life, but returned in 2018 to assume his position, was left with a significant dilemma: how to feed the 3,000 children under his authority.
---
Elton John Donates $1 Million to AIDS Foundation's Coronavirus Emergency Fund 
Elton John is launching a $1 million coronavirus emergency relief fund through his AIDS Foundation, he announced on Saturday.

"For almost 30 years, my foundation has prioritized the most vulnerable people to HIV to end the AIDS epidemic, and we're committed to this during the COVID-19 crisis, too. Distributing medicines, testing and preventive treatment is not as simple as it was a few weeks ago. So, our new COVID-19 emergency fund will help frontline partners prepare for and respond to the pandemic and its effects on HIV prevention and care for the most marginalized communities," he said in a video posted to his Twitter account.
Fall Out Boy donate $100,000 to Chicago COVID-19 response fund
Landlord waives April rent for 200 tenants amid pandemic, wants everybody 'healthy'
This gay grandson caring for his grandmother with dementia during the coronavirus crisis is unbelievably wholesome
---
9 Reasons Why Anxiety Disorders In Teens Is On The Rise
Anxiety has become the most common mental-health disorder in the country. Unfortunately, it does not only affect adults.

According to the National Institute Of Mental Health, almost 32 percent of adolescents have an anxiety disorder.

However, the troubling part of this statistic is that anxiety is only becoming more prevalent as the years go on, increasing 20 percent since 2007.

So, why is anxiety in teens on the rise?
---
White House: Americans should avoid grocery shopping as coronavirus hits apex
The White House coronavirus task force is now warning against even going out to buy groceries or medication as the pandemic is expected to hit a deadly apex in the coming two weeks.

"The next two weeks are extraordinarily important," White House coronavirus response coordinator Deborah Birx warned at a press conference late Saturday.

"This is the moment to not be going to the grocery store, not going to the pharmacy, but doing everything you can to keep your family and your friends safe," Birx warned.
---
College Made Them Feel Equal. The Virus Exposed How Unequal Their Lives Are. 
The political science class was called "Forced Migration and Refugees." Students read accounts of migrants fleeing broken economies and seeking better futures, of life plans drastically altered and the political forces that made it all seem necessary.

Then suddenly, the subject matter became personal: Haverford College shut down and evicted most students from the dormitories as the coronavirus spread through Pennsylvania.

Like many college courses around the country, the class soldiered on. The syllabus was revised. The students reconvened on a videoconferencing app.

But as each logged in, not everyone's new reality looked the same.

One student sat at a vacation home on the coast of Maine. Another struggled to keep her mother's Puerto Rican food truck running while meat vanished from Florida grocery shelves. As one young woman's father, a private equity executive, urged the family to decamp to a country where infections were falling, another student's mother in Russia couldn't afford the plane ticket to bring her daughter home.
Yale students are using the coronavirus crisis as an excuse to lower standards
---
COVID-19 pandemic proves the need for 'social robots,' 'robot avatars' and more, say experts
One of the consequences of people being told to stay home to slow the spread of coronavirus is loneliness. And a collection of 13 robotics experts from around the world have a suggestion for how to solve that: a robot pal.

The innovation is just one of many mentioned in an open letter by the global contingent of robotics experts who suggest that the coronavirus pandemic should serve as a catalyst for the increased use and development of robots.

"Now the impact of COVID-19 may drive further research in robotics to address risks of infectious diseases," says the statement, published March 25 in Science Robotics magazine.

The statement aims to inspire more funding to develop these varieties of robots, many of which it became clear were needed during the 2015 Ebola crisis.
---
Most Americans will stay home this month even if lockdown lifted: poll
A majority of Americans are hunkering down and say they will continue to social distance or stay at home even if lockdown orders are lifted, according to a new poll.

While 87% of the American public is staying home — regardless of whether or not it's mandated by state or local municipalities — most plan on continuing to do so for all of April, according to the poll taken by the Huffington Post/YouGov survey.
---