Health/Food Posts Tagged as 'Environment'
---
Welcome to Errattic! We encourage you to customize the type of information you see here by clicking the Preferences link on the top of this page.
Thousands of birds die at California's Salton Sea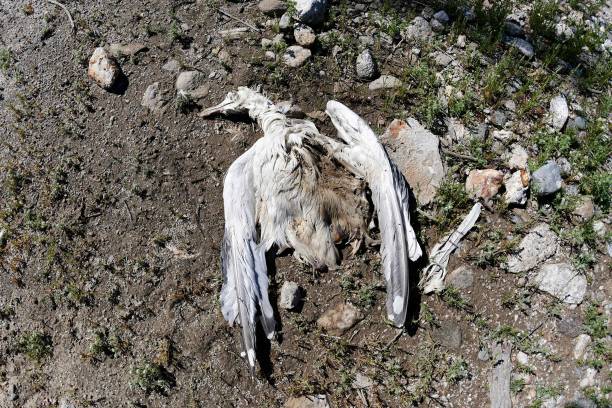 Authorities say thousands of migrating birds have died at California's Salton Sea this month from avian cholera.

The California Department of Fish and Game says ducks, gulls and other birds were found dead at the south end of the state's largest lake between Jan. 8 and last Thursday.

---
'These diets are bulls***': Viewers criticise How to Lose Weight Well for promoting 'fad' slimming plans - including a liquid cleanse and one that only allows you a SINGLE meal a day
Channel 4's How to Lose weight Well has sparked anger from viewers for promoting 'fad diets'.

In the third episode, which aired on Monday night, Dr Xand van Tulleken and Dr Helen Lawal road tested the latest hyped-up diets including a 'visualisation' diet and a one-meal-a-day plan, on six volunteers.

Each slimmer tried a different plan, ranging from the 12 day 'crashers' and six-week 'shapeshifters', to the four-month 'life-changers'.

And while many of the participants saw dramatic results, viewers took to social media to slam the 'fad' diets as dangerous and not sustainable long-term.
---
New York passes law allowing abortions up until baby's due date if mother's health is at risk
New York state has enacted strong new legal protections for abortion rights. The new law, signed by Governor Andrew Cuomo on Tuesday, safeguards rights laid out in Roe v. Wade and other court rulings, including a provision permitting late-term abortions when a woman's health is endangered, The Associated Press reports. The state's previous law, which had been on the books for nearly 50 years, only permitted abortions after 24 weeks of pregnancy if a woman's life was at risk.

Governor Cuomo celebrated the passing of the bill in the Democrat-led Senate and Assembly on Tuesday, which happened to be the 46th anniversary of the Roe decision. "In the face of a federal government intent on rolling back Roe v. Wade and women's reproductive rights, I promised that we would enact this critical legislation within the first 30 days of the new session — and we got it done," Cuomo said in a statement. He directed state landmarks like the spire of One World Trade Center to be lit up in pink to "shine a bright light forward for the rest of the nation to follow."
---
I've Talked With Teenage Boys About Sexual Assault for 20 Years. This Is What They Still Don't Know
I thought I understood rape. It happened to me when I was 13 years old. I assumed my job was to model survivorship, and to show readers how to speak up after being abused, molested or attacked. I thought I was supposed to talk to the girls.

But I have also seen something that, at first, surprised me: The boys want to talk, too. Some want a private conversation; others ask bold questions in front of their classmates.
---
How To Keep Your Teeth White While Sipping Warm Beverages This Winter
Coffee, tea and hot chocolate stain teeth. Here are some suggestions how to keep your teeth white while still enjoying delicious, hot beverages this winter.

Use a Straw

Sipping through a straw reduces the amount of liquid with which your teeth come in contact. Drink through the little stir stick from the coffee shop instead of a straw. Do you feel silly drinking hot beverages this way? Reserve it for when you're alone or enjoying iced coffee.
---
Jennie-O turkey recall bigger than previously announced
A nationwide recall of raw turkey tied to a deadly outbreak of salmonella is getting bigger.

Since the recall of Jennie-O Turkey products was announced last week, health investigators have added a fifth item. That raises the amount of recalled turkey to more than 147,000 pounds, from 91,000 pounds, a spokesperson for the U.S. Department of Agriculture's Food and Inspection Service (FSIS) told CBS MoneyWatch.

The recall of raw ground turkey products is linked to an outbreak strain of Salmonella Reading, according to the U.S. Centers for Disease Control, with 164 infections reported from 35 states. The cases include 64 illnesses and one death in California, according to the CDC.
---
Activists sue city over lack of data for homeless students
The city is refusing to say what it does to ensure that homeless kids get placed in shelters near their schools, a lawsuit charges.

The Manhattan Supreme Court suit comes on the heels of a dismal report by a legal advocacy group, which found that a record one in 10 students in the Big Apple are homeless.

The nonprofit Partnership for the Homeless had then asked the city's Department for Homeless Services for data about its efforts to place kids in shelters near schools they attended before ending up on the street. The suit says the DHS responded by saying that only a single relevant document exists, and it's exempt from disclosure under the state's Freedom of Information Law because it's an internal draft.
---
Family sues after girl is electrocuted by touching handrail at MGM National Harbor resort 
The family of a young girl in Maryland who suffered severe brain damage when she was electrocuted upon touching an illuminated handrail at a resort has filed a lawsuit.

Zynae Green was 6 years old when, while with her family at the MGM National Harbor resort and casino on June 26, she grabbed a "dangerously electrified" staircase railing as she and her siblings made their way down to a large outdoor fountain, according to a complaint filed Monday by the family's lawyers.

She, her younger brother, Carlos Green Jr., now 5, and Monya Rosier, now 16, were all electrocuted by touching the handrail, says the complaint filed against the resort's owners and operators and two contractors who allegedly did work at the venue.
---
TRUMP VOTER TURNS ON PRESIDENT AS HE VISITS CALIFORNIA AFTER BLAMING STATE FOR WILDFIRES: "HE CAN KISS MY RED ASS" 
A man who voted for Donald Trump and was recently impacted by wildfires in California blasted the president's response to the deadly crisis.

"My kids lost everything. I voted for him – and now? He can kiss my red ass," Kirk Ellsworth from Northern California told The Guardian. "What he said was ridiculous. It hurts my heart. A lot of us voted for him and he [talks] down to us?"

As news of casualties and the devastation caused by a recent spate of forest fires broke last weekend, the president blamed California for the disaster while also threatening to cut federal payments to a state which had overwhelmingly rejected Trump and his party at the polls earlier this month.
Donald Trump Becomes Twitter Laughingstock Over 'Envy Of The World' Boast
Trump has yet to visit any US troops in combat
---
5-Day-Old Florida Girl Killed by Family's Pit Bull While Sleeping in Bassinet
PEOPLE confirms that a 5-day-old Florida child tragically died on Sunday after being attacked by her family's dog.

A Citrus County Sheriff's Office spokeswoman tells PEOPLE the fatal incident occurred when the animal — a pit bull — attached the girl as she slept in her bassinet.
---
5 male ad execs are considering a discrimination claim after their gay female boss said she would 'obliterate' her company's reputation as a haven for straight, white men
Five straight, white men have retained a lawyer to look at whether they can bring a discrimination claim against ad agency JWT, after a senior executive said in a meeting she wanted to "obliterate" JWT's reputation for being populated by white, British, privileged, straight men, The Times reports.

The men went to their HR department after hearing the remarks and lost their jobs days later, according to Campaign magazine and The Times.
---
Alcohol Deaths Among Women Are Rising, But This Is Why No One's Talking About It 
While the opioid crisis is rightfully getting attention for the destruction it's caused, alcohol use among women has quietly risen in the background, USA Today reports. Citing a study from the Institute for Health Metrics and Evaluation at the University of Washington and published in the journal The Lancet, USA Today says that during a 10-year period, alcohol related deaths among women rose 67 percent. What's more, the study reported that alcohol is the leading cause of death worldwide for people between the ages of 15 and 49.
---
11th child dies in viral outbreak at N.J. health care facility
Health officials say an 11th patient has died amid an outbreak of a respiratory virus at a care facility in New Jersey. The state health department on Friday confirmed that the "severely ill child" at the Wanaque Center for Nursing and Rehabilitation had the adenovirus infection. The youth died Thursday night in a hospital, but further details about the child were not disclosed.

The department says the child was among 34 pediatric cases that have been associated with the outbreak.
---
California Has the Most Toxic Air on the Planet Thanks to Wildfires 
The Camp Fire is an unprecedented disaster in so many ways. Dozens are dead, hundreds are missing, thousands are homeless. But the immediate impacts of the flames are far from the only way it's assaulting California. As a result of all the smoke, the state is currently home to the worst air quality on the planet.
Norovirus strikes shelters for California wildfire evacuees
---
Millennials Are Disrupting Thanksgiving With Their Tiny Turkeys 
Small birds are having a big moment.

Tiny turkeys will increasingly grace Thanksgiving tables next week, thanks to the millennial generation's ongoing campaign to remake American gastronomy. The holiday depicted by Norman Rockwell—Grandma showing off a cooked bird so plump it weighs down a banquet plate—is still common. But smaller families, growing guilt over wasteful leftovers and a preference for free-range fowl have all played roles in the emergence of petite poultry as a holiday dinner centerpiece.
---