Health/Food Posts Tagged as 'Relationships'
---
Welcome to Errattic! We encourage you to customize the type of information you see here by clicking the Preferences link on the top of this page.
Reducing the depth of penetration by an inch led to a statistically meaningful drop in the amount of pleasure experienced.

'The longer the erect penis, the less likely the rings had an impact on sexual pleasure,' they write.
My Husband Is Suddenly Very "Well Endowed"
Teen gets USB cable stuck in penis...
---
What can — or should — we learn from porn?
"Porn is a potent force for pushing back on common perceptions of Asian men as desexualized, or non-sexual, in American culture," argues Jesh Fiszel, another Asian American creator-performer, who says he was inspired by the now-retired Long's endeavors. "Our content has subtle racial subtext to inform our audience…while also allowing people to watch it" for pure erotic pleasure.

"In terms of whether it's possible for pornography to influence people's self-acceptance, in terms of how their bodies look and their sexual orientations, or their acceptance of others, a few research articles substantiate that idea," adds Emily Rothman, a Boston University professor of community health and proponent of porn literacy studies. "Anecdotally, people have told me that is true, too."
What can — or should — we learn from porn?
---
Are You Codependent or in Love?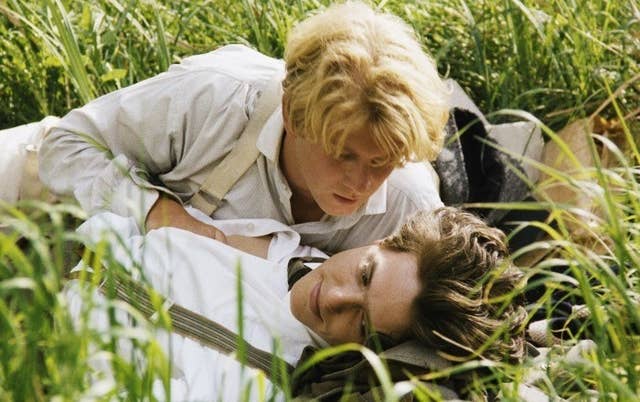 The key difference between codependency and love seems to lie within the intention. With codependency, feelings are often rooted in low self-esteem, insecurity, and inadequacy. It's the notion of needing someone versus wanting them. This typically results in a person losing respect for themselves and only focusing on the needs of their partner.
Are You Codependent or in Love?
---
13 Red Flags In A Relationship You Shouldn't Ignore 
8. Gaslighting

Gaslighting is a type of manipulation that's used to maintain control over another person and involves actively denying that person's reality. For the person on the receiving end, being gaslit can feel extremely disorienting and make them question their own emotions and intuition. Page notes this is a big red flag. If you're upset about something, and this person tells you "you're being dramatic" or "that never happened," not only are they not taking accountability, but they're trying to control you and the narrative of your relationship.
Woman, 24, kicks stunned boyfriend out of their apartment when hearing him swear at her beloved cat
Florida woman is charged with animal cruelty after throwing ex-boyfriend's caged cat Stanley into a river
8 DATING RED FLAGS YOU NEED TO LOOK OUT FOR
---
My Wife Is Mad I Found Our Child's Donor Siblings
My wife and I, both women, have one child, who is now 5. We used a sperm donor from a federally licensed bank, to ensure our legal parental rights. I conceived and carried the baby, and both our names are on the birth certificate. Here's the thing: A couple of months ago, I brought up with my wife the prospect of finding our kid's donor siblings. She told me she wasn't crazy about the idea but that I should go ahead and do what I want (obviously, this was said without enthusiasm). I brought it up to her several times after that, and her response was the same fatalistic, "Do what you want, obviously my wishes don't matter here." I took my spouse at her word, and started looking. In a secure, vetted fashion (through the sperm bank itself), I was able to find a group of other families who used the same donor. And there are a bunch of kids—over a dozen!

I am overjoyed. I'm excited about the prospect of meeting these families, of our children having close relationships with their half-siblings as they grow up. Seeing pictures, hearing family stories, and learning about medical histories are all great outcomes of this. And as a lesbian, I am excited to connect with a lot of other families, many of them LGBTQ, and have a sense of community with them. My wife is threatened by all of this. She says it feels like I am saying, "Here's our kid's real family." I feel that her stance is emotionally immature and centers herself, not our child's needs. My wife was really upset over my findings. She has asked me to not tell our child (yet?), and told me she felt hurt because deciding to contact donor siblings was something she wanted us to do together. Which is clearly not true!
---
'Roaching' is the newest gross trend to infest the dating world
"You can tell if you're being roached if you feel like the person is not really available or present for you, and very private about certain details." Roaching red flags include new partners taking a long time to respond to texts, changing plans at the last minute and not picking up if you call them out of the blue.

"They'll be very protective over their phone and not keep it connected to their car or have their notifications turned off so there's no chance you'll see them pop up on the screen." "Dates will always start and or end at someone's home — sex will be a part or the focus of all your dates because that is all they want."
---
Americans' Most Popular Sexual Fantasies May Surprise You 
Many people fantasized of many men and women playing together (swinging, orgies), while others focused on one person having sex with many others (gangbangs).
Americans' Most Popular Sexual Fantasies May Surprise You
Couple Charged with Murder and More After Texas Woman Found Dismembered. They're Also Accused of Molesting a Teen.
Boston Ballet's former star ballerina and her instructor husband 'tied up protégé in gun-filled room and sexually abused her
Lesbian Attorney General says she won't accept HRC's donations until the group's president resigns
Indiana Babysitter Accused of Raping Non-Verbal Boy with Autism
Star showjumper, 61, who competed in 2012 Olympics denies sexually assaulting underage protégé
Prince Andrew sued in New York by Virginia Roberts for alleged sex assault
...gang arrested in Alberta for alleged sexual exploitation of minors
Jimmy Fallon named in grooming, sexual assault lawsuit against former SNL cast member
ABC News Producer Accuses Former 'Good Morning America' Boss of Sexual Assault
---
I'm Being Shamed for Not Being an "Activist" on Social Media.
I know this is a ridiculous question but bear with me. Is it OK to not use my social media to post about activism, racial justice, etc.?

I (a white woman) work at a pro–racial justice nonprofit (and have done so my entire career), actively making decisions in my own life—schools, neighborhoods, houses of worship, etc.—to live my values. I have generally used social media to stay connected with folks and share more personal updates about my nonwork life. Last summer, I began feeling guilty that I didn't engage in public activism on my social media. I follow a number of activist accounts, but don't share or broadcast this. The guilt pushed me to post more actively about racial justice. But every time I posted, it was never just the right thing—folks on both sides of the political spectrum sent me messages nitpicking my phrasing or what I chose to share/not share, and I constantly felt angry and on edge. I also engaged less in in-person conversations because I was so jaded by the "unproductivity" of these online conversations.
---
My Husband Won't Speak to Me if I Don't Pay Him a "Tithe." 
I have been married to my husband for about 10 years and together for 15. We sort of have a great marriage, but only "on paper" and "when things are working." I am most likely the problem. My business was decimated during COVID, so I took a full-time job. But I still have my (entrepreneurial) business and it has also returned to full-time. My husband doesn't want me to give up my full-time stable paycheck—I get that. He also makes at least quadruple what I do. Part of the issue is that he controls our finances. I do contribute, but the amount I pay monthly is referred to (by him) as "the tithe." If I don't pay "the tithe," he speaks to me less. But none of this is the real issue! It's that when I do something wrong, whether by accident or not, he stops speaking to me. If I do something he doesn't like, he won't speak to me for HOURS until he asks me if I am ready to apologize. I am not a pushover type of person. I am strong and smart and dynamic and a leader. But I am not passive-aggressive and don't have the energy to battle this on a passive-aggressive level. I tend towards direct confrontation. It doesn't work. Trying to discuss things calmly doesn't work. I just don't know what to do. I think my husband hates me but won't say it. How can I deal with our different styles of conflict?— Hated By Husband
---
I Think My Adult Stepsons May Be Sleeping Together.
My husband and I are at crossroads about how to confront our sons about a discovery we made while visiting their shared flat. They are stepbrothers technically—note the word "technically." My husband and I are both widowers who met and bonded at a support group for single parents surviving after cancer.

My son was 10 when I met my husband and 12 when we married. My stepson is 9 months younger, so they are very close in age. After a somewhat rocky start (both boys were grieving and trying to adjust to a new family norm), they became the best of friends, inseparable from about age 13. They even took the same classes together in high school so they could spend more time together, and made sure to go to the same university.

They are both adults now (25 and 26), live a state over, and rent a flat together. We went to visit them once COVID restrictions had eased, and my husband accidentally walked into the second bedroom (in a two-bedroom flat) thinking it was the bathroom, and discovered it was set up as an office. My husband's curiosity got the better of him and he snuck around, discovering one king-sized bed in the only other bedroom that contained both of their stuff.
I Think My Adult Stepsons May Be Sleeping Together
Should I Tell My Father I Slept With His Horrible Wife?
---
How To Mess Up Your Relationship With Your Parents 
We all messed up the relationship with our parents at least once. Remember that time when dad didn't talk to you for weeks? What about mom? Did she try to fix it up with a family dinner?

Well, you might not be that young, but what difference does this make. Most adults have a somewhat challenging relationship with their parents. While parents neglect the fact that you are a responsible grown-up, you are hiding behind their wisdom. How many times have you asked your parents for their advice regardless of their experience level? Hopefully, not too many times. We all make that mistake because we neglect that our parents don't know it all.

Two out of three (66%) of adolescents age 12–17 live with both parents, 24% with their mother only, 5% with their father only, and 5% with neither parent [1]. The quality of parents' relationships makes a difference to children in many ways. — Act for Youth
How To Mess Up Your Relationship With Your Parents
Gayle King reveals she is BANNING unvaccinated family members from Thanksgiving
Moms and dads watch while children, aged 5 to 7, engage in 'full-on fight fest' after school in Brooklyn park
Mayor de Blasio insists mask mandate WILL be in effect in NYC public schools this fall despite latest CDC guidance
Parents of toddler who plunged 150 feet to her death when her grandfather accidentally dropped her from deck of cruise ship have lost
CBS News reporter quits, says she can now 'be candid' about her support for 'abortion rights'
5-Year-Old Ohio Boy Shot by 'Intoxicated' Mother, Currently in Stable Condition, Police Say
Teen shot friend in West Jordan church parking lot
Far more adults don't want children than previously thought
Marie Claire sparks outrage among pro-life groups with article saying Hollywood should depict MORE abortions because that is more reflective of reality
---
Angry Napa Valley residents go to war with startup that is buying luxury homes in exclusive neighborhoods across US to sell as timeshares and enraging wealthy neighbors 
Pacaso, founded in October by executives from the real estate company Zillow, aims to do to second homes what Airbnb did to hotels and Uber did to taxis. It targets luxury neighborhoods slightly off the usual tourist trails.

Critics say it changes the nature of a neighborhood; the company insists it is making exclusive communities more accessible and, by allowing eight people to share ownership of one home, reducing the intense demand on housing stock.
Israeli food truck is BANNED from Philadelphia food festival: Organizers accused of bowing to anti-Semitism
San Francisco is paying $60,000 PER TENT for a homeless encampment and now city officials want an additional $20 million to extend the program for two years
One person is shot dead and several injured in robbery gone wrong at the Hollywood Hills home of Fashion Nova CEO Richard Saghian
Homeless man is arrested over ten-day spree of attacks on women in Chicago including doctoral student, 31, who was stabbed to death in broad daylight as crime continues to surge across America
UK neighbors cut tree in half over bird poop dispute: 'We were absolutely distraught'
---
How Can You Foster Vulnerability in Your Relationship?

Take More Risks
Blah, blah, blah...
How Can You Foster Vulnerability in Your Relationship? Take More Risks
...so he can fuck you up the ass! Never ever be vulnerable! Better safe than sorry. Every time I was vulnerable in any relationship, they used it against me and fucked me up the ass, in every connotation. Fuck the experts and their guilt trips.
12-Jun-2021
---
My Son's Girlfriend Won't Take the Hint That I Hate Her 
I hate my son's girlfriend of 13 years. They are high school sweethearts who are now 30 and talking about buying property and eventually starting a family together. He currently lives at home and helps pay my mortgage, among other things. If he leaves, I will be forced to sell the house and adjust to a new lifestyle. I feel she will keep me away from my son when they move out. I have tried everything to split them apart and often make her feel unwelcome in my home and talk about her negatively to almost anyone who will listen. I even make her bring her own food when she stays here. Why can't she just get the point that no one wants her here and move on!? What else can I do to get rid of her?
My Son's Girlfriend Won't Take the Hint That I Hate Her
---
My Mom Has Turned into a Crazy Conspiracy Theorist 
My siblings—one sister and two brothers, with nine kids between us—and I have a problem. Our mom, who is in her early 60s, has recently become a crazed conspiracy theorist, spouting the whole QAnon/Trump/Bill Gates BS that's been going around (with even weirder stuff that I'm pretty sure she makes up). She's seen a doctor who said she isn't insane and doesn't have dementia, so there's nothing we can do except try to ignore it. But here's the thing: despite my siblings and me having a wide range of political views, none of us wants our kids hearing this stuff. We love our mom and she's a wonderful grandma, but this has gotten out of control. She won't stop talking about it. It's impossible to change the subject, and somehow she finds ways to bring it up during every conversation. If someone's talking about getting a new computer, she responds, "Oh, well, I hope it wasn't a MICROSOFT because lizard people and mole children and blah, blah."

Our kids range in age from 2 to 25. She doesn't say anything in front of the kids when we're present, but my older nieces have mentioned that she rants to them anytime they're alone together (which has seriously damaged their relationship with her), so I'm sure it's only a matter of time before she pulls this with the younger kids, too. What do we do? Cut her off completely? Only allow supervised visits and no sleepovers? We all live within 15 minutes of each other and see each other frequently. She also babysits a lot. Do we explain that Grandma is insane but we still love her? I hate that she has been sucked into this.
---