Gay+
---
Welcome to Errattic! We encourage you to customize the type of information you see here by clicking the Preferences link on the top of this page.
A White Couple Was Caught on Video Pointing Guns at Black Lives Matter Protesters in St. Louis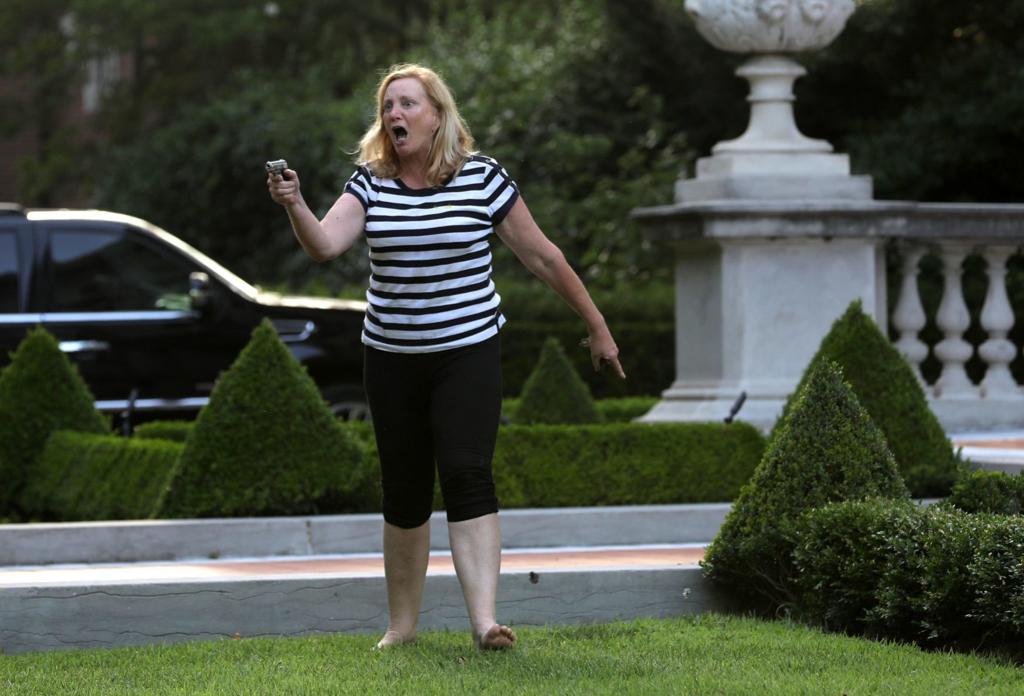 An armed white couple waved their guns and yelled at Black Lives Matter demonstrators in St. Louis on Sunday, during a protest march to St. Louis Mayor Lyda Krewson's home.

At least 500 people peacefully marched through St. Louis' Central West End neighborhood on Sunday demanding Krewson's resignation, according to the St. Louis Post-Dispatch. Krewson appeared in a Facebook Live video last week reading the names and addresses of people who had called for defunding the city's police department.
Man Fired for Racist Rant Supporting Slavery and Lynchings of Black People
John Wayne's son responds to resolution calling for John Wayne Airport to be renamed
Michigan Woman Yells Racial Slurs at New Neighbors in Viral Video
San Jose man charged with hate crime in Santa Cruz assault incident
Adam Carolla defends Jimmy Kimmel over blackface backlash: 'We've lost our minds'
Little Caesars fired two employees after a couple found a swastika made of pepperoni on their pizza
---
'Golden Girls' blackface episode removed from Hulu 
Not even "The Golden Girls" are immune to blackface backlash.

"Mixed Blessings," a 1988 episode of the beloved comedy series, has been yanked off the content-streaming platform Hulu for its depiction of two white characters sporting darkened faces, according to The Hollywood Reporter.

The episode features Michael (Scott Jacoby), the son of Bea Arthur's Dorothy character, planning to wed African-American fiancée Lorraine (Rosalind Cash), who's twice his age.

While Dorothy is anxious over the extreme age difference, Lorraine's family disapproves of her marrying a white man. The two families then scheme to sabotage the couple's engagement.
Cosmetic giants removing the word 'whitening' from products, realtor association stops using the word 'master bedroom'
A Blackface Moment From "The Office" Has Officially Been Edited Out Of The Series
---
(l-r) Dennis Weaver, Flip Wilson as Geraldine, O.J. Simpson
25-Jun-2020
---
Resurfaced clip shows Jimmy Kimmel laughing as Megan Fox talks about Michael Bay sexualizing her when she was 15 
"I'm taking this summer off to spend even more time with my family," Kimmel said. "There's nothing wrong. I'm healthy, my family's healthy, I just need a couple of months off."

Many wondered if Kimmel was taking time off to allow the heat die down over resurfaced video clips of him in blackface doing an exaggerated impersonation of former Utah Jazz legend Karl Malone, especially since this has been the summer of canceling people.

On the heels of Kimmel's blackface controversy, another old clip has emerged that shows the progressive TV host in a very negative light.
Old Joe Rogan Podcast Clip Sparks Discussion About Male Comedians and Rape Culture
Megan Fox Clarifies She Was Never Sexually 'Assaulted or Preyed Upon' by Michael Bay
Ron Jeremy Charged With Raping Three Women
Multiple Women Accuse Games Writer Chris Avellone Of Sexual Misconduct
Precinct 4 constable deputy offered $80 to teen for sexual act, police allege
Is Singapore's Pervert Problem Getting Worse?
---
Jerry Stiller, Funnyman of 'Seinfeld' and Stiller and Meara Fame, Dies at 92
Jerry Stiller, the shorter half of the famed husband-and-wife comedy team Stiller and Meara who was the father of the famous (Ben Stiller) and the fictitious (Seinfeld nebbish George Costanza), died early Monday in his New York home. He was 92.

"I'm sad to say that my father, Jerry Stiller, passed away from natural causes," actor-director Ben Stiller tweeted. "He was a great dad and grandfather, and the most dedicated husband to Anne for about 62 years. He will be greatly missed. Love you Dad."

Anne Meara, his frequent comedy partner, died in May 2015. Survivors also include their daughter Amy Stiller, an actress.
---
Kathy Griffin says she is 'gutted' as she shares that her mother has died
Comedian Kathy Griffin shared on her social media accounts that her mother, who she called her best friend, passed away on St. Patrick's Day. She was 99-years-old.

"My Mom, the one and only, Maggie Griffin, passed away today," she wrote. "I am gutted. My best friend. I am shaking. I won't ever be prepared. I'm so grateful you guys got to be part of her life. You knew her. You loved her. She knew it. Oh, and OF COURSE she went on St. Patrick's Day."
---
Ricky Gervais fires back at angry liberals for intolerant reaction to support from Christians, conservatives
Comedian Ricky Gervais fired back at critics who are upset that he is accepting support from Christians and conservatives.
---
Pete Davidson Berates University of Central Florida Audience: "You Should Fucking Grow Up"
Pete Davidson on Monday night berated an audience at the University of Central Florida after some people in the crowd took out their phones.

Davidson was captured on video lambasting the crowd for more than a minute, saying he would leave if they did not act accordingly.

"I don't have to be here," said the Saturday Night Live castmember at the tour stop. "I can just give them their money back because I don't give a fuck."

Saying UCF, in his opinion, is in the "middle of fucking nowhere," Davidson called the crowd "privileged little assholes," before making the situation even more uncomfortable.
---
Listen: Carol Burnett on Her 'Unbelievable' Emmy Nod, 'Ridiculous' Network Notes 
Welcome to "Remote Controlled," a podcast from Variety featuring the best and brightest in television, both in front of and behind the camera.

In this week's episode, Variety's executive editor of TV, Debra Birnbaum, talks with comedy legend Carol Burnett, who scored her 23rd Emmy nomination for "The Carol Burnett Show 50th Anniversary Special."

Even with six Emmy Awards under her belt, Burnett is still immensely grateful at the recognition by the TV Academy, as well as audiences. "To have this happen now, it's kind of unbelievable," Burnett says. "I was happily surprised."

The program, which is in contention for variety special, celebrated the 50th anniversary of "The Carol Burnett Show," the variety series which ran from 1967 to 1978, and won 25 Emmys over the course of its run.
Hilarity and bear hugs
20-Jul-2019
Carol Burnett
20-Jul-2019
---
She always represented.
20-Jul-2019
---
Netflix's 'One Day at a Time' gets saved from cancellation by Pop TV
Often when we hear about canceled shows getting a second life in the rapidly expanding streaming ecosystem, you'd expect it's the likes of Netflix or Amazon extending the lifespan of an axed network series. Not so this time around. In a rare development, cable network Pop TV has renewed One Day at a Time, several months after Netflix cancelled the beloved sitcom.
---
'LET'S GO... MONKEY MAN!' VIRAL VIDEO SHOWS WOMAN DELIVER 'JUSTICE' IN RESPONSE TO RACIST TIRADE AT LA SUSHI RESTAURANT 
Took my mom out to Sushi for Mother's Day in LA. It was going great until a crazy racist white man started trouble and ended calling a black man "Monkey Man"...
Landlord Goes on Racist Tirade Against Black Tenant
Florida man calls police on comic Ahmed Ahmed after Middle East joke makes him 'uncomfortable'
---
One Day at a Time is in danger of cancellation. Here's why we need to save it.
From the pilot we could tell this sitcom was different, despite having all the hallmarks of our beloved TV family comedies: the live studio audience; the extra bright studio sitcom lighting; the three-wall living room set. But this family unabashedly spoke Spanish without translation and the first episode dealt with everything from racism and feminism to veterans and depression. We may not have been in the audience, cheering when living legend Rita Moreno made her grand entrance by opening her own damn curtains, but by god it was immediately evident to anyone who watched that One Day at a Time was going to be the light we so desperately needed, the comfort food — ropa vieja, if you will — that would nourish us even after our binge was over. As Lydia (Moreno) tells her adult daughter Penelope (Justina Machado) after she breaks down over her failed marriage: "I got you."
---
Comedian Brody Stevens Dead at 48 of Suicide
Brody Stevens has died of an apparent suicide by hanging. He was 48. The news was first reported by The Blast and then confirmed by Billboard.

According to The Blast, the comedian was found just before 1 p.m. on Friday (Feb. 22). He has been open about his struggle with mental health issues in the past and was hospitalized in 2011 after suffering a bipolar episode.
---
Jane Curtin on the worst SNL guest host: "God, there were so many" 
There are few gigs in modern TV more fraught with the potential to out yourself as a massive asshole than hosting Saturday Night Live. Pretty much every factor—the rush, the pressure, the presence of the live camera—is almost guaranteed to bring out the worst in people, whether it's deciding to bust out their "funny" Jamaican accent for some godforsaken reason, doing whatever the hell it was Justin Bieber did to piss Bill Hader off so much, or just being all-around bad human being Steven Seagal.
---