Gay+
---
Welcome to Errattic! We encourage you to customize the type of information you see here by clicking the Preferences link on the top of this page.
Teen with lesbian moms forced to listen to anti-LGBTQ "sermons" before school basketball practice
In a lawsuit filed earlier this month, two mothers in Tennessee allege that their son's middle school basketball coach forced kids to attend his sermons in order to stay on the team.

The lawsuit, filed by the mothers who identified themselves only as "K.K." and "K.K.," says that their son signed up for the school's basketball team, but no one told him that he would have to participate in any religious instruction to be on the team.

But Coach Chuck Comer then allegedly told the students that participating in a "Teens for Christ" program was a requirement for the team. Specifically, students had to show up 30 minutes before practice in the morning on Tuesdays and Thursdays to listen to Comer "read from and interpret the Bible for approximately 30 minutes."

Even worse, the son went to one of the sermons, which was allegedly about LGBTQ people and "sin." The teen was forced to endure "harassment on the basis of his parents' sexual orientation" to be on the team, the lawsuit states.
---
Anti-LGBTQ Hate Groups Are Surging in the U.S. 
The fastest growing number of known hate groups in the U.S. are focused on opposing LGBTQ rights, according to a report released Wednesday.

Last year there was a massive 43 percent increase in the number of organizations dedicated to opposing LGBTQ equality, the advocacy group Southern Poverty Law Center found in its yearly hate group index released on Wednesday. There were 70 anti-LGBTQ hate groups operating in 2019, as opposed to just 49 for the two consecutive years prior.

These battles are not merely being fought in the courts and in Congress. Many LGBTQ people are fighting to stay alive as homophobia and transphobia spread throughout the nation. Brooks said the uptick in hate groups correlates with a general rise in targeted attacks against the members of the LGBTQ community: A 2019 report released by the Federal Bureau of Investigations found that hate crimes against LGBTQ people had increased six percent over the past year.
Judge compares gay people to paedophiles as he sues for the right to be a homophobe in public
Preacher claims coronavirus is God's punishment for same-sex marriage – despite it being banned in China and Italy
Gay hero describes mass stabbing attacker to police right before he died
---
How Berkeley High's Whisper Network Sparked a Movement
BERKELEY, Calif.—Last month, a list appeared, scrawled with thick black marker on a stall door in a girls' bathroom at Berkeley High School. "Boys to watch out 4," it read. Six names followed, each appearing alongside allegations including "rapist" and "susAF" (suspicious as fuck). Written next to the list were instructions: "add names if you want," "stay safe, ladies," and "support each other always," followed by a drawing of a heart with an arrow through it.

The previous week, a lawsuit had been filed by a student against the school for allegedly mishandling an on-campus sexual assault case. It was far from the first time that Berkeley High was accused of failing to protect its students; a few years earlier, the school district even became the subject of a related federal investigation. Now, a student had taken things into her own hands.

The message went up during a morning class period and, just a few bell rings later, students poured into hallways now reeking of the harsh cleaning chemicals used to strip the list from the stall door.
---
Idris Elba dispels 'weird myth' that black people are immune to coronavirus 
Actor Idris Elba went live on Twitter to offer updates on his well-being and dispel a "weird myth" he's noticed since revealing he tested positive for the coronavirus.

"Something that's sort of scaring me when I read the comments and see some of the reactions is: My people — black people, black people — please, please understand that coronavirus ... you can get it, all right?" he said in the first of two lengthy video chats conducted Tuesday afternoon. "There are so many stupid, ridiculous conspiracy theories about black people not being able to get it. That's dumb, stupid.

"That is the quickest way to get more black people killed. And I'm talking about the whole world. Wherever we are, please understand that you can get it. ... Just know you have to be as vigilant as every other race. This disease does not discriminate. ... As a black person who has contracted the virus, it needs to be said."
Kevin Durant says he's one of the Nets players who tested positive for coronavirus
---
Transgender woman sexually assaulted at ICE site, advocates say 
A transgender woman seeking asylum should be released after she was sexually assaulted and harassed while being detained in an Arizona immigration facility with men for nine months, advocates said Thursday.

Alejandra Alor Reyes, who is from Mexico, is suffering from PTSD and should be released on humanitarian grounds while she awaits an appeal in her asylum case, according to several groups, including ACLU of Arizona, Trans Queer Pueblo and Detention Watch Network.

They say her case is a further indication that transgender immigrants face unsafe conditions and that none are being held with members of the gender they identify with.
Trans Man Murdered in Puerto Rico, Hours After Assault Report
Two homophobes trap and brutally beat gay man to death in Nigeria 12 MAR 2020
---
Jamaica's ban on same-sex activity ruled "incompatible with basic human rights standards"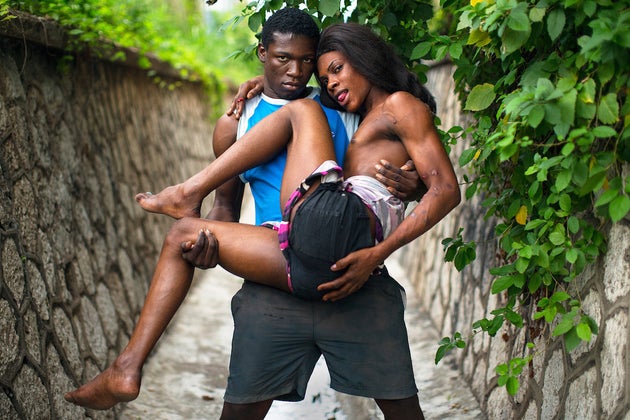 Jamaica's colonial-era ban on same-sex relations has been ruled "incompatible" with human rights standards.

This week, the Inter-American Commission on Human Rights – an organisation that aims to protect human rights in the American hemisphere – recommended the law be repealed and for the country to reparations to the plaintiffs in the case.

Same-sex activity has been criminalised in Jamaica since colonial times under the Offences Against the Person Act. Although the law has rarely been enforced in recent times, its existence perpetuates negative stereotypes of queer people.
---
Backlash against LGBT+ rights sees hate and neo-Nazis rise across Europe 
Anti-LGBT+ hate speech and physical attacks are rising across Europe – including in Spain, Finland and the UK.

That's according to international LGBT+ rights organisation ILGA-Europe as they publish their annual report today.

In particular they highlight a rise in the number of neo-Nazis on the fringe of Pride events. And they point to Chechnya where LGBT+ people were again detained without trial in concentration camps. They also say hate attacks against LGBT+ people have risen in Britain since Brexit.

Evelyne Paradis, executive director of ILGA-Europe, said the report dispelled the myth that the community was only making progress.

She said: 'It is not all bad news. The issue of bodily integrity for intersex people continues to gain more prominence on the political agenda of governments and institutions.

'2019 was a year of positive developments for rainbow families in the region, with an expansion of family rights in a few countries. And important advancements continue to be made on reforming or establishing legal gender recognition procedures, even if in many countries progress is slowing down.

'However, the lived reality of LGBTI people in many parts of Europe and Central Asia is increasingly difficult and for a large part remains invisible, even to organisations like ILGA-Europe. Action is needed.'
Texas Politician Blasts Log Cabin Repubs: Gays Promote 'Unnatural' Sex
Dad who refuses to send son to school over LGBT lessons is facing jail
---
Tanzanian Official Banned From U.S. for Antigay Witch Hunt 
A Tanzanian official has been barred from entry into the United States due to his attacks on the LGBTQ community.

Paul Christian Makonda, the regional commissioner of Dar es Salaam, Tanzania's economic capital, launched a state-sanctioned witch hunt of gay people in 2018. In this campaign, Makonda urged all citizens to report "homosexual behavior" and created a surveillance team to track down gay people and arrest them.

Under a law dating from when Tanzania was a British colony, sexual acts between men carry a maximum sentence of life in prison. Even though antigay rhetoric has been abundant in Tanzania for some time, it has ramped up since the 2015 election of noted homophobe John Magufuli as president; he once said that even cows condemn gay sex.
Man Convicted of Hate Crime in Beating of Oregon Trans Woman
Three men brutally stabbed & kicked a gay couple while filming it
Florida legislators putting their LGBTQ bigotry into law. Don't let them do it / Editorial
---
Chick-fil-A's Last U.K. Location Shutters After Months-Long Protest
The last Chick-fil-A in the United Kingdom has flown the coop.

The restaurant, located in a Macdonald Hotels property in the Scottish Highlands, was controversial from its launch in October due to the fast-food chain's history of donating to anti-LGBTQ organizations.

Due to this problematic history, Scott Cuthbertson, an LGBTQ activist, had launched a petition calling for its closure, which quickly accrued 1,000 signatures.

Additionally, Patrick Harvie, the first out bisexual member of Scottish Parliament, called on a boycott of the restaurant among his fellow politicians, who often stay at the luxury Macdonald Aviemore Resort.
---
Texas man allegedly called for 'all the black people' to be shot at NJ school 
A college student in Texas who called for "all the black people" to be shot at a New Jersey high school is facing upgraded charges for suggesting the sick stunt, prosecutors said.

The comment from Kenneth Petersen, 21, of Stephenville, came in a group chat organized by a student at Northern Burlington Regional High School who was discussing senior pranks in May 2018, the Burlington County Prosecutor's Office said Wednesday.
Shocking video shows man making swastika from MTA flyers inside subway station
Virginia Capital on Edge as F.B.I. Arrests Suspected Neo-Nazis Before Gun Rally
---
Virginia Declares State of Emergency After Armed Militias Threaten to Storm the Capitol
In response to what he described as "credible intelligence" of threats of violence at an upcoming gun rights rally in Richmond, Virginia Gov. Ralph Northam has declared a state of emergency and will temporarily ban individuals from carrying firearms on Capitol grounds.

The governor said at a press conference Wednesday that authorities believe "armed militia groups plan to storm the Capitol" during the January 20 rally.

He also said that law enforcement had intercepted threats and "extremist rhetoric" similar to what was observed prior to the violent Unite the Right rally in Charlottesville in August 2017. "We will not allow that mayhem and violence to happen here," he said.
---
Black students say a teacher compared them to monkeys in front of their classmates. Now their parents are suing. 
A lawyer for the students, who attend Longwood High School on Long Island, filed a notice of claim, the first step to filing a lawsuit, on Tuesday. He later announced in a news conference that the group would sue their school district for $12 million.

The notice, which has been reviewed by Insider, said that a teacher took a photo of four black students, aged 16 to 18, standing behind one another during a field trip to the Bronx Zoo in November 2019

The notice alleges that the teacher later included the photo in a slideshow shown in class with the caption "monkey do," alongside a photo of a gorilla.
Oregon man charged with hate crimes for allegedly beating 70-year-old woman from India
---
One Million Moms Lose Hallmark Channel, Fly Off Deep End
"The culture war, better yet the war for the soul of man, is definitely heating up," reads a message on the organization's website. "1MM will keep fighting because souls are at stake. This LGBTQ spirit is the same spirit we read about in the Bible that confronted Lot. It's relentless but the good news is we serve the God who is King of kings, Lord of lords, and will not be mocked. Hallmark, Zola, etc. and all that make up those companies will ALL bow to the Lord."
---
Anyone should be allowed to 'identify' as black regardless of the colour of their skin or background, say university leaders
Anyone should be allowed to 'identify' as black regardless of the colour of their skin or background, according to Left-wing university leaders.

The Universities and Colleges Union has set out its stance in a report on the ongoing row about whether men should be able to self-identify as women and be treated as female regardless of their anatomy.

The UCU's 'position statement' did not just stand by its support for self-identification of gender, but also insisted people can choose their own race, saying: 'Our rules commit us to ending all forms of discrimination, bigotry and stereotyping. UCU has a long history of enabling members to self-identify whether that is being black, disabled, LGBT+ or women.'
---
Racist abuse: footballers should boycott social media, says Phil Neville
England women's manager Phil Neville said footballers should "boycott" social media to send a "powerful message" that abuse is not acceptable.

Neville's comments come after Manchester United midfielder Paul Pogba received racist abuse online having missed a penalty in his side's 1-1 draw at Wolves on Monday.

"We have to take drastic measures now as a football community. I've had it with my players on social media, the Premier League and the Championship have had it," said Neville.

"I just wonder whether as a football community we come off social media, because Twitter won't do anything about it, Instagram won't do anything about it - they send you an email reply saying they'll investigate but nothing happens.
---