Gay+
---
Welcome to Errattic! We encourage you to customize the type of information you see here by clicking the Preferences link on the top of this page.
Christian group opposes coronavirus vaccine research because it used aborted fetal tissue 
The Trump administration's decision to ban scientific research that uses human fetal cells has not only had a major impact on a potential cure for HIV, now it's hampering the search for a vaccine for COVID-19.

Evangelical Christian activists, who overwhelmingly support Donald Trump and oppose abortion, pushed the administration to ban the research. Now one group is attacking a potential vaccine for the novel coronavirus and claiming further research would be "morally" irresponsible.

"It is deplorable that anyone would want to exploit the remains of aborted babies for financial profit especially when so many people will refuse to use those products because of their deeply held religious, moral, and pro-life convictions?" Debi Vinnedge, Executive Director of Children of God for Life, asked.

In 2018, a scientist who was supposed to supply mice that have been modified with human fetal tissue for an HIV study emailed researchers that the Department of Health and Human Services (HHS) "has directed me to discontinue procuring fetal tissue."

"This effectively stops all of our research to discover a cure for HIV," he wrote.
White House-credentialed pundit says God sent coronavirus to kill Jews
---
Actor Mark Blum, Who Had Roles In "You" And "Succession," Has Died Of Coronavirus Complications 
Mark Blum, an actor who played character roles in dozens of popular television series and film projects over the years, died of complications with COVID-19, the disease caused by the coronavirus, at the age of 69.

Blum's first television appearance was a guest role on St. Elsewhere, a medical drama in 1980. Over his career, the actor also showed up in TV classics like The West Wing, Frasier, Roseanne, NYPD Blue, and The Practice. In recent years, Blum even appeared on fan favorites like Succession and The Good Fight.

In 2018, Blum appeared on the hit series You, memorably playing Mr. Mooney, the bookstore owner and Joe Goldberg's (Penn Badgley) creepy father figure.

Blum's last-ever role will be a posthumous appearance on the upcoming fifth season of Showtime's Billions.
Trailblazing gay basketball star Jason Collins and his partner are battling coronavirus
Men are much more likely to die from coronavirus - but why?
New Orleans Faces a Virus Nightmare, and Mardi Gras May Be Why
Questions arise after teen's death was initially linked to coronavirus in California
---
Gay dancer trapped at home with homophobic Christian parents who think he has an 'evil disease'
Sam, 23, told the BBC that the coronavirus pandemic meant the tour he was performing on was suddenly cancelled and he was forced to return to his family home.

The gay dancer from Birmingham said: "I saw the career I love disappear overnight, and now I'm stuck in isolation with homophobes."

He continued: "My mum says that homosexuality is an evil disease and that the devil is making me gay. She loudly prays every day that I'll be delivered from sin and find a wife.

"I genuinely have nowhere else to go during this mad time, so I'm just putting up with the abuse."
---
Michael Rapaport Drops 24 F-Bombs In Angry Rant Against Coronavirus Revelers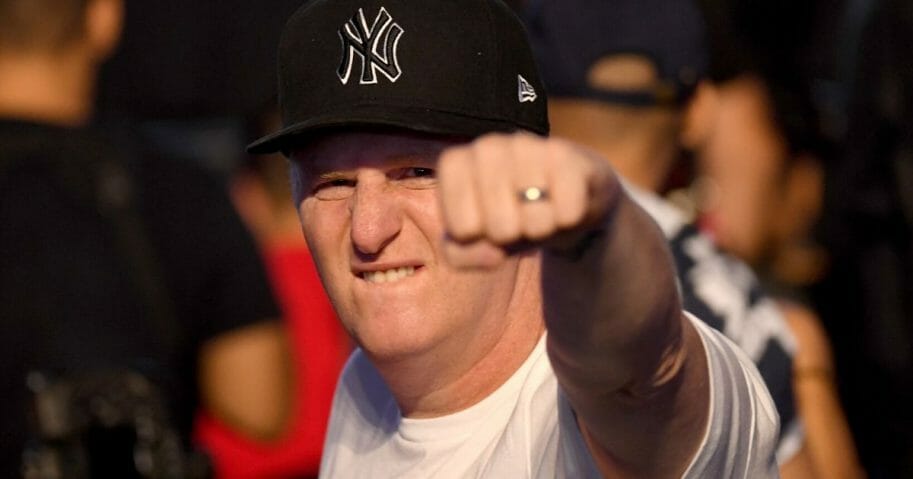 Public health officials are urging people to remain inside as much as possible to prevent the spread of coronavirus, yet news footage shows crowded parks and beaches in some places.

And actor Michael Rapaport is pretty angry about the whole thing.

Readers be warned: Rapaport's language is salty.

"Get your little, dirty, fucking grubby, selfish, YOLO fucking dumb tattooed faces in the fucking house," he said, addressing younger people.

And parents? You're not off the hook, either.

"Parents, get your fucking kids," Rapaport said. "This nice guy shit? It's done. Get your fucking kids in the fucking house."
N.J. Man Faces Charges for Allegedly Coughing on Grocery Worker, Saying He Had Coronavirus
---
Kathy Griffin Was Sent To A Coronavirus Ward With "Unbearably Painful" Symptoms — And Can't Get Tested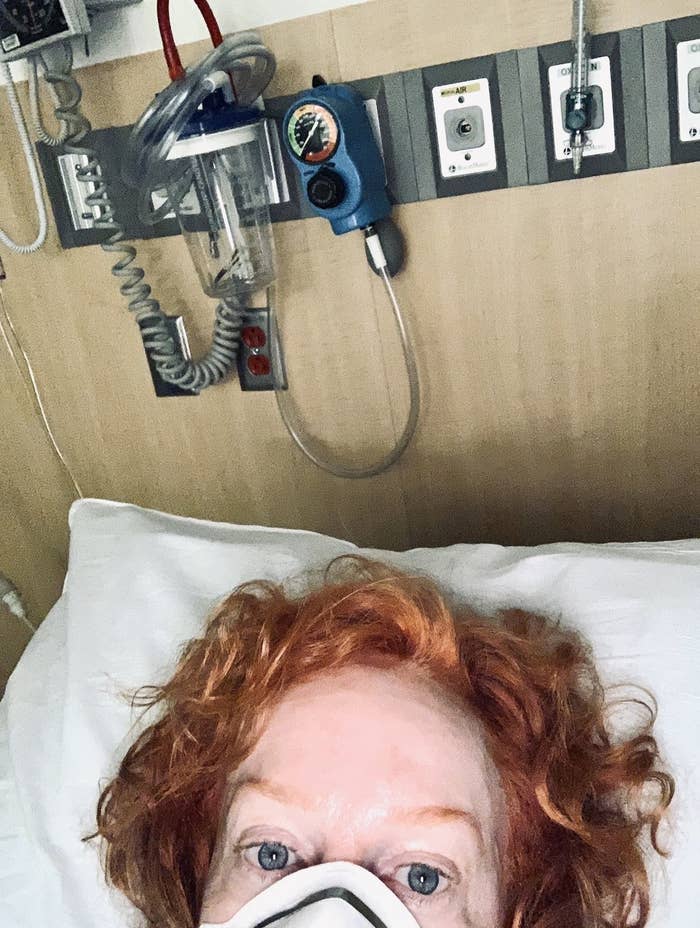 Donald J. Trump
@realDonaldTrump
Mar 25
Just reported that the United States has done far more "testing" than any other nation, by far! In fact, over an eight day span, the United States now does more testing than what South Korea (which has been a very successful tester) does over an eight week span. Great job!

So Kathy called out that claim and shared a terrifying experience of her own.

"He's lying," the comedian wrote.
---
Jerry Falwell Jr.'s Christian University Welcoming Students Back to Campus Amid COVID-19 
Liberty University, a private evangelical Christian university in Virginia, is welcoming students back to campus this week despite a little something known as COVID-19.

"I was on a conference call with other college presidents and representatives from private colleges, and we listened to what other schools were doing," president Jerry Falwell Jr. said in a statement shared to the school's site this week. "Many were throwing their hands up and saying they would just close and others were going to extend their breaks. At that time, we were on Spring Break, so we had time to work on it."

This process of choosing to "work on it" ultimately resulted in the decision to "get [students] back as soon as we can, the ones who want to come back."

A report from the Richmond Times-Dispatch noted that between a few hundred to more than 5,000 students were projected to be living in Liberty dorms as classes resumed this week. The majority of those classes have moved to online formats. Staff and faculty, however, are said to be coming to work in their usual capacity.
Survey reveals how many LGBT+ people will still date and hook-up during coronavirus
"I'll do what I want": Why the people ignoring social distancing orders just won't listen
'Corona, OK!' Yelled College Student Before Coughing Into Cop's Face, Police Say
Eight men arrested after hosting cocaine-fuelled orgy during coronavirus lockdown
Pastor again defies state order not to hold large gatherings. He says 1,000 people came to his church Sunday
The UK is in lockdown, but this church is suing Edinburgh because the city refused to host a homophobic preacher
When faith threatens public health
---
Ed Asner Urges Trump Not to Kill Betty White
Ed Asner would very much like Betty White to live. Also Carl Reiner, William Shatner, Mel Brooks, and Cloris Leachman. Oh, and himself.

On Tuesday afternoon, the Emmy-winning TV legend (The Mary Tyler Moore Show, Lou Grant) directed a tweet at Donald Trump in response to the president's comments which insinuated that he plans to reopen the country in weeks. Doing so would defy the pleas of public health experts and put vulnerable populations of the country, including the elderly, at higher risk of deadly battles with the novel coronavirus.
---
White supremacists encouraging their members to spread coronavirus to cops, Jews, FBI says 
Racist extremist groups, including neo-Nazis and other white supremacists, are encouraging members who contract novel coronavirus disease to spread the contagion to cops and Jews, according to intelligence gathered by the FBI.

In an alert obtained by ABC News, the FBI's New York office reports that "members of extremist groups are encouraging one another to spread the virus, if contracted, through bodily fluids and personal interactions."
Thanks to the 'Trump Effect,' white nationalist hate just keeps growing and intensifying
---
'Bravo's Andy Cohen Has Tested Positive for Coronavirus
Andy Cohen, host of Watch What Happens Live with Andy Cohen and executive producer behind many popular Bravo shows including the Real Housewives franchise, has announced that he is the latest celebrity to be diagnosed with COVID-19, also known as the novel coronavius. In a short post, the host suggests that production for WWHL will be paused momentarily.

"After a few days of self-quarantine, and not feeling great, I have tested positive for Coronavirus," he wrote. "As much as I felt like I could push through whatever I was feeling to do #WWHL from home, we're putting a pin in that for now so I can focus on getting better. I want to thank all the medical professionals who are working tirelessly for all of us, and urge everybody to stay home and take care of themselves."
---
The Coronavirus Pandemic Is a Reminder the Rich and Powerful Won't Save Us
The coronavirus pandemic has been a shock to our systems — political, social, and economic. As governments scramble to adequately respond to outbreaks of COVID-19, mandates to physically isolate ourselves from each other are impacting workers in vulnerable positions. Meanwhile, celebrities are hosting online sing-alongs, some politically powerful people have allegedly exploited the moment for financial gain, and the rich continue to deliver mind-blowing indications that their concern in a global crisis is first and foremost only for themselves.

It's all an important reminder of something many of us felt even before this moment: The rich and powerful will not save us.

President Donald Trump, of all people, exhibited a rare display of class analysis when asked about the elite getting to the front of the line for tests, saying at a White House press conference Wednesday, "That's the story of life."

Trump, a poignant embodiment of the out-of-touch elite, is in this case absolutely correct. Disparities and inequities are nothing new. In this moment of crisis, we will have the chance to bear witness to how the fundamental imbalances of our world protect some and victimize others.
---
Fresh advice on sex for gay and bi men during coronavirus pandemic 
Gay and bi men should be cautious about sex – particularly with multiple partners – if they want to avoid catching and spreading coronavirus.

Leading LGBT+ health charity GMFA has issued the advice, along with information on mental health and for people with HIV.

It comes as one gay porn studio in the US halts production due to the COVID-19 pandemic.

Charged Media produces the Say Uncle network of titles including Family Dick, Brother Crush, Latin Leche, Young Perps, Missionary Boys, Black Gods, and Yes Father.
CDC analysis shows coronavirus poses serious risk for younger people
---
Idris Elba dispels 'weird myth' that black people are immune to coronavirus 
Actor Idris Elba went live on Twitter to offer updates on his well-being and dispel a "weird myth" he's noticed since revealing he tested positive for the coronavirus.

"Something that's sort of scaring me when I read the comments and see some of the reactions is: My people — black people, black people — please, please understand that coronavirus ... you can get it, all right?" he said in the first of two lengthy video chats conducted Tuesday afternoon. "There are so many stupid, ridiculous conspiracy theories about black people not being able to get it. That's dumb, stupid.

"That is the quickest way to get more black people killed. And I'm talking about the whole world. Wherever we are, please understand that you can get it. ... Just know you have to be as vigilant as every other race. This disease does not discriminate. ... As a black person who has contracted the virus, it needs to be said."
Kevin Durant says he's one of the Nets players who tested positive for coronavirus
---
Vanessa Hudgens calls coronavirus shutdown 'bullshit,' people dying 'inevitable'
And the award for the most insensitive-sounding celebrity reaction to the coronavirus pandemic goes to…Vanessa Hudgens!

The 31-year-old singer and actress gave some thoughts on COVID-19 during an Instagram Live on Monday, and the totally inconvenient social distancing and shutdown steps being undertaken by people and companies nationwide. It's been suggested the disruption could last until July, if not longer.

"Um, yeah, till July sounds like a bunch of bulls—, I'm sorry," said the Spring Breakers star. "It's a virus, I get it, I respect* it, but at the same time, even if everybody gets it, like, yeah, people are going to die, which is terrible, but like… inevitable? I dunno, maybe I shouldn't be doing this right now."
---
Waka Flocka Flame Says the Coronavirus is 'Fake' and 'Minorities Can't Catch It'
Waka Flocka Flame isn't sweating the COVID-19 coronavirus pandemic, because he firmly believes minorities can't catch it. In an interview on Real 92.3 LA, Waka talked about his marriage with Tammy Rivera before declaring himself and countless others potentially immune to the virus, despite having no evidence to support that claim.

"It's fake... Minorities can't catch it," he said at the 11:40 mark of the interview when asked if he was worried about it at all. "Name one though," he said when challenged on that comment. "We all descended from the same persons. Now, did we catch it? It hit the people passing through our airport [Atlanta], it ain't touch them soulful folks." He didn't explain himself too much further, or why he believes that he and other minorities are safe, but the conversation quickly moved on after.
---
LGBTQ people are more vulnerable to coronavirus for three reasons 
On 11 March, more than 100 LGBTQ organisations released a joint open letter to healthcare providers and mainstream media outlets to make them aware that queer people are at greater risk of contracting the coronavirus.

Dr. Scout, Deputy Director for the National LGBT Cancer Network, states: "As the spread of the novel coronavirus a.k.a. COVID-19 increases, many LGBTQ+ people are understandably concerned about how this virus may affect us and our communities.

"The undersigned want to remind all parties handling COVID-19 surveillance, response, treatment, and media coverage that LGBTQ+ communities are among those who are particularly vulnerable to the negative health effects of this virus."

The letter continues to say that LGBTQ people are vulnerable because of three specific factors.
Can You Go Outside In A Quarantine? Experts Explain What It Really Means
If you spread coronavirus you'll probably be tracked down
---