Gay+
---
Welcome to Errattic! We encourage you to customize the type of information you see here by clicking the Preferences link on the top of this page.
An original being
20-Jul-2019
---
Because I like her spirit.
20-Jul-2019
---
MILEY CYRUS WON'T HAVE CHILDREN BECAUSE 'THE EARTH IS ANGRY'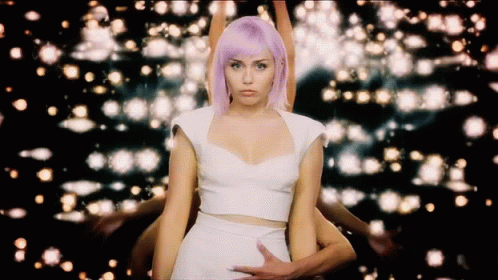 The "Mother's Daughter" singer said the planet has been depleted and that she will not have children "until I feel like my kid would live on an earth with fish in the water".

"We've been doing the same thing to the earth that we do to women. We just take and take and expect it to keep producing. And it's exhausted. It can't produce," the 26-year-old said. "We're getting handed a piece-of-shit planet, and I refuse to hand that down to my child.
---
Slain Grammy-Winning Musician Was Choked for 30 Minutes While Girlfriend Allegedly Punched Him 
Two people have been indicted in the Bronx for their alleged roles in the slaying of Grammy-winning jazz drummer Lawrence Leathers, whose body was discovered last month in the stairwell of an apartment building.

Grand jurors returned indictments against Lisa Harris, described as Leathers' girlfriend, and Harris' friend, Sterling Aguilar, charging both with single counts of manslaughter and criminally negligent homicide.

Prosecutors allege Leather, who was 37, died on June 2 during a fight with Harris in the Bronx apartment they shared.

Aguilar, 29, allegedly held Leathers in a chokehold for approximately 30 minutes as Harris, 41, sat on his chest and punched him several times in the face, according to prosecutors.
Teen allegedly stabs brother to avoid long car trip with him
---
k.d. lang Says Coming Out Denied Her a Chance to Remain Mysterious
Singer k.d. lang stunned the world coming out to The Advocate in 1992. But she says now the experience ultimately proved 'exhausting' and stripped the singer of some public mystery.

"I grew up with the adage that there is a wealth of purpose in being mysterious," lang said in a new interview with The Guardian. "And I feel like I haven't had the chance to be mysterious. My sexuality, and everything, was so much out in the open, and has been for many years. I feel exhausted by being exposed."
---
Waka Flocka Flame Says Gay People Giving Him "Too Many" Compliments Is Disrespectful
Waka Flocka Flame makes a comment that lands him in a bit of hot water.

During his Instagram Live session earlier this week and ripped and posted online around July 1, Waka spoke on a recent encounter where a gay person approached him overzealously while he was in an airport. While he says he doesn't have any issues with people being interested in men, he doesn't appreciate a man approaching him in such an apparently flirtatious way.

"I understand yall folks got y'all month and all that," Waka Flocka said on his IG Live. "Nothing against nobody's sexual preference, nothing. But look, I ain't with that. So don't approach me, don't be having too many compliments and doing all that extra shit. It's out of pocket and disrespectful."
---
Arizona Man Allegedly Murdered Teen Because He Was "Listening To Rap Music"
In a crime eerily reminiscent of Jordan Davis' murder, 17-year-old Elijah Al-Amin was reportedly stabbed to death by 27-year-old Michael Adams on Thursday morning (July 4) outside a Circle K in Arizona. The man allegedly attacked because he heard the victim listening to rap music in the parking lot.
---
Lil Nas X Responds to Homophobic Reactions to His Pride Month Message
An unfortunate facet of 2019 existence is that, despite progress, there are indeed still people who take seemingly every possible opportunity to damper that forward motion with mockery.

Such was the case with Lil Nas X, whose thoughtful Pride Month message about his 7 EP cut "C7osure" was largely met with a wave of support from fans and other artists, though Boosie Badazz decided to use X's moment to make a homophobic joke related to his breakout hit "Old Town Road."
---
Bette Midler Responds to Trump's 'Psycho' Comment During NY World Pride Event: 'What is He Doing?'
Bette(r) late than never. Bette Midler reacted to Pres. Donald Trump's tweet calling the singer a "washed-up psycho" on June 4, after "The Rose" star accidentally posted a fake tweet mistakenly attributed to the commander in chief. "Now I'm going to tell you a little secret," Midler told the raucous crowd at the Javits Center in New York during her Saturday night headlining set during New York's World Pride main event celebrating the 50th anniversary of the Stonewall riot.

Midler joked that she was surprised she was even invited after Trump's harsh lambasting on Twitter. "Just two weeks ago, I was a washed-up psycho," she quipped. "Happily, I have recovered completely, and there's something that I learned from my president's lunatic attack," she added, before dropping into her beloved hit "Friends."
---
Country star Jake Owen claps back at anti-LGBTQ commenter
Please "Believe" that Jake Owen will not allow people to diss the LGBTQ community.

The country singer took on an Instagram commenter who had words to say regarding Owen's latest song.

He recently debuted a preview of his cover of Cher's 1998 hit "Believe" on his official Instagram account.

"Some of my closest friends and coworkers, are part of the #lgbt community and I couldn't be more happy for the progress they have made," Owen wrote in the caption. "I'm inspired by people loving people no matter who you are."
---
AGT alum Brian Justin Crum: 'F**k you Donald Trump, you will not erase us'
America's Got Talent finalist Brian Justin Crum has a very special message for US President Donald Trump.

'Fuck you Donald Trump,' he exclusively told Gay Star News. 'You will not erase us and you will not silence us.'

Crum then added: 'My goals as a cisgender white male is to dive into my community and learn how I can be of better service to the queer people of color and trans community.

'My heart is being pulled to activism and I just want to learn how I can be more of service,' he said.
---
Straight Oklahoma Ally Creates Anti-Bigot Pride Truck, Ends Homophobia 
A straight man in Oklahoma became a viral queer ally after decorating his truck in honor of Pride month. Cody Barlow used colored duct tape to create a rainbow flag on the back of his truck, writing on Facebook that he'd "found a way to show my support for pride month" with the flag and using mailbox letters to write a message: "Not all country boys are bigots. Happy Pride month."

"This is important to me, not only because I have family and friends that are LGBTQ+, but also because countless people have dealt with hatred and judgement simply for who they are, and/or who they love, for far too long," wrote Barlow. "Obviously doing this isn't going to change the minds of those who are intolerant, but hopefully it can help drown out the hatred with love."
Vandals Target Gay High School Student's Home with 'Kill Yourself' Graffiti, Forks, and Suicide Hotline 'For-Sale' Sign:
1 in 3 LGBTQ+ Youth 'Seriously Considered' Suicide in the Past Year
White supremacist appears to urinate on an Israeli flag as nationalist group interrupts LGBT celebration in Detroit by tearing apart Pride flags and giving Nazi salutes
Gay man, 28, robbed, shot, and murdered in Atlanta, Georgia
HALSEY GIVES EMPOWERING SPEECH IN LONDON AFTER HOMOPHOBIC BUS ATTACK
Activists Call for Resignation of Mayor Who Posted About Killing Gays
Theater cancels shows after actors targeted in homophobic assault
Mom who won marriage equality now in a fight against 'religious freedom'
Texas school district donates cash from antigay church to local Pride festival
---
Madonna Criticizes 'New York Times' Profile: 'It Makes Me Feel Raped'
"Madonna at Sixty," a New York Times feature published Wednesday, has been met with some detailed words of disapproval from its subject, who characterized the piece in a subsequent Instagram note as "further proof that the venerable [Times] is one of the founding fathers of the patriarchy."

The Madame X creator preceded the criticism of the publication and society at large with some words of support for artist/photographer/friend JR, who based the accompanying NYT Magazine cover on a classic Steven Meisel portrait.

"The journalist who wrote this article spent days and hours and months with me and was invited into a world which many people [don't] get to see, but chose to focus on trivial and superficial matters such as the ethnicity of my stand-in or the fabric of my curtains and never-ending comments about my age which would never have been mentioned had I been a MAN!" Madonna said Thursday. "Women have a really hard time being the champions of other women even if they are posing as intellectual feminists."
---
Lauv Opens Up About Mental Health on New Single "Sad Forever"
Lauv wants to drop the stigma surrounding mental health, and encourage fans to get the help they need in with his new song, "Sad Forever."
Brian Wilson Postpones Tour In Order To Focus On Mental Health
Stressed out? Your dog may feel it too, study suggests
---
Gay bar accused of racism after banning rap music
A Chicago gay bar is being accused of racism after banning rap music.

Progress Bar in Boystown sent an email to DJs about the new change.

'We are changing up our format,' the email reportedly read.

'Our goal is to promote a positive, happy, energetic, upbeat and most importantly… a FUN vibe. Think DJ Am for 2019 – a super open format POP/DANCE focused atmosphere. We have implemented a NO RAP rule effective immediately.

'This is not a suggestion!! If you play RAP you will not be asked back.
---