Gay+
---
Welcome to Errattic! We encourage you to customize the type of information you see here by clicking the Preferences link on the top of this page.
Miley Cyrus stopped going to her old church over the way it treated gay people
Miley Cyrus has revealed that she left her old church in Tennessee over the way it treated gay people, including sending some of her gay friends to 'conversion therapy' centres.

Speaking alongside model Hailey Bieber, formally known as Hailey Baldwin, on Bright Minded: Live with Miley, Miley discussed having a "hard time" navigating her religion so it worked for her and her sexual identity.

Speaking about her experiences growing up, Miley said: "I was also brought up in the church in Tennessee at a time in the '90s, so it was a less accepting time with all that.

"I had some gay friends in school. That is the reason why I left my church is that they weren't being accepted. They were being sent to conversion therapies. And I had a really hard time with that and I had a hard time with me finding my sexuality too."
---
BRITNEY SPEARS' SON JAYDEN Attacks Grandpa ...

MOM MAY NEVER SING AGAIN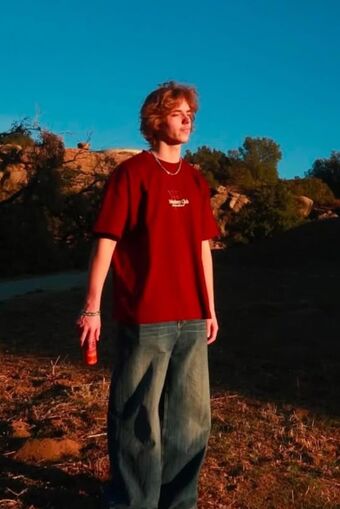 Britney Spears' son, Jayden Federline, went on a rant, calling his grandpa, Jamie Spears, horrible names and also saying his mom may never sing again.

Jayden went on Instagram Live Tuesday and made it pretty clear ... he's spending way more time with his dad, Kevin Federline, than Britney. He said at one point, "I'm gonna visit her in like a couple weeks cause I'm with my dad right now. I'm doing pretty good."

The 13-year-old went on to lambaste Jamie Spears, Britney's conservator for more than 12 years, saying, "He's a pretty big dick. He's pretty fucking gay. He can go die."
Steven Spielberg's daughter was arrested on suspicion of domestic violence just a few weeks after her tell-all interview about being a sex worker
---
Malaysian rock band release song wishing death upon LGBTQ people
Bunkface have used their new single to come out as LGBTQ-hating extremists.

The Malaysian rock band have come under fire for their new cringe-worthy new single Akhir Zaman (the end of times), which features the lyric, "LGBT boleh pergi mampus" – which is translated as "LGBT can go to hell" or "LGBT can go die".

The 'punk anthem' is still available on YouTube and has amassed over 700,000 views, with the comments section flooded with supportive messages from fans such as "LGBT can go!" and "GOOD JOB BUNKFACE! Don't worry bout the haters."
---
R. Kelly's lawyer blasts law that bars people with STD's from having sex
R. Kelly's lawyer says Brooklyn federal prosecutors should drop some of their sex crimes charges against the disgraced singer — because a state law prohibiting people with sexually-transmitted diseases from having intercourse is "unconstitutional."

In a motion filed in Brooklyn federal court Monday, Kelly's lawyer argues for dismissal of several counts against the singer that are based on a New York law that says it is a criminal offense for someone who knows they have an "infectious venereal disease" to have hook up with another person.

Steve Greenberg, Kelly's lawyer, argues that the New York law, which has as been on the books since 1943, is an invasion of privacy that "makes it illegal to have private, consensual sexual intercourse."
---
Village People gives Trump OK to play gay anthems 'YMCA,' 'Macho Man' at rallies
Village People, the American disco group behind the hits "YMCA," "Macho Man" and "In the Navy," has given the go-ahead for President Donald Trump to plays its songs at events, despite being "inundated" with requests from fans urging the band to block the president's use of the music.
---
Maluma Says Gay Rumors are Just That: 'I Would Have Already Talked About It'
Said Maluma: "People are stupid, aren't they? How can they say that I am gay? If I were gay, I would have already talked about it. Whoever said I am gay, lend me your girlfriend for a moment, to see how gay I am… Ah, man, you guys make me laugh."
---
Rick James Estate Sued by Woman Who Says Singer Raped Her as a Minor
A woman who says she was raped by late R&B singer Rick James when she was 15 years old is suing his estate for $50 million.

James, a Buffalo native, was convicted in 1993 of assaulting two women.
---
Country Singer Daniel Lee Martin Dies by Apparent Suicide Amid Child Sex Abuse Allegations
Country Singer and reality show host Daniel Lee Martin, who was accused of child abuse multiple times and awaiting trial, has died. He was 54.

Martin was found dead from an apparent self-inflicted gunshot wound in his home in Pasco County, Florida, on Friday when officers arrived to serve multiple warrants that had been issued out of Tennessee, a spokesperson for the Pasco County Sheriff's office tells PEOPLE.

The warrants included three counts of sexual exploitation on a minor, three counts of aggravated sexual battery, two counts of committing an aggravated sexual battery and one count of solicitation of a minor to commit rape of a child, the sheriff's office spokesperson says.
---
AIRBNB RAP VIDEO SHOOT WITH UP TO 200 PEOPLE RESULTS IN MULTIPLE ARRESTS, MORE THAN 20 GUNS SEIZED
Four men were arrested in Chicago yesterday after allegedly resisting arrest as police tried to disperse an over-capacity video shoot for a rap song, authorities said.

The suspects were detained shortly after 2 a.m. on Saturday. Officers from the Chicago Police Department responded to the 1200 block of North Milwaukee Avenue after receiving reports about a party that was taking place inside an Airbnb rental, the Chicago Tribune reported.

Airbnb to Ban All 'Open-Invite Parties' as Part of New GuidelinesREAD MORE
Police received a tip that over 150 people were gathered there and that dozens of them had been seen brandishing guns live on social media.

"Officers formulated a plan and made entry into the building where individuals streamed out of the building, pushing and fighting police, discarding weapons as they fled," police said in a release shared online.

"A systematic search of the building yielded a total of 24 handguns and one semi-automatic, short barrel rifle."
---
Michigan court reverses murder conviction, cites rap videos
The Michigan Supreme Court unanimously threw out a murder conviction Friday, saying YouTube rap videos spoiled the verdict by portraying the defendant as a "ruthless and menacing threat to the community."

Jamal Bennett is serving a 32-year prison sentence for the fatal shooting of another man during a fight at a Grand Rapids party in 2013.
---
Jason Derulo Angry After Instagram Removes His Revealing Underwear Photo: 'I Can't Help My Size'
Jason Derulo can't believe Instagram took down his steamy viral photo.

On Tuesday, the "Talk Dirty" singer, 30, shared a screenshot of the notice he received from the social media platform, which claimed the content went against Instagram's guidelines.

Derulo also took the opportunity to protest the removal by reposting the particular photo, which went viral last month after fans couldn't help but notice the visible outline of the star's crotch under his bottoms — a trending topic Derulo himself enjoyed participating in online.
---
DC Priest Found Guilty of Sexually Abusing Girls in Church
The Catholic priest accused of sexually abusing two children of his Washington, D.C., parish has been found guilty.

Urbano Vazquez was convicted Thursday on four felony counts of child sexual abuse.

Vazquez groped a 9-year-old girl and 13-year-old girl in 2016, two years after he was ordained as a priest in the Capuchin Franciscan religious order.
Katy Perry accused of sexual harassment by a second person
Audrina Patridge's ex Corey Bohan addresses claims he sexually abused daughter
Senior Catholic Priest Says He'd Rather Go To Prison Than Name Confessed Paedophiles
---
Placido Domingo Accused of Sexual Harassment
For decades, Placido Domingo, one of the most celebrated and powerful men in opera, has tried to pressure women into sexual relationships by dangling jobs and then sometimes punishing the women professionally when they refused his advances, numerous accusers told The Associated Press.

Regarded as one of the greatest opera singers of all time, Domingo also is a prolific conductor and the director of the Los Angeles Opera. The multiple Grammy winner is an immensely respected figure in his rarefied world, described by colleagues as a man of prodigious charm and energy who works tirelessly to promote his art form.

But his accusers and others in the industry say there is a troubling side to the 78-year-old Domingo — one they say has long been an open secret in the opera world.
'Teenage Dream' Co-Star Accuses Katy Perry of Sexual Misconduct
---
Notable Christian songwriter says he's no longer a believer: 'I'm genuinely losing my faith ... and it doesn't bother me'
Marty Sampson — an Australian worship music songwriter known for his work with Hillsong — said, "All I know is what's true to me right now, and Christianity just seems to me like another religion at this point."

Sampson wrote in a since-deleted Instagram post that "I'm genuinely losing my faith...and it doesn't bother me...like, what bothers me now is nothing...I am so happy now, so at peace with the world.. it's crazy." It also appears he's cleared his Instagram account of all posts.

Sampson added, "How many preachers fall? Many. No one talks about it. How many miracles happen. Not many. No one talks about it. Why is the Bible full of contradictions? No one talks about it. How can God be love yet send 4 billion people to a place, all coz they don't believe? No one talks about it. Christians can be the most [judgmental] people on the planet — they can also be some of the most beautiful and loving people...but it's not for me. I am not in anymore."
---
Diplo tells fans he "might be gay" as plane makes emergency landing 
Diplo appeared to address his sexuality in a recent Instagram post.

The 40-year-old songwriter, producer and DJ from America told his 5.5 million followers "I might be gay" in an Instagram post after his plane had to make an emergency landing due to a cracked windshield.

"Dear Colombus and Minneapolis, my jet window just cracked open and the pilots are wearing masks so not sure ill make my shows tonight," he wrote, before adding: "Also i never told you this but I might be gay."

He later updated the post's caption to let fans know he was safe, writing: "We landed and no one died I still might be gay but I'm definitely not going to tye die anymore jets."
---