Gay+
---
Welcome to Errattic! We encourage you to customize the type of information you see here by clicking the Preferences link on the top of this page.
How Berkeley High's Whisper Network Sparked a Movement
BERKELEY, Calif.—Last month, a list appeared, scrawled with thick black marker on a stall door in a girls' bathroom at Berkeley High School. "Boys to watch out 4," it read. Six names followed, each appearing alongside allegations including "rapist" and "susAF" (suspicious as fuck). Written next to the list were instructions: "add names if you want," "stay safe, ladies," and "support each other always," followed by a drawing of a heart with an arrow through it.

The previous week, a lawsuit had been filed by a student against the school for allegedly mishandling an on-campus sexual assault case. It was far from the first time that Berkeley High was accused of failing to protect its students; a few years earlier, the school district even became the subject of a related federal investigation. Now, a student had taken things into her own hands.

The message went up during a morning class period and, just a few bell rings later, students poured into hallways now reeking of the harsh cleaning chemicals used to strip the list from the stall door.
---
Gay Guys With Small Penises Share Their Hookup Horror Stories
"Are you hung/XL"?

If you're a queer guy, chances are that question has shaped a good chunk of your Grindr experience. Sure, it's a casually posed enquiry. But the question reinforces the stigma surrounding penis size – particularly in male-male hook-up culture – that drives many men to feel ashamed, embarrassed or undesirable.

When it comes to penis size in male-male hook up culture, individuals can end up afraid of dating, put off sexual activity and in some cases abstain from sex altogether to remove themselves from the risk of being shamed, or feeling shamed. Yet, penis size-shaming continues to be broadly presented as a joke in popular culture, as this recent Guardian article surmised so well.

So in the interest of smashing the stigma and humanising the situation, here are four men with smaller penises who have told VICE the reality of their experience, and how it feels to be discriminated against.

"I asked if everything was OK, and my hookup said: 'Only men with big cocks can fuck me'"
---
Parents say Catholic church refused First Communion to child with autism
A New Jersey couple says a Catholic church refused to give First Communion to an 8-year-old child with autism.

Jimmy and Nicole LaCugna, the parents of the child, who is nonverbal, allege that leaders at St. Aloysius Church in Jackson, N.J., said their child couldn't receive communion because he "is not up to the 'benchmark required to make his communion.'"

"This is very hard and upsetting to comprehend when we all are created by God and now our son is being shunned from the Catholic faith due to his inability to communicate," Jimmy LaCugna wrote in a Facebook post last week that has since gone viral.
---
LBGTQ groups: South Carolina law is putting students at risk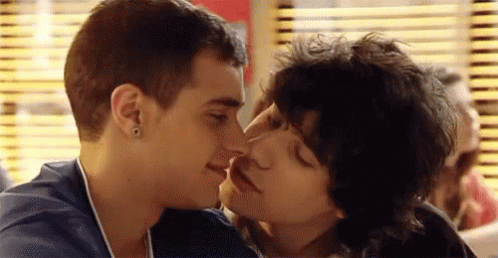 A new federal lawsuit says that South Carolina is fueling a climate of discrimination in schools and putting students at risk. At issue is a law requiring teachers in sex education classes to avoid mention of relationships other than heterosexual ones unless discussing sexually transmitted diseases. The lawsuit now aims to change that. The lawsuit filed by several groups including The National Center for Lesbian Rights and Lambda Legal says the state's Comprehensive Health Education Act violates the equal protection clause of the 14th Amendment. The state Attorney General has issued an opinion stating that a court would likely conclude the law is unconstitutional.
A judge refused to recognize pro-trans law in a hate crime case. That's judicial misconduct.
GOP Lawmaker Whines About Being Labeled a 'Homophobe' After Filing Horrific Anti-Gay Bill: VIDEO
---
Devout Christian couple who believe being gay is a sin claim they're being discriminated against because they're banned from becoming foster parents 
A devout Christian couple who believe being gay is a sin claim they were discriminated against over their religion.

Byron and Keira Hordyk, who are members of the Free Reformed Church of Baldivis, had their application to be foster parents denied by Wanslea Family Services.

The couple, who have their own children, took their claim to the Equal Opportunity Commission but were turned away as the commissioner who found the complaint lacked 'substance', WAToday reported.
Tennessee bill would charge parents with child abuse for letting kids have a sex change
Prominent conversion therapist charged with molesting a 13-year-old boy
Louisiana Man Convicted of Killing Trans Woman and Her Boyfriend
---
Priest refuses communion to state lawmakers who voted for pro-abortion bill
A Rhode Island priest is refusing to serve Holy Communion to state lawmakers who supported a pro-abortion bill.

In 2019, Democratic Gov. Gina Raimondo signed a bill preserving federal abortion protections into state law. According to U.S. News and World Report, the law says that Rhode Island will not restrict a woman's right to abortion "prior to fetal viability or afterward if an abortion is necessary for the health or life of the mother."

What are the details?

According to the Providence Journal, the Rev. Richard Bucci, 72, passed out flyers at West Warwick, Rhode Island's Sacred Heart Church publicly highlighting all state lawmakers who voted on a pro-abortion bill.

Bucci also said that these lawmakers will not be able to serve as marriage witnesses, godparents, or lectors at church-sponsored events.
---
Trump administration removed LGBTQ protections from Department of Interior guidelines
During the Obama administration, that list was "race, color, religion, gender, sexual orientation, age, or disability."

The words "sexual orientation" were crossed out in red in a draft of a letter obtained by the HuffPost that was sent by then-Deputy Interior Secretary David Bernhardt in August 2017.

The organization Friends of the Earth obtained the letter through a FOIA request.

A spokesperson for the DOI said that the words "sexual orientation" are not necessary in the expression and are already covered by the word "sex."

"Per the Equal Employment Opportunity Commission, under Title VII the term 'sex' includes gender, gender identity, transgender status, sexual orientation, and pregnancy," the spokesperson said, calling the elimination of the words a "non-story."
---
Lesbian couple left 'overwhelmed with anger' as South Africa venue declines their wedding
A South African wedding venue is facing criticism after the Christian owners declined to host a lesbian couple's wedding.

Megan Watling, 25, and Sasha-Lee Heekes, 24, said they contacted the owners of Beloftebos, a popular event place in Cape Town, inquiring about potential dates for their wedding.

However, they received an email response that the venue does not accommodate weddings between couples of the same gender, Watling and Heekes wrote on Facebook.

Watling said she cried and became overwhelmed with anger after reading the response last Friday.
---
The Amish Keep to Themselves. And They're Hiding a Horrifying Secret 
The memories come to her in fragments. The bed creaking late at night after one of her brothers snuck into her room and pulled her to the edge of her mattress. Her underwear shoved to the side as his body hovered over hers, one of his feet still on the floor.

Her ripped dresses, the clothespins that bent apart on her apron as another brother grabbed her at dusk by the hogpen after they finished feeding the pigs. Sometimes she'd pry herself free and sprint toward the house, but "they were bigger and stronger," she says. They usually got what they wanted.

As a child, Sadie* was carefully shielded from outside influences, never allowed to watch TV or listen to pop music or get her learner's permit. Instead, she attended a one-room Amish schoolhouse and rode a horse and buggy to church—a life designed to be humble and disciplined and godly.
2 Mass. Priests Suspended Amid Decades Old Abuse Complaints
French trial exposes how church covered for predator priest
Senators demand review of Army Reserve sexual assaults
---
Black students say a teacher compared them to monkeys in front of their classmates. Now their parents are suing. 
A lawyer for the students, who attend Longwood High School on Long Island, filed a notice of claim, the first step to filing a lawsuit, on Tuesday. He later announced in a news conference that the group would sue their school district for $12 million.

The notice, which has been reviewed by Insider, said that a teacher took a photo of four black students, aged 16 to 18, standing behind one another during a field trip to the Bronx Zoo in November 2019

The notice alleges that the teacher later included the photo in a slideshow shown in class with the caption "monkey do," alongside a photo of a gorilla.
Oregon man charged with hate crimes for allegedly beating 70-year-old woman from India
---
Indiana Republicans have introduced two bills targeting transgender & non-binary people 
Indiana Republicans are introducing two bills targeting the transgender and non-binary communities.

Senate Bill 74, authored by Sen. Jim Tomes, would eliminate the Indiana Bureau of Motor Vehicles' proposal to create gender-neutral driver's licenses, and House Bill 1088 (The Fair Play for Female Athletes Act), authored by Rep. Christy Stutzman, would prevent anyone assigned male at birth from competing in female sporting events.
Gay conservative arrested for sending fake anthrax to New York gay bar
---
Second LGBT student joins suit against Fuller Theological Seminary after getting expelled for entering into same-sex marriages 
Last November, a student at Fuller Theological Seminary — the nation's largest interdenominational seminary — sued the school for discrimination after she was expelled for marrying another woman. Now, another former student is joining the lawsuit.

In the amended complaint filed Tuesday, Nathan Brittsan, an American Baptist Churches USA pastor, joined Joanna Maxon in requesting the school award them more than $1 million each to compensate for damages, Christianity Today reported.

Paul Southwick, the attorney representing Maxon and Brittsan, is arguing that Fuller is required to comply with Title IX, which bars federally funded educational programs from discriminating based on sex. However, religiously affiliated schools are often granted exceptions from Title IX regulations in order to accommodate for religious freedom.

"It's a very important case at this time in our nation's history," Southwick said, according to Christianity Today. "This case could set an important legal precedent that if an educational institution receives federal funding, even if it's religiously-affiliated, even if it's a seminary, that it's required to comply with Title IX prohibitions on sex discrimination as applied to LGBT individuals."
'Death to Gays' Pastor: Fires Ravaging Australia Because It Banned Me
Televangelist Jim Bakker tells followers they aren't saved unless they worship Donald Trump
---
LGBTQ Methodists were stuck loving a church that didn't love them back. Sound familiar?
LGBTQ inclusion in the policy and practices of UMC has been a long contentious and exhausting battle – both nationally and globally. The proposed schism to be voted on in May at General Conference in Minneapolis will divide the nation's third-largest denomination worldwide.

While the current UMC will allow LGBTQ marriages and clergy, the impending split will create a new "traditionalist Methodist" denomination, allowing outright discrimination and denunciation of LGBTQ people in the name of God.
---
Ex-teacher harassed, ousted from Upper East Side middle school for being gay: suit
A former social studies teacher at an Upper East Side public middle school was relentlessly hectored by students and colleagues — and eventually let go — because he is gay and stood up for a bullied student, a new lawsuit alleges.

During his two-year tenure as a full-time teacher at Robert F. Wagner Middle School, Robert Halkitis suffered a campaign of harassment that included vandals scrawling a slur on his bulletin board and a student calling him a "f—ing f—-t" in his classroom, alleges a lawsuit filed in Manhattan federal court on Monday.

The torment also included a school clerk suggesting that he was having a sexual relationship with a male colleague on school grounds, court papers say.
---
Two Chinese men claim they were racially profiled by Alaska Airlines employee at who asked 'how much are they paying you?' before sparking panic by screaming for evacuation at Newark Airport
The two Chinese men who were accused of acting suspiciously and triggered a panicked evacuation at Newark Liberty Airport last week are speaking out for the first time saying they were racially profiled by an Alaska Airlines employee.

The chaos unfolded at the New Jersey airport on September 3 around 8.30pm at Gate 30 of Terminal A when an Alaska Airlines approached Han Han Xue, 29, and Chunyi Luo, 20, and asked them pointed questions about their Asian heritage.

She asked assumed they knew each other and asked 'Why are you acting suspiciously' and 'What are they paying you?' before screaming 'Evacuate!', sending 200 panicked people running out of the gate amid fears of an active shooter.

'It was a very shocking experience...I couldn't believe this was happening,' Xue said on the incident to BuzzFeed News.
---