Gay+
---
Welcome to Errattic! We encourage you to customize the type of information you see here by clicking the Preferences link on the top of this page.
Black Exotic Dancers Demand Better Treatment With 'Stripper Strike' 
At the start of the coronavirus pandemic, when strip clubs across the country were shuttering and dancers found themselves abruptly out of work, the Portland, Oregon strip club the Lucky Devil Lounge started a food-delivery service called Boober Eats in order to provide some of its employees work. The concept went viral (and was, in fact, covered by this publication), but local black dancers noticed something odd: its Instagram featured relatively few black dancers.

This wasn't surprising to some black dancers in Portland, like Cat Hollis and Brianna Cistrunk, who say the club has a reputation for almost exclusively hiring white dancers. "They say they're a 'rock 'n roll club' [which means] they only hire a certain aesthetic," Cistrunk says. "It's an unspoken thing but it's very well-known among most girls." This perception was magnified a few weeks later, following the death of George Floyd, when the club posted a (now-deleted) photo on Instagram of #BlackLivesMatter flags festooning the stage. "There was a huge argument that happened in the comments," says Hollis. She commented: "There are more #BlackLivesMatter signs than there have ever been black butts on that stage." (Shon Boulden, owner of the Lucky Devil Lounge, tells Rolling Stone the controversy stemmed from "a lot of misconceptions of how our club operates," though he acknowledged that only two or three of the club's 30 dancers are black."If there ever was the idea that we weren't open to hiring all ethnicities, I guess I'd just want say, yes of course we do," he says. "In our hiring, maybe it didn't look like we were.")
Restaurant Dress Codes Have Long Been a Tool for Racist Discrimination
Black Survivor Contestants Say They Were Edited Into Stereotypes on the Show
A white man was arrested after pulling a gun on a Black homeowner in Miami-Dade County
Black Family Claims White Neighbor Falsely Accused Them of Assault After Patio Dispute
Woman Evicted After Hurling Racist Abuse at Black Soldier
Worker 'No Longer Employed' at Hotel After Calling Police on Black Family
31% of Asian Americans say they've been subject to racist slurs or jokes since the coronavirus pandemic began
Utah reinstates defensive coordinator Morgan Scalley after investigation into racist language
It's 'Our Fault': Nextdoor CEO Takes Blame For Deleting Of Black Lives Matter Posts
---
Woman Yells 'You Live Off White People' in Racist Rant at BLM Protesters 
A woman in Pennsylvania shouted racist abuse at Black Lives Matter protesters on Sunday and told them, "You live off white people."

As the protesters in Watsontown chanted "No justice, no peace," the white woman shouted "trash" and "fuck you, we're going to give you no peace."

A protester can be heard off camera shouting "We love you" as the woman says "b****, f****** b****." She shouts at the protesters, "You live off of white people" and they again reply with "We love you," to which she responds: "you f****** communists" and "fuck off, keep your HIV over there."
Employee of a Miami restaurant quit after he says one of its owners jokingly referred to blackened chicken wings menu item as 'I Can't Breathe'
University of North Carolina Wilmington professor behind 'vile' racist and sexist tweets to retire
Univ. of Wisconsin students want Lincoln statue removed: Sure, he was 'anti-slavery,' but he wasn't 'pro-Black'
White man charged with pointing gun at Black homeowner
Former Everlane Employees Are Calling For A Boycott After Speaking Out About Workplace Racism
Restaurant Co-Owner Cites Husband's Mental Health After He Refuses Black Customer in 'I Can't Breathe' Shirt
YouTuber Liza Koshy apologizes after backlash for videos mocking Japanese accent
YouTube Has Suspended Monetization On Shane Dawson's Channels After He Apologized For
Morphe has removed Shane Dawson's makeup range from its online store after he was accused of sexualizing Willow Smith as a minor and wearing blackface
---
Trump appointee who raged against 'homo-empire' thinks drag queens are part of a 'Satanic agenda of sexual perversion' 
Employees at the United States Agency for International Development (USAID) have raised concerns over the appointment of an official with a deeply homophobic record.

Merritt Corrigan was recently appointed by Trump as deputy White House liaison at USAID despite her troubling record on LGBT+ issues.

Her history of homophobic comments initially surfaced earlier this month, when it was revealed she had attacked the US "homo-empire" and "tyrannical LGBT agenda".

More messages have now been surfaced by CNN's KFile, which reveal even more extreme views.
This ridiculously offensive political ad even includes an old woman spitting at a gay couple
Post Office icon known only as 'Courtney' has spent the past few days eviscerating hateful homophobes on Twitter
LGBTQ employees regularly face discrimination at work. Here are 5 steps companies can take to be more inclusive
Turkey defends despicable tweet from Red Cross boss declaring that LGBT+ people 'impose their paedophiliac dreams on young minds'
---
Ex-Alabama WR Christion Jones Cut by Edmonton Eskimos for Homophobic Tweets
Jones sent out tweets Friday saying a "man ain't suppose to be with a man. A women ain't suppose to be with another woman." When the tweets drew blowback, Jones said he "won't be changing how I feel anytime soon."
---
Case Of Parents Who Allegedly Used Cattle Prod To Punish Kids Also Involves Horrific Rape Accusations 
A South Dakota couple accused of giving their children drugs and shocking them with cattle prods has pleaded not guilty to the charges against them.

One of the children told investigators Lance had physically and sexually abused her—raping her at least 150 times since she was 14 years old. The teen alleged that if she refused to have sex with him, Lance would use the cattle prod or hit her or tie a dog collar around her thigh to shock her, court documents said.
Fla. Middle School Teacher Allegedly Admitted Sex Abuse of Minor at Party Before Mom Confronts Her
---
A White Couple Was Caught on Video Pointing Guns at Black Lives Matter Protesters in St. Louis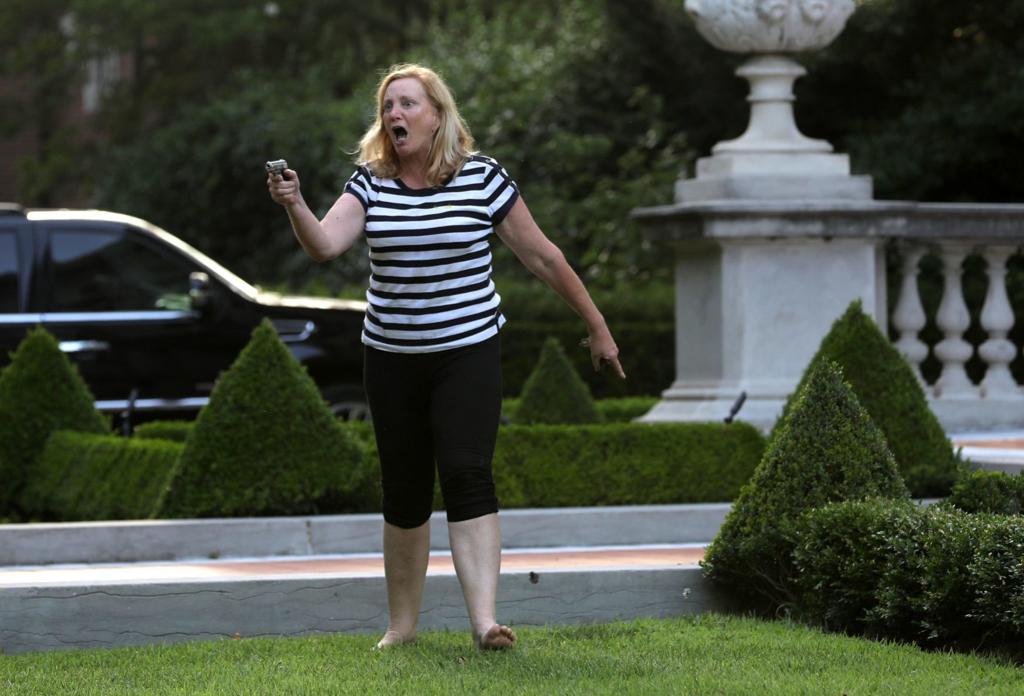 An armed white couple waved their guns and yelled at Black Lives Matter demonstrators in St. Louis on Sunday, during a protest march to St. Louis Mayor Lyda Krewson's home.

At least 500 people peacefully marched through St. Louis' Central West End neighborhood on Sunday demanding Krewson's resignation, according to the St. Louis Post-Dispatch. Krewson appeared in a Facebook Live video last week reading the names and addresses of people who had called for defunding the city's police department.
Man Fired for Racist Rant Supporting Slavery and Lynchings of Black People
John Wayne's son responds to resolution calling for John Wayne Airport to be renamed
Michigan Woman Yells Racial Slurs at New Neighbors in Viral Video
San Jose man charged with hate crime in Santa Cruz assault incident
Adam Carolla defends Jimmy Kimmel over blackface backlash: 'We've lost our minds'
Little Caesars fired two employees after a couple found a swastika made of pepperoni on their pizza
---
Police announce charges against suspect who viciously beat Macy's employee in 'unprovoked attack' 
Michigan police have finally announced criminal charges against the suspect who brutally attacked a Macy's store manager.

On Friday afternoon, Genesee County Prosecutor David Leyton announced he has charged 18-year-old Damire Palmer with "assault to do great bodily harm less than murder," WJRT-TV reported.

The crime is a felony and carries a maximum prison sentence of 10 years.
2 teenage boys shot to death after asking man how tall he was while buying candy
Police nab teen gunman who opened fire in East Harlem street, hitting 7-year-old girl with stray bullet
VIDEO: Black Lives Matter mob storms Target, threatens to 'shut down' business if they cooperate with police
What we know about a shooting at a protest in Louisville
---
Right Wing Pastors Claim "Homosexuality" Worse Than Slavery 
A pair of controversial right-wing Evangelical pastors have come under fire after stating that homosexuality is a worse sin than slavery. Scott Lively and Tennessee Pastor Richard May made the inflammatory statement on Lively's Breaking News Bible Study program.
Taxpayer funded Catholic schools given secret edict to ban kids who don't conform to gender norms
A sex worker was stabbed 11 times and killed by a client. Her family wouldn't collect her body from the morgue because she's trans
---
White couple blocks Mexican American from entering his building, called him 'criminal' 
A white couple blocked a young Mexican American man from entering the San Francisco apartment complex where he lives in, saying "they would not let a criminal into their complex as they needed to protect it."

Michael Barajas, a UC-Berkeley graduate and a community educator for a biopharmaceutical company, tried to park his car in the apartment complex's garage Tuesday night when the driver in front of him refused to pull forward.

Barajas, 28, told NBC's Bay Area affiliate KNTV that the situation kept escalating and turned dramatic when the white man in the car got aggressive, which prompted him to start recording.
White Men Light Black Teenage Girl's Face on Fire in Wisconsin
Kansas State players speak out after offensive George Floyd tweet made by student leader of white nationalist group
Whole Foods workers sent home for wearing Black Lives Matter masks
White man called police on Black and Hispanic men at marina
Indian restaurant vandalized with 'White power' and Trump 2020' gets donations, support
---
Cardi B Laughs Off Trolls Who Tried to 'Cancel' Her by Jumping in Her Pool: 'I Don't Give a Fuck'
After seeing that "Cardi B Is Over Party" was trending on Twitter on Thursday, the Grammy Award-winning rapper, 27, shut down speculation that she was the one behind an Instagram account, which she went on to allege was fake, that had posted negative things about a number of female artists, including Nicki Minaj, Ariana Grande, Megan Thee Stallion and Doja Cat.

"Let me make this really clear. I am not a 15-year-old girl that do fake Instagrams to talk about celebrities. I have a whole life," Cardi said in an Instagram video. "I don't got time to do shit like that."
---
Man viciously stabbed in the stomach by someone who thought he's gay 
A man in the state of Washington has been taken into custody for allegedly stabbing two people he was hanging out with, and investigators believe that the attack was motivated by homophobia.

Court records say that Jose Mendoza Sandoval, 26, was at his home in Pasco this past Saturday night when he got into an argument with another man who was there, the Tri-City Herald reports.
Detroit Catholic Church Fires Music Director for Same-Sex Marriage
---
Gay trans teen mocked on the street while cis woman laughs and points at his crotch in hate-filled, disturbing video 
Gay trans man Jasper Lauter has shared a video of the horrific moment when two cisgender people verbally assaulted him in a hate-filled, transphobic incident in California.

Lauter, who lives in Fairfax, California, was putting rainbow flags up around his hometown on June 20 when he noticed a bake sale benefiting the Black Lives Matter movement had attracted negative attention.

When Lauter noticed that a male and a female were giving a hard time to the volunteers, he decided to intervene.
All 3 victims stabbed to death in U.K. park were reportedly members of the LGBTQ community
Transgender woman was "karate chopped" by drunks for using the women's bathroom
A 'real life Mister Rogers' hung a rainbow outside his home for Pride. A homophobic neighbour told him he 'shamed the community'
---
White, gay Trump supporter epically schooled after claiming Black Lives Matter is trying to 'colonise' Pride Month 
He decried Juneteenth – an annual holiday commemorating the end of slavery in the US – saying it "isn't a thing".

And he then continued, which he really shouldn't have, like, really could have just stayed silent here, saying: "Don't colonise our month as well. Thanks.

"Signed, the gays."
Putting protest back into Pride: Black Lives Matter pushes LGBTQ organizations to face histories of exclusion
This Drag Performer Blacklisted Shea Coulee Before 'Drag Race'
No Homo? Hip-Hop and Homophobia (Part 1)
---
Black Lives Matter activist Shaun King says statues of Jesus Christ should be torn down — but just the white ones 
Black Lives Matter activist Shaun King said that it is permissible to tear down the statues of Jesus Christ that show him with European features because they support white supremacy.

"Yes, I think the statues of the white European they claim is Jesus should also come down. They are a form of white supremacy. Always have been," King tweeted on Monday.

"In the Bible, when the family of Jesus wanted to hide, and blend in, guess where they went? EGYPT! Not Denmark. Tear them down," he added.

"Yes. All murals and stained glass windows of white Jesus, and his European mother, and their white friends should also come down," he explained in a second tweet.
Black graduate student target of racist rant while walking in New York
Ohio Girl Writes 'Black Lives Matter' in Chalk, Neighbor Calls Police
A City Painted Over A Black Lives Matter Street Mural As Protests Continue
Steve McQueen calls race imbalance in UK film and TV "blindingly, obviously wrong"
'The greatest trick racism ever pulled was convincing England it doesn't exist'
Padma Lakshmi Is Tired of Being Delicate
---
A Black Lives Matter Activist Was Found Dead Days After Reporting A Sexual Assault, But Police Say The Two Aren't Linked 
The man accused of killing a 19-year-old Black Lives Matter activist is not the same person she described as sexually assaulting her the day of her disappearance, authorities say.

Police have released new details in the deaths of Oluwatoyin Salau and Victoria Sims, 75, who were both confirmed dead on Monday. A week earlier, on June 6, Salau tweeted about a man she alleged had sexually assaulted her earlier that morning, according to the Tallahassee Democrat. She disappeared the same day and was found dead at the home of 49-year-old Aaron Glee Jr., who has been accused in Salau and Sims' deaths, the Tallahassee Police Department said in a statement.
Charges dropped against black pastor who was assaulted; now 5 people are charged with hate crimes
Man Allegedly Admits to Kidnapping, Sexually Assaulting Black Lives Matter Activist Before Killing
---