Gay+
---
Welcome to Errattic! We encourage you to customize the type of information you see here by clicking the Preferences link on the top of this page.
Odell Beckham Jr. not bothered by people speculating he is gay
GQ: There was a period of time when a lot of gossip sites — specifically black gossip sites — would constantly say that you were closeted. They'd call you "excited" in a hot-tub photo with your teammates or simply just say you're gay. How'd that make you feel?

Beckham: I've never had an opportunity to talk about this. Honestly wasn't offended. I've never once had no problem with anybody who has their own personal life that they live. I have friends who are gay. It was almost more funny to me. I almost messed with them even more. It's like when someone gives me an ultimatum, I'm usually always going to go to the opposite way of what you want me to go. So when they would say that, I would almost mess with them even more. I have no problem with anyone's sexual orientation.
---
PATTI LUPONE TELLS SEN. LINDSEY GRAHAM TO 'BITE THE BULLET AND COME OUT' AS GAY
Tony winner Patti LuPone attacked Republican Senator Lindsey Graham for supporting Donald Trump after comments the president directed at four freshman Democrats were criticized as racist.

Lindsey Graham you are a disgrace. On a personal note, why don't you just bite the bullet and come out. You might just come to your senses.

In a tweet on Thursday afternoon the Evita star called Graham a "disgrace." She then alluded to Graham being in the closet

"On a personal note, why don't you just bite the bullet and come out. You might just come to your senses."
---
Valerie Harper's family launches GoFundMe for her cancer treatment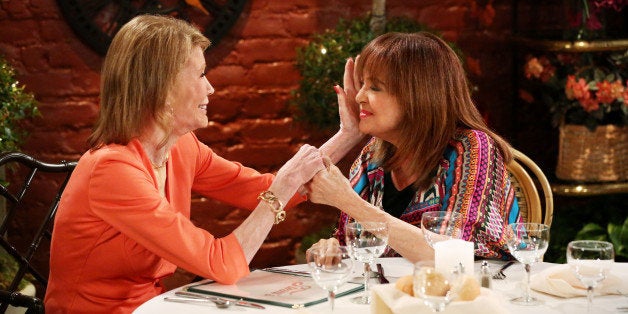 Valerie Harper's family is seeking financial help for her treatment as she continues to battle cancer.

Harper, who shot to stardom in the early 1970s as Rhoda Morgenstern on "The Mary Tyler Moore Show" and later starred as that character in a spinoff, was first diagnosed with lung cancer in 2009.

In 2013, she was given three months to live after she was diagnosed with leptomeningeal carcinomatosis, a condition that occurs when cancer cells spread into the fluid-filled membrane surrounding the brain, known as the meninges.
---
This Closeted Pro Soccer Player Is About to Come Out as Gay 
THE ANONYMOUS SOCCER PRO IS NOT READY TO COME OUT PUBLICLY, BUT HE'S COMING OUT SOON!

An anonymous Twitter user professing to be a gay English Football League player announced he's almost ready to come out publicly. First, he plans to finish coming out to his friends and family.
Fuller House star Juan Pablo Di Pace comes out as gay
---
LGBT+ People Are Paid 16% Less Than Their Straight Colleagues, A New YouGov Survey Reveals 
Getting your head around your working environment is a tricky business. It takes a long time to adjust to a new workplace. Sometimes you might never actually settle, or you might feel like you are being treated unfairly. Say for example, being paid less than a colleague in the same role? With the only discerning factor between the two of you being that you're a member of the LGBTQ community and they're not. Well guys, it's 2019 and yet this is still a huge issue. As a matter of fact, recent research claims that LGBT+ people are paid 16 percent less annually than their straight peers

The research was commissioned by social media giant LinkedIn and undertaken by YouGov. The results were sent over to Bustle in a press release. As a part of the research for the study, the team surveyed 4,000 UK workers. The workers surveyed identified themselves as being "straight," "gay," "bisexual," or "other." The main take away from this research is that there appears to be a £6,703 (16%) discrepancy in income between LGBT+ workers and their straight colleagues.
Over 200 major companies sign Supreme Court brief in favor of LGBTQ workers
My Brother Was Fired After Revealing He Was Gay. Now I'm Continuing His Fight at the Supreme Court
---
Teen viciously attacked by 10 homophobes with knuckle dusters after defending friend 
A 17-year-old boy was hospitalised after defending his friend from a group of anti-LGBTQ thugs.

Jack Roberts – from Thrybergh in Rotterdam – was with his girlfriend and four others when a group of ten men started launching homophobic remarks at them. After he gained their attention, Jack was punched, kicked and stamped on.

One of the attackers reportedly used a knuckle duster, which left Jack with several marks on his body and face. He was later rushed to hospital and his family were alerted by the police.

Authorities took statements from his friends and others who witnessed the attack.

Jack's mother, Jodie, uploaded photos of his injuries on Facebook, alongside the caption: "To the absolute bastards who jumped our boy last night, I bet your parents are so proud of you! Jack wouldn't hurt anyone."

She later revealed that Jack had only known the boy the abuse was directed at for about two hours, but he defended him because he knows "right from wrong", adding: "I am so proud of him for trying to protect someone else."
---
Lil Nas X Responds to Homophobic Reactions to His Pride Month Message
An unfortunate facet of 2019 existence is that, despite progress, there are indeed still people who take seemingly every possible opportunity to damper that forward motion with mockery.

Such was the case with Lil Nas X, whose thoughtful Pride Month message about his 7 EP cut "C7osure" was largely met with a wave of support from fans and other artists, though Boosie Badazz decided to use X's moment to make a homophobic joke related to his breakout hit "Old Town Road."
---
Just A Bunch Of Awesome Parents Supporting Their Kids During Pride
People in the LGBTQ community don't always have the support of their families. But there are many parents who embrace their LGBTQ kids.

During Pride Month, countless parents attended parades and other celebrations with their LGBTQ children or participated in their honor. Here are some uplifting photos of supportive parents at Pride events around the world...
---
To celebrate the big spirit of Pride, LEGO created the world's tiniest Pride parade
LEGOLAND Discovery Center in Yonkers, New York, is commemorating this year's historic Pride celebration piece by piece.

LEGOLAND is marking the 50th anniversary Stonewall uprising with an installation of "The World's Tiniest Pride Parade," to commemorate the birth of the modern LGBT movement in 1969.
---
Cory Booker said he will "fight to protect" black transgender women, and this is so important
Last night, June 26th, 10 Democratic presidential candidates kicked off the 2020 race for the party's nomination. The gathered politicians answered questions on topics ranging from reproductive rights to immigration reform. And Senator Cory Booker of New Jersey took a stand for LGBTQ Americans, including black transgender women.

According to a transcript of the debate from NBC News, Hawaii Representative Tulsi Gabbard broached the subject of LGBTQ rights by discussing the Equality Act, which would prohibit discrimination based on gender identity or sexual orientation. But Booker argued that supporting this bill wasn't enough. The New Jersey senator pointed out that LGBTQ people—especially black transgender people—are too often the victims of violence.
---
Country star Jake Owen claps back at anti-LGBTQ commenter
Please "Believe" that Jake Owen will not allow people to diss the LGBTQ community.

The country singer took on an Instagram commenter who had words to say regarding Owen's latest song.

He recently debuted a preview of his cover of Cher's 1998 hit "Believe" on his official Instagram account.

"Some of my closest friends and coworkers, are part of the #lgbt community and I couldn't be more happy for the progress they have made," Owen wrote in the caption. "I'm inspired by people loving people no matter who you are."
---
LGBTQ Acceptance Declining Among Young Adults, According to Study
A startling poll released by GLAAD shows LGBTQ acceptance is declining among younger Americans.

The "Accelerating Acceptance" survey of nearly 2,000 people, conducted by the Harris Poll, finds less than half of non-LGBTQ Americans aged 18-34 are comfortable with LGBTQ people and issues pertaining to them. The number dropped from 53 percent last year to 45 percent this year.

The results show a lower acceptance level of LGBTQ people among young Americans than was found among all adult Americans, which remained at 49 percent, the same as 2018 but significantly lower than the 53 percent reported in 2017.
---
Cracker Barrel Tells Pastor His Church Is Not Welcome After Sermon Calling for Execution of Gay People
A Cracker Barrel restaurant in Tennessee turned away a pastor who preached anti-LGBT sermons, including that gay people should be executed by the government.

Grayson Fritts, a Tennessee pastor who is also a detective at the Knox County, Tennessee Sheriff's Office, was planning a meeting with his church group at the Cracker Barrel in Cleveland, Tenn. on June 29. When the chain found out, Cracker Barrel refused to host them, citing the restaurant's "zero tolerance policy for discriminatory treatment or harassment of any sort."
---
Ecuador's highest court legalizes same-sex marriage
Ecuador's highest court has ruled to recognize same-sex marriage, marking a watershed moment for LGBTQ rights in the Catholic-majority country.

Judges on Quito's constitutional court ruled five-to-four on Wednesday to overhaul the country's laws, arguing that its current marriage legislation was discriminatory and unconstitutional, and that same-sex couples should be allowed equal rights.

The four dissenting judges said that changes to the Ecuadorean constitution should be decided and approved by the government and not the court.

Ecuador's National Assembly will still be required to officially change the laws that define the institution of marriage. Constitutional lawyer Salim Zaidán told CNN, however, that Wednesday's verdict was binding and that same-sex couples would be able to marry as soon as the constitutional court notifies local government offices of their decision. The court has 10 days to do so.
Abortion rights are LGBTQ rights
'My Little Pony' To Introduce A Lesbian Couple This Weekend
---
Does Federal Law Protect LGBTQ People? This Poll Reveals A Serious Misconception
According to a new survey, almost half of all Americans wrongly believe that federal law protects LGBTQ people from discrimination. In a Reuters/Ipsos poll released Tuesday, 45% of respondents incorrectly claimed that federal anti-discrimination protections apply to LGBTQ Americans, when in fact, no such protections exist due to longstanding opposition from conservatives.

"When you talk to people across the country, regardless of where they stand on LGBTQ equality, so many don't know that in 30 states LGBTQ people are still at are risk of being fired solely because of their gender identity or sexual orientation," Charlotte Clymer, the Human Rights Campaign's press secretary for rapid response, told Reuters. "These things are flying under the radar for most Americans."
BEING GAY IS LINKED TO THESE BIOLOGICAL MECHANISMS, SCIENTISTS SAY
Years and Years star Dino Fetscher on the "vital importance" of LGBTQ representation
This Dad Gave Out Hundreds of Hugs at the Pittsburgh Pride Parade, and the Photos Are So Emotional
Africa is doing better on LGBTQ rights than you think
Christian hate-preachers plan anti-LGBTI conference during Orlando Pride
---