Gay+
---
Welcome to Errattic! We encourage you to customize the type of information you see here by clicking the Preferences link on the top of this page.
Catholic nuns urged to speak out about sex abuse
The umbrella group of Catholic nuns is urging religious sisters around the world to speak out about sexual abuse by priests and other abuses of power that they experience, while also announcing new initiatives to protect children in their care.
---
Catholic Church Orders School to Cover Pride Mural, Calling It 'Obscene' 
A Catholic priest in Hackensack, N.J., ordered a charter school that leases the school grounds from his church to cover up a Pride mural in the school cafeteria, calling it "obscene" because it included an homage to Keith Haring's interlocking male symbols. And the 16-year-old student at the Bergen Arts and Science Charter School in nearby Garfield who painted the mural took to Twitter to express her frustration.

"So ... my school's owned by a Catholic Church and they want me to take down my Keith Haring mural that supports the LGBT community," wrote the student (who did not want her name published), according to the North Jersey Record. "They think it's inappropriate and wrong for a school setting. I'm heartbroken and I really never thought this could actually happen. Please help."
Catholic university students blamed for homophobic attack in France
Anti-LGBTI violence still acceptable in many countries, new study shows
Texas Governor Risks His Laptop to Save Chick-fil-A's Right to Be Homophobic
---
Michigan priest facing allegation of misconduct with minor 
A priest with the Roman Catholic Diocese of Saginaw is on administrative leave while church officials investigate an allegation of misconduct with a minor.

The decision regarding the Rev. Dennis Kucharczyk was announced Tuesday. The diocese says the alleged misconduct "occurred many years ago," and he was placed on leave Sunday after church officials received information from law enforcement.
Amended sex abuse suit filed against W.Va. Catholic diocese
Former USA Diving Coach Pleads Guilty To Sexual Battery Of Teen Diver
McDonald's faces 25 new charges of sexual harassment in the workplace
---
US lawmaker 'punched wife for not undressing quickly enough'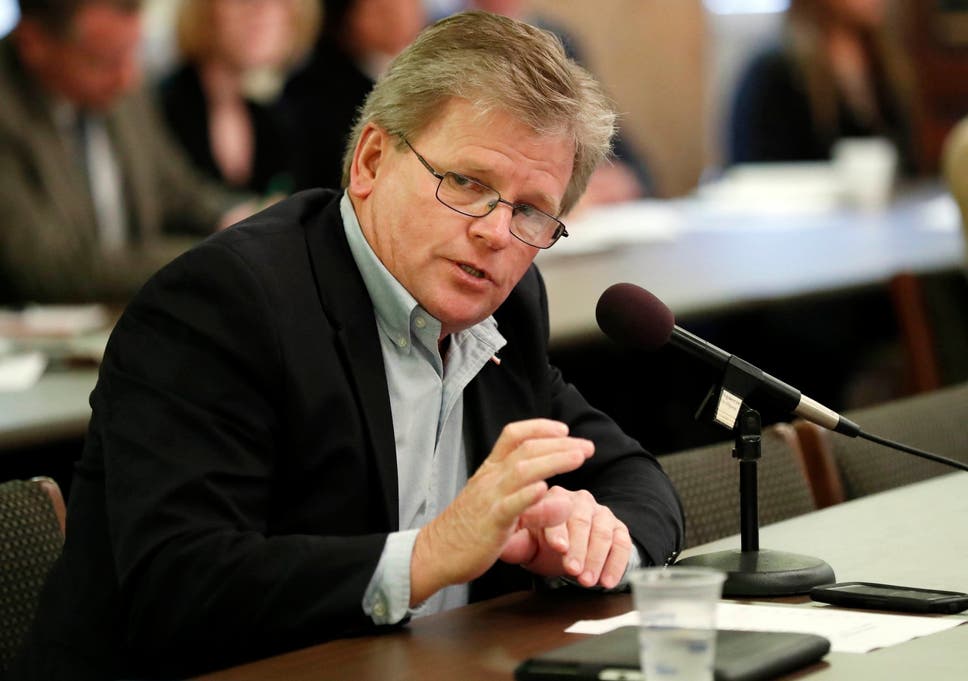 Doug McLeod, 58, was arrested on Saturday night in George County on a minor domestic violence charge.

His fellow Republicans in the state said Mr McLeod should resign immediately if the claims are true.

Mr McLeod, a father-of-three, did not immediately respond to a request for comment from the BBC.

When police arrived at his home in Lucedale, 150 miles (240km) south-east of the state capital Jackson, they found Mr McLeod intoxicated with an alcoholic beverage in hand, according to an official report viewed by the Sun Herald newspaper.

Deputies described Mr McLeod as slurring his speech and walking "slow in a zigzag pattern".
---
Milwaukee County Declares Racism A Public Health Crisis 
Milwaukee County Executive Chris Abele signed a resolution Monday (May 20) stating how racism is a public health crisis and that the county plans to take action.

"Everybody has been reading and hearing about the same set of statistics in Milwaukee for decades," Abele said. "We lead in an unfortunate way the racial disparities in employment, in education, incarceration, income and even things like ... access to capital."

The resolution hopes to take actionable steps to level the playing field in Milwaukee, a playing field that finds minorities disproportionately affected.
Drunk Airline Passenger Yells Racist Abuses, Kicks People On International Flight [Video]
Black Strippers Awarded More than $3 Million In Racial Discrimination Case
---
Possible link between attacks on trans women 
A transgender woman was found shot to death in a Dallas neighborhood. Now, police believe her case may be linked to two other attacks on transgender victims.
Michelle Simone is the third trans woman of colour to be killed in the US this week
India: Three men arrested after alleged rape of trans women at knifepoint
---
Federal prison guard sexually assaulted 4 inmates in New York City, prosecutors say 
A federal correctional officer was arrested on Tuesday for allegedly abusing his position to sexually assault female inmates over the course of six years, according to newly filed charges.

Colin Akparanta was charged with four counts of sexual abuse of a ward, four counts of abusive sexual contact and one count of deprivation of civil rights in connection to four women who were housed at the Metropolitan Correctional Center in New York City between 2012 and 2018.

"Akparanta was a predator in uniform, exploiting his position to sexually abuse multiple inmates over a several-year period. No inmate in a Bureau of Prisons facility should fear sexual abuse at the hands of a correctional officer," said U.S. Attorney Geoffrey S. Berman in a statement.
Penn State professor with side job as Uber driver accused of kidnapping multiple women: Court records
Ex-police officer gets prison for paying teen girls for sex
---
Portuguese officers convicted of kidnapping black youths 
A Portuguese court has found eight police officers guilty of kidnapping and beating up six youths from a predominantly black neighborhood in the outskirts of Lisbon.

Only one of the eight officers was sentenced to jail, while the others were given suspended sentences for various crimes, including kidnapping, assault and falsification of documents. Nine other police officers were acquitted.
Anthony Joshua on combating racism: 'Our parents' generation has been sleeping'
Racist 'promposal' sign will lead to 'severe consequences' for Southern California students
---
A Look At The Staggering Sexual Harassment Numbers In The Legal Profession 
A new international survey reveals that sexual harassment in the legal profession is truly at epidemic proportions. The survey, with almost 7,000 respondents, was conducted by the International Bar Association and market research company Acritas and asked both lawyers and nonlawyers in the legal profession from 135 countries questions about sexual harassment and bullying within the industry. The results are disheartening, to say the least.

Over a third of women — 36.6 percent of women and 7.4 percent of men — say they've been victims of sexual harassment. When in comes to bullying nearly 1 in 2 women say they've been a target, compared with 1 in 3 men who say the same.
Furious mob tie a man and his female cousins to a tree, brutally thrash them with ropes and sticks and 'molest the two women' for helping him run off with a married woman in India
At least one in three Alaska villages has no local law enforcement. Sexual abuse runs rampant, public safety resources are scarce, and Gov. Mike Dunleavy wants to cut the budget.
Third of women in survey 'taken advantage of sexually' while drunk or high
Sex slave driver, 57, is found guilty of keeping two Thai woman as prostitutes against their will
Father Catches Man Sexually Assaulting 13-Year-Old Son At Home
Why the Anti-Abortion Movement Stopped Making Allowances for Rape and Incest
---
Colorado police officer who pulled gun on black man picking up trash quits force 
A white Colorado police officer caught on video pulling a gun on a black man who was picking up trash outside his home has resigned, officials said Thursday.

Boulder Police Officer John Smyly quit the police force after an investigation found he violated department policy when he drew his gun and attempted to detain 26-year-old Zayd Atkinson in March, according to officials and a police department internal affairs report.

"While the finding likely would have resulted in suspension or possibly termination, Officer Smyly resigned prior to the conclusion of the disciplinary process," a statement released by the City of Boulder on Thursday reads.

A police internal affairs report obtained by ABC News shows Smyly's decision to attempt to detain Atkinson "was not supported by reasonable suspicion that Mr. Atkinson was committing, had committed, or was about to commit a crime."
Nigerian police arrested 65 women in a raid. Some of the women say officers raped them
Suspect arrested in racist attack aboard New Jersey bus
---
Virtual kidnappings are rattling families across the US
"I have your son and I'm going to f*ck him up," a voice on the other side of the phone said.

For two hours one afternoon in early April, 61-year-old Joseph Baker and his wife Maggie drove around Charlotte, North Carolina, listening to every demand of their son Jake's supposed kidnapper.

"If you call the police, I will know and kill him," he threatened, according to the Bakers. "I have a scanner."

The caller ID on Joseph's smartphone display said the call was coming from his son's number. The couple had no reason not to believe the man on the other end of the line, who knew personal details about the family, including where they lived.
---
Kicked out, spat on and abused, new UK shelter helps LGBT+ homeless
LONDON, May 15 (Thomson Reuters Foundation) - Apart from being spat on and urinated on when he slept rough in London for over a year, 52-year-old Chabahn had to contend with another daily threat: being abused and attacked for his sexuality.

Chabahn, who is gay but kept it hidden on the streets, said living with HIV was an additional burden that some mainstream shelters did not have the capacity to support him with.

"When it comes to being LGBT, the amount of discrimination on the street is rather high. There is no safety, you have to fend for yourself," said Chabahn, who declined to give his full name.

"You have to become a very good actor and you have to be someone that you are not."
YouTube star Riyadh Khalaf calls out LGBT bullying
The stunning toll of Boy Scout sex abuse: More than 12,200 reported victims
Sexual abuse survivors sue the Vatican over predatory U.S. priests
Catholic school music director sought sex with undercover cop posing as teen: affidavit
The Latest: Bishop says church was not trying to hide files
---
'LET'S GO... MONKEY MAN!' VIRAL VIDEO SHOWS WOMAN DELIVER 'JUSTICE' IN RESPONSE TO RACIST TIRADE AT LA SUSHI RESTAURANT 
Took my mom out to Sushi for Mother's Day in LA. It was going great until a crazy racist white man started trouble and ended calling a black man "Monkey Man"...
Landlord Goes on Racist Tirade Against Black Tenant
Florida man calls police on comic Ahmed Ahmed after Middle East joke makes him 'uncomfortable'
---
Homophobes Attack Congressional Black Caucus Over Equality Act 
A right-wing group aims to spark outrage among black voters over an impending vote on the Equality Act.

Organizers for the Gone 2 Far Movement released an open letter through Christian Newswire attacking leadership from the Congressional Black Caucus.

The bizarre rant, signed by failed Congressional candidate Stephen Broden and right-wing radio host Randy Short, suggests the "Gay Equality Act" will set back minority rights.

The letter singles out Rep. Karen Bass, CBC chair, and other caucus members for refusing to "defend the real purpose of the 1964 Civil Rights Act as a scam to make 'Gay the New Black' wherein pedophiles, sodomites of all stripes, and persons of debased fetish needs are accorded protected class status akin to Blacks and women."

The letter compares a vote for the Equality Act to the biblical story of disciple Judas Iscariot betraying Jesus Christ, though its unclear how many pieces of silver were exchanged or who will be crucified should the legislation pass.
Pat Robertson: Equality Act Will Cause 'Atomic War'
Violent mob attacks Indian priest because they think he is gay
---
More gay and bi men come forward, alleging unwanted rectal exams by USC doctor 
An additional 18 men have come forward to join the suit against Dr. Dennis Kelly, the USC doctor accused of sexual misconduct against his patients.

A full 39 students now allege that Kelly exploited them during patient visits, subjecting them to invasive questions about their sexual preferences and unwanted prostate exams. Kelly also seemed to target gay or bisexual students after learning of their sexual preference, the suit alleges.

The lawsuit also alleges that students complained to USC about Dr. Kelly's bedside manner and that the university failed to investigate their claims. Kelly served at the university for 20 years.
Jerry Falwell Jr.'s alleged x-rated photos could get him fired from his own university
---