Gay+
---
Welcome to Errattic! We encourage you to customize the type of information you see here by clicking the Preferences link on the top of this page.
Florida teen arrested for making race-based threats of violence on Twitter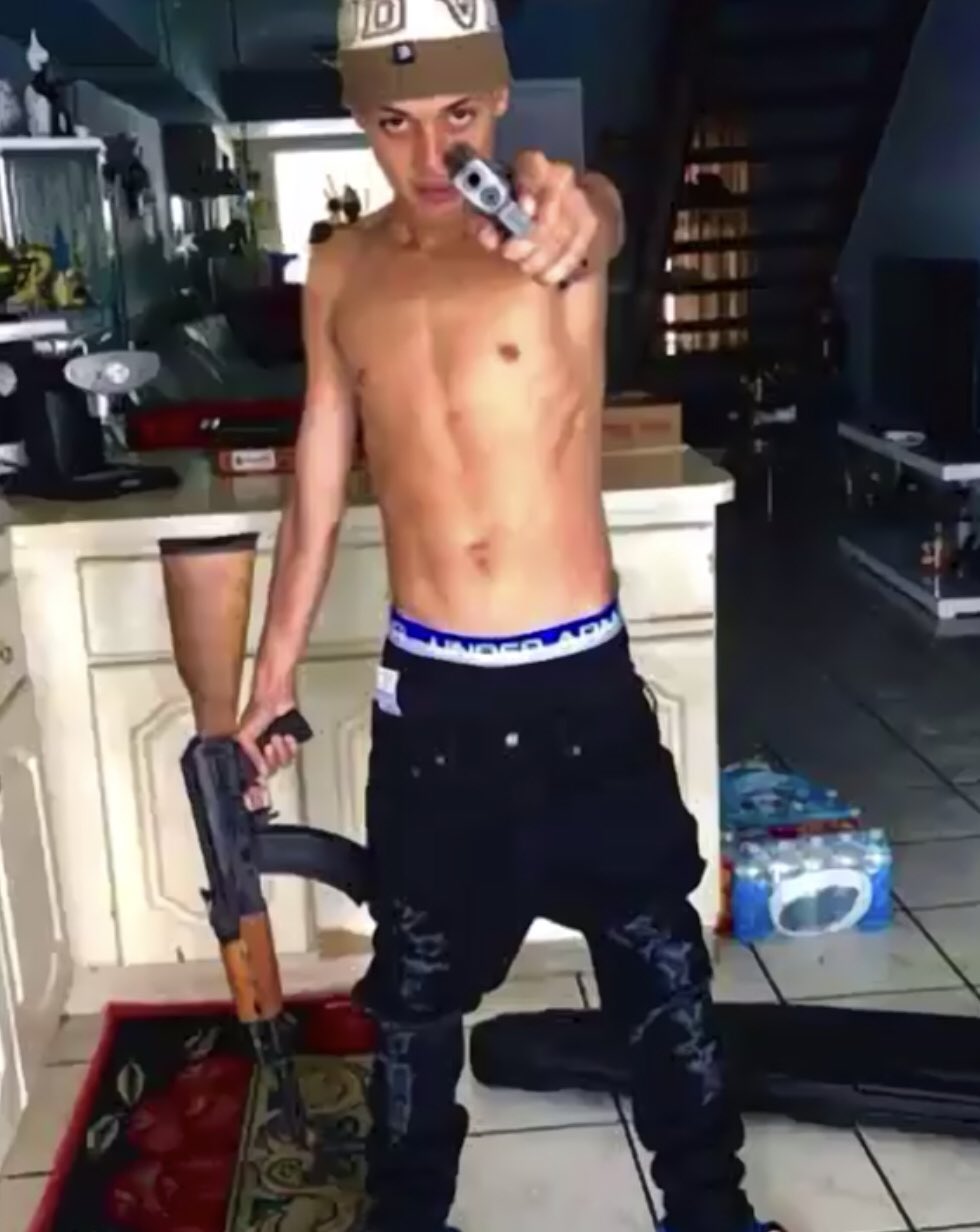 A Florida teenager was arrested for making threats of violence against several racial groups on Twitter.

Nineteen-year-old Lazaro Lesteiro-Diaz was arrested on Tuesday after police were notified of the threats by the Bureau of Alcohol, Tobacco, Firearms and Explosives.

Police took the threats seriously because he was very specific about a location that he was going to travel to in order to murder homosexuals, blacks, Nicaraguans, Colombians and "all types of Indian people."
---
Socialism Will Not Cure LGBTQ Oppression
...a lot of LGBTQ people lately have taken to the media to say that socialism is the answer to LGBTQ oppression and all I can say to that is, "Bullshit." Every last bit of history proves otherwise. Now, I'm not arguing that socialism/communism is anti-LGBTQ, but it hasn't been the best system for LGBTQ people in all cases. Yet, neither has capitalism. In fact, the social progress of LGBTQ rights in different countries under different systems has been so haphazard that it's impossible to argue who has been better for LGBTQ rights. The only logical conclusion, and I know this may sound crazy to a lot of folks, is that somehow, and this is crazy, systems of economics and government don't actually have a lot to do with social values. In fact, and I may be going out on a limb here but I'm feeling crazy, it seems that governments and economic systems reflect what society values. Woah, mindblowing ain't it?
---
Lesbian left covered in her own blood after two men brutally beat her  
A 20-year-old lesbian attacked by two men this past weekend and left covered in her own blood. This is the fifth time she has been attacked and now she's afraid to leave her home.

Charlie Graham was walking in the street in Sunderland in northern England at 12:50 a.m. on Saturday when she was punched in the back of the head by one of the assailants.

Related: Teen who attacked couple in horrific hate crime walks away with no prison time

"I got hit from behind by a fist to the back of my head, then I hit the ground, hurting my legs and face," she told the Daily Star. Police said that she told them that the attackers called her anti-gay epithets.
Gay couple attacked with tear gas in their home after being blackmailed
High school baseball players caught harassing a local gay couple & calling them slurs
Missouri Republican wants to jail librarians who allow drag queens to read books to kids
---
Florida Football Coach Uses Slur, Calls Homosexuality 'Disgusting'
A Florida youth football coach called homosexuality "absolutely wrong and mentally disgusting" on Facebook posts this weekend, calling on community leaders to stop a rise in LGBTQ presence.

Johnnie Saunders, founder and coach of the Eustis Junior Panthers and of a 10-and-up football team with the Apopka Raptors, wrote the homophobic posts on Sunday, according to the Daily Commercial.
---
Queer Women Have a Lot to Worry About When They Travel for Work
Patricia King travels a lot for her job. She says where she stays, how she flies, and what cars she drives when she's on the road matter to her. And as often as she makes sure the airlines, car companies, and hotels she uses have LGBTQ-friendly policies for their employees, she also makes sure she knows the local LGBTQ-related laws of the places she travels to.

"I will not stay at a hotel with a track record of discrimination," said King, a speaker and consultant, and "I do make myself aware of the laws [of the states] where I am traveling to."

King's experience as a trans woman who regularly travels for business aligns with research revealing that a majority of LGBTQ businesswomen encounter compound forms of harassment and discrimination while traveling on the job, and often find themselves doing research their straight and cisgender counterparts don't have to do.
---
Second LGBT student joins suit against Fuller Theological Seminary after getting expelled for entering into same-sex marriages 
Last November, a student at Fuller Theological Seminary — the nation's largest interdenominational seminary — sued the school for discrimination after she was expelled for marrying another woman. Now, another former student is joining the lawsuit.

In the amended complaint filed Tuesday, Nathan Brittsan, an American Baptist Churches USA pastor, joined Joanna Maxon in requesting the school award them more than $1 million each to compensate for damages, Christianity Today reported.

Paul Southwick, the attorney representing Maxon and Brittsan, is arguing that Fuller is required to comply with Title IX, which bars federally funded educational programs from discriminating based on sex. However, religiously affiliated schools are often granted exceptions from Title IX regulations in order to accommodate for religious freedom.

"It's a very important case at this time in our nation's history," Southwick said, according to Christianity Today. "This case could set an important legal precedent that if an educational institution receives federal funding, even if it's religiously-affiliated, even if it's a seminary, that it's required to comply with Title IX prohibitions on sex discrimination as applied to LGBT individuals."
'Death to Gays' Pastor: Fires Ravaging Australia Because It Banned Me
Televangelist Jim Bakker tells followers they aren't saved unless they worship Donald Trump
---
Ex-teacher harassed, ousted from Upper East Side middle school for being gay: suit
A former social studies teacher at an Upper East Side public middle school was relentlessly hectored by students and colleagues — and eventually let go — because he is gay and stood up for a bullied student, a new lawsuit alleges.

During his two-year tenure as a full-time teacher at Robert F. Wagner Middle School, Robert Halkitis suffered a campaign of harassment that included vandals scrawling a slur on his bulletin board and a student calling him a "f—ing f—-t" in his classroom, alleges a lawsuit filed in Manhattan federal court on Monday.

The torment also included a school clerk suggesting that he was having a sexual relationship with a male colleague on school grounds, court papers say.
---
One Million Moms Lose Hallmark Channel, Fly Off Deep End
"The culture war, better yet the war for the soul of man, is definitely heating up," reads a message on the organization's website. "1MM will keep fighting because souls are at stake. This LGBTQ spirit is the same spirit we read about in the Bible that confronted Lot. It's relentless but the good news is we serve the God who is King of kings, Lord of lords, and will not be mocked. Hallmark, Zola, etc. and all that make up those companies will ALL bow to the Lord."
---
Iowa Man Sentenced for Burning Rainbow Flag, Other Charges
The man who set fire to an Iowa church's rainbow flag has received a 15-year prison sentence.

Martinez previously told KCCI, the CBS affiliate in Des Moines, he had no regrets over the crime.

"This was about homosexuality?" a reporter for the station asked him.

"Yes, yes, yes. Exactly," Martinez replied. "I burned down their pride, plain and simple … I'm guilty as charged." And in court, just before receiving his sentence, he said he was "living by God's laws" and would never cease to do so, the Tribune reports.
---
Indiana School Board Member Says 'Cry Me a River' Over Trans Suicides 
Activists in Evansville, Ind., caught a school board member on video appearing to dismiss their concerns about safety for LGBTQ kids.

This week, ten members of the Tri-State Alliance — a social service and educational organization serving LGBTQ communities in southeastern Illinois, southwestern Indiana, and western Kentucky — attended a board meeting of the Evansville-Vanderburgh County School Corporation to ask for greater protections for queer students.

After the meeting, the activists confronted school board members, according to posts on the group's Facebook page.

The Tri-State Alliance says board member Ann Ennis claimed there was no support on the board for addressing suicide concerns among trans students.

On a video posted to the group's Facebook page, Tri-State Alliance President Wally Paynter can be heard calling Ennis transphobic.
Trans Woman Sues Pharmacy for Revealing Her HIV Status
Utah school fires substitute teacher who told 5th-graders 'homosexuality is wrong'
---
A patchwork of anti-discrimination laws don't protect LGBTQ workers 
While working at a Billings, Montana, auto dealership in 2016, Kathleen O'Donnell said mechanics would frequently sling insults behind her back, calling her "faggot" and referring to her as "Bob" or "Joe" because of her closely cropped hair. A few days before her six-month probationary period at the dealership ended, O'Donnell recalled, her manager, with tears in his eyes, told her he had to fire her because she was gay. It was the first time O'Donnell had been fired from a job.
U.S. SUPREME COURT TRUMP ADMINISTRATION ASKS SUPREME COURT TO LEGALIZE WORKPLACE DISCRIMINATION AGAINST GAY EMPLOYEES
---
Canadian fashion designer and boyfriend attacked in suspected homophobic assault
Canadian fashion designer Markantoine Lynch-Boisvert and his boyfriend, Alex James Taboureau, have been attacked, with what is believed to be a homophobic motive.

The pair were targeted as they left a bar in La Malbaie by a man who threw homophobic insults their way. The man later approached Markantoine and headbutted him, while two men targeted his partner.

The group then later approached them again, this time pushing Markantoine to the floor.
---
Man Bullied for Being Open About Trans Relationship Dies By Suicide
A man who was bullied in a viral video for his relationship with a trans woman has now died by suicide.

A number of LGBTQ blogs mourned the death of Maurice Willoughby, first reported at Aazios. The 20-year-old Philadelphia man, also know as "Reese Him Daddie," defended his relationship in a widely viewed Facebook post. There, he defended his girlfriend, Faith.
---
Knife waving man screaming antigay & racist slurs in barbershop shot by Palm Springs police 
A man who burst into a barbershop brandishing a knife and started yelling antigay and racist slurs was shot by police in Palm Springs, California. The unidentified man was transported to the hospital with non-life threatening injuries.

Officers originally were called to reports of a fight outside of a Bank of America, but learned that the deranged man had previously entered the nearby barbershop before patrons pushed him out and into the bank parking lot.
Anti-LGBTQ groups are funding the bigoted opponent of this trans legislator
One of the leading causes of death for young gay & bi men is police violence
DC police release photos of gang of men who attacked a trans woman in gas station lobby
Queer Middle School Teacher Rebuked for 'Gender Unicorn' Explainer
Republican official says the 'sin' of homosexuality kills gay men at age 42
Bus driver refuses to operate vehicle that 'promotes homosexuality.' Now he's not working at all.
Restaurant employees get $40k after nonstop antigay harassment by coworkers
---
Parents protest vulgar anti-LGBTQ priest appointed to teach pre-teens at Catholic school 
Rev. Erik Richtsteig is supposed to become a new youth pastor working with kids ages four to 15 in Salt Lake City's Catholic schools. But more than 150 parents have signed a petition opposing his appointment after discovering his anti-LGBTQ and misogynist social media posts.

According to New York Daily News:

"In a post on Facebook, the paper noted, the priest said that images shared by LGBTQ individuals in June (Pride month) looked 'like a gnome vomited.'

He also would not accept any friend requests from people who had a rainbow filter over their picture."

He has reportedly also followed Facebook pages with titles like, "Male feminists are p*ssies," "Right wing extremist" and "Obama has to go."
College kicks out trans student for having top surgery
Las Vegas Man Arrested for Plotting Bombing of LGBTQ+ Bar
Report: Sibling Killed in Dayton Shooting Was Trans Man Jordan Cofer
The 14th Black Trans Woman Has Been Murdered Just This Year
Anti-LGBTQ+ Violence in Latin America Reaches 'Alarming' Level
This 'Straight Pride' organiser blames her gay son for their bad relationship
---