Gay+
---
Welcome to Errattic! We encourage you to customize the type of information you see here by clicking the Preferences link on the top of this page.
Do transgender athletes have an unfair advantage?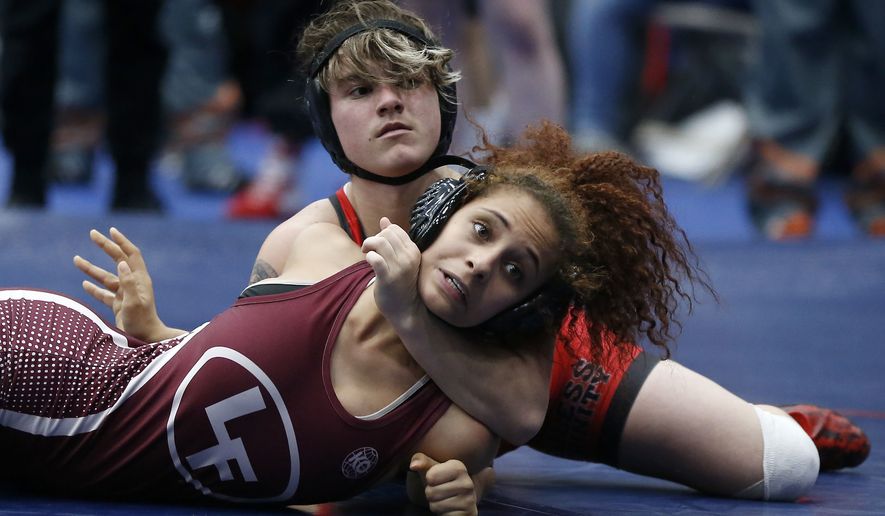 Does "science" show that transgender girls who compete as females in a sport have an unfair advantage?

That's the claim made earlier this month by a Tennessee state legislator who called for a law inflicting career-ruining sanctions on school officials who let trans-student-athletes compete in accord with their gender identities.

The proposal is neutral on its face: it would apply to both boys and girls. But the specter of trans girls (girls born as boys) gaining an unfair edge on "real" girls animates it and other proposals like it.
---
Minnesota Senate Leader: Sexual Assault, Bad Parenting Make People Gay 
Minnesota Senate Majority Leader Paul Gazelka defended conversion therapy and claimed that sexual assault can cause homosexuality, all in a wide-ranging interview with televangelist Andrew Wommack.

The senator, a Republican, recalled hearing the story of "a lady that was lesbian, and [a counselor] said before you judge her, let me just tell you her backstory. … He said she was chained to a toilet as a like 2-, 3-, 4-, 5-year-old girl and raped by her dad, for years and years. How do you think she's gonna feel? In other words, he's trying to get you to realize that there's a deeper backstory, and if you understand that, you can love them while you're … bringing truth and trying to help them."

He also contended that lack of closeness to a parent of the same sex can cause a person to be gay. In a conversation with a gay man, Gazelka said he asked if the man was raised by a mother and father or just by his mother; it turned out the man was brought up by his mother and grandmother. "We actually had a conversation that we could talk about the issues around the why and the what," the senator said.

"I think the best place to land is let the church have the total freedom to do as they please, and then for professional counselors, if an adolescent comes into their office, says I have unwanted same-sex attraction, I'm hoping that counselor can say 'How can I help you?'" Gazelka told Wommack.
Bali villas targeted by authorities for "catering" to the LGBTQ community
Republicans declare war on transgender people in state legislatures all over the US
---
Stephen King slammed for 'ignorant' tweet about not considering 'diversity' when voting for the Oscars 
Famed writer Stephen King has stirred up controversy after admitting he "would never consider diversity in matters of art," a remark made in reference to his status as a member of the Academy of Motion Picture Arts and Sciences (AMPAS) voting on Oscar contenders. His remarks come a day after the 2020 Oscar nominations were announced, prompting complaints that women and people of color were largely overlooked. Many critics bemoaned the exclusion of women like Greta Gerwig from the Best Director category, while Harriet's Cynthia Erivo spoke out about being the only person of color to be nominated across four acting categories.
We are bullying someone because they are putting the quality of work before race, sex or creed. Isn't that how equality works? You can't expect to be rewarded because you are diverse. Diversity in film is at an infancy and it takes experience and hard work to establish quality. Haven't we already doled out enough pittance awards? Just have fun proving them wrong.
14-Jan-2020
---
Delaware GOP Chair Resigns After Facebook Comment That 'Faggots Cannot Handle Reality' 
Chris Rowe, the chair of Delaware's New Castle County Republican Committee resigned on Friday after using an anti-gay slur on Facebook. "Faggots cannot handle reality," said Rowe in response to a follower's comment.

The AP reports: "New Castle County Republican Party Chairman Chris Rowe said he agreed to resign after GOP chairwoman Jane Brady called him Wednesday and asked him to step down from the appointed position. Rowe told The Associated Press that he made the decision 'begrudgingly and only under duress.'"
Alleged Christian domestic terrorist regularly posted anti-LGBTQ content online
Arizona Republican introduces bill to ban the word "homosexuality" from public schools
Arizona senator drops plans to ban the word "homosexuality" from schools
---
The Epidemic of Gay Loneliness 
For years I've noticed the divergence between my straight friends and my gay friends. While one half of my social circle has disappeared into relationships, kids and suburbs, the other has struggled through isolation and anxiety, hard drugs and risky sex.

None of this fits the narrative I have been told, the one I have told myself. Like me, Jeremy did not grow up bullied by his peers or rejected by his family. He can't remember ever being called a faggot. He was raised in a West Coast suburb by a lesbian mom. "She came out to me when I was 12," he says. "And told me two sentences later that she knew I was gay. I barely knew at that point."

This is a picture of me and my family when I was 9. My parents still claim that they had no idea I was gay. They're sweet.

Jeremy and I are 34. In our lifetime, the gay community has made more progress on legal and social acceptance than any other demographic group in history. As recently as my own adolescence, gay marriage was a distant aspiration, something newspapers still put in scare quotes. Now, it's been enshrined in law by the Supreme Court. Public support for gay marriage has climbed from 27 percent in 1996 to 61 percent in 2016. In pop culture, we've gone from "Cruising" to "Queer Eye" to "Moonlight." Gay characters these days are so commonplace they're even allowed to have flaws.
Gay Loneliness Is Real—but "Bitchy, Toxic" Culture Isn't the Full Story
---
Pete Davidson Berates University of Central Florida Audience: "You Should Fucking Grow Up"
Pete Davidson on Monday night berated an audience at the University of Central Florida after some people in the crowd took out their phones.

Davidson was captured on video lambasting the crowd for more than a minute, saying he would leave if they did not act accordingly.

"I don't have to be here," said the Saturday Night Live castmember at the tour stop. "I can just give them their money back because I don't give a fuck."

Saying UCF, in his opinion, is in the "middle of fucking nowhere," Davidson called the crowd "privileged little assholes," before making the situation even more uncomfortable.
---
straightness is dead. gen z killed it
Who would have thought that a contestant on Love Island would catalyse a worthy debate on queer discourse? It seemed nigh on impossible, and yet here we are dissecting the semantics of sexuality through that aggressively heterosexual lens: a much loved reality television show populated by perma-tanned muscly blokes and impossibly beautiful women.
---
"A LOT OF POWERFUL PEOPLE...COULD GO DOWN": THE JOURNALIST WHO PUBLISHED JEFFREY EPSTEIN'S BLACK BOOK AND JET PASSENGER LOGS COMES IN FROM THE FRINGE
With Jeffrey Epstein denied bail and prosecutors building their case in his sex trafficking indictment, one of the next shoes to drop—possibly many shoes—will invariably be: Who within Epstein's social orbit might be implicated in the scandal one way or another? As someone involved in litigation against Epstein told my colleague Gabriel Sherman earlier this week, "It's going to be staggering, the amount of names. It's going to be contagion numbers."

Ever since Epstein's arrest on July 6, there's been growing scrutiny of his vast network of rich and/or famous and/or powerful friends and acquaintances—or former friends and acquaintances, as it were. There's a road map to that network in Epstein's now-infamous black book, filled with many bold-faced names, phone numbers, and addresses, from Donald Trump, Bill Clinton, and Ehud Barak to Alec Baldwin, Ralph Fiennes, Mick Jagger, and even Courtney Love. "It is a mosaic of Epstein's social contacts," the investigative journalist Nick Bryant told me.

Bryant first got his hands on a copy of the black book in 2012, after the feds caught Epstein's former house manager trying to peddle it for $50,000. At the time, Bryant was shopping a feature on Epstein, without success. "My Epstein article would focus on the government malfeasance that enabled Epstein to skate on scores of child abuse charges," Bryant wrote in a pitch he submitted to various editors, "and I would also look into covert ties that the government may have had with Epstein. Moreover, the little black book opens up multiple vistas of investigation, and I would attempt to amass sufficient corroboration on some of the power broker perps who molested these girls."
---
LGBTQ Org Fires Director After He Defended Alleged Gay Bashers at Gala
An LGBTQ organization in Miami axed its executive director following controversial remarks at a recent fundraiser.

Tony Lima, formerly the head of SAVE, reportedly defended four men convicted of a hate crime June 14 at the group's Champions of Equality Gala at Hard Rock Stadium.

Onstage, Lima allegedly said the men — Luis Alonso, Juan Lopez, Adonis Diaz, and Pablo Romo (pictured above) — were "wrongfully accused" of attacking a gay couple, Rene Chalarca and Dmitry Logunov, as they held hands leaving Miami Beach Pride last year.

Police had charged the four with aggravated battery committed with prejudice, which is a hate-crime charge in Florida. The case is still active, and the state attorney's office announced last week that it was confident it could prove the charges.
---
Emboldened by the placement of two Conservative justices on the Supreme Court, state legislatures have begun racing to become the test case for overturning the landmark Roe v. Wade case. Alabama has passed perhaps the most extreme of these laws, effectively banning all abortions without exception. Georgia's law appears to cover miscarriages as well as abortions. Quite a few other states have passed or are working on legislation that appear to be on-their-face violations of the Roe v. Wade decision.

I've noticed that, on my social media stream, so many men are as silent as they were during the peak of #MeToo. It's understandable that men would want to step aside and let women do most of the talking, and we should. However, we shouldn't be completely silent.

So what should we say?
Recent abortion bans will impact poor people and people of color most
Why So Many Women Choose Abortion Over Adoption
---
FORMER PRIEST SAYS TO SAVE THE CHURCH IT MUST 'ABOLISH THE PRIESTHOOD'
James Carroll, a former priest, has written a powerful piece in a well-known magazine where he prescribes solutions to get the Roman Catholic church free of its failings-he to want to do away with church priests. In his article appropriately named Abolish the Priesthood, the American identifies the concentration of power in a celibate and an all-male clergy as one of the significant sources of the problem.

---
These LGBTQ Activists Don't Want Queer and Trans People Serving in the Military
Earlier this year, The New York Times published a story headlined "Transgender Troops Caught Between a Welcoming Military and a Hostile Government." The piece highlights the discrepancy between the way that three trans service members were welcomed into their squadrons and platoons and the hostility they've faced from the Trump Administration. Rather than focusing on the work that the main subject, Senior Airman Sterling Crutcher, does as part of a B-52 bomber squadron, the piece describes the community that he found in the military: "He relaxes on weekends by playing video games and has Airsoft gun battles with the other troops from his unit."

That piece is just one in a wave of media coverage over the last two years focused on what has come to be known as the "trans military ban." In July 2017, Donald Trump haphazardly announced his plans to ban transgender people from serving in the military. After federal judges across the country struck down his administration's attempts to implement the policy over the following year and a half, the ban eventually went into effect, with help from the Supreme Court, in April 2019. Since Trump's announcement, the trans military ban has remained the most prominent LGBTQ issue in the country, occupying significant space in liberal and conservative media coverage—the latter supporting the ban and the former opposing it.
---
Are YOUR children at risk? Child abuse charity reveals the five simple questions EVERY parent needs to ask before signing up youngsters to after-school activities 
A national charity is urging parents to ask five simple questions to make sure their children are safe when they attend out-of-school clubs.

Thousands of parents across the country use after-school and holiday clubs to help with childcare, but many do not realise these groups can be unregulated.

Now, Derby-based charity NWG Network, which supports survivors of child sex abuse, has started a campaign to get parents and clubs talking openly about safeguarding.
Prosecutor: Exam of 'Ravenously Hungry' Children Reveals Disturbing Child Abuse Case
Defrocked Jersey priest who molested boys now teaches kids English in Dominican Republic
West Virginia man convicted in baby's death, sex abuse
Man Sentenced to Life After Continuous Sexual Abuse of Child
Machelle Hobson: YouTube Star, 48, Arrested & Accused Of Abusing Her Adoptive Children
Daughter of 90 Day Fiancé Star Angela Deem Sentenced to 20 Years for Child Molestation
Michigan woman who 'turned a blind eye to her husband raping two teenage female relatives' he was supposed to be caring for accepts plea deal meaning she'll only get a maximum of ONE YEAR in jail
---
Dean Norris slams 'rich fuck wads' who 'cheated for their already privileged kids' 
"When I think of all the kids who studied hard, stayed up late, had part-time jobs to pay for their college application fees, and then were denied rightly deserved places in elite colleges because some rich f—wads cheated for their already privileged kids— I'm disgusted," Norris tweeted Tuesday.
---
'Furious' woman shocked to discover her husband starring in a gay porn video while wearing his wedding ring
A HORRIFIED woman has recalled the moment she found out her husband has been starring in gay pornography WHILE they were in a committed relationship.
---