Movies
---
Rating key:
Welcome to Errattic! We encourage you to customize the type of information you see here by clicking the Preferences link on the top of this page.
Bullit (1968)
Steve McQueen was a blue-eyed splendor with a big cock and a knack for fashion that magnetized stories. Steve is the cop handpicked to protect a witness that will bring down a gangster opponent of the state. The car chase was a masterclass of stunts, choreography and edits. The foot chase was close-up, physically accurate and breathtaking. The lack of music added organic tension to the action. Bissett was breathtaking and accomplished. Its quietude added nervous reality. A man can only change its fate if everyone is safe. A film to be studied and outdone.
08-Dec-2023
---
Divorce (1945)
Sometimes women gained power through marriage and success after divorce. The film contemplates how a woman can abuse her independence. The divorcee in question decides to travel to her hometown to buy the man that got away. The man that got away is married with children and ignorantly content. Divorcee befriends married lady, latches on to her husband and touts him to rule the world. The man's wife registers as a doormat who accepts all of the husband's excuses and waits. The children are sad. The film is slight, signaling the constant worry a woman suffers to obtain and hold on to family or a man that other women are bidding for.
07-Dec-2023
---
May December (2023)
Lack of clarity and character purpose slows a movie about a female child molester. The boy was thirteen, she got caught, went to jail, became pregnant and married the victim. Natalie Portman is the actress that arrives 20 years later to witness the aftermath and understand the feelings involved in a messy woman's choices so she can better portray her in an upcoming film. The couple believes it might bring redemption but it's not clear what Portman's true intentions are. Julianne Moore settles on a safe space where the husband, children and neighborhood are trapped within the woman's bubble of fantasy and control. She never thought she did anything wrong except cheat on her husband. Boy grows up and remembers feelings that were not kosher, his dependence on his wife gives him no place to run to and he needs to blast it to any one that can help him understand. Charles Melton's abused boy is a frozen fuckboy in a bubble of his own that conveyed not much more than the script. The beautiful score is unsettling and builds to nothing. A Lifetime movie wish they had that kind of music and would probably put it to better use. Melton pauses and clamps trying to act through something that's keeping him away. Moore has a few moments, Portman gave us brilliant seconds but the styles never coalesced. The script mumbles and only hints at evoking feeling. When a woman is a victim of abuse, her story is always front and center. If the man is the abuser he has to register as a sex offender, not live by schools or children, be destroyed for life and never be the lead in his own story. Why didn't this victim get the same respect?
03-Dec-2023
---
Hole In The Ground, The (2019)
Single mother starts a new life with her son in the boondocks. Woods are spooky with a giant hole in the ground. Baby boy disappears into the woods and returns different. A neighbor's history tells of a mother falling apart at losing her son to the woods, going to prison, killing her son and being constantly haunted. She becomes deranged, unacceptable but tolerated. No one believes her truth because all nutty people are considered liars. But the nutty people are always right. We don't want to look at that shit so we ignore it, the way we don't Santa and Barbie. Mama believes the lady's mythology until she too faces that dilemma. The child is a spooky chill, the mother's face speaks volumes and the director allows us space to breathe. Cliches disrupt the flow. Dreams no longer surprise. The end was a meh and a what. Craft without sense.
29-Nov-2023
---
Not A Stranger (1955)
Stallone was The Robert Mitchum of his era but no one could beat Mitchum in his own. He had a back like Hulk, Rocky eyes and Superman's countenance. Mitchum wanted to become a doctor but couldn't afford it. His father was a drunk that drank his wife's suffering money and wasted their son's future. His medical student enrollment will be terminated if he doesn't pay his fee. Olivia de Havilland is the good nurse captivated by Dr. Hulk and exhibiting fangirl craze and saved up money. He is the distant thing that doesn't find her distracting but she's someone to talk to. He'd rather become a doctor. Olivia is an independent foreigner that mistakes his intentions of marriage as fairytale truth. He just wants to be a doctor. That's why he got drunk on his wedding night. Big man gains a god complex once his superiority is solidified and success follows. He believes that the medical profession needs to follow code, even though he breaks them at home. Olivia wants to start a family but the giant wants to fuck things he likes. Actor watt was at 100%. Olivia wrecked her accent and our hearts. Frank Sinatra was a hardy friend that tried to tame the hulk's rage. Anytime a surgical procedure went wrong bigback clobbered the shit out of the culprit, even if they were his boss. Doctor withstands life with a wife he's not absorbing and becomes a maniac doctor. Sympathy, miracles and delusions. How do you cure a god complex? Have him fail. Gloria Grahame was a Poison Ivy sketch ready to buckle a giant. Her lip liner was everything. Passionate mischief enacted with horses. Cute.
27-Nov-2023
---
Blue Beetle (2023)
The pace had no time to set-up character appreciation, it had a billion particles to settle. The family dynamic was food, drink, celebration and insanity. George Lopez added comedy schtick to his act. He looked like a character booted from Bedrock because he was too loud and ornery. The breast queen should be playing Lady MacBeth not becoming a free TV actor. I can see her washing blood from her hands and implementing Elvira's cleavage cut. The rest of the family and the leads apply stereotypes without explaining them. There is no such thing as a stereotype because it's only a description of our heritage. Universal speak. Nobody passed the classic TV Q test and the silliness hardly stopped. The best of the mythology turned into a fiesta. The family went everywhere together. Really? When did they masturbate? Why did the family get superpowers? Beetle's nemesis was a bigger and badder version of himself. Couldn't we have gotten something a little different? If the production wanted to fill the female quota, why didn't they concoct some awesome female villains? He has lots and no villain is scarier than a latin woman scorned. She'll slash your tires.
27-Nov-2023
---
Nun II, The (2023)
If beliefs cause faith why can't we believe there are no demons? We have to fight them first so we know we're good. Taissa gave great face and Storm Reid was her partner, lapping it all up. They had an interracial team-up that felt genuine. Jonas Bloquet was eliciting Hammer tremors. The nun was still glorious, showing up scantily but creepy and ready to blow. Her backstory held. It's fun watching scared little mean girls.
17-Nov-2023
---
Killer, The (2023)
"Trust no one." If that thought had been applied to the killer's private life, the film would've been a masterpiece. The panic attacks start as soon as the movie is over.
16-Nov-2023
---
Scream VI (2023)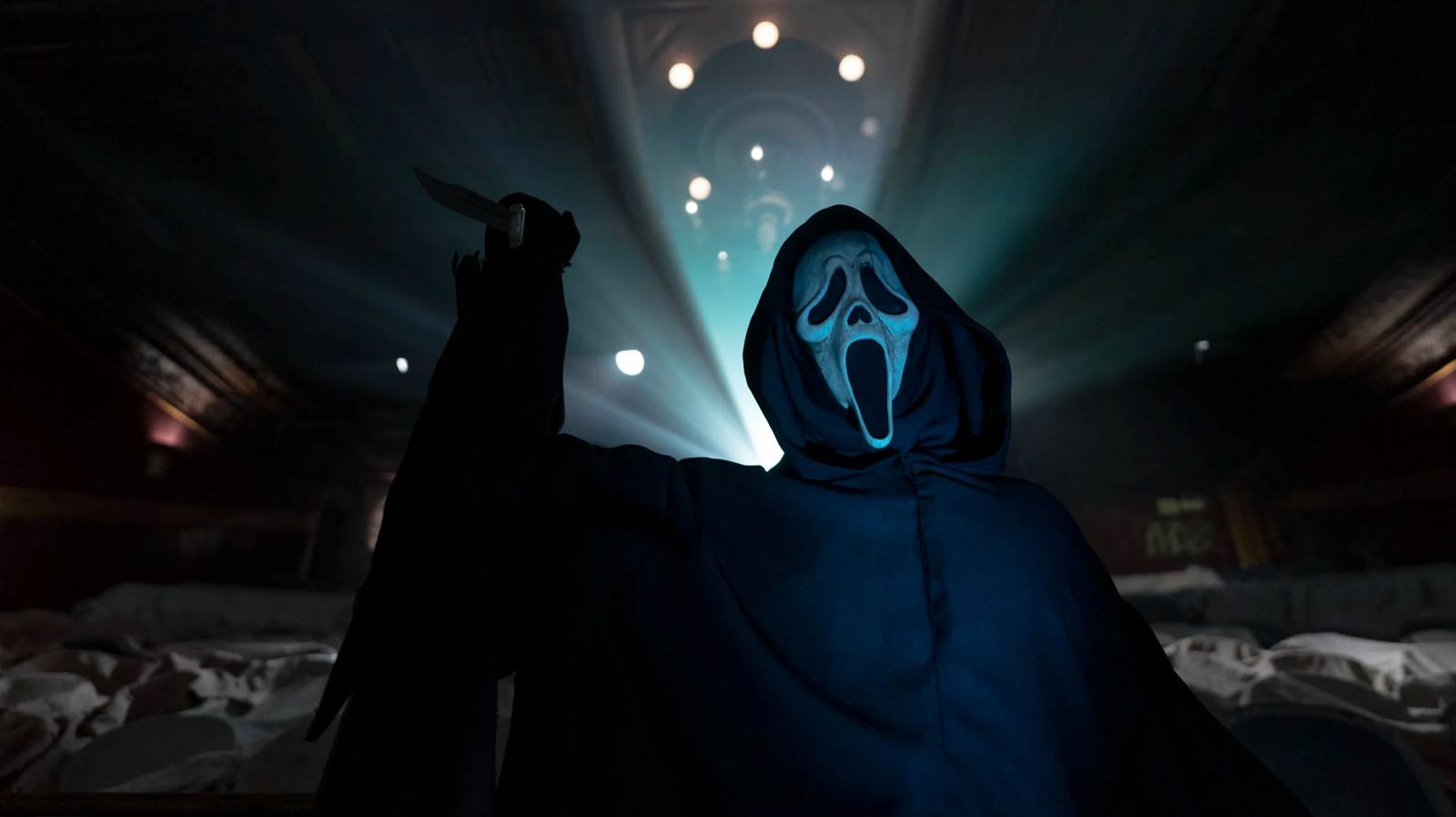 Exactly what I didn't expect, in a place I wouldn't think of.
16-Nov-2023
---
Scream (2022)
I was surprised by the comedy horror tag. I saw nothing funny except for all the situations that put Ortega in harm's way. She was one of the bright things.The ghost costume needs an upgrade. The voice actor for Ghostface sounded like a harmless prototype. It's nice to remember the past but it didn't adhere to logic. The newbies were social media born and nothing more. I applaud Neve for bringing her original face and showing us she can act. She looked great. Cruel deaths are only delegated to males. The director did well with horror but the wink, wink trivia isn't cool anymore. That joke only works once then it becomes annoying.
13-Nov-2023
---
Spider-Man: Across The Spider-Verse (2023)
I've never met a Puerto Rican that talks like Miles. Even though he's half the race he would never retain his father's accent because no Puerto Rican mother would allow it. He lives like a Puerto Rican. By the way, we are more than platanos and empanadas. We also love pork, rice, fried everything, chicken, fish, beef, chinese food, lasagne, pizza, anything and beans. If the father is black and the mother is Puerto Rican where did the Morales name come from? Bad Bunny, Ricky Martin and Izzy from Love is Blind S5 are great examples of Puerto Rican speak. At least when white people did it they tried to sound like us. Peter Parker sounded like a dork flake. The first half abused a soundtrack that distorted musicology. It played like a 45 on repeat. Keeping up with the psychological speed was phenomenal, the art was crisp and when the musical score interrupted the playlist, it didn't suck. If your child itches, this is a classic, the others might become anxious.
02-Nov-2023
---
Whale, The (2022)
As soon as Brendan's eyes opened wide and lit like a bulb, I knew the character's representation was safe. Withering is an earth occurrence and examining it won't kill us any faster. When you wither you have no other option but to reflect on your life and try to make amends to people that deserved your love. One of Aronofsky's best abilities is creating horror with mood, drama and raw emotion. As dark as his art is, he doesn't want to jumpscare, he wants to haunt. The main's routines, fears, lies, talents and regret are highlighted in shadows, realism and good writing. Fraser owns the fatsuit because when he was young I thought he was a beauty that gleamed so sadly. It's not the shape of a man but the soul. The cast support like a perfect theater troupe. Aronofsky is beyond facades.
20-Oct-2023
---
Boogeyman, The (2023)
The film shook our paranoia but failed to capture the man in Boogey. It was another Steven King spider.
11-Oct-2023
---
No One Will Save You (2023)
It would make a better short film. Edit right before the lead repeats what she just did in a different location. The shots were joyously inventive and respectable. It was great apprentice work, but when it lands on fantasy, it makes no sense.
06-Oct-2023
---
Flash, The (2023)
It failed because the lead was an inhumane dick that played it cute. Michael Keaton's Batman was a CGI hillbilly that bored us to death. We can't accept a punk rock Supergirl until we tire of blondes. Fortune will come as soon as the audience forgets who these fuckers were.
29-Sep-2023
---