Movies
---
Rating key:
Welcome to Errattic! We encourage you to customize the type of information you see here by clicking the Preferences link on the top of this page.
How To Be A Latin Lover (2017)
From hunk to chunk. Cliche comedy ease with a different culture. Derbez acquits comedy bravery, Hayek paints with passionate strokes, Taylor and Lavin jolt old ladies upright, Bell resuscitates with sunshine hypocrisy, Lowe institutes and Welch exalts. It's corny and safe, celebrating the importance of family while making us laugh.
11-Nov-2019
---
Forbidden Planet (1956)
Space travel, pretty alphas, a lush otherworldly landscape and a progressive robot. A modern Eve (Anne Francis) coming into full sexual bloom to a cavalry of starved men is an intriguing aside. She meanders flirtatiously amongst them until the bull (Leslie Nielsen) that stokes her ire compels a passionate kiss. The effects contain enough creative thought and subtlety to survive its time, the direction goes beyond the page and the words resound with clarity.
(I'd gladly trade an Alexa for a Robby)
10-Nov-2019
---
Spider-Man: Far From Home (2019)
It brings enough childhood comic book thrills to life to score. Jake is best when he's romancing and fighting Peter Parker. The Spidey suit fashion show vibrated, Holland owns it and Zendaya purrs it.
09-Nov-2019
---
Last Time I Saw Paris, The (1954)
War, Victory, Love and Life. Taylor struts gorgeously, as does Johnson's Herculean mane. Reed drops sweet for acid, Eva asserts manhunter and Moore is fine cuisine. The dialogue snaps, sexual freedom is commonplace and money kills God's Plan. The story lingers then quickens but star lush endures.
09-Nov-2019
---
You Better Watch Out/Christmas Evil (1980)
Insanity celebrates Christmas. The film attempts to psychoanalyze our hero but the construction is not mentally capable.
07-Nov-2019
---
Eden (2012)
Human trafficking. The film reads like a book cover. The director omits all the details and experiences that would have elevated the message. The monstrosity was so minimal that I had no idea what the protagonist was actually suffering. The fear of exploitation mars audience reaction and participation.
06-Nov-2019
---
Rare Exports: A Christmas Tale (2010)
It delineates the first Santa, full of godlike vengeance and destruction. The film parodies like a summer blockbuster with striking imagery and a cheerleading score. It chugs along, never delivering the titular monster and rabidly tugging at our hearts.
05-Nov-2019
---
Pet Semetary (2019)
To re-establish a franchise, new ideas must sprout to keep it fresh whilst the outline maintains its mythology. It had ideas but they pushed forward for a sequel not sense. I read a book about an achingly heartbroken mother who suffered a breakdown over a loss. The dad exemplified the role of a devoted and loving husband who would do anything to keep his family intact no matter the consequences. The remake presents the hands-off and detached parents of today that diminishes the heart and the horror. The movie is so invested in not being the other one that it fails.
03-Nov-2019
---
Picture of Dorian Gray, The (1941)
George Sanders spends the first act posing as if the film centered around him and philosophizing harshly on life matters. Angela Lansbury's Sibyl Vane is miscast and depleted of sensuality. Hurd Hatfield is agamous and ambiguous with no hunt for the debaucheries the writers keep mentioning he's into. The portrait and the narration had the only life the film required.
03-Nov-2019
---
Gambit (1966)
It's a film out of time in a space that a generation didn't complain about. The first is man's ego and his perception of the ideal woman (she doesn't speak.) The second evokes the woman as she really is (she doesn't stop talking.) The last is a caper that ties the loose bits with a feminine swing in snappy grand style. Shirley is slinky cat to Caine's dastardly bat.
02-Nov-2019
---
Phantoms (1998)
A concoction of horror and sci-fi that dance when married.
01-Nov-2019
---
Beyond, The (1981)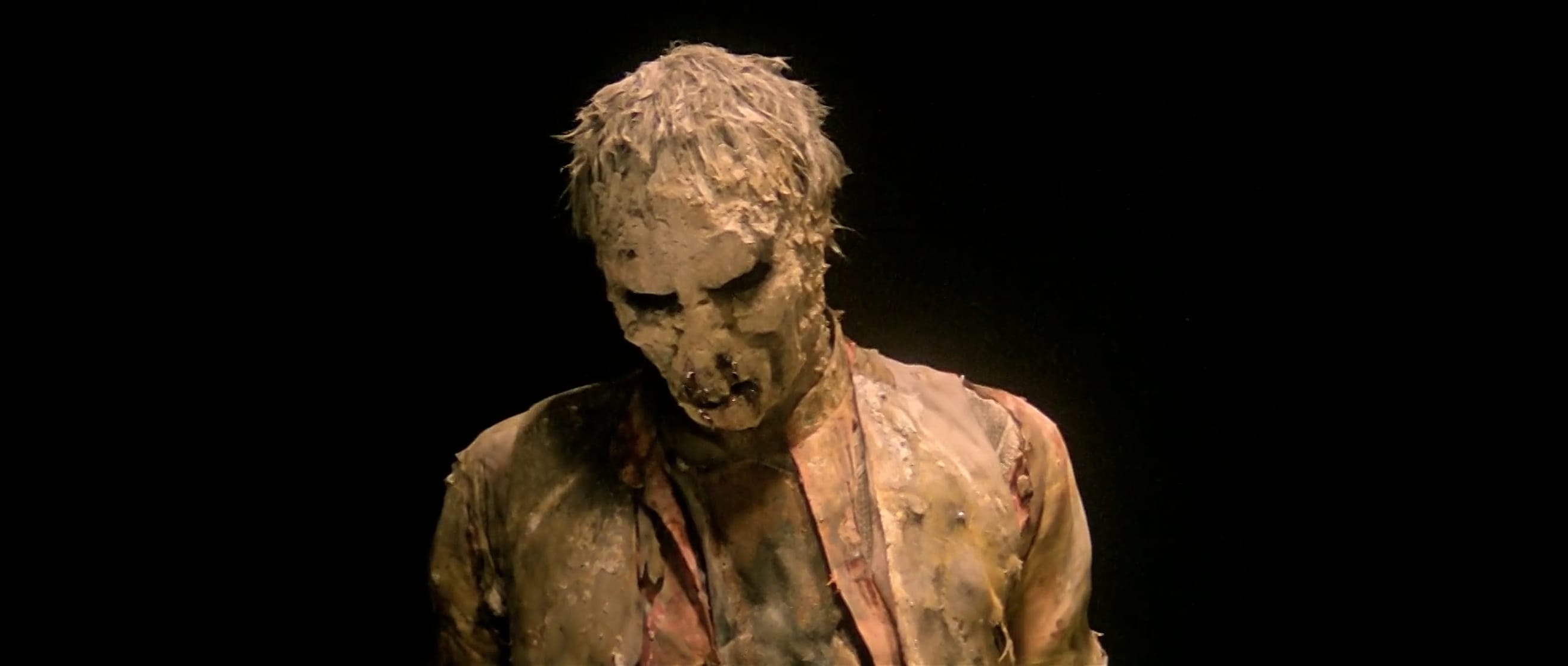 Movie madness. It has you traverse through the bloody gates of hell as it promises.
30-Oct-2019
---
Black KKKlansman (2018)
In order to be entertained by a Spike Lee movie, you must see it to the end.
The beginning stacks so much hate that it begins to feel uncomfortable especially when our current sensibilities are asserted. I felt like the movie was about switching roles which is not equality but subjugation.
John David Washington kept his Stallworth steady when he needed to grow into him. Mr. Stallworth would have been one of a kind and he would appear grateful and not establish his big dick presence (it's an attitude) so early.
Adam Driver seems alive again. He gave his quiet hero a timber.
The details I will remember are the dumbfuck ones. Somebody needed to check out Driver's dick, a cop shouldn't ever use his real name in an investigation and the black KKKlansman was basically a phone operative.
Every ending was a celebration to cheer, laugh and finally understand Lee's idea.
27-Oct-2019
---
Happy Death Day 2U (2019)
It veers and continues, adds Big Bang to theorize whilst amping prior situations to add a new mystery. They rip a few pages from Halloween 2 and all the audacity from Back to the Future Part II.
27-Oct-2019
---
Funhouse, The (1981)
The premise is sold as soon as Hooper snaps everything into place. (What a missed opportunity not giving him a Bat to direct.)
27-Oct-2019
---