Movies
---
Rating key:
Welcome to Errattic! We encourage you to customize the type of information you see here by clicking the Preferences link on the top of this page.
Hocus Pocus 2 (2022)
The witches are back to eat a delicacy known as colored children. No one works harder than Bette and nobody outflanks her. It's her boat. The treat is hard Halloween candy that sometimes melts in your mouth. The trick is to watch without prejudice.
01-Oct-2022
---
Blonde (2022)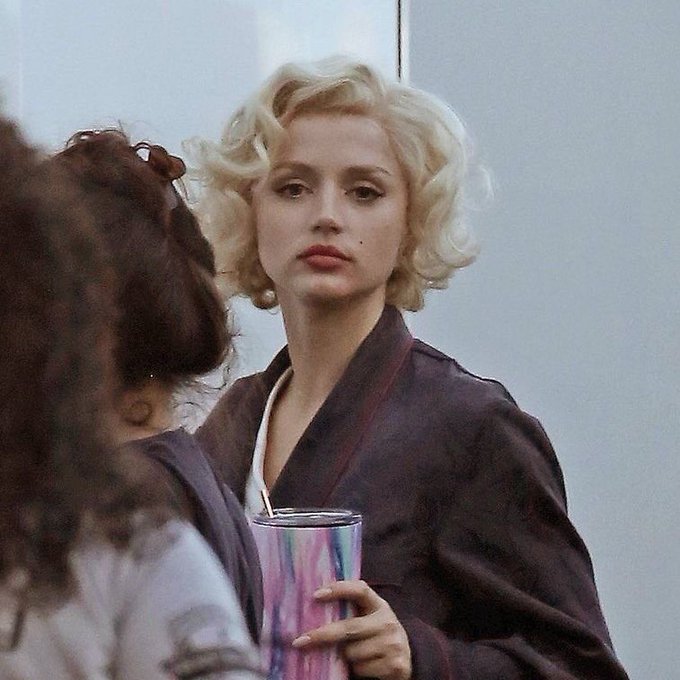 Another depressed mother dooms a fabulous child into living a miserable life. De Armas is studied and emotionally frazzled but at times, she distracted me by resembling Lady Gaga. Details and relationships are scat as it relies heavily on an icon who shrinks into childhood oblivion whenever something goes wrong in her life. The film allows the woman little joy and constant paranoia.
28-Sep-2022
---
Morbius (2022)
It's faithful to the psychology of its origins, someone brilliantly decided the actors should play characters instead of costumed heroes and its presentation feels like a team Burton aside. I would trade two investigators for a Krave The Hunter, a Blade or Felicia Hardy/Black Cat to up the flavor and sensuality. An MCU R-rated Batman opportunity best not lost.
13-Sep-2022
---
Thor: Love and Thunder (2022)
Natalie Portman's linebacker is not the gayest thing about the movie, a bodyless rock pining for another rock is. Are you kidding me? I want to see Thor's beautiful ass fucked by Zeus.
12-Sep-2022
---
Girlfriend Who Didn't Exist, The (2022)
Grandiose liars are given the opportunity to elaborate. Famous cis boys that call social contacts girlfriends, without intimacy, are unwell. Fake girl can do a pitch perfect girl's voice (behind a screen and a receiver up his asshole) except when he's becoming a real girl. Famous boy is living for everyone but himself. The doc doesn't clarify much.
23-Aug-2022
---
Fullmetal Alchemist The Revenge of Scar (2022)
I was enthralled with the animated version because the mythology was expansive, well explained and the leads were cute and courageous. An alchemy accident causes two brothers to drastically change and adapt to auto survival skills through a shady world. The Big Bads were vibrant, the fights creative. The live version lets us remember and appreciate the spectacle without superceding it.
21-Aug-2022
---
Lost City, The (2022
Everything stale is reyclable. The desperation to depict a bygone era is unflattering but the actors revive tired stereotypes with charisma and star watt. Sandra Bullock is reserved and ditzy, Channing is too old to model but the right age to fuck and Daniel Radcliffe sucks.
14-Aug-2022
---
Prey (2022)
When Predator removes his cloak and mask, its cool. He is a Jamaican space bear with gadgets. A historical portrait of Native American life and how futurism disrupts it. It was clever establishing the unthinkable. Director kept it sturdy and crawling. The heroine was crafted with moxy, determination and brawn. It can proudly stand aside the first.
08-Aug-2022
---
Doctor Strange In The Multiverse... (2022)
Making the audience cum doesn't make it good. As soon as the last drip is swallowed, it's forgotten. "I fucked whom?"
23-Jul-2022
---
Mucho, Mucho Amor (2020)
When we were growing up he was a fixture and an idea that sexually ambiguous people exist but to our family they were just closeted gays. Walter Mercado was a creation of a person that wanted to reflect passion, joy and pain. Audiences were passionate about his joy but never questioned his pain. In the end, we get to see why. "He was the last virgin in Puerto Rico."
24-Jun-2022
---
No Time To Die (2021)
The action sequences were fantastic, daddy Bond exhibited sausage and skills. Having muscles didn't hurt. I couldn't decide if the villain was ridiculous because of the actor or the writing. Sap killed the end. Bond doesn't need to announce what he's going to do. It kills the surprise.
24-Jun-2022
---
Fire Island (2022)
It depicts our shortcomings in a sanitized environment. There is no outside telling us we suck so we are in a safe space. It paced itself naturally as not to impose. The cast was pleasantly supportive. The writing pondered some truth but resolved most of it with prom com magic. My Fire Island experience was rated XXX for rampant sex, sissy violence and "fuck you" friends. Family Shmamily.
05-Jun-2022
---
Ghostbusters: Afterlife (2021)
The mood is retro energized to soothe us into an 80's coma. There are three sexes applied to Bizarro Chalamet and I can't get over it. Daddy Rudd endured the right cosmetic procedure because he's yummy gay again except he was stupid, useless and shoed. The wall between the generations discouraged charisma amongst the replacements. There was a don't touch me vibe with babies helming a gimmick that keeps the franchise alive but old movie stars resentful. Why do possessed lizards change their outfits willy nilly but man has to suffer in shreds? The first half works because we presume the artist will add a great spin to propel the magic and replace original mistakes. He makes it more of the same. Reitman copies the spins with advanced tech but he doesn't sign off on it.
20-May-2022
---
House of Gucci (2021)
The film epitomizes what Hollywood has become. Every hand must be held and head patted, no matter their importance. New and shit are not synonymous with good. Someone put something in their drinks because they were wheezing in and out of accents and it was 100% contagious. It was a Gucci movie made by Soviets. None of the Italian performers generated a complaint that their families didn't sound like that? Gaga clutches her star watt with brilliance, outrageousness and hysterics. Ridley Scott found his niche, upgrading a Wayans production to mastery.
13-May-2022
---
Spider-Man No Way Home (2021)
The film needed a script doctor. The younglings have endured enough ugly world to be acting like babies. They turned Dr. Strange into a goofball with quips. They took away Spider-man's scathing witticisms and replaced them with awkward and cute. Electro is only as good as his paycheck and its effect. Sandman shook. Dock Ock was a fond memory. The boys came back, all grown up, giving us the feels. I wish Aunt May had not given a shit. She had no backbone. The younglings were greater than their material. They needed a drip of Willem Dafoe to stay great because they looked exhausted. Tech was brilliant comic book magic served on a flying carpet.
02-May-2022
---