Movies Posts Tagged as 'Writ w/Possibilities'
---
Rating key:
Welcome to Errattic! We encourage you to customize the type of information you see here by clicking the Preferences link on the top of this page.
Hole In The Ground, The (2019)
Single mother starts a new life with her son in the boondocks. Woods are spooky with a giant hole in the ground. Baby boy disappears into the woods and returns different. A neighbor's history tells of a mother falling apart at losing her son to the woods, going to prison, killing her son and being constantly haunted. She becomes deranged, unacceptable but tolerated. No one believes her truth because all nutty people are considered liars. But the nutty people are always right. We don't want to look at that shit so we ignore it, the way we don't Santa and Barbie. Mama believes the lady's mythology until she too faces that dilemma. The child is a spooky chill, the mother's face speaks volumes and the director allows us space to breathe. Cliches disrupt the flow. Dreams no longer surprise. The end was a meh and a what. Joy without sense.
29-Nov-2023
---
Nun II, The (2023)
If beliefs cause faith why can't we believe there are no demons? We have to fight them first so we know we're good. Taissa gave great face and Storm Reid was her partner, lapping it all up. They had an interracial team-up that felt genuine. Jonas Bloquet was eliciting Hammer tremors. The nun was still glorious, showing up scantily but creepy and ready to blow. Her backstory held. It's fun watching scared little mean girls.
17-Nov-2023
---
Killer, The (2023)
"Trust no one." If that thought had been applied to the killer's private life, the film would've been a masterpiece. The panic attacks start as soon as the movie is over.
16-Nov-2023
---
Scream VI (2023)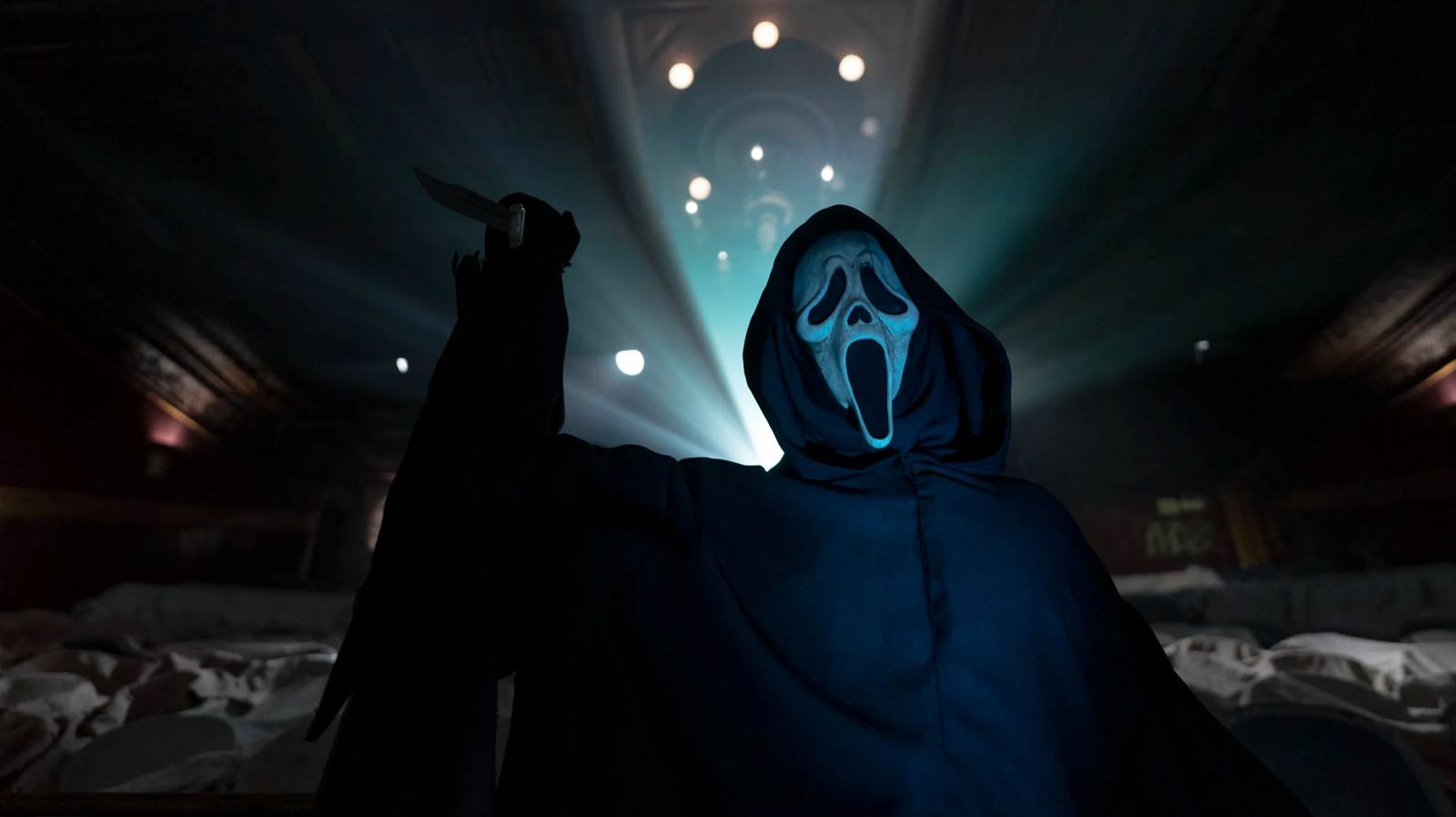 Exactly what I didn't expect, in a place I wouldn't think of.
16-Nov-2023
---
No One Will Save You (2023)
It would make a better short film. Edit right before the lead repeats what she just did in a different location. The shots were joyously inventive and respectable. It was great apprentice work, but when it lands on fantasy, it makes no sense.
06-Oct-2023
---
Flash, The (2023)
It failed because the lead was an inhumane dick that played it cute. Michael Keaton's Batman was a CGI hillbilly that bored us to death. We can't accept a punk rock Supergirl until we tire of blondes. Fortune will come as soon as the audience forgets who these fuckers were.
29-Sep-2023
---
Snyder's Justice League (2021)
A masterpiece in shambles, in need of a master foe.
17-Sep-2023
---
F4: Rise Of The Silver Surfer (2007)
I'm not sure but I think they neutered the Silver Surfer. I remember having seen the film during it's time and I noticed one. I don't forget crotches. The whole feels cheaper. Johnny lost his appeal and became vapid. Sue Storm continued to be listless and unheroic with a crappy blonde wig. Kerry Washington's blind brick lover was under-appreciated. The Thing was sort of plastic. Mr. Fantastic's powers were mostly comic relief and unbelievable. When Torch gains extra powers, it's fun but when "you know who" returns as Dr. Doom all is gloom. Galactus was a no-show because nobody knew how to incorporate a bigger thing than god into the real world. Really? A Galactus that was bigger than Thanos sitting on a throne commanding his slave, Silver Surfer, to destroy so he could feed, is brilliant.
17-Jul-2023
---
Fright (1971)
It predated classics that trumped it. It was a template for the future. It was also a piece of junk. It was a film full of ideas that had to bombastically announce them. Michael Myers lived in a multi-verse where Laurie Strode "is" his sister. He kidnaps her, a baby, rapes her in front of the child and recoils until he's horny again. Did she give birth to Michael Myers, Jr. from multi-verse Halloweens? There was a glimmer of Joker's "dance with the devil" choreography. It made babysitting a shitty job. The privileged are forced to hire child haters. The child was adorable even when being manhandled by all sorts of creepy adults. The house is where you want to film it, Susan George didn't need to act and everybody needed to tone it down.
04-Jul-2023
---
Run Rabbit Run (2023)
I was in as soon as I witnessed Shiv being sarcastic to a saucy child. I was out when the mystery couldn't sustain itself and it lavished us with endless finales. It wouldn't end. After the first finale, the predictions come quick, the heart slows and wtf? It's a long way around to prove mother is an asshole.
02-Jul-2023
---
There's Something Wrong With The Children (2023)
Mixed raced couples spend a weekend away with each other and their latino kids. Things go awry when they hit a cave on their hike with a luminous hole that only attracts the attention of children, even though it later states that adults can go in it too. The only thing that changes after the incident is that the kids stop being snarky and in charge. They turn robotic, obedient and deadly, sort of. The friends start accusing each of things real and induced by vagina magic. The men react off-key and don't have much of a bond. The women have a hypocritical relationship. Telling the truth only applies if they're drunk, tested or just can't stand each other. The mother blaming her friend for the death of her child rang. The children don't scare and revenge is unfulfilled. I thought putting a little sombrero and poncho on the siblings would not have necessarily scared us but it would've created iconic characters, like Freddy. The scariest things arise from stereotypes, not hate.
23-Jun-2023
---
Gantz:0 (2016)
Some of the realism popped. An Alexa prototype is god to mankind and can gift life and restore earth's biggest dilemma. There are monsters running amok, conquering earth and no human to contain them. The monsters amaze like boss battles but the characters are srtipped of personality. Why are there monsters running loose? How does Alexa resurrect us? Are the monsters left or right? Can a man fuck a girl back to life by winning the game? (Love the hair effect.)
22-Jun-2023
---
Fantastic Four (2005)
If you left kernels at the bottom of the popcorn bucket, expecting the movie to pop them, it does not. The origin story is deprived of force because of its oversimplification. Only three members achieved not looking foolish in their embodiments. Chris Evans steals everything with his bad boy swag, partial nudity and up to your imagination charm. Michael Chiklis was turned to brick, his eyes the main conveyor and I felt him. Kerry Washington was brave to enact being blind and fucking a brick dick. Ion Gruffud was chosen from a dork photo line-up. Jessica Alba decided to go bronze skin with blonde hair which is irrelevant to who she's portraying. I always envisioned Sue Storm as a mature-minded leader. Every breath Alba shared, purred, "I'm sexy, are you going to marry me or what?" According to the film, Sue Storm has no reason to powerfully exist except to stop traffic, plea for love, get undressed and be invisible. She's no Barbara Bain. Julian Macmahon's Dr. Doom made my popcorn explode with a whimper. He acted like he was in a live comic book written by those Power Rangers people. He cheapened the film. The film is more excited about what effects can do than establishing a purpose for a character's existence. Action is in a rush to move on and be forgotten. Its enjoyable but "let's put it in the kids' dvd section, for now.
16-Jun-2023
---
Ouija: Origin Of Evil (2016)
The family dynamic is strong. Mother is at a loss because husband died and left her with two daughters to raise and lead. Money is tight so she resorts to scamming people psychically as an excuse to raise morality. Eldest daughter's teenage dream keeps getting interrupted. Baby sister misses daddy a lot. Her mother parents her daughters into thinking every tragedy has a fairytale ending, preparing them for nothing. Creepy little one decides to use an ouija board to manifest her dad. Things don't go as planned. Teenage romance is doomed, mother starts believing in anything because she can't deal and baby girl is a spoiled little bitch. Yay. I think it's her hair. I love it. The evil's existence mutes an almost classic horror film by not making sense.
05-Jun-2023
---
Lights Out (2016)
Tricks were forceful, the atmosphere foretold and ideas were bouncing. The cast was fulfilling, the monster was unforgiving and a stepdaddy explanation as to why he didn't do more was needed to clarify a few months worth of questions. Wouldn't he have encountered the monster before? Why did the monster strike, now? Yes, I ruined it for myself thinking about stupid shit but the scares were still thrilling.
04-Jun-2023
---