Movies Posts Tagged as 'Words Spoke'
---
Rating key:
Welcome to Errattic! We encourage you to customize the type of information you see here by clicking the Preferences link on the top of this page.
Death Of Me (2020)
A depiction of travel peril and the miscalculation of island culture and folklore. Liam is a ketchup bottle that Maggie Q knows how to squeeze. Their bond keeps the film alive until the mumbo jumbo takes over.
25-Jan-2021
---
Mr. Mom (1983)
Mother/housewife interjects freedom when her husband surprisingly loses his job. Whomever gets a job first will be the breadwinner. He's the mommy and she's the daddy. He doesn't whiz parenting but neither did she. The children don't matter much. "Keep them alive and survive another day" is the motto of the day. Michael Keaton and Terri Garr have star watt which zaps most of the blues away. Their wattage is enough to sell it.
22-Jan-2021
---
Soul (2020)
A family film split in half. The adults receive culturally defined animation and the kiddies get dots reimagining the meaning of life. It's bold to reinforce a belief on someone, it's even bolder to downplay it so I can believe it.
21-Jan-2021
---
King Of Staten Island, The (2020)
Can you be the King of Staten Island if you hate it? Davidson has the balls and the bite but the creators cowered. They didn't want Staten Island to hate them so they fluffed up the drama.
21-Jan-2021
---
Secret Society Of Second-Born Royals (2020)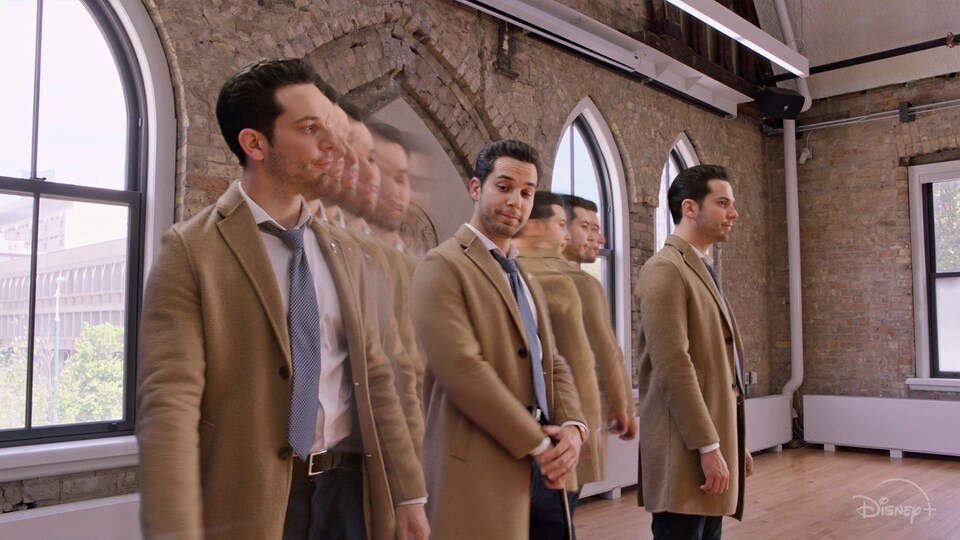 Teens born of royalty and irrelevance (they don't qualify for a crown) are redeemed with superpowers and covert missions to serve their nation. The powers are light, the kids are sweet, the action is wavy but the heart beats. A gay superhero mentor is a bonus.
21-Jan-2021
---
Dumbo (2019)
Everything elephant was precious but the presentation is preoccupied with telling the audience how to feel instead of writing it. If you can't find the words or interactions, add more magic. The pink elephants were successfully woven in. It was happy.
18-Jan-2021
---
Hot Summer Nights (2017)
If you want to see the privilege slapped and punched out of Timothee Chalamet this is the film for you. Tight and punishing.
12-Jan-2021
---
First Wives Club, The (1996)
A feminist excuse to avenge a man for wanting tighter lips. Great actress charm deduced to a stigma. If feminism was all about cutting daddy's dick why all the fuss to get their children married? More witnesses? What the fuck is the difference between a regular lesbian and a big one? More tongue?
02-Jan-2021
---
I Feel Pretty (2018)
They conk a woman on the head to get her to realize that if she acts confident she can become something. Mumbo Jumbo is not needed for that. There are plenty of people who rely on confidence to achieve their goals without being pretty. Who better to represent badass confidence than Amy Schumer. She breaks a soul cycle and claims hilarity and sweetheart rights but I paid for a bitch not a strawberry. Maybe next year she can be conked and black.
30-Dec-2020
---
Susan Slept Here (1954)
Sexagenarian writer is gifted a teen juvenile delinquent as a Christmas present from the police department to inspire his next tale. The pretense is cute, the aspirations are undyingly noble, the actors are up to par but the tale dictates that daddy reject a mare for a goat. Nasty, dude. Debbie Reynolds was adorable, Dick Powell was sweet, everything was vibrant, and a feminist wave was woven but the consequences are uncomfortable. It is a good movie, though.
30-Dec-2020
---
Just Another Christmas (2020)
Once the lunacy takes a seat the Ground Hog Christmas motif finds its groove and its heart. Daddy wakes up every Christmas but doesn't remember anything he did all year. He wakes up to grown kids, a failed marriage, a mistress, three dogs and a few makeovers. He spends Christmas abhorring the man he has become and can't control. The family is loud and homey, the sentiments are sweet and the idea is respectful. Feliz Natal.
25-Dec-2020
---
Ma Rainey's Black Bottom (2020)
Ma Rainey was the mother of the blues and a proud lady licker. Talent can overcome oppression and the power to give back to the community. Only a goddess can give credence to a legend. Viola is that piece of art that keeps moving and you chase her because you don't want to miss a thing which makes you see the rips. There were inflections and teeth caps that interrupted but the lady was full-on. Chad Boseman's character needed some vulnerability and a lot less JJ Walker. Colman Domingo was the man. The support beautifully did so. It's a music session in a fabulous woman's life. The theme of the session is to complain about every aspect of black tired life and to take it out on the white man. The conversations were heavy, the atmosphere was confined and there was no lingering happiness. I wanted to see the story of Ma Rainey with Viola smacking pussy and bringing the house down. I don't really know what to feel about this.
22-Dec-2020
---
Rock-A-Bye Baby (1958)
Starlet is knocked up by a Mexican bullfighter that she drunkenly married one day and literally died the next. Her career is on the upswing. Her next film is entitled "The White Virgin Of The Nile." With no recourse she turns to her childhood buddy and hometown slub to babysit her babies after secretly giving birth and whilst she makes the film. Jerry Lewis' exasperating talent is at half mast. When he lets loose we cringe, when he sings and curls his lip we bite ours. He won't let comedy be. He needs to smash it with babyface spasms and off-color perversity. He doesn't matter one bit. It's a beautiful film to observe. The music is light, the story is sweet and life was simple. Marilyn Maxwell exemplifies the Hollywood Goddesses of her time and the clothes accentuated her power. Connie Stevens was purity enchantment. It's a piece of candy I didn't want but I tried it and couldn't stop eating or talking about it.
20-Dec-2020
---
A California Christmas (2020)
A woman can't do everything. Rich Californians gobble up real estate so they can turn the future into an unscientific reality. Hot country girl can't maintain the farm, has an ailing mother and a spunky sister. Hotter rich player schemes to get her to sell him her home at an astronomical price so they can build malls or something. He infiltrates the cowgirl's pants by pretending to be a Mexican ranch hand. Hotter is a beautiful mix of Superboy eggs and Zac DNA. Whomever was in charge of casting needs to be hired for our next gay friendly Christmas preach. I don't want to see people like myself on a screen that I pay for. We want the people that God granted the gift of beauty to. He wants us to be inspired by his art. So we shall. This film pays homage to that. The music makes you want to see it again, the actors hee and haw pleasantly and chemistry kills stupidity. Ass hugging crotch enhancing jeans, hot old daddy servants, wenches, witches, lesbians, Mexicans... Manny and Ali as lovers would have been adorable. It's a crappy gorgeous joy ride. As soon as Superboy ripped a child out of a female vagina, I was in.
17-Dec-2020
---
Space Station 76 (2014)
I watched expecting to find any reason to turn it off. It didn't feel like comedy but the players were so adamant on cultivating their characters that it gets downplayed as a natural part of life. They live in space, sometimes alone and sometimes with family. Some have seen earth, others have not.
Highlights of the future:
We still have to roll it, light it and smoke it ourselves
The robots seem like leftovers from the NINTENDO R.O.B. collection
The future has picked the 60s as their futuristic style
The tech must have been collected from PeeWee's Playhouse
It's clean
There is only one child in the colony and it plagues her with panic. Her mother wants to deny her joy. Her pets keep dying because mommy hamsters have a tendency to bite their babies' heads off. Is it because she feels they don't have the skills to survive? That's how mommy explained it. Liv Tyler is the newbie getting accustomed to living with strangers and doing her best not to let anyone down. Her boss (Patrick Wilson) is hyper, mentally unravelled and suicidal because he can't stop jerking off to the Grinch. That was funny. Matt Bomer is married to lonely child's mother. She loathes the newbie because she has gained her daughter's affection and she likes her man. Bomer does a "pretty" acceptable job of being man trash.
A story about space that has nothing to do with nerdy technical explanations. I liked that.
13-Dec-2020
---