Movies Posts Tagged as 'Creepy'
---
Rating key:
Welcome to Errattic! We encourage you to customize the type of information you see here by clicking the Preferences link on the top of this page.
X (2022)
The idea of renting a house from senior landlords living on the property, in the 70s, to shoot a secret porn film plays ludicrously. It opens stinking of Texas Chainsaw Massacre and ends up vomit. This is an auteur's movie. The porn they were creating was supposed to be art. It was another porn stinker. 2 hours of three girls and a cock. The film would've played better as background for orgies. Seniors were represented as Tales From The Crypt old. Ick. Fear of getting old and losing control of sex and the joys that come with it. It stopped smelling like Chainsaw as soon as it tasted like Jaws and went down like Friday the 13th Part Three in 3D.
25-Nov-2022
---
Chalk Line, The (Jaula/The Cage) (2022)
I would have preferred The Cage to the Chalk Line because the english title sounds like a gimmick used to limit production costs. The director accommodated the mood, the actors stood in place but its details provided little depth. I know the what but not the why. The script was written on a typewriter/tik tok adding machine with limited credit.
29-Oct-2022
---
Good Nurse, The (2022)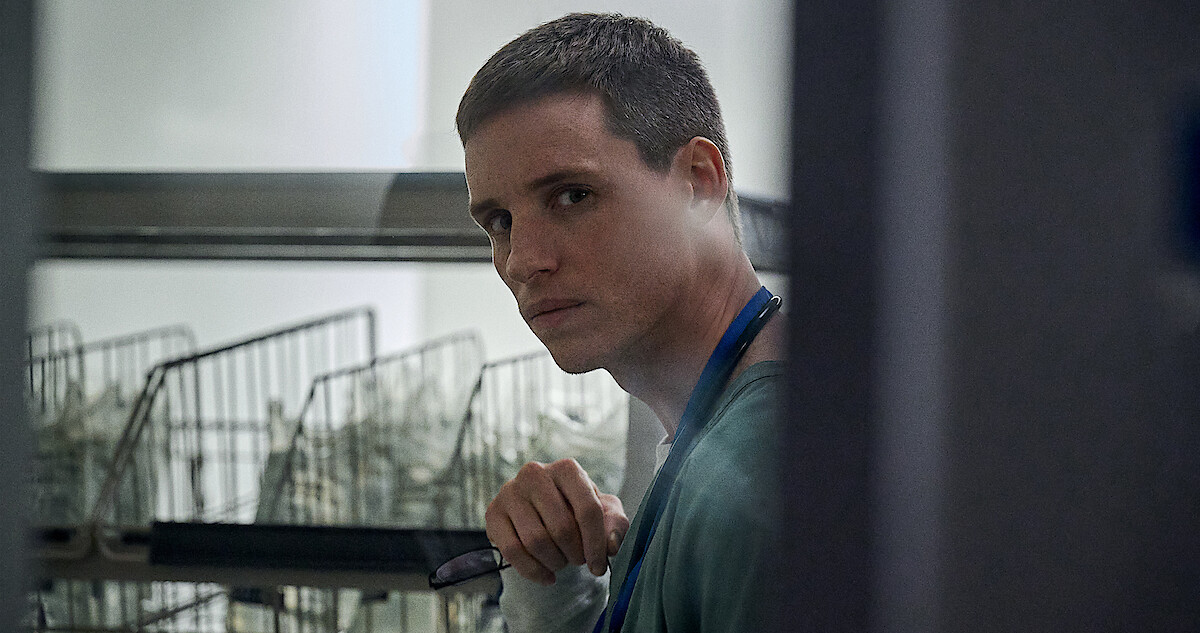 The angel of death is serving the ill and forgotten whilst deciding which deserves to stay amongst us. Lady Chastain introduces the audience to her pain, which we inhale and feel 'til the very end. Asomugha and Emmerich teamed up nicely. Hot boy proving he can investigate using his brain and Daddy Emmerich twitching the way I like. The cast didn't miss a beat, the story was tight, the procession, intriguing and the recapture well plated. Lord Redmayne spends a lot of the time hiding from view because that is how the angel of death would appear at work. Do a great job, kill them with kindness, keep history mum, don't be popular but make one sucker friend and kill up to a 1000 people. I couldn't believe that Redmayne would play a killer so controlled and unassuming until he outrants Ledger's Joker at the police station. I was inhaling Jessica's air when he punched me in the gut. Nice.
27-Oct-2022
---
Martyrs (2008)
The only way women can see the light is if they get punished for being women. The opener cues you in, the orphanage grants the characters humanity, the grown up versions are psychotic, the violence is pukey and the horror is inane. The more intimate the story, the bigger the chills. Here, the bigger the story, the more impossible it sounds. I do not get off on seeing women beat and suffering endlessly esp. for stupid reasons, but I realized that lesbians might. The film avoids sex as a respect to all women. Dude, I'd rather go back in time and get raped again than suffer through this.
17-Oct-2022
---
Mandy (2018)
An artful relentless mess in which Lord Nicholas takes on religion and splits his asshole kicking its butt.
12-Oct-2022
---
We're Still Here (2015)
Infernal ghosts. Mother devastated by the loss of her adult son thinks her new home is invaded by his spirit. Malevolence is underfoot and the whole town is on call. The mythology is a curse with an alloted time that makes little sense. The ghosts need a family to feed off so violence doesn't overwhelm the town. The scares are cool within a limited reality, the actors suffer from too many acting classes and the sense is lost within its limitation.
12-Apr-2022
---
Throne Of Blood (1957)
Kurosawa's imagining of Macbeth was intoxicating. He lingered until we felt the character's desperation. The background was still and intimidating. The actors wore silent film faces with impassioned speak. Toshiro Mifune was a beast royale as MacBeth. Isuzu Yamada was fabulously haunting as his Lady. The rustle of her dress, the scary predictions, the make-up and bouts of violent madness. She was a favorite thing. Deaths were choreographed with coherent math and geography. Inspiration is achieved. Masterpiece recreation is impossible because the best things in it happened by accident.
28-Mar-2022
---
Halloween Kills (2021)
Oops. Laurie and Mike are not the brother and sister alluded to in Halloween 2. It was a myth and a modern waste of a great arc.
21-Mar-2022
It assembled an historically amiable and able cast. Laurie Strode wasn't it's focus and I accepted that. There will always be a boogeyman stalking baby breaths and heroes willing to fight to keep them that way. The remembrances are welcome, the music is everything, the recreations worked but the constant reminder of Mike Myer's significance was hokey. The presentation screamed mythology over-identification. Michael Myers craned his neck in sympathy when he watched victims die. He ignored some but not others. It's tacky to make him talk but WTF? Is he a robot? I want to know what he's thinking. Give him voiceover thoughts or grunts. A showdown is brewing between brother and sister. It would be appropriate that before judgment is cast upon him that we get to hear his interpretation.
01-Mar-2022
---
Texas Chainsaw 3D (2013)
Apt sequel that glamorizes its predecessor and makes Leatherface a hero. It's a chill, spook and gay spectacular.
06-Mar-2022
---
Mikey (1992)
The inestimable is the most hurtful. Brian Bonsall played Mikey, a throwaway child with trust, jealousy and psychotic issues. The actor had the smarts of an adult aware of its value. Everyone loves "new" adorable thing until it becomes codependent and angry. The conversations are the same as today, which freaked me out. "We're still talking about the same shit with the non-resolutions." Mikey is presented as an adoptive boy trying to adjust to a family that has suddenly enforced rules. They must die, the most inept investigators can't solve it and adorable little Mikey is psychoanalyzed for PTSD after secretly killing them. The psychiatrist frees him into the adoption system with an "all he needs is love" diagnosis and Mikey moves on to the next stupid family. Mikey has learned that electricity and water don't mix, you can hit real balls with bats, cops can't solve anything, mothers just stand there screaming while you're stabbing them to death and to remove the bullets from adult guns and disconnect their phones so they can't fight back. Empty guns waving in the dark. Elementary school sports training consisted of coaches deciding which boy would be a "skin" or a "shirt" for no apparent reason other than to be a pervert. Telling certain kids and not others to strip is insulting and absolutely gay. His favorite teacher becomes suspicious of the boy's monstrous tendencies when he adds marbles to her "marble game." A box is designated for the kids to drop marbles they earn for good deeds. The more marbles of goodness you inherit the quicker you can fill it so its doors burst open and you can receive a prize. She investigates his history but his adoption file is closed and the witnesses are minimal. There is no living thing that is safe when Mikey gets pissed. Will he spare no one? Kids dragging adult dead bodies, killing cats, feeding frogs to sharks, setting up the boyfriend and using a bow and arrow to kill are hilarious. Everything looks TV safe and appealing, the deaths are LOL and Bonsall keeps on giving. He is the conservative cunt that arises when successful families keep pushing the same subject without advancing. Mikey is the child liberated from bullshit. Baby boy is my new "Carrie."
PS: dudes, if she wants childrenx and you don't, show her this movie. Repeated viewing depends on her voracity for children and disdain for the film. Keep it downlow. We don't want to damage her. Keep it stealthily in the background and don't stop watching it. Make it a top ten of all time. Yeah, it's crap but its better than having a baby.
21-Feb-2022
---
Spencer (2021)
Depressing portrait of a princess devoured by gilt-edged politics. Kristen Stewart captures the legend's facade but her inner Diana is caged, whispers a lot, distinguishes her esses and is prone to accelerating her lines so we can't understand what she's saying. CC helped. The film doesn't explore past "she's nuts," "she's sick," "they're all out to get her," and she's getting a bucket of blood dumped on her head. It's haunting to think that we apply greatness to a being with no personal significance.
10-Feb-2022
---
Pinocchio (2019)
Someone thought that realizing one of the most horrifying fairy tales to live film was a whimsical idea. The director wastes little time on magic and spends most of it on ugliness. He realized all the threats in a boy's life and all the insanity of the myth. A boy that really isn't a boy is considered a genderless fuck opportunity. Pedos prefer gender non-specific children because it's the baby smell they're after. Pinocchio is the perfect victim. Unique, beautiful, stupid, excited, rebellious and cooperative. The puppet gets enslaved, murdered, robbed, betrayed, hated, abused and exploited. Pinocchio cannot become a boy because his ADD doesn't allow him to sit still long enough to accept love and he's kind of an asshole. I'd be an asshole too if I were created to give hugs and tickles to ugly men. Oops, I was! The director rushes through plot points and changes nothing to make the ordeal acceptable. Why does wood eat? Why doesn't he rust or flake? What is the fairy's deal? His growing nose is a hard-on, not a lie. Jiminy Cricket sucked. It's a horror movie. Becoming a boy only grants him a hole. The world around him still sucks.
29-Dec-2021
---
War Of The Worlds, The (1953)
God was so angry at us in the 50's that he sent aliens with innovative tech to destroy us. The film details the science and the purpose. Actors are effective. Effects hold up. Its relevance withstands.
26-Nov-2021
---
Hell House (1981)
An unaccomplished masterpiece disguised as a fraud. The fright was fraught with reason. Background was eerily traced. Twinks were luminescent and Linda Blair never flinched but the budget limited its art.
04-Nov-2021
---
Deadly Friend (1986)
Boy genius, pal robot and single mom move to a new town. Boy makes friends, robot becomes creepy but boy finds "where his heart ought to be." Bullies, pranks, killings and deaths erase his best friend and "where his heart ought to be." He puts the robot chip into girl brain and revives her, except "where his heart ought to be" is hollow. She is overprotective, wifed and destructive. There is no balance as to which mentality is winning. She's a killer robot. The movie's charms outweighed its incomprehension. Anne Ramsey rained Halloween as a tormented neighbor who hated everybody. Matthew Laborteaux kept things hairy. Kristy Swanson kept things calm. Wes Craven signed it. The basketball was everything. It's stupid trash with enough bits of imagination to create enjoyment.
20-Oct-2021
---