Movies Posts Tagged as '2020s'
---
Rating key:
Welcome to Errattic! We encourage you to customize the type of information you see here by clicking the Preferences link on the top of this page.
Soul (2020)
A family film split in half. The adults receive culturally defined animation and the kiddies get dots reimagining the meaning of life. It's bold to reinforce a belief on someone, it's even bolder to downplay it so I can believe it.
21-Jan-2021
---
King Of Staten Island, The (2020)
Can you be the King of Staten Island if you hate it? Davidson has the balls and the bite but the creators cowered. They didn't want Staten Island to hate them so they fluffed up the drama.
21-Jan-2021
---
Secret Society Of Second-Born Royals (2020)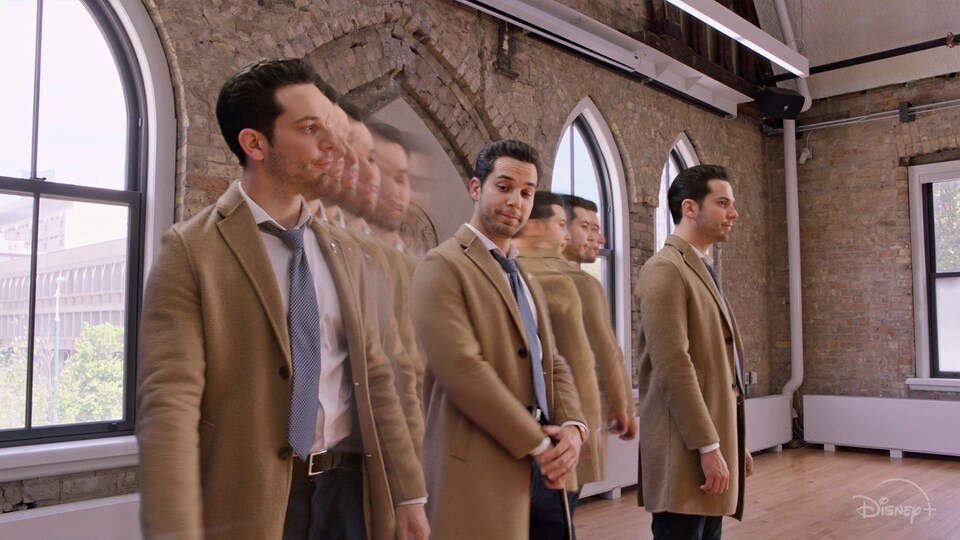 Teens born of royalty and irrelevance (they don't qualify for a crown) are redeemed with superpowers and covert missions to serve their nation. The powers are light, the kids are sweet, the action is wavy but the heart beats. A gay superhero mentor is a bonus.
21-Jan-2021
---
Fantasy Island (2020)
Michael Pena is not a suave sexy latin charmer. I thought he was going to play Tattoo, running around in a baby cart yelling "the plane, the plane." Maggie Q exuded the elegance of a legend but had no chemistry with her token black family. Lucy Hale, sporting a disconcerting schnauzer cut was too much. It was a total disrespect of a shitty show that entertained.
12-Jan-2021
---
We Can Be Heroes (2020)
It's a kid's film. There are kids in it. It looks like candy. It's stupid. You mean brilliant stupid? No I mean silly stupid.
29-Dec-2020
---
Just Another Christmas (2020)
Once the lunacy takes a seat the Ground Hog Christmas motif finds its groove and its heart. Daddy wakes up every Christmas but doesn't remember anything he did all year. He wakes up to grown kids, a failed marriage, a mistress, three dogs and a few makeovers. He spends Christmas abhorring the man he has become and can't control. The family is loud and homey, the sentiments are sweet and the idea is respectful. Feliz Natal.
25-Dec-2020
---
A California Christmas (2020)
A woman can't do everything. Rich Californians gobble up real estate so they can turn the future into an unscientific reality. Hot country girl can't maintain the farm, has an ailing mother and a spunky sister. Hotter rich player schemes to get her to sell him her home at an astronomical price so they can build malls or something. He infiltrates the cowgirl's pants by pretending to be a Mexican ranch hand. Hotter is a beautiful mix of Superboy eggs and Zac DNA. Whomever was in charge of casting needs to be hired for our next gay friendly Christmas preach. I don't want to see people like myself on a screen that I pay for. We want the people that God granted the gift of beauty to. He wants us to be inspired by his art. So we shall. This film pays homage to that. The music makes you want to see it again, the actors hee and haw pleasantly and chemistry kills stupidity. Ass hugging crotch enhancing jeans, hot old daddy servants, wenches, witches, lesbians, Mexicans... Manny and Ali as lovers would have been adorable. It's a crappy gorgeous joy ride. As soon as Superboy ripped a child out of a female vagina, I was in.
17-Dec-2020
---
Prom,The (2020)
When I was in high school I thought white people made up the idea of proms for the purpose of Hollywood entertainment. It wasn't until my 4th year that I noticed a prom announcement on the school bulletin board. Holy crap! Those stupid dances are real. It wasn't part of my culture and no one in my family ever met anyone who went to one. I can't celebrate the idea of adults hijacking a prom to allow a same sex couple to participate. The musical is a whirlwind of gay propoganda. I'm tired of watching gay films that suppress us into political statements. LGBTQ teens are committing suicide at hostile rates because we refuse to acknowledge that our lives suck which means they don't get any answers. Unless we start supplying our babies with ways to cope with their lives there is no celebration.
13-Dec-2020
---
Holidate (2020)
A platonic Aussie date for every occasion that looks good in your arms without any expectations is a guaranteed ideal. When Roberts and Bracey spar lovingly about the misery of life all is copacetic. It's only when they embrace the fairy in tale that it sours. People who hate life deserve a more realistic ending.
11-Dec-2020
---
Nobody Sleeps In The Woods Tonight (2020)
Parents send their tech dependent children to nature camp to enforce the value of social interaction and gain survival skills. The bootcamp is a military wasteland. It splits them into teams and focuses on hikes, challenges and camaraderie to allow them to use the tech in their brains. You can also make friends. Good ensemble pulls you in as the movie keeps taking them out. It starts to hurt a little. The threat is a mess. We like our deformed bubblies with masks on and butch gear. It's yuck and impossible to look at. The pimply hillbilly troll backstory didn't help. It was preposterous. I withstood the gore and porn violence because of the cast, the kids, the representation, the dialogue, the awkwardness, the scared lesbian, the sexual limitations of tech sex, following natural reaction protocol and because they are us. The beast is in desperate need of a glam attack. It needs Jason's virility, Michael Myers' stamina and Freddy's humor and waist. It prepares us for death by tingling other parts of our body. Ick.
02-Dec-2020
---
Palm Springs (2020)
I wasn't going to review this film because the idea filled me with dread. It's Groundhog's Day in a cave inside of Palm Springs. Samberg is unrecognizable and semi-fuckable, Miliotic is an easy soft serve and Palm Springs is the Hellmouth. Everyone lives by a routine in which no designated time or responsibility is accounted for. Unless an earth shattering moment occurs the repetition rarely changes. The soft serves had a bond and shared some squishiness. The story is stolen from someone's heart. Its comedy is the brutality of living a life...for too long.
01-Dec-2020
---
Don't Listen (2020)
A latino Jeff Lewis moves his wife and his vitamin D deprived child to a haunted flip. This is the big one. Every cent is embroiled in this project and there will be no crying about hearing voices, premeditating people's deaths or telling your mother that I hate you. Son has been in quarantine for a long time and that's the reason the adults say he invents such magnificent lies. The thing that happens early to shock us awake was the thing that kept it running. It sputters with no engine.
01-Dec-2020
---
Christmas Chronicles 2, The (2020)
An array of adorable elves get kidnapped by Mr. & Mrs. Claus to run toy factories, serve their masters and provide Christmas preciousness to their surroundings. When an elf breaks a rule it gets turned into a fat depressed British runt. Why? Santa stomps and hair flips like a daddy stealth bomber, mama Santa has Goldie specs and the children are as interesting as the beach they never go to. Everything is boisterous and pimped out. When the elves turn into Gremlins the cuteness subsides, the gas gets turned up high and Christmas burns down.
30-Nov-2020
---
Sputnik (2020)
After completing a space mission, an inexplicable disturbance causes two cosmonauts to crash land back to earth. One is faceless and comatose and the other has a symbiotic alien attached to him. A female doctor about to lose her license is coerced into psychoanalyzing the subject who has no memory or idea that an alien host resides within him. Her job is to cause scientific history by safely separating them. The alien arises during deep sleep and survives the length of an hour outside the cosmonaut. The alien is fiercely freaky and a bloodthirsty asshole. The surprises don't queef, the actors command and the whole is a serious Venom. The Russians may serve their drinks cold but their hearts beat warm.
22-Nov-2020
---
Abrams: The Boy 2 (2020)
The doll has a name but it's still beyond comprehension. The tidbits where they played with the doll's expressions was a cute opportunity that was underutilized. Making it react to things in a split second that no one is sure to see might have been fun. Owain Yeoman is a daddy water marker. Never too busy for work, the center of the universe, incompetent and not understanding of the language his son and especially his mother talks. Katie Holmes' dug sharply to give mom the suffocation of not being able to save her child from trauma and the burden of spending a lifetime treating him for it. She can't overcome her own because the kid is always reminding her of it. He was a witness. The more obsessed her son gets with the doll, the icier her mothering becomes. I wish there were a scene where she pummels it to death but no such luck. The set-up was too set, the 30's mystery cues didn't work and the next one needs to scrub the story clean.
18-Nov-2020
---