Gay+
---
Welcome to Errattic! We encourage you to customize the type of information you see here by clicking the Preferences link on the top of this page.
Fast food worker fired after mob beat him & called him a "faggot" in shocking video
A fast food employee in Florida was called anti-gay slurs as he was allegedly beaten by a mob of customers, left bruised and injured.

Later that same day, after he filed a police report, the victim was fired.
Black Trans Woman in Critical Condition After L.A. Shooting
Two Texas LGBT Facebook groups are sharing Islamophobic & anti-Black Lives Matter posts
Turk of Hot Boyz Criticized for Saying Trump Administration Has Done More for Black People Than Obama
Detroit Man Sentenced to Life in Murders of Two Gay Men, Trans Woman
RuPaul Just Inexplicably Wiped His Instagram — After Hiatus
German pastor charged with incitement for anti-gay comment
---
Kate Beckinsale Perfectly Responded To Someone Asking Why She "Dates Guys That Could Be Her Children"
As far as underrated celebrity Instagram accounts go, Kate Beckinsale's profile is definitely up there. The actor's grid has all kinds of gems on it.
---
Christina Ricci divorcing James Heerdegen after alleged domestic battery incident
It's over for Christina Ricci and James Heerdegen.

Ricci, 40, filed for divorce on Thursday morning, just days after she called the cops when Heerdegen allegedly attacked her in their home, Page Six has confirmed. Heerdegen wasn't arrested by the Los Angeles Police Department but Ricci obtained an emergency protective order against him.
---
260,000 sign petition to block film starring Paris Jackson as Jesus
A forthcoming film starring Paris Jackson as Jesus has been denounced as "Christianophobic garbage" in an online petition to prevent its release, which has attracted more than 260,000 signatures.

The casting of Jackson, a model and actor who is the daughter of the late pop star Michael Jackson, opposite Bella Thorne and musician Gavin Rossdale in the film Habit was announced in April. The plot synopsis suggests that Thorne plays a "street smart party girl with a Jesus fetish [who] gets mixed up in a violent drug deal and finds a possible way out by masquerading as a nun". Jackson's "gender-bending take on the religious figure" was reported to include "a nose ring, tousled waves and a traditional robe".

The petition, which names Warner Bros and Lionsgate as its targets, claims that Jackson will play Jesus as a "lesbian", though there is no mention of this in any publicly available reports of the film. The petition also claims the film is "blasphemous" and that it is "Christianophobic garbage that is spread nowadays, but is somehow accepted and praised by society".
260,000 sign petition to block film starring Paris Jackson as Jesus
---
Producers respond to rumors 'Ellen DeGeneres Show' will be canceled
Rumors are swirling that Ellen DeGeneres might have her last dance.

Insiders are whispering that the "Ellen" show could be canceled soon, amid reports of falling ratings and allegations of DeGeneres, 62, being "rude" to her staff, the Sun reports.

However, when reached by The Post for comment about the claims, DeGeneres' production company reps said,...
---
August Alsina Speaks on Past Alleged Relationship With Jada Pinkett Smith, Claims Will 'Gave Me His Blessing' 
August Alsina is getting candid about his alleged romance with Jada Pinkett Smith.

Relationship rumors have swirled around the pair for quite some time, with some convinced that Alsina and Jada had a secret affair. Alsina's 2019 track "Nunya" fueled the speculation, as he included the lines: "You got me feeling like it was an act, you're just an actress/Putting on a show 'cause you don't want the world to know." The track's official video also featured a shot of a text message from a love interest listed as "Koren," which just so happens to be Jada's birth-given middle name.

Alsina would go on to deny the relationship rumors and insisted "Nunya" was not about the Girls Trip actress.

"To Clarity, The Song is not about Jada. It's simply JUST A SONG , & a free artistic expression of a made up narrative already put in place by its ORIGINAL format," he wrote on Instagram, as reported by XXL. "Thankyou for all of your love around the music & more is to come but please know that Me & my BEST (@jadapinkettsmith )are good!!! & We will always be, 4Life!"

Alsina is now changing his tune.
Jada Pinkett Smith Denies August Alsina Claims About Affair
---
YouTuber Tati Westbrook says she was 'weaponized' by Shane Dawson and Jeffree Star in plot to ruin beauty guru James Charles - insisting they fed her lies and 'gaslit' her into making a video about his alleged predatory behavior 
YouTube star Tati Westbrook has made shocking new claims against fellow influencers Jeffree Star and Shane Dawson, accusing them of 'using' her in a plot to destroy the career of beauty guru James Charles by 'manipulating' her into making a video exposing his alleged predatory behavior.

The 38-year-old opened up about a year-old drama in a very tearful video posted to her YouTube channel on Tuesday, finally shedding some light on the bitter feud between herself and Charles, which was sparked when she called him out for 'seducing straight men' and 'tricking them into thinking they are gay'.

When the claims were first aired in Westbrook's May 2019 video, they prompted a bitter backlash against Charles, who lost more than three million subscribers in the wake of the video going live. Westbrook also faced fury from his fans, and subsequently disappeared from her channel for months.
---
MythBusters' Adam Savage Accused of Sexually Assaulting Sister as a Child in Lawsuit 
Former MythBusters co-host Adam Savage's sister filed a lawsuit against him on Tuesday, alleging he sexually abused her numerous times when they were children.

In the complaint obtained by the New York Post, Miranda Pacchiana, 51, claims the abuse happened when she was between 7-10 years old and Savage was between 9-12 years old, when their family was living in Sleepy Hollow, New York.
Colombian soldiers accused of raping indigenous teen in second case to emerge in a week
---
DJ Spencer Brown Comes Out as Gay, Will Not 'Live In Fear'
The 26-year-old techno artist — who began his career touring with Avicii and since gone on to headline major music events like the Electric Daisy Carnival — penned a coming-out essay Monday for Billboard.

"I am gay. It's so much easier to say today than it was even a few years ago," Brown wrote. "While I have never publicly denied this part of me, I have also never spoken out about it. I will no longer live in fear."

In the piece, the San Francisco-based DJ said that growing up in a "heteronormative community" in Dallas, he grappled with "unshakable self-hate" and "crippling anxiety." However, he found some comfort in the local dance music scene.

"As a teenager, I would sneak into shows to be a part of a beautiful community where all races, genders, sexualities, and religions came together to celebrate life," Brown wrote. "It didn't matter who you were, and it still doesn't. As long as you bring good energy, you are welcome. It was where I belonged, and it's still where I belong."
---
People Are Calling Kim Kardashian and Kanye West Out for Their Insensitive Posts 
For the common non-billionaire — lacking in Gap collaborations, shapewear empires, and private jets to whisk them away from it all — the past several months have been trying, to say the very least.

But for Kim Kardashian and Kanye West, this is a time to reflect on their personal wealth. West has a reported net worth of $1.3 billion, while Kardashian is a newly-minted $900 millionaire (though West would beg to differ).

On Monday, both parties decided to take their financial privilege to the timeline. Kardashian began, posting two photos of her 7-year-old daughter North West's "Freesian horse" (Horse twitter quickly corrected her spelling — it's Friesian), noting that they have 14 of the breed at their Wyoming ranch. Pricing differs depending on an array of factors, but a single Friesian horse can cost more than $50,000.
Cardi B hits back at accusations of homophobia and transphobia: "I support the LGBT community"
People Rip Terry Crews for Claiming 'Black Lives Matter' Could Become 'Black Lives Better'
New study reveals 'evident' racial bias in TV football commentary
---
Fleabag star Ben Aldridge comes out as a 'proud and thankful' member of the LGBT+ community
Ben Aldridge, known professionally for being attractive and also starring in British comedy-drama Fleabag, revealed he is a member of the LGBT+ community.
---
Brayla Stone, Black Trans Teen, Killed in Apparent Hit 
Local police in Arkansas are treating the death of a 17-year-old transgender Black woman as a homicide. The body of Brayla Stone was found in a car on a walking path in the Little Rock suburb of Sherwood last Thursday, and a person on social media later claimed he was paid five thousand dollars to kill her. Stone is the eighth trans person violently killed in the last seven days.

"Brayla Stone is the 8th transgender person killed in the last seven days," David Johns, Executive Director of the National Black Justice Coalition, said in a statement. "Brayla Stone was seventeen years young when someone murdered her because we live in a society where it is not yet explicit that when we say BlackLivesMatter we mean all Black lives, which includes Black trans women and girls."
Stephen King says 'trans women are women' after J.K. Rowling thanks him for retweeting remarks on recent controversy
---
A White Couple Was Caught on Video Pointing Guns at Black Lives Matter Protesters in St. Louis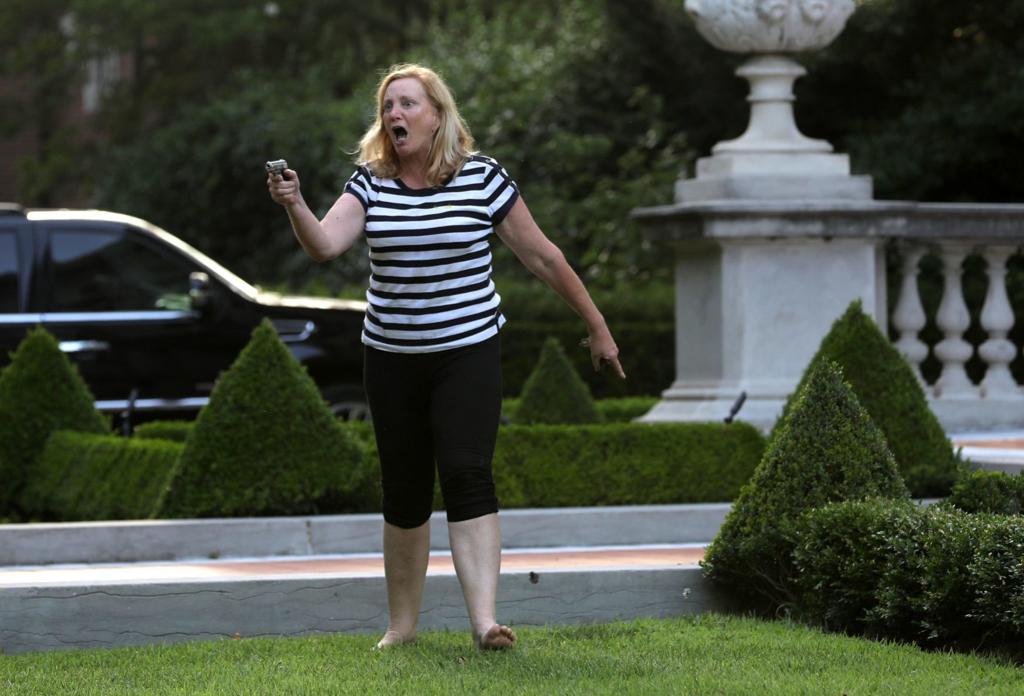 An armed white couple waved their guns and yelled at Black Lives Matter demonstrators in St. Louis on Sunday, during a protest march to St. Louis Mayor Lyda Krewson's home.

At least 500 people peacefully marched through St. Louis' Central West End neighborhood on Sunday demanding Krewson's resignation, according to the St. Louis Post-Dispatch. Krewson appeared in a Facebook Live video last week reading the names and addresses of people who had called for defunding the city's police department.
Man Fired for Racist Rant Supporting Slavery and Lynchings of Black People
John Wayne's son responds to resolution calling for John Wayne Airport to be renamed
Michigan Woman Yells Racial Slurs at New Neighbors in Viral Video
San Jose man charged with hate crime in Santa Cruz assault incident
Adam Carolla defends Jimmy Kimmel over blackface backlash: 'We've lost our minds'
Little Caesars fired two employees after a couple found a swastika made of pepperoni on their pizza
---
Jada Pinkett Smith and Son Jaden 'Disgusted' Over YouTuber Shane Dawson 'Sexualizing' Willow in Video
Jada Pinkett Smith and her son Jaden are taking a stand against Shane Dawson.

On Saturday, the mother-son pair called out Dawson, 31, on Twitter after an old clip resurfaced of the YouTuber seemingly masturbating to a poster of Willow Smith, 19, when she was age 11.
---
'Put some clothes on!': Chrissie Hynde slams scantily-dressed feminists
Chrissie Hynde has slammed scantily-dressed feminists saying ''if you walk around looking like a sex worker you will probably be treated like one''.
---