Movies Posts Tagged as 'Drama'
---
Rating key:
Welcome to Errattic! We encourage you to customize the type of information you see here by clicking the Preferences link on the top of this page.
Troll (2022)
The movie induces flashbacks to disaster classics that made it tolerable to withstand the subject. The new generation make assorted pieces part of the puzzle. They fit anywhere or not at all. There is an ugly giant troll on the loose and the tree huggers want to coddle it, while the powers that be want to annihilate it. Dude, the bear you're saving is going to rip your head off, they don't give a shit about us, be thoughtful. It does a very big "bad" wrong. They turn his dick into a tail. He drinks too much, ergo, the bulbous nose. He has a preference for innocence, destruction and confusion. Instead of beams pulverizing rocks we get fairytale mumbo jumbo. "Troll" commands you adhere like Captain Sandy and exit like Captain Sandy as soon as the idiot humans show up.
04-Dec-2022
---
Everything Everywhere All At Once (2022)
It begins with family authenticity, struggling to keep current and afloat. Super reality sets in and the tingles begin. Oh no! It's going to be bonkers. The cast resolves it. I wasn't sure if the husband was Jackie Chan. I spent a lot of the time being jealous of how young he looked. It was driving me crazy. He can't be, right? When he utilized the master's moves, I thought, that's definitely Jackie Chan. It's a tribute to him and Michelle Yeoh as action heroes but why does he look so fucking young? Terrific surgery perhaps? Ke Huy Quan is as adorable now as he was as a kid in a Spielberg classic. The man was precise. To Lady Yeoh, we gently bow. Stephanie Hsu had fun being all iterations of evil because we had fun too. Jamie Lee Curtis was gnarly. James Hong added his queerisms. The film threw as many cliches as it did new ideas. A win win for art. A film that wipes its imperfections with glorious shots of legends reacting to wonder and giving us soul.
27-Nov-2022
---
Disenchanted (2022)
The most enchanting thing about both films is Amy. When her magic is at full tilt, production continues her flow. Dempsey was saddled with a silly storyline and a "send him away" type direction. Women and men no longer want to fight together. It's women's turn to die for what they believe in. Marsden is a pro at acting douchy but cute. Gabriella was just right. Maya stopped fussing and was funny again. The music was almost but it felt like there was an intruder interrupting the grandeur. Some of the songs are juvenile. Idina Menzel wrecking her throat's gift on shitty songs is a never. They made her sing "Let It Glow," again and again. Her magnificent voice gets a full moon. Amy's everything makes you hungry for more. Suburbia works as a stand-in for a magical life but once true magic coaxes itself into reality the ink starts to dry. They gave no magic equations or rules of limitations that we could realistically follow. What kind of magic is in Andalucia? Why did the queen gain power? Is Andalucia in Wakanda? None of the above. They gave no rules because they didn't want to have to follow them. Dude, that's when the best art is created! Full moon to the production in front and back and a boo hoo to the writers for not coming up with something more substantial to say.
18-Nov-2022
---
Wonder, The (2022)
A child fasts to appease god and clear her family of their sins. Faith, in the hands of a child, can be a destructive thing. Pugh remains on, for the duration, as an investigative nurse that wants to clear the bullshit. The director keeps us trapped and enrapt. You can only fight a fable by trading it for another. Well done.
17-Nov-2022
---
Where The Crawdads Sing (2022)
Entertainment has wrung art dry. The artists are burdened with inciting memories of great historical art and erasing them, lest the audience think they pilfered them to bring a manipulative story to the screen. You can tell the director was probably very cool headed because a household with that much violent disarray would include more horrific things. Marsh girl would have turned out a creature less human instead of a starving foreign exchange student. Daisy Edgar Jones flattens the character by not bringing star charm to a mimicking portrayal. See Sandra Dee and Troy Donahue. Even when they couldn't act, they glowed with excitement and saved a crappy movie. Her ascension to sophistication is questionable. Either her mother had a great wardrobe or girl was doing something besides chucking clams. Also, why didn't she just eat the clams? The owners of the grocery store were inspired by a very special episode of "Little House On The Prairie" featuring the blacks. A little wild girl living all alone in the swamp would attract a lot of perversion. She couldn't read but she picked up on romance real quick. She flew into her "first" kiss. How did she know? What kind of nice daddy was hers before he booked? Why was she surprised to experience Tate Walker's natural findings in the swamp? Wouldn't she have discovered it whilst being the swamp? The crime and the courtroom boredom that follows had me eye rolling. The film is a cheer for womanhood but not art. It's a facsimile. I wanted to feel something. I am a man, after all. The ending knocked it out of the park but so did Harris Dickinson, to no avail.
16-Nov-2022
---
Don't Worry, Darling (2022)
Olivia Wilde has a frazzled mind. She mixes a Long Island iced tea that goes down smoothly but fast. You get drunk, start getting dizzy, the room is spinning when one shot of a tight Stepford update would have sufficed. Too many ingredients that make you throw up because they clash. All the actors were directed to up it. It works for Harry Styles because he's stiff. Chris Pine was already notched up when the director asked for more. Not. Florence Pugh astounded me. Her acting was like a light switch at a storage locker facility. On and off, unexpectedly. The story was aching for calm but we kept getting those "Ring" type edits that destine you to early death. A beautiful sight by a practicing director that needs a chill pill.
08-Nov-2022
---
My Policeman (2022)
A very soft policeman. Harry Styles keeps it monotone and unenthusiastic. He pants oddly during blowjobs and he can't kiss for shit. His "s's" and "t's" were so crisp that I thought his accent was fake. I wanted to shake him. I came in the first few minutes and never got a hardon again. I felt like leaving so many times but felt obligated to stay. We prefer to talk about our olden times instead of setting a better path with a real story from today. We can be honest about the past without it burning us in the present. The laws have changed but we have not. It's 50s Britain, where cops live in Tarduses, aging twinks can become cops, twink cops get picked up by perverts and an innocent girl trashes her entire life so her husband and their bff can enjoy gay sex. Emotions run cold. Everything is so quiet and unassuming that you sometimes believe one of the lovers might be serial. P.S.: gays are only miserable at the end of their lives, all else is just fun.
05-Nov-2022
---
Satan's Children (1975)
It's so low budget that it couldn't even afford to be one of Bobby Brady's (Brady Bunch) teenage dreams. A smooth twink rebels against his argumentative father and insistently horny sister. He travels into Wonderland with pot in his pocket and a party hang out mentality with anyone except queers. He gets gang raped by a bunch of straight men who cripple him and not. There is a rape scene but it's more hilarious than it is shocking. I couldn't tell if they were shoving things up his ass or fucking him. They dump him somewhere Satan worshippers live. Chief Stew becomes enamored. He is rescued. The deck is revolting against second in command. The captain is away. They do not rescue strangers unless master commands it. Bobby becomes immobilized because his ass hurt. Really, immobilized? He found time for flat on your back sex, though. The captain returns unexpectedly and all hell breaks loose. It doesn't develop triumph or backbone until the very end. It's laughable, langorous and unforgettable.
31-Oct-2022
---
Chalk Line, The (Jaula/The Cage) (2022)
I would have preferred The Cage to the Chalk Line because the english title sounds like a gimmick used to limit production costs. The director accommodated the mood, the actors stood in place but its details provided little depth. I know the what but not the why. The script was written on a typewriter/tik tok adding machine with limited credit.
29-Oct-2022
---
Good Nurse, The (2022)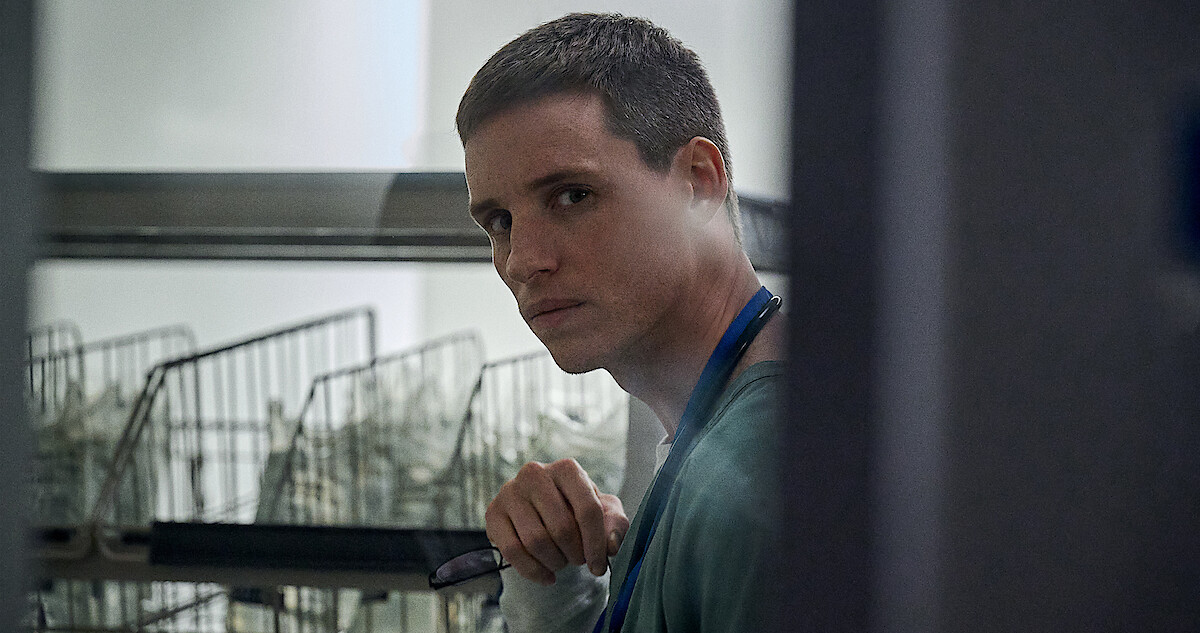 The angel of death is serving the ill and forgotten whilst deciding which deserves to stay amongst us. Lady Chastain introduces the audience to her pain, which we inhale and feel 'til the very end. Asomugha and Emmerich teamed up nicely. Hot boy proving he can investigate using his brain and Daddy Emmerich twitching the way I like. The cast didn't miss a beat, the story was tight, the procession, intriguing and the recapture well plated. Lord Redmayne spends a lot of the time hiding from view because that is how the angel of death would appear at work. Do a great job, kill them with kindness, keep history mum, don't be popular but make one sucker friend and kill up to a 1000 people. I couldn't believe that Redmayne would play a killer so controlled and unassuming until he outrants Ledger's Joker at the police station. I was inhaling Jessica's air when he punched me in the gut. Nice.
27-Oct-2022
---
Day Of The Animals (1977)
Depletion of the ozone layer is making animals at high levels territorial. Crows are the eyes, bears, the muscle, dogs are betrayers and mice, the vermin. There were no cats of the domestic kind. I presumed the dogs ate them. The cast is professional and appealing. The George's marriage radiated on screen. Michael Ansara played a dignified American Indian, proudly. Leslie Nielsen rages in the most asshole kind of way and we love it. He ripped his shirt to shreds because he was committed. I was enthralled. Nice shots of the animals grouping, the child, the after effects of a kill and Andrew Stevens body, face, smirk and Farrah-like hair. A story that deserves what new technology is capable of... without the preach.
26-Oct-2022
---
Last Woman On Earth, The (1960)
While on a scuba diving expedition in Puerto Rico a newly married couple and their lawyer end up the last humans on earth when they resurface. They survive and explain the cause through the progression of the environment and by applying science to their observations. Words were in tune with how a woman might feel being the last one. The men went caveman because the lawyer has needs and his boss' wife was the only relief. I kept feeling the script would have had more depth had it not been costly. Wife is a newlywed who lusts to spend more time with her gangster husband. Lawyer is a do-gooder schmuck whose tired of being manipulated by sore losers. Every time the story filled in a hole the director cut away to something exotic. They hardly pondered whether, as last adults, they were worthy enough to replenish the earth. Wife's legs dangling from atop the boat, the men fish-slapping each other, the atmosphere (Puerto Ricans in 1960), the woman's hair turning from blonde to black and jitter acting that enunciates realness, were shots I will remember.
Remake. (Pssst: I would have given her my sperm and fucked daddy. Yeah, let her decide the future of the world.)
25-Oct-2022
---
A Doll's House (1973)
A woman moving in with a man must turn the home into a dollhouse in order to make her feel like she owns it. She owns him as much as he thinks he owns her, but a toy is the only home she will ever get to own. The cast played it without pity, the story excelled as it moved, even though status has changed, emotions remain the same and Jane Fonda flexed some beautiful muscles. Freedom comes after you stop lying to yourself. A real Christmas story.
17-Oct-2022
---
Martyrs (2008)
The only way women can see the light is if they get punished for being women. The opener cues you in, the orphanage grants the characters humanity, the grown up versions are psychotic, the violence is pukey and the horror is inane. The more intimate the story, the bigger the chills. Here, the bigger the story, the more impossible it sounds. I do not get off on seeing women beat and suffering endlessly esp. for stupid reasons, but I realized that lesbians might. The film avoids sex as a respect to all women. Dude, I'd rather go back in time and get raped again than suffer through this.
17-Oct-2022
---
Mandy (2018)
An artful relentless mess in which Lord Nicholas takes on religion and splits his asshole kicking its butt.
12-Oct-2022
---