Movies Posts Tagged as 'Director's Slice'
---
Rating key:
Welcome to Errattic! We encourage you to customize the type of information you see here by clicking the Preferences link on the top of this page.
Arrangement, The (1969)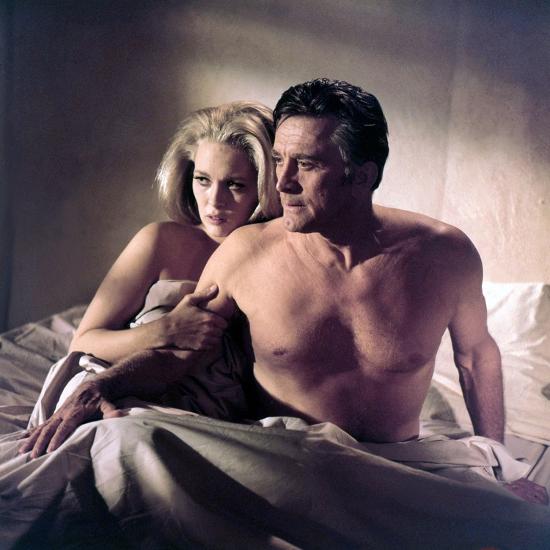 Alpha daddy is acting bonkers. He's disillusioned with his wife, can't communicate with his daughter and is suicidal. He drives his car into a truck, gets a better face, detaches from life and gets a second chance to make the same mistakes. Faye Dunaway was beautifully confident as the office slut that could reduce a happily married daddy to mush and make him pay for it. Deborah Kerr exposed her soul and sexuality as a wife waiting for a man that's never going to be there. Kirk Douglas roars as a man obsessed with orgasms and baby smells. Elia Kazan opened up as a director and tried new things (good and bad). It is a detailed examination of how love, sex, beauty and insanity correlate.
13-Sep-2021
---
Mope (2019) 
Black and asian youngsters form an unlikely bond during a bukkake video performance. Black man can't climax until the soft whispers of an asian stranger help him out. Voila. Friends forever that will reach the heights of success by becoming the Jackie Chan and Chris Tucker of porn. Mope Tucker and Mope Chan are not impressive beings, they both have little dicks, are victims of whiteness (they don't know how to act black or asian) and they slurp while eating vagina. They can, however, take a swift kick to the balls, eat shit, drink piss and wipe it from the floor. A mope. Tucker wants to expand the brand and put them on display. "The first men on the cover of a porn box." Nathan Stewart expends every last nerve as a man clinging to the last piece of matter that keeps him grounded to an environment that isn't homeless. These parasites keep him sane and fucking. The boys with grand dreams become Steve Driver and Tom Dong. The friendship suffers from favoritism, jealousy and betrayal. Gangbanging the girlfriend tore a nerve, racist remarks cracked a spot, and the cameos hit their marks. It's cheapness adds to its' value. It smells like porn, your feet stick to the floor and the prettiest thing in the room is the popcorn machine. It's a true cis story that would translate well as a gay "great American novel." The guy incinerated from Bridgerton could play the smelly gay guy.
05-Jun-2021
---
Claudelle Inglish (1961)
Farmer's daughter is in full bloom and her scent is driving all the boys/men crazy. The most beautiful boy in the world yanks the flower from its stem, treats her real nice and gets engaged to her before his deployment. Claudelle's mother is the most disgusted wife in America. She loathes the hard work, 20 years of false promises and humiliating poverty. Claudelle's boy may be beautiful but he's a sucker farmer like daddy. Mother wanted better for her daughter. She deserved gifts, pampering and immunity. Girl doesn't care he's poor. She's in love. Daddy agrees. He is a romantic loser who thinks that memories of courting his wife are enough to survive hardship. Beautiful boy spends a year in the army, romantic letters ensue and tragic news upsets her future. The town boys/men pounce. She negates then accepts. Her scent becomes toxic. Every present a reminder of how far she went. Her room was stacked. Dad humiliates himself by allowing his boss to discuss marriage to his daughter without much confrontation. Mother claimed the boss was the reason they were poor but quickly changes her mind when he comes a courting. I'm assuming that Claudelle slept with every father and son in town except for her dad and the Reverend. My mouth was agape at every sharp turn. Claudelle did as mother said and used sex to liberate herself of men because men are victims of promises they can't keep.
20-Apr-2021
---
Onward (2020)
A beautifully crafted animation about unlocking traditional magic. Two brothers accidentally cast a spell that resurrects half of dad. No head or heart just crotch, ass, legs and feet. He profiles like a predator. He taps their shoes to announce to his victims they've been found.
My version: boy triggers a spell that brings complete daddy back. Hey, daddy's cool. Blah blah blah. If they want to keep him they have 24 hours to venture out and make it happen. They bond. They have beautiful memories and grand adventures without having to endure memorizing daddy's crotch and ass for 24 hours. Takeoff! Did cartoon daddy walk off the set in a huff? The filmmakers could not realize a finale for us. It was all hearsay.
08-Apr-2021
---
Craft Legacy (2020)
It gets down to business. Three practicing high school witches need a fourth to obtain their full powers. Enter nondescript beauty and all their dreams come true. We celebrate and we vow then realize that like masturbation, the power is ours. People don't share well. Too many ideas that were worth exploring remained untouched. Nicholas Galitzine is worth enthralling but the reasoning didn't make sense. He was too infatuated to warrant one. Though the twists were a treat, it needed revenge craft. Lots of bloody hell of it.
05-Apr-2021
---
Princess O'Rourke (1943)
Princess that feels like a bird in a cage gets rescued by a pilot when she overdoses on sleeping pills during a flight. The save frees her unto the real world where she suffers from a lack of talent besides waving, dressing fancy and waiting for a royal stallion to impregnate her with boys. The legends are luminous trotting a sound comedy beat and unrolling an escapist romance. The story turns politically dark after the reveal as the man realizes that with a woman in power comes great servitude.
07-Mar-2021
---
Star Wars: The Phantom Menace (1999)
I went retro and revisited some films that weren't to my liking. If it weren't for Lucas magic this film would be one of the worst. The child. Poor thing. No training, no soul. I would have skipped to the Superboy years one second after the awesome pod race. Liam Neeson didn't seem taken by the force. The words meant nothing to him. It was a job. MacGregor's head moved stiffly and he looked like he cracked up before and after many line readings. Jar Jar Binks was created by party people with no exceeding limits. I watched him drunk and still found him annoying. Natalie Portman must have looked blankly at countless fake CGI things because she applied it to humans as well. The voice she inflected was cockamamie and infectious. Yoda isn't as cute as The Child. At all. Blathering old idiot. Robes don't flow in saber fights and future love relations are not impactful if one babysat the other. The director worked beyond the force. The fans publicly cheered while quietly sighing. Darth Maul was a pocket. It makes a good game but not a good film.
02-Feb-2021
---
Space Station 76 (2014)
I watched expecting to find any reason to turn it off. It didn't feel like comedy but the players were so adamant on cultivating their characters that it gets downplayed as a natural part of life. They live in space, sometimes alone and sometimes with family. Some have seen earth, others have not.
Highlights of the future:
We still have to roll it, light it and smoke it ourselves
The robots seem like leftovers from the NINTENDO R.O.B. collection
The future has picked the 60s as their futuristic style
The tech must have been collected from PeeWee's Playhouse
It's clean
There is only one child in the colony and it plagues her with panic. Her mother wants to deny her joy. Her pets keep dying because mommy hamsters have a tendency to bite their babies' heads off. Is it because she feels they don't have the skills to survive? That's how mommy explained it. Liv Tyler is the newbie getting accustomed to living with strangers and doing her best not to let anyone down. Her boss (Patrick Wilson) is hyper, mentally unravelled and suicidal because he can't stop jerking off to the Grinch. That was funny. Matt Bomer is married to lonely child's mother. She loathes the newbie because she has gained her daughter's affection and she likes her man. Bomer does a "pretty" acceptable job of being man trash.
A story about space that has nothing to do with nerdy technical explanations. I liked that.
13-Dec-2020
---
A Cinderella Story: Christmas Wish (2019) 
Cindy fends an exploitative Jenner stepmom and abominable Kardashian sisters. The music is cute, the twink prince can break daddy dick and crush virgin vagina and its existence is Christmas cheer. Adorable!
24-Nov-2020
---
Flower Drum Song (1961)
Married At First Sight/90 Day Fiancee. Chinese immigrants curtail their visa wait by UPSing themselves to San Francisco. A father and his well-bred daughter search San Francisco for the man whose family promised his family betrothal to his daughter. Prospect is a bad boy gangster, with gambling addictions, alcohol overconsumption and love for loose women. Picture bride's contract is traded like a football to the father of a son whose fucking Prospect's side piece. A third woman is gunning for the bachelor of Chinatown but she is easily discarded. The lyrics refuse to gell. There are no rhythms or rhymes to make us remember them. The dance sequences fare better except that the bungle edits rendered the hard work flawed. San Francisco is a colored gingerbread house. The traditions are a bit sticky but it's a pleasant world to live in.
11-Nov-2020
---
Downsizing (2017)
A novel scientific resolution to save the environment revolutionizes the planet. The idea is to shrink people by offering the struggling worker a comfortable life and deem prisoners and hostiles of the government their servants. Matt Damon spoke Spanish eloquently, pulled deep emotion and cast a sad hero. Only 3% become small, the planet doesn't get better and life decisions have to be made. I think Kristin Wiig should main it for the sequel. She'd weave a funny awkward life into it. I wanted more of everything. I wanted to nerd out with corny effects and funny big people scenarios but the budget remained tight. The ending is about choices and priorities. We get to choose with them.
11-Nov-2020
---
Nobody Lives Forever (1946)
Gangster serving time in the army is released into a scam that involves sucker punching a widow for her money. The gangsters are divided by type but united by greed. The old timer that you can trust but has run out of gimmicks, the roughneck always by your side until the tide changes, there are tramp gangsters whose limitations and penchant for violence grants them misery, the stud with athletic edges that make the girls swoon is unmatched and most wanted and the moles destruct what the competition makes worthwhile. Garfield is thug sophistication, smarts with an aggressive charm and daddy heart that's going to generate a lot of trouble. It isn't art but its tipping its hat to it. Faye Emerson scratches louder than Geraldine Fitzgerald's screams and "Mr. Gladys Kravitz" was funny.
11-Oct-2020
---
Oluture (2019)
A journalist joins the sex trade in an effort to expose the leading traffickers in their country. She meanders, manipulates, swags, snitches and avoids having sex. The men are crime kings who grab it, beat it, sell it, crumple it up and dump it (usually underground.) The suspense is agonizing because the hurt is real and we can't do much about it. It's "Cuties" horrifyingly grown up.
07-Oct-2020
---
Freaks (2020)
It takes you to a place a superhero blockbusters rarely do. It analyzes how a superpower awakening affects everyday chores, emotions and people for better or worst. You can get yourself some cash, gain a lot of respect, kill a few people, cause a ruckus and wonder how it integrates with a personal life. The villains are born from misunderstanding and rejection. The heroes are thrust forward for its mistakes. I wish they had been granted the effects that the story aspired to but the message zapped through.
01-Oct-2020
---
Midnight Special (2016)
A boy special enough to kill and protect. Michael Shannon, Joel Edgerton and Adam Driver are daddy courage serving ass whippings and child protection. Kirsten Dunst inhabits a mother's sacrifice without saying a word. Solid acting sustains the probability. Little boy holds back when he should and only releases to surprise us. The theory echoed and much of the discovery is amazing. There are things I don't biologically understand but the sci-fi thrills are enough to make you forget it. (The scenario I always dreamed of played out and it destroyed my functionality.)
20-Sep-2020
---