Movies Posts Tagged as 'Gay Swatch'
---
Rating key:
Welcome to Errattic! We encourage you to customize the type of information you see here by clicking the Preferences link on the top of this page.
Secret Society Of Second-Born Royals (2020)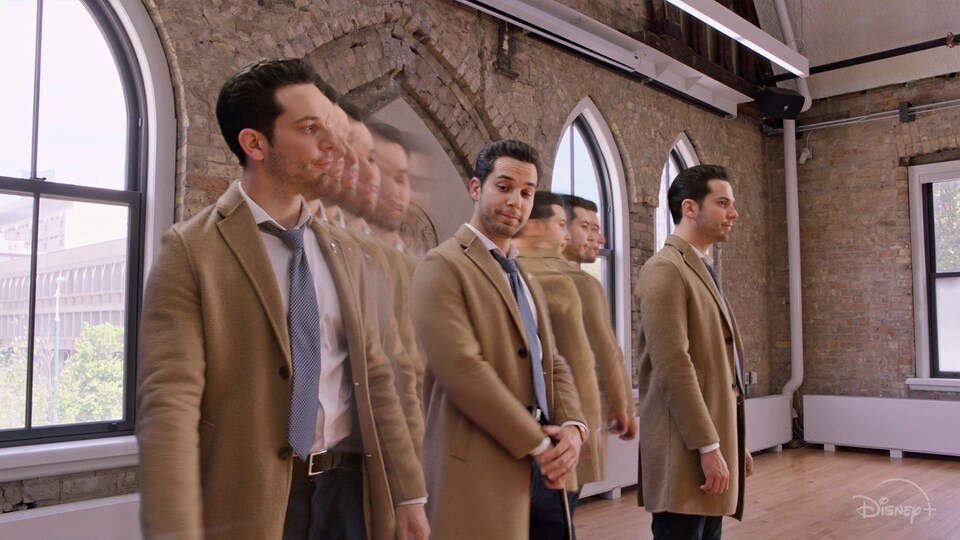 Teens born of royalty and irrelevance (they don't qualify for a crown) are redeemed with superpowers and covert missions to serve their nation. The powers are light, the kids are sweet, the action is wavy but the heart beats. A gay superhero mentor is a bonus.
21-Jan-2021
---
First Wives Club, The (1996)
A feminist excuse to avenge a man for wanting tighter lips. Great actress charm deduced to a stigma. If feminism was all about cutting daddy's dick why all the fuss to get their children married? More witnesses? What the fuck is the difference between a regular lesbian and a big one? More tongue?
02-Jan-2021
---
Just Another Christmas (2020)
Once the lunacy takes a seat the Ground Hog Christmas motif finds its groove and its heart. Daddy wakes up every Christmas but doesn't remember anything he did all year. He wakes up to grown kids, a failed marriage, a mistress, three dogs and a few makeovers. He spends Christmas abhorring the man he has become and can't control. The family is loud and homey, the sentiments are sweet and the idea is respectful. Feliz Natal.
25-Dec-2020
---
Space Station 76 (2014)
I watched expecting to find any reason to turn it off. It didn't feel like comedy but the players were so adamant on cultivating their characters that it gets downplayed as a natural part of life. They live in space, sometimes alone and sometimes with family. Some have seen earth, others have not.
Highlights of the future:
We still have to roll it, light it and smoke it ourselves
The robots seem like leftovers from the NINTENDO R.O.B. collection
The future has picked the 60s as their futuristic style
The tech must have been collected from PeeWee's Playhouse
It's clean
There is only one child in the colony and it plagues her with panic. Her mother wants to deny her joy. Her pets keep dying because mommy hamsters have a tendency to bite their babies' heads off. Is it because she feels they don't have the skills to survive? That's how mommy explained it. Liv Tyler is the newbie getting accustomed to living with strangers and doing her best not to let anyone down. Her boss (Patrick Wilson) is hyper, mentally unravelled and suicidal because he can't stop jerking off to the Grinch. That was funny. Matt Bomer is married to lonely child's mother. She loathes the newbie because she has gained her daughter's affection and she likes her man. Bomer does a "pretty" acceptable job of being man trash.
A story about space that has nothing to do with nerdy technical explanations. I liked that.
13-Dec-2020
---
My Best Friend's Wedding (1997)
Childhood friends discover they might have feelings for each other as "his" wedding approaches. Julia's star was astutely intoxicating. She reveled in being the asshole and compelled us to cheer when she realizes it. Cameron Diaz steals it by being the opposite of the woman that always gets the good man. She's adorable. If I liked girls I would eat her. The GBFF is of British cunt royalty. Its Rupert Everett, full of life and hope before the despair. Charming and cheeky he was the GBFF you can convincingly pass as a boyfriend and help your vibrator conjure up an image. Julia made me conscious of Dermot Mulroney's importance by the way she looked at him. She was studying him. I deduced him. He's the dick that looks great in Julia's glow and uprises when Cameron blows. He's that guy, she's that girl and she's that poor girl. The laughs are not a statement but a way of life, the romance is annoying but it's smart, people will never relate this way again and GBFFs don't last forever. The music made me float.
07-Dec-2020
---
Home For The Holidays (1995)
Rabid family holiday. Foster's mind is a jumble. Flamboyantly directed, fussed over and disrespected. Robert Downey Jr.'s gay brother flitted about like a crazed woodpecker perching and flapping uncontrollably to our discomfort and limited endurance. Giving a cute girl the sniffles for the entirety of a film is not romantic or sexy. It's a family home visit without the drinks. Where's the fun in that?
05-Dec-2020
---
Shorts (2009)
It mindfucks from the beginning. It's told out of sequence and it has something to do with a gay rock that grants the grabber wishes. Unfortunately, the wishes make you see the ridiculousness in them as they come to fruition. The effects are genuinely gross and creative, the kids exceed expectations, the film is hilarious and that guy from Two and Half Men is in it and he doesn't grate. I had so much fun.
04-Dec-2020
---
Nobody Sleeps In The Woods Tonight (2020)
Parents send their tech dependent children to nature camp to enforce the value of social interaction and gain survival skills. The bootcamp is a military wasteland. It splits them into teams and focuses on hikes, challenges and camaraderie to allow them to use the tech in their brains. You can also make friends. Good ensemble pulls you in as the movie keeps taking them out. It starts to hurt a little. The threat is a mess. We like our deformed bubblies with masks on and butch gear. It's yuck and impossible to look at. The pimply hillbilly troll backstory didn't help. It was preposterous. I withstood the gore and porn violence because of the cast, the kids, the representation, the dialogue, the awkwardness, the scared lesbian, the sexual limitations of tech sex, following natural reaction protocol and because they are us. The beast is in desperate need of a glam attack. It needs Jason's virility, Michael Myers' stamina and Freddy's humor and waist. It prepares us for death by tingling other parts of our body. Ick.
02-Dec-2020
---
Christmas Chronicles 2, The (2020)
An array of adorable elves get kidnapped by Mr. & Mrs. Claus to run toy factories, serve their masters and provide Christmas preciousness to their surroundings. When an elf breaks a rule it gets turned into a fat depressed British runt. Why? Santa stomps and hair flips like a daddy stealth bomber, mama Santa has Goldie specs and the children are as interesting as the beach they never go to. Everything is boisterous and pimped out. When the elves turn into Gremlins the cuteness subsides, the gas gets turned up high and Christmas burns down.
30-Nov-2020
---
A Cinderella Christmas (2016)
Romance is a concept. Love is that universal fantasy that can fix anything and achieve nothing. This film is an instructional manual on how an alpha can easily capture his sucker mate. It works for the sluts too. It's a fake luxury liner. Cinderella gains a selfish cousin and loses two step-sisters and an evil step-mother. She is now raised by an unconscious uncle whose stupidity is explained as a parental failure. The prince is a ginormous hairy butted banging bottom whose perfection was created from Jesus spit and is a representation of why women and twinks do video splits. If you can't recognize a person beyond a face mask you're full of shit. He expounds worship daddy constantly, celebrating the quantity of women beluga he's chipped. A Scooby Doo member is the fairy godmother, the men act like its an NFL recruitment session and the women compete to the death to get that middle cheerleading spot. The howls of orgasmic virgins drown out the Christmas bells and kill any sign of Christmas cheer. They want us to horn in but the prince's tights aren't tight enough.
29-Nov-2020
---
A Cinderella Story: Christmas Wish (2019) 
Cindy fends an exploitative Jenner stepmom and abominable Kardashian sisters. The music is cute, the twink prince can break daddy dick and crush virgin vagina and its existence is Christmas cheer. Adorable!
24-Nov-2020
---
Berserk (1967)
Crotch daddy trapezes, animal obedience and special talent, Friday the 13th kill inspiration and madame Crawford eminence in charge. Welcome to the circus. Keep your eyes on daddy, mommy dearest and animal freaks to entertain the crap out of fun.
14-Nov-2020
---
Bad Hair (2020)
Girl gives in to the establishment of success and gets a weave. The essence of the owner lives in the hair and it has a thirst for blood. The film is campily set and perfectly cast, utilizing every 80s fashion tragedy to funny effect. Vanessa Williams arrives to chew scenery and she eats divinely. Elle Lorraine is the joke, the punchline and the effect. The knitting of the weave was excruciating and the hair sucking the blood flow from a dripping vagina was handy.
31-Oct-2020
---
Little Girl That Lives Down The Lane, The (1976)
Girl home alone. Dying dad bestows his daughter home security and life skills that would allow her to survive until adulthood. Alexis Smith plays the ultimate Karen whose landlady suspicions arise at a most inconvenient time and whose spats with Miss Jodie are powerhouse. (The slap was everything.) Martin Sheen was so realistically slimy as a predator that I had to imagine it was his spawn's "Charlie character" from Two & Half Men. When you acquire power from self reliance, self love and luck, only the broken and the animals will be able to understand you. Miss Jodie doesn't quiver, exudes superior knowledge, bitches like an equal and demands the respect of a girl who wants to live in the house that daddy paid for.
04-Oct-2020
---
Boys In The Band, The (2020)
The original was about mean queens celebrating a birthday whilst eviscerating each other. The remake tones down the queen and ups the hostility and humiliation. This is a most difficult success story to digest. Jim Parsons gobbles it up like it's the last dick he's gonna suck, Charlie Carver gets to squirt but not emote, Matt Bomer exhibited his ass and it was riveting and Zachary Quinto wore an afro sheen wig. It all isn't nicety and rainbows in our community and it elaborates on it without resolving it. The black band member did not walk out when his friend uttered the "n" word towards him and he didn't walk out when he sang it to him a second time. Friends do not call each other that. It would be over. This is where you insert daddy Ryan's skewered politically correct irrationality and award a character some self-respect. It depicts the hellish parts of the gay community that is always shining in the dark and slams your head against the wall with it.
01-Oct-2020
---