Movies Posts Tagged as 'Good Acting'
---
Rating key:
Welcome to Errattic! We encourage you to customize the type of information you see here by clicking the Preferences link on the top of this page.
Arrangement, The (1969)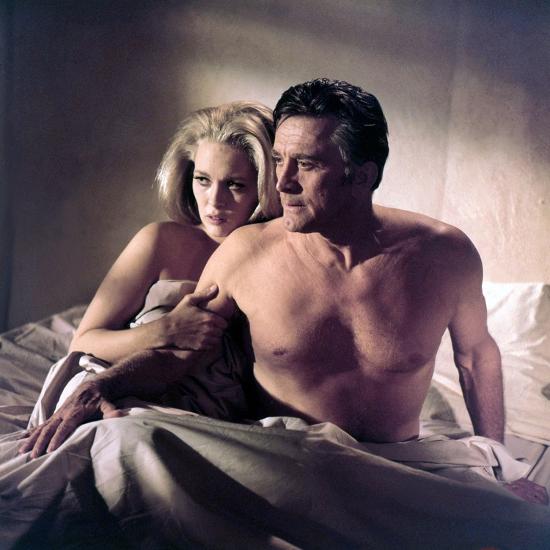 Alpha daddy is acting bonkers. He's disillusioned with his wife, can't communicate with his daughter and is suicidal. He drives his car into a truck, gets a better face, detaches from life and gets a second chance to make the same mistakes. Faye Dunaway was beautifully confident as the office slut that could reduce a happily married daddy to mush and make him pay for it. Deborah Kerr exposed her soul and sexuality as a wife waiting for a man that's never going to be there. Kirk Douglas roars as a man obsessed with orgasms and baby smells. Elia Kazan opened up as a director and tried new things (good and bad). It is a detailed examination of how love, sex, beauty and insanity correlate.
13-Sep-2021
---
Our Miss Brooks (1956)
Miss Brooks is a respected English teacher who's moved to a new town for a progressive opportunity. Competitiveness at work is minimal as she plays well with boys, stimulates her students and knocks sense into obstinate parents. She has a desperate need to settle down which is not characteristic of a woman that's acquired equality. She's good at everything. She has the cutest landlady, a rich daddy, a working daddy, a great job, the esteem of the community and she's smart. The film has sitcom sensibilities and a pleasant Desilu alumni. Gale Gordon was a pratfall master that endured a lot of physical punishment to make us laugh. I laughed. Eve Arden was a master wit. She told it like it was and lived it. She was an act of freedom.
05-Sep-2021
---
Indecent Proposal (1993)
A fairytale can sustain a marriage until someone else's reality makes it true. Men are easily positioned by a punch to the face but a woman is a game worth dying for. A woman cannot be special unless she is hunted and adorned. A billionaire will pay a million dollars to have a sex with a loser's beauteous wife. Demi is full watt, totally worth a million dollars. Daddy Redford is an alpha watt hoarding the unattainable by deconstructing it. Harrelson is the cute schmuck torn between love, security, betrayal and insanity. Lyne is a Hallmark backend. It's psychological intuition sometimes gets marred by goop smear but the trio sparks, the music masters, the thought is clear and the atmosphere is bright.
26-Aug-2021
---
Bullwhip (1958)
Half-breed cowgirl can't reclaim her inheritance unless she marries. The lady wields it, cracks it and entangles it around a very pretty cowboy that she sets up to hang unless he marries her. The bullwhip is a symbol and not really part of the act. Woman betrays cowboy. Cowboy resolves that a lesson must be taught. Lady with a whip refuses to be slave to any man. She is a man. Cowboy is smitten with her fierceness but ruffled by her lack of heart. The best way to shut a woman down is with life lessons. A woman counters by being more of a woman. Cowboy gets mushy but remains tough as heinous crimes are rewritten. It's B-grade candy, flavored by Rhonda Fleming luminescence and Guy Madison heart thumps. It preferred fistfights to guns which begat a stuntman showcase.
14-Aug-2021
---
Game, The (1997)
The game is a birthday gift from baby brother. Reclaiming the gift is such a useless bother. The tycoon wastes his time allowing assholes to invade his privacy so he can redeem a ridiculous punchline. The game is not attached to a kink that would make him tolerate it. Douglas growls beyond the script and Deborah Kara Unger bites decisively. Sean Penn's lack of exposure had him masterclassing to appear incoherently different every single time. The game is high grade nonsensical harassment cancellation.
08-Aug-2021
---
Johnny Guitar (1954)
At no point did I strum for Johnny when Joan was the instrument. She cowboy'd up, accomplished some manly maneuvers, looked great, flicked her own and sent the lesbian and her male posse out to the western stratosphere. Pazuzu from "The Exorcist" (Mercedes McCambridge) was the town Karen, interfering in bisexual woman's business by inciting a mob of lawmen to protect the town from unclassified hedonism. Battle ensues as the lesbian pretends she has a soft spot for one of Joan's goons. "Bitch, there's only one man in the room and her name is Joan!"
08-Jul-2021
---
Security (2021)
Teen gets attacked and an investigator is tasked with rummaging through private security footage to resolve the crime. When the crime exposes the reality of his family life, he breaks. Our hero is a gruff everyman who doesn't want any more than what life offers and his wife is a power fucker that wants to get elected. Daughter is sleeping with her teacher because neither parent pays her any mind and she likes to torture daddy. Does daddy snoop on family trust to solve the case? A scary conundrum that no one wants to ponder.
28-Jun-2021
---
Velvet Touch, The (1948)
Broadway legend destroys many lives by extinguishing her commitment to a producer/lover. She's in love with a big nosed romantic, wants to change producers and to take risks in her career. Love has changed her. Angelina's so giddy that she makes amends with her nemesis and promises to return Brad to her. She plots a clean break but reality throws a curveball. The mare and the stallion have a violent showdown. He shoots her with accountability bullets, she kills him with rage and the crime scene shifts towards Jennifer. Rosalind Russell is a sharp wit, a cutthroat and a talent. She doesn't want to go to prison but can't allow an innocent person to take the blame. Her act within the act is marvelous and addictive. You follow her til the wrenching curtain call where her choices are bad for everyone but her luck remains the same. Sydney Greenstreet as Captain Danbury was a playful bear who appeared smarter than written. Theresa Harris expended tears and wit as a black assistant. Dan Tobin was gay significant. Claire Trevor looked like the type you leave. The movie had bitchy guts and a tight pussy.
19-Jun-2021
---
Awake (2021)
The world is coming to an end, no one can sleep and everyone is going nuts from sleep deprivation. Gina Rodriguez is a mother of two, whose daughter can sleep and a teenage son who can't. Everyone wants the daughter and prisoners want to fuck her son. Gina has tough girl stance and the motherly instinct to protect her babies. The reason for the power outage (technical and physical) is insufficient, some of the action sequences thrilled, the ending knocked but it also confounded. Its popcorn. Who cares? I love seeing Gina get mad.
11-Jun-2021
---
Mope (2019) 
Black and asian youngsters form an unlikely bond during a bukkake video performance. Black man can't climax until the soft whispers of an asian stranger help him out. Voila. Friends forever that will reach the heights of success by becoming the Jackie Chan and Chris Tucker of porn. Mope Tucker and Mope Chan are not impressive beings, they both have little dicks, are victims of whiteness (they don't know how to act black or asian) and they slurp while eating vagina. They can, however, take a swift kick to the balls, eat shit, drink piss and wipe it from the floor. A mope. Tucker wants to expand the brand and put them on display. "The first men on the cover of a porn box." Nathan Stewart expends every last nerve as a man clinging to the last piece of matter that keeps him grounded to an environment that isn't homeless. These parasites keep him sane and fucking. The boys with grand dreams become Steve Driver and Tom Dong. The friendship suffers from favoritism, jealousy and betrayal. Gangbanging the girlfriend tore a nerve, racist remarks cracked a spot, and the cameos hit their marks. It's cheapness adds to its' value. It smells like porn, your feet stick to the floor and the prettiest thing in the room is the popcorn machine. It's a true cis story that would translate well as a gay "great American novel." The guy incinerated from Bridgerton could play the smelly gay guy.
05-Jun-2021
---
A Perfect Murder (1998)
A perfect cast to incorporate it. Viggo Moretensen of perfect hunkdom and cracked beauty played the lover. He seduced and slithered the pants off of Michael Douglas, Gwyneth Paltrow and the audience. I loved it when Michael pulled Viggo's hair. SAF. Someone is having an affair, someone is being betrayed and someone has to die. Lady Goop has fairy essence conjuring ways for us to be comfortable in her diabolical surroundings. Dude, she spoke two languages without an accent and ate pot roast. WTF. She's an alien. Yeah, I'm onboard. Daddy Douglas has gone to battle with a woman before. I presume he's won some. He relished it. It's fun, elegant crime trash done to aplomb and it beats wasting $30.00 on people uglier than me.
02-Jun-2021
---
Petulia (1968) 
It was on my list for a lifetime but I never got to it. Daddy Doctor Rio is separated from his wife and kids because he doesn't want to die a passionless fuck. A fragile beauty with manic episodes invades his life and his choices. She is victimized by her husband, Richard Chamberlain, who was annoyingly pretty and agonizingly gay. Julie Christie was that thing you only find once. Her beauty was her art. George C. Scott roared obsession and determination. Shirley Knight whipped her hair back and forth and got slammed with cookies that she baked for George C. Scott by George C. Scott. The music pushes it, the elegance enchants it and the crew elaborates on it.
02-Jun-2021
---
East Side West Side (1949)
Tricky dick (James Mason) happily married to a lesbian sophisticate is tempted by the return of his tempestuous alpha lesbian lover. Barbara Stanwyck and Van Heflin have comaraderie and the camera loved Ava Gardner and Cyd Charisse but the crime caper is overdone. The cameos from Fred Mertz as an ironic sober bartender and the best female cocksucker in Hollywood under an assumed name, lend it Pokemon status. The girls were fabulous, the film was okay.
28-May-2021
---
Nest, The (2020)
American family encounters alienation when they move to England to satisfy Daddy's whim. Daddy is a financial security risk who thinks that success lays in places not people, momma is stuck climbing a mental hill on repetition, the boy is spooked by his surroundings and the daughter has a knack for loud music, parties and drugs. Jude Law and Carrie Coon lend strength to a script that takes their characters nowhere.
21-May-2021
---
Woman In The Window (2021)
A cheap thriller receiving attention because an acting powerhouse is in it. Production invited stellar actors to deliver supporting one notes. Why bother? The writers and director are faulted for having no perceptive style and for thinking that hiding and boo is the only adult scare tactic. I would have fired them, handed the camera to Amy and told the actors to wing it.
21-May-2021
---