Movies Posts Tagged as 'Good Acting'
---
Rating key:
Welcome to Errattic! We encourage you to customize the type of information you see here by clicking the Preferences link on the top of this page.
Disenchanted (2022)
The most enchanting thing about both films is Amy. When her magic is at full tilt, production continues her flow. Dempsey was saddled with a silly storyline and a "send him away" type direction. Women and men no longer want to fight together. It's women's turn to die for what they believe in. Marsden is a pro at acting douchy but cute. Gabriella was just right. Maya stopped fussing and was funny again. The music was almost but it felt like there was an intruder interrupting the grandeur. Some of the songs are juvenile. Idina Menzel wrecking her throat's gift on shitty songs is a never. They made her sing "Let It Glow," again and again. Her magnificent voice gets a full moon. Amy's everything makes you hungry for more. Suburbia works as a stand-in for a magical life but once true magic coaxes itself into reality the ink starts to dry. They gave no magic equations or rules of limitations that we could realistically follow. What kind of magic is in Andalucia? Why did the queen gain power? Is Andalucia in Wakanda? None of the above. They gave no rules because they didn't want to have to follow them. Dude, that's when the best art is created! Full moon to the production in front and back and a boo hoo to the writers for not coming up with something more substantial to say.
18-Nov-2022
---
Wonder, The (2022)
A child fasts to appease god and clear her family of their sins. Faith, in the hands of a child, can be a destructive thing. Pugh remains on, for the duration, as an investigative nurse that wants to clear the bullshit. The director keeps us trapped and enrapt. You can only fight a fable by trading it for another. Well done.
17-Nov-2022
---
Good Nurse, The (2022)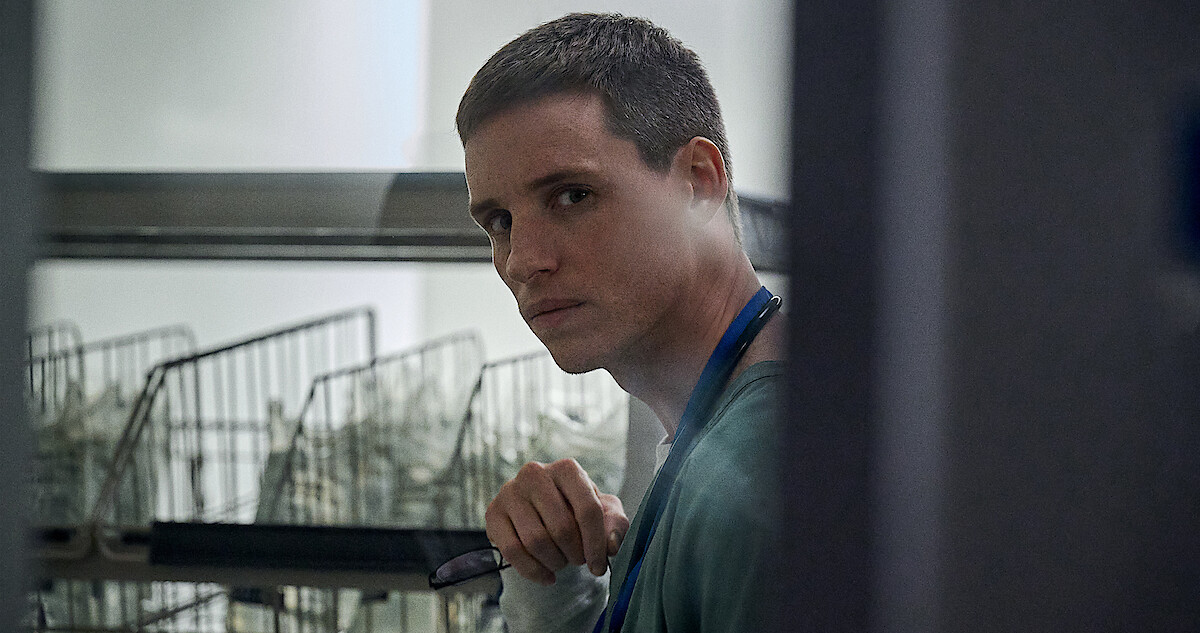 The angel of death is serving the ill and forgotten whilst deciding which deserves to stay amongst us. Lady Chastain introduces the audience to her pain, which we inhale and feel 'til the very end. Asomugha and Emmerich teamed up nicely. Hot boy proving he can investigate using his brain and Daddy Emmerich twitching the way I like. The cast didn't miss a beat, the story was tight, the procession, intriguing and the recapture well plated. Lord Redmayne spends a lot of the time hiding from view because that is how the angel of death would appear at work. Do a great job, kill them with kindness, keep history mum, don't be popular but make one sucker friend and kill up to a 1000 people. I couldn't believe that Redmayne would play a killer so controlled and unassuming until he outrants Ledger's Joker at the police station. I was inhaling Jessica's air when he punched me in the gut. Nice.
27-Oct-2022
---
A Doll's House (1973)
A woman moving in with a man must turn the home into a dollhouse in order to make her feel like she owns it. She owns him as much as he thinks he owns her, but a toy is the only home she will ever get to own. The cast played it without pity, the story excelled as it moved, even though status has changed, emotions remain the same and Jane Fonda flexed some beautiful muscles. Freedom comes after you stop lying to yourself. A real Christmas story.
17-Oct-2022
---
Mandy (2018)
An artful relentless mess in which Lord Nicholas takes on religion and splits his asshole kicking its butt.
12-Oct-2022
---
No Time To Die (2021)
The action sequences were fantastic, daddy Bond exhibited sausage and skills. Having muscles didn't hurt. I couldn't decide if the villain was ridiculous because of the actor or the writing. Sap killed the end. Bond doesn't need to announce what he's going to do. It kills the surprise.
24-Jun-2022
---
Made In Paris (1966)
Ann-Margret plays a girl who advances in the fashion industry because of hard work and drop dead gorgeousness. Father and son heads offer her the opportunity to become a Paris buyer when the original gets married. Father and son dispute her capabilities but acknowledge that beauty can surpass it. Louis Jordan is the Paris client with sexual arrangements to the previous buyer. There is little proof that Margret's character impresses at her job because she spends most of her time in Paris, drinking, partying, flirting, dancing, singing and clobbering boys who want to go further than a kiss. The most beautiful boy in the world, Chad Everett, the hottest tongue in France, Louis Jordan and the slub who accepts leftovers, Richard Crenna, are the men vying for Lady Margret's baby's breath. Ann's character is written with confused sensibilities. She riles the men up then 2x4s them later. She wants to live a fantasy without all that icky stuff, like sex. The ex-buyer getting married on short notice without telling her french lover/client gets no clarification. Edie Adams was unfortunately a short lived thing disrespected in the film's best storyline. Margret dolled up in fashion chic and hit the dance floor to Count Bassie and Mongo Santamaria like a sexual beast. Edits and choreography are a mess but Lady Margret's magnitude never lets up. The fashion is creative, the only laughs are violent, the idea that a girl becomes a woman if she gets married is primitive, when men exclaim that a girl is too young to fuck, they mean right now.
26-Apr-2022
---
Parallel Mothers (2021)
When Almodovar embraces Hitchcockian ambience it is sublime but when he attempts a Spielbergian signature it deprives the film of a punch. Two mothers, both strangers share a common thread that conflicts with their lives. Even though the outcome is easy to determine, the presentation is a shivering buildup. Penelope Cruz maintains her hold until Almodovar gives up. Her mother doesn't crumble as the film's psychology implies. She wraps it up without a challenge. The ending is part Schindler's List and part Indiana Jones/Jurassic Park. I welcome a latin Spielberg inspiration with cheeky heroes and dinosaurs but I can't forgive a spanish mother that doesn't wreck. A spanish mother is the T-Rex of emotion.
23-Apr-2022
---
Kindred (2020)
It's an incomplete thought. A woman realizes her culture by being left behind to be parented by a rich white family. The interracial harmony was a plus. The actors didn't make calls to their agents after every scene. They were in it. The idea that the man you loved was lying about his parents and abandons you to their care is frightening. The atmosphere was established, the actors were prepared but the story didn't succumb to its repression. All was safe, all felt long and none of it felt warranted. I wanted to hear the screams of agony and the main fucking the shit out of that pretty butler to get the fuck out of there. That's what real people do. They don't waste time wondering.
20-Apr-2022
---
Wonderland (2003)
The washed up male porn star with a huge dick cliche. His 14" cock was the ladder that should have saved the world. John Holmes was a porn king who sold his soul to the devil to continue to do drugs and have sex. John Holmes was either the mastermind that plotted the worst heist of his life or he was really dumb. Baby Kate Bosworth was a great young innocent in love with the aura of a "man." Lisa Kudrow was Beatrice Straight from Network. Underwritten, marvelous and powerful. She didn't flinch. Val Kilmer softens the big cock brute by being genuine. The reenactments of what occurred that fateful night raced to a satisfying conclusion.
04-Apr-2022
---
Green Knight, The (2020)
A scary Christmas tree disrupts the holiday of a royal court by suggesting a game. The tree will sacrifice its life if the hero taking it, returns the kindness a year later. The bastard son who has only been acknowledged this Christmas, volunteers. He becomes a celebrated knight who downed a beast that will eventually down him but is enjoying the best year of his life. The fairytale has no significance. Magic appears without explanation. The voyage is gorgeously dull. The director casts some beautiful shadows and illuminates good acting but confirming that all mistakes in life repeat themselves is depressing.
16-Mar-2022
---
Father Takes A Wife (1941)
Menopausal shipping magnate dumps his business and distances himself from family because he wants to re-marry. The wife is a young Gloria Swanson playing a celebrated actress ready to retire with the old rich man of every woman's dream. She had money and success but wanted security. Adolphe Menjou was too cute and proper to put down but mama Swanson deserved to fuck his boring beautiful son. The film is split in three. Intro fears, adaptation, immigration, saving the planet and regretting it. Swanson and Menjou quarrel about masculinity and woman's liberation while receiving modern advice from the son and sweet wife. The event is Desi Arnaz as a stowaway on their honeymoon cruise where they decide to rescue him and offer him a lifestyle only the elite could afford. He can sing, shave and fuck like a bandit and he's pretty too. He deserved to fuck everybody including senior and junior. Swanson deserved to put him on her plate. Desi's accent was very light and we got to experience him how Lucy saw him. A beautiful ham. Its heart was distant, the comedy avoided the soul but the pretense was fun.
14-Mar-2022
---
Humoresque (1946)
Like Batman I focused on a minor detail that should have gotten someone fired and the picture burnt. Ms. Crawford's leg looks beat up. Is it make-up? Is it black nail polish? Did she fall down a flight of stairs? Are those surgery scars? Is that why she's sitting? Was she secretly dirty? It looks awful.
14-Mar-2022
Should you expect payback for endorsing a genius? The film ponders it and applies solutions. John Garfield was born to play broke hot daddies with genius and obsessive compulsions. Joan Crawford always "manned up" to cure them. Ms. Crawford was almost comical until she put on a pair of glasses and blossomed into a bona fide artist. It was classic thespian. The parents' interjection seemed appropriate to the traditions of a hard working family. The family worked to establish a genius and survive. Mama and papa were the mama and papa that lucky children got. Papa looked out while mama cared a lot. Flashbacks were insightful. Ms. Crawford was fashionably tailored to her specifications. The story happens. Oscar Levant was the wisecracking loser that coasted from genius because he failed on his own. He spoke the uncomfortable words the "damned" never listened to because he wasn't "hot." Funny.
04-Mar-2022
---
Adam Project, The (2022)
Super daddy, a chunk (of meat) and his mini spar through time travel to end time travel. Sci-fi is comic book, action is diverting, writing is pensive but the three leads hold it together. The boy mimicked an asshole just like Ryan Reynolds would. Mark Ruffalo is a war torn daddy born to parent an asshole. The wattage, the funny, the adorable and the sweet were all there.
13-Mar-2022
---
Mikey (1992)
The inestimable is the most hurtful. Brian Bonsall played Mikey, a throwaway child with trust, jealousy and psychotic issues. The actor had the smarts of an adult aware of its value. Everyone loves "new" adorable thing until it becomes codependent and angry. The conversations are the same as today, which freaked me out. "We're still talking about the same shit with the non-resolutions." Mikey is presented as an adoptive boy trying to adjust to a family that has suddenly enforced rules. They must die, the most inept investigators can't solve it and adorable little Mikey is psychoanalyzed for PTSD after secretly killing them. The psychiatrist frees him into the adoption system with an "all he needs is love" diagnosis and Mikey moves on to the next stupid family. Mikey has learned that electricity and water don't mix, you can hit real balls with bats, cops can't solve anything, mothers just stand there screaming while you're stabbing them to death and to remove the bullets from adult guns and disconnect their phones so they can't fight back. Empty guns waving in the dark. Elementary school sports training consisted of coaches deciding which boy would be a "skin" or a "shirt" for no apparent reason other than to be a pervert. Telling certain kids and not others to strip is insulting and absolutely gay. His favorite teacher becomes suspicious of the boy's monstrous tendencies when he adds marbles to her "marble game." A box is designated for the kids to drop marbles they earn for good deeds. The more marbles of goodness you inherit the quicker you can fill it so its doors burst open and you can receive a prize. She investigates his history but his adoption file is closed and the witnesses are minimal. There is no living thing that is safe when Mikey gets pissed. Will he spare no one? Kids dragging adult dead bodies, killing cats, feeding frogs to sharks, setting up the boyfriend and using a bow and arrow to kill are hilarious. Everything looks TV safe and appealing, the deaths are LOL and Bonsall keeps on giving. He is the conservative cunt that arises when successful families keep pushing the same subject without advancing. Mikey is the child liberated from bullshit. Baby boy is my new "Carrie."
PS: dudes, if she wants childrenx and you don't, show her this movie. Repeated viewing depends on her voracity for children and disdain for the film. Keep it downlow. We don't want to damage her. Keep it stealthily in the background and don't stop watching it. Make it a top ten of all time. Yeah, it's crap but its better than having a baby.
21-Feb-2022
---