Movies Posts Tagged as 'Action'
---
Rating key:
Welcome to Errattic! We encourage you to customize the type of information you see here by clicking the Preferences link on the top of this page.
Blue Beetle (2023)
The pace had no time to set-up character appreciation, it had a billion particles to settle. The family dynamic was food, drink, celebration and insanity. George Lopez added comedy schtick to his act. He looked like a character booted from Bedrock because he was too loud and ornery. The breast queen should be playing Lady MacBeth not becoming a free TV actor. I can see her washing blood from her hands and implementing Elvira's cleavage cut. The rest of the family and the leads apply stereotypes without explaining them. There is no such thing as a stereotype because it's only a description of our heritage. Universal speak. Nobody passed the classic TV Q test and the silliness hardly stopped. The best of the mythology turned into a fiesta. The family went everywhere together. Really? When did they masturbate? Why did the family get superpowers? Beetle's nemesis was a bigger and badder version of himself. Couldn't we have gotten something a little different? If the production wanted to fill the female quota, why didn't they concoct some awesome female villains? He has lots and no villain is scarier than a latin woman scorned. She'll slash your tires.
27-Nov-2023
---
Nun II, The (2023)
If beliefs cause faith why can't we believe there are no demons? We have to fight them first so we know we're good. Taissa gave great face and Storm Reid was her partner, lapping it all up. They had an interracial team-up that felt genuine. Jonas Bloquet was eliciting Hammer tremors. The nun was still glorious, showing up scantily but creepy and ready to blow. Her backstory held. It's fun watching scared little mean girls.
17-Nov-2023
---
Killer, The (2023)
"Trust no one." If that thought had been applied to the killer's private life, the film would've been a masterpiece. The panic attacks start as soon as the movie is over.
16-Nov-2023
---
Scream VI (2023)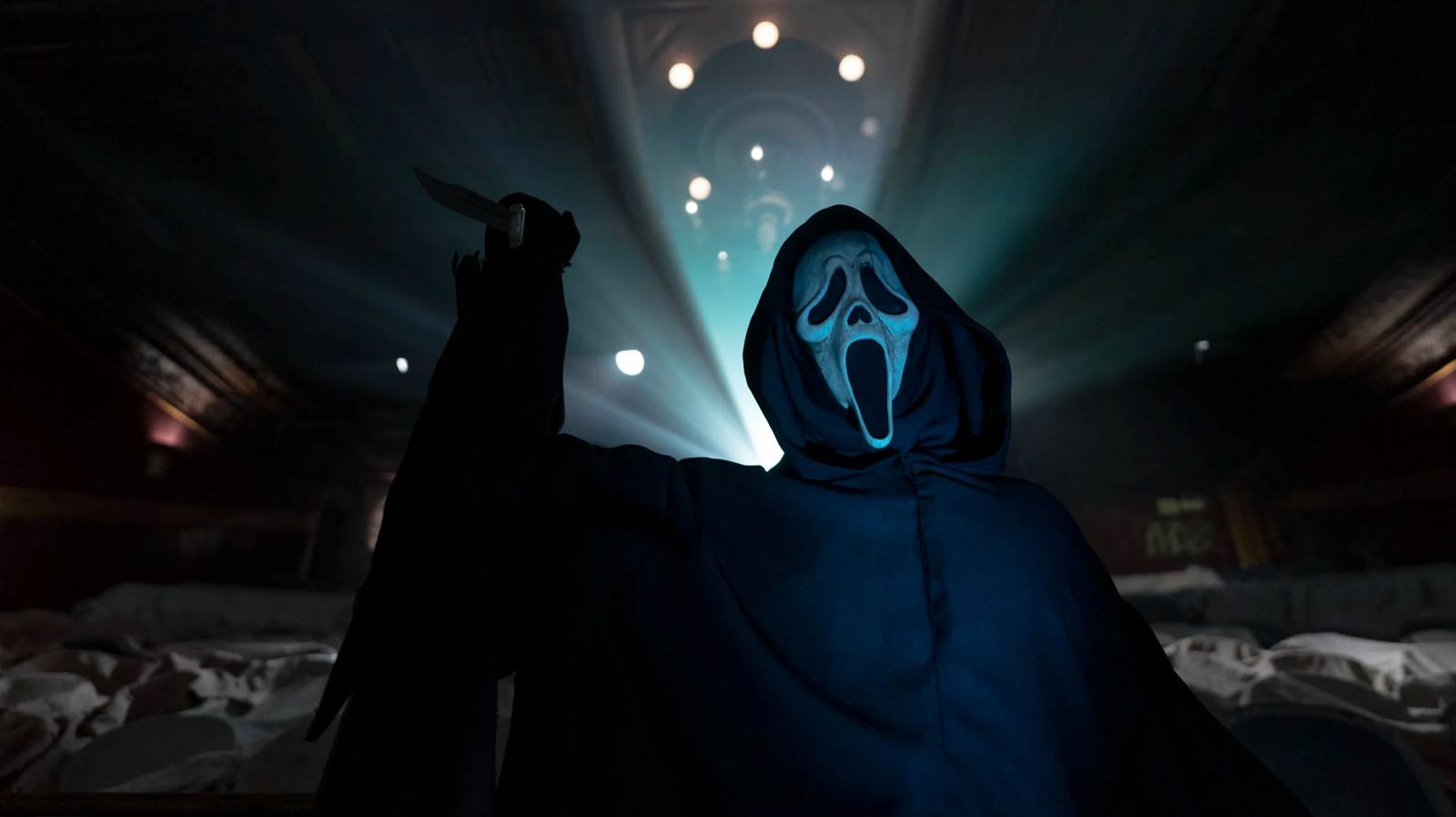 Exactly what I didn't expect, in a place I wouldn't think of.
16-Nov-2023
---
Scream (2022)
I was surprised by the comedy horror tag. I saw nothing funny except for all the situations that put Ortega in harm's way. She was one of the bright things.The ghost costume needs an upgrade. The voice actor for Ghostface sounded like a harmless prototype. It's nice to remember the past but it didn't adhere to logic. The newbies were social media born and nothing more. I applaud Neve for bringing her original face and showing us she can act. She looked great. Cruel deaths are only delegated to males. The director did well with horror but the wink, wink trivia isn't cool anymore. That joke only works once then it becomes annoying.
13-Nov-2023
---
Spider-Man: Across The Spider-Verse (2023)
I've never met a Puerto Rican that talks like Miles. Even though he's half the race he would never retain his father's accent because no Puerto Rican mother would allow it. He lives like a Puerto Rican. By the way, we are more than platanos and empanadas. We also love pork, rice, fried everything, chicken, fish, beef, chinese food, lasagne, pizza, anything and beans. If the father is black and the mother is Puerto Rican where did the Morales name come from? Bad Bunny, Ricky Martin and Izzy from Love is Blind S5 are great examples of Puerto Rican speak. At least when white people did it they tried to sound like us. Peter Parker sounded like a dork flake. The first half abused a soundtrack that distorted musicology. It played like a 45 on repeat. Keeping up with the psychological speed was phenomenal, the art was crisp and when the musical score interrupted the playlist, it didn't suck. If your child itches, this is a classic, the others might become anxious.
02-Nov-2023
---
No One Will Save You (2023)
It would make a better short film. Edit right before the lead repeats what she just did in a different location. The shots were joyously inventive and respectable. It was great apprentice work, but when it lands on fantasy, it makes no sense.
06-Oct-2023
---
Flash, The (2023)
It failed because the lead was an inhumane dick that played it cute. Michael Keaton's Batman was a CGI hillbilly that bored us to death. We can't accept a punk rock Supergirl until we tire of blondes. Fortune will come as soon as the audience forgets who these fuckers were.
29-Sep-2023
---
Snyder's Justice League (2021)
A masterpiece in shambles, in need of a master foe.
17-Sep-2023
---
Little Mermaid (2023)
"I would have made Prince Eric an enslaved black royal in a slave boat that crashed in the sea. Black Ariel saves him but must fight a racist society to get him back to his tribe. If you're going to invest in a culture, invest.
06-Sep-2023
Halle Bailey is resplendent with no significant voice. The movie is not her fault. Javier Bardem created enough quake to make me want to suck his dick under the table. My apologies Lady Penelope, it's only a dream. Fish and birds suffered from unfortunate casting and drawing. Lady McCarthy was doing fake Brady Bunch Shakespeare with an SNL accent. Ok. If she actually sings like that why does she sing crappy in the commercials? Prince Eric sang only one song. Thank god! I would have never filmed that. Marshall had trouble imagining and most of the cast were confused. It's the best film Marshall has directed but it's hollow.
06-Sep-2023
---
Somebody Up There Likes Me (1956)
Rocky was a criminal with a violent streak that learned to harness his rage and become a boxing champion. A boxer fights until he is bested and the beast subsides. The story is decisive and instructive. Newman found the soul the tribute demanded. The supporting cast shook like broadway during an earthquake. The show must go on. The fighting was desperate and raw. The soul was accurately apparent and the film strived for perfection.
17-Jul-2023
---
F4: Rise Of The Silver Surfer (2007)
I'm not sure but I think they neutered the Silver Surfer. I remember having seen the film during it's time and I noticed one. I don't forget crotches. The whole feels cheaper. Johnny lost his appeal and became vapid. Sue Storm continued to be listless and unheroic with a crappy blonde wig. Kerry Washington's blind brick lover was under-appreciated. The Thing was sort of plastic. Mr. Fantastic's powers were mostly comic relief and unbelievable. When Torch gains extra powers, it's fun but when "you know who" returns as Dr. Doom all is gloom. Galactus was a no-show because nobody knew how to incorporate a bigger thing than god into the real world. Really? A Galactus that was bigger than Thanos sitting on a throne commanding his slave, Silver Surfer, to destroy so he could feed, is brilliant.
17-Jul-2023
---
65 (2023)
Dinosaurs are tired, saving a girl that can take care of herself is trope and the science fiction wasn't specifically satisfactory. How many bullets does that one gun have? Why did the girl use all of the bombs? The dinosaurs are typical with little variation. There isn't much more that film can say or do about/to dinosaurs. We know everything. Most action sequences placed me in another's movie with no respect for originality yet it struck as a future cult film.
09-Jul-2023
---
Extraction 2 (2023)
Daddy's ready to act, pounce and revive an unwilling survivor. Movements and betrayals were triumphant. Hemsworth receives magnificent aide in battle as he abandons all pity towards his enemy and unleashes an animal that knows no bounds. The action slows enough to make us care about the characters but the action is the showcase and the director needs to make us a superhero film. People would cum web buckets or shit bats.
07-Jul-2023
---
There's Something Wrong With The Children (2023)
Mixed raced couples spend a weekend away with each other and their latino kids. Things go awry when they hit a cave on their hike with a luminous hole that only attracts the attention of children, even though it later states that adults can go in it too. The only thing that changes after the incident is that the kids stop being snarky and in charge. They turn robotic, obedient and deadly, sort of. The friends start accusing each of things real and induced by vagina magic. The men react off-key and don't have much of a bond. The women have a hypocritical relationship. Telling the truth only applies if they're drunk, tested or just can't stand each other. The mother blaming her friend for the death of her child rang. The children don't scare and revenge is unfulfilled. I thought putting a little sombrero and poncho on the siblings would not have necessarily scared us but it would've created iconic characters, like Freddy. The scariest things arise from stereotypes, not hate.
23-Jun-2023
---