Gay+
---
Welcome to Errattic! We encourage you to customize the type of information you see here by clicking the Preferences link on the top of this page.
Gay porn performer Jay Dymel dies at just 27 years old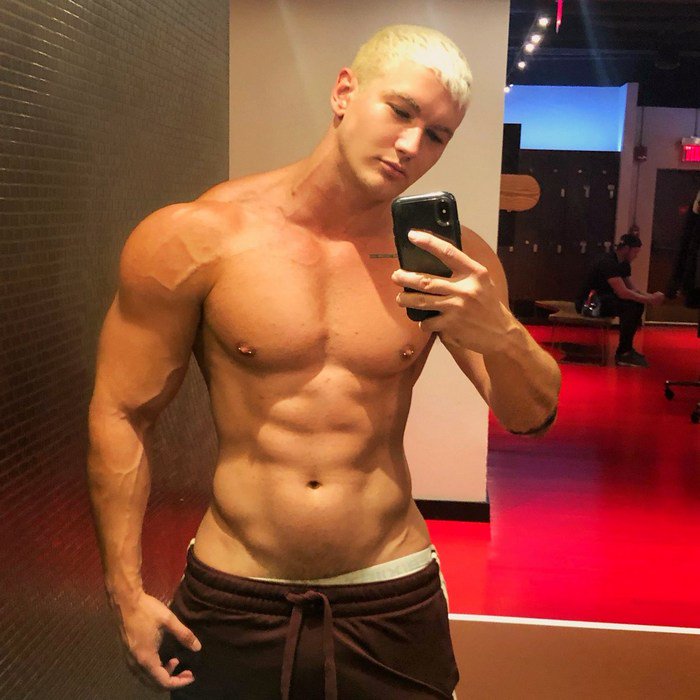 A gay porn star Jay Dymel has reportedly died at just 27 years old.

Julian Pereza, his real name, has appeared to have suddenly died today (13 June).

Falcon Studios, the company he primarily worked with, posted the news on Twitter.

'It is with great sadness to inform the passing of Jay Dymel today,' they said.

'Our thoughts go out to Jay's family, friends and partner Ryan Stone.'

Earlier today, fellow porn performer Stone said his 'lovely Jay' was on life support in Cedars-Sinai hospital in Los Angeles.
---
Todrick Hall posts naked booty selfie
US singer and choreographer Todrick Hall has delighted many of his fans with a revealing Instagram image.

Yesterday he treated his 1.3million followers to a photo of him lying naked, chest down on a swimming pool float, showing off his – unquestionably – beefy butt.

'DO I HAVE YOUR ATTENTION? It's big huh?' ran the accompanying caption.
---
Richard Madden thinks it'll be a "terrible route to go down" if roles were restricted to an actor's sexuality
Former Game of Thrones star Richard Madden has weighed in on the debate over who should get gay roles after the Sir Elton John biopic, Rocketman, came under fire for casting straight actors.

Both Taron Egerton and Madden identify as straight, and are playing Sir Elton and his former manager John Reid, who are both gay, respectively.

Speaking to The Guardian, he said: "It's a really terrible route to go down if we start restricting people's casting based on their personal lives. We have to focus more on diversity and having everyone represented, but I'm also a firm believer in the best actor for the part."
---
Zac Efron Says 'Friends Come and Go' While Admitting He 'Learned This the Hard Way'
Zac Efron has an important — though cryptic — piece of advice to share.

"In a world where we swipe left and swipe right and you meet people, friends come and go, you really should pay attention to who you're with," Efron, 31, told Entertainment Tonight at the Tribeca Film Festival screening of his new film, Extremely Wicked, Shockingly Evil and Vile, Thursday night.
---
Dan Reynolds speaks out against gay 'cure' therapy at Billboard awards
Dan Reynolds continues to prove his status as an LGBTQ ally.
The American singer-songwriter, who graced the cover of GAY TIMES in January year, and his band Imagine Dragons were the winners of the Top Rock Artist award at the 2019 Billboard Music Awards this week.

Dan used the opportunity to highlight a cause close to his heart, dedicating his speech to LGBTQ youth who have been – or are at risk of being – put through the harmful practice of gay conversion 'therapy'.

"I just wanna take this moment to say there are still 34 states that have no laws banning conversion therapy, and on top of that 58% of our LGBTQ population live in those states," he said.

"This can change, but its gonna take all of us talking to our state legislators [and] pushing forward laws to protect our LGBTQ youth."
---
Daddy hunk Christopher Meloni releases dramatic reading of tweets about his hotness
Noted television hunk Christopher Meloni has just sparked thirst by releasing a video reading thirsty tweets.

The star of Law and Order: SVU and Oz fame, who was once rated to have the best rear on TV, chugged a beer for Buzzfeed and did a dramatic reading.

"Question-what does Christopher Meloni own," he reads. "Answer-my entire a*s." With a laugh, the actor notes that he was "renting" before he decided to buy the whole thing.
---
Jason Momoa Shaves His Beard And Fans Are Devastated
STOP THE PRESS! Someone had a shave. In news that is sure to send shockwaves around the world, it appears that Jason Momoa has lost his beard. The dramatic footage of the event was uploaded onto YouTube, where people predictably lost it.

Bidding farewell to the various bearded characters he has played, Momoa is shown trimming up with an electric razor while in a remote desert location. He also takes the time to show us some canned beverages which turn out to be water, because shaving in the desert is thirsty work. He delivers a salutary message about recycling and not using plastic bottles and voila, the beard is gone.
---
Pretty Little Liars' star Tyler Blackburn comes out as bisexual
Actor and musician Tyler Blackburn has publically come out as bisexual.

The star of Pretty Little Liars opened up about his sexuality in an interview with the Advocate.

'I'm queer,' Blackburn said in the interview. 'I've identified as bisexual since a teenager.'

'I just want to feel powerful in my own skin, and my own mind, and in my own heart,' he adds.

Blackburn said that fully coming to terms with his sexuality has taken years, and something he struggled with when he was younger.
---
This influencer says he feels "disrespected" when followers comment on his "perfect body"
It's not easy being beautiful. Just ask Instagram/Only Fans star Jasson Jerez.

The Los Angeles-based influencer regularly posts naked and half-naked photos of himself for his 160K followers.

But being beautiful is not without its burdens.

Recently, Jasson took to his Instagram story to express his dissatisfaction with followers who say his body is "too perfect" and that he's "not relatable" because of it.
---
Gay adult performer quits black studio because it "doesn't cater to our community"
Last year, the gay adult studio Icon Male launched a new site named Noir Male whose tagline is "Showcases Black Men As They Deserve To Be Seen." However, one of its biggest name performers, Jane Zhu, has quit the studio, stating, "We are being used to sell a product that doesn't cater to our community."

Before we get into it, any casual observer of gay adult videos knows that the medium generally has a poor and problematic record of handling race and performers of color.

An informal 2015 study of five mainstream studios — Men.com, Sean Cody, BelAmi Online, Randy Blue and Helix Studios — found that of each one's roster of performers only 0.8 to 10% were black (compared to the estimated 12.1% of black men in the general U.S. population).

Black performers are typically used in scenes far less often than white ones, and many scenes in gay adult videos showcase black men as submissive arrestees or hung thugs. Black performers are also siloed into low-production niche sites catering specifically to black men.

That's why it seemed like such a breath of fresh air when Noir Male appeared, promising some long overdue representation with decent production quality.
---
Gay adult performer Calvin Banks: "My dad was my first blowjob"
Adult video performer Calvin Banks recently told Himeros.tv that his first sexual experience was with his father. "I can now comfortably say my dad was my first blowjob," Banks told the educational adult site.

"I gotta laugh about it," Banks continued. "I have friends whose dads left when they were two years old. I joke with them, I say 'Well, your dad didn't love you enough, and my dad loved me too much.'"

---
Everyone's gagging over Wilson Lai, the Pit Crew's hunkiest new member
"I already had my DMs on private but I have gotten a lot of messages," he says. "I kind of just show my friends and my fraternity brothers and they are all like 'what the fuck, this is some wild-ass shit!' And like, yeah, that's what I deal with."
---
Gus Kenworthy says what you have to do to have sex with him
Olympic skier Gus Kenworthy had a funny way of telling his fans to vote yesterday.
---
Warwick Rowers include gay World Cup champ Robbie Manson in new calendar
The Warwick Rowers are including openly gay World Cup champion Robbie Manson in their latest calendar.

The big news here is that Warwick Rowers are welcoming an openly gay world champion to their calendar promotion. The sexual orientation of the individual rowers has almost never been discussed. So the fact that they would welcome a naked gay dude to the photo shoots and calendar says a lot about the actual inclusion of the members of the club.
---
'Supergirl' star Mehcad Brooks says that being on the show made him realize that he was sexist
Mehcad Brooks says that starring as James Olsen on The CW's "Supergirl" helped him realize that he was sexist, and hopes that the show can encourage other people to reevaluate their beliefs.

"Playing James Olsen has made me a more complete, inclusive, and better person," Brooks, who stars as the acting CEO of CatCo Worldwide Media and vigilante The Guardian, told INSIDER.

The 37-year-old explained that previous roles he's taken on "were beneath my character, and started to affect me, so I had to take a step back and figure out who I am and do better work." With his CW character, the experience has "been the opposite."
---