All Posts Tagged as 'Fatigue'
Welcome to Errattic! We encourage you to customize the type of information you see here by clicking the Preferences link on the top of this page.
Blue Beetle (2023)
The pace had no time to set-up character appreciation, it had a billion particles to settle. The family dynamic was food, drink, celebration and insanity. George Lopez added comedy schtick to his act. He looked like a character booted from Bedrock because he was too loud and ornery. The breast queen should be playing Lady MacBeth not becoming a free TV actor. I can see her washing blood from her hands and implementing Elvira's cleavage cut. The rest of the family and the leads apply stereotypes without explaining them. There is no such thing as a stereotype because it's only a description of our heritage. Universal speak. Nobody passed the classic TV Q test and the silliness hardly stopped. The best of the mythology turned into a fiesta. The family went everywhere together. Really? When did they masturbate? Why did the family get superpowers? Beetle's nemesis was a bigger and badder version of himself. Couldn't we have gotten something a little different? If the production wanted to fill the female quota, why didn't they concoct some awesome female villains? He has lots and no villain is scarier than a latin woman scorned. She'll slash your tires.
27-Nov-2023
---
Scream (2022)
I was surprised by the comedy horror tag. I saw nothing funny except for all the situations that put Ortega in harm's way. She was one of the bright things.The ghost costume needs an upgrade. The voice actor for Ghostface sounded like a harmless prototype. It's nice to remember the past but it didn't adhere to logic. The newbies were social media born and nothing more. I applaud Neve for bringing her original face and showing us she can act. She looked great. Cruel deaths are only delegated to males. The director did well with horror but the wink, wink trivia isn't cool anymore. That joke only works once then it becomes annoying.
13-Nov-2023
---
Spider-Man: Across The Spider-Verse (2023)
I've never met a Puerto Rican that talks like Miles. Even though he's half the race he would never retain his father's accent because no Puerto Rican mother would allow it. He lives like a Puerto Rican. By the way, we are more than platanos and empanadas. We also love pork, rice, fried everything, chicken, fish, beef, chinese food, lasagne, pizza, anything and beans. If the father is black and the mother is Puerto Rican where did the Morales name come from? Bad Bunny, Ricky Martin and Izzy from Love is Blind S5 are great examples of Puerto Rican speak. At least when white people did it they tried to sound like us. Peter Parker sounded like a dork flake. The first half abused a soundtrack that distorted musicology. It played like a 45 on repeat. Keeping up with the psychological speed was phenomenal, the art was crisp and when the musical score interrupted the playlist, it didn't suck. If your child itches, this is a classic, the others might become anxious.
02-Nov-2023
---
Fall Of House Of Usher, The (2023)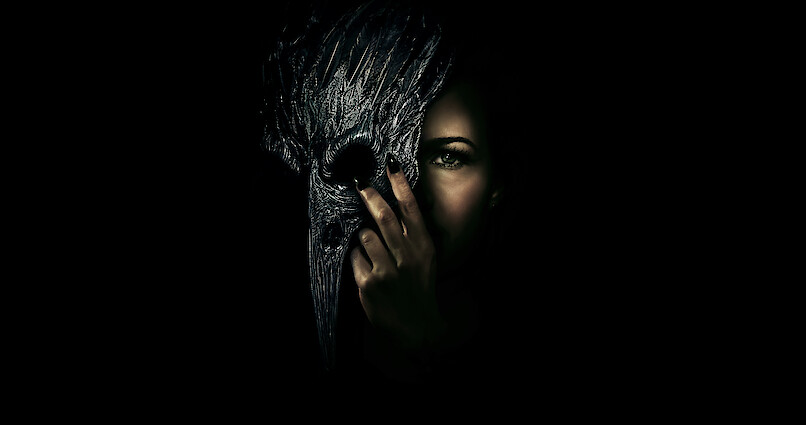 I understood the excuses but I didn't get the obscurity. The finale was a realization of how much of a merry-go-round the production put us through. The Final Destination kills should have ascended from that. When you add magic to horror it teeters on fanto realism. It made my head overload...with questions. Where was Lenore when daddy redecorated her mother's room? She asks to see her mom 5 days later? I believe one of the Dupin's got taller? Bless you, Sir Hamill. Once his character clicks we look forward to seeing him again. The mumbo jumbo accommodated what was easiest for the storytellers. The merry go round speeds up, there are few surprises but the cast and dialogue are superb. What fabulous creature is Gugino's character supposed to be? Is Pinhead her boss? I hope it's the girl one.
21-Oct-2023
SE5. There are so many crisp performances to marvel at. The story captivates but the horror aspect diminishes it. Whenever he gets a vision, we realize how the next victim will die. Stretching the story doesn't mean much if it once ended up in the trash because it contained too much information. The flashbacks are served nilly willy. The saboteur has no meaning but I love her. Poe's themes are observed but not acknowledged. When a creator succumbs to the title of the story he is manipulating things to fit not click.
20-Oct-2023
S1E2. Succession musical score adaptation is too blatant and soon to describe rich family hierarchy. The actors play it well but the characters are as interchangeable as their sexual proclivities. The scares are great ideas that are poorly executed. The mother's beginning is a testament of that. It should be scary but it's not, it didn't grip or create empathy. Flanagan name drops everything but the art he's pilfering. The story does not flatter Gugino and her character is beyond mysterious. I heard Hamill do a Joker laugh and I was amused. Flanagan still hasn't figured out how to shoot in the dark. The admirable parts are the ones created by accident.
19-Oct-2023
---
80 For Brady (2023)
How elderly women become empowered by idolizing a hot man's physical accomplishment. Wow, maybe football really is gay.
26-Jul-2023
---
F4: Rise Of The Silver Surfer (2007)
I'm not sure but I think they neutered the Silver Surfer. I remember having seen the film during it's time and I noticed one. I don't forget crotches. The whole feels cheaper. Johnny lost his appeal and became vapid. Sue Storm continued to be listless and unheroic with a crappy blonde wig. Kerry Washington's blind brick lover was under-appreciated. The Thing was sort of plastic. Mr. Fantastic's powers were mostly comic relief and unbelievable. When Torch gains extra powers, it's fun but when "you know who" returns as Dr. Doom all is gloom. Galactus was a no-show because nobody knew how to incorporate a bigger thing than god into the real world. Really? A Galactus that was bigger than Thanos sitting on a throne commanding his slave, Silver Surfer, to destroy so he could feed, is brilliant.
17-Jul-2023
---
Knock At The Cabin (2023)
The first shot aspired to greatness. People sharing the same belief targeted for survival. Dave Bautista jumped off the page and ended up a Lex Luthor on some greater planet. The director doomed art with mumbo jumbo and lucky coins. I mentally conducted scenes before they happened. The kid was cute but I totally wanted her to be a M3GN. They filleted a Harry Potter veteran before his time and Ben Aldrige's identity were his well crafted legs. I'm fuzzy on his face, though. Jonathan Groff chose Edith Bunker likability as his acting inspiration, he was a dowdy housewife with the spirit of a freedom fighter. The director separated reality from conflict and ruined the whole thing.
28-Jun-2023
---
Below Deck: Sailing Yacht (2020-)
Gary spent the night munching on blood and he did not appreciate it. WTF, he might become a bat or something. Serves the old man right. Food for thought: old ladies don't get periods. Colin and Daisy are still pretending. TG Gary is outlandish and goes with the flow. The charter turned the crew gay for money. The cameraman captured two shots of Chase's impressive hard penis squeezing into briefs and someone commented on the captain's green platano. Why was there no shot of Gary waking up with red paint all over his face?
27-Jun-2023
Daisy spars with men before she shags them. It's the only way to dock in her marina. A childhood thing, I presume? Did the surprise couple rub against Gary before the makeout session? Gary is becoming an old man manual. He wants to settle down before his cock dies. Little girls want to fuck. Everything. He wants to sabotage all young things. Not fast enough! Captain doesn't understand how laptops supposedly lay on laps. He laid it between his legs making it appear like a fancy menu at an expensive restaurant. He places it where he can admire it, record it, measure it or expose it. Chase's looniness never ends. He's auditioning for Gilligan's Island or oops.... I don't think he got a total examination. Poor thing. If Alex could talk he'd have a lot to say. The chef disappears into the background to keep her sanity but I always forget her until she talks. Chase jokingly asked a stew to expose how lovely her boobies were. WW3. Crew tongues can be salacious to charter, not each other. We were born to serve, choose and aggregate not mingle.
31-May-2023
Episode before last, the cameras lingered on a boy whose actions seemed questionable after his father's friend's accident. It was a creepy boy's 70s horror movie edit. The stews were impressed by the boy's manner, the camera was not. It surely wasn't inherited from daddy muscle charter. He was labeled a high school asshole as soon as he took his shirt off to expose massle magnificence. He may have been high strung but he did nothing wrong except demand what he paid for. Daisy is tired of slaving for rich people. Captain laid his balls on the table and reiterated that that was her job. Gary must have gotten some questionable treatment in quarantine because he kept competing for baby vagina with his cocky crew. The girl that burned the guest's dress: it was from Walmart. Chase's looney behavior is turning me on. He knows how to have fun by himself. In business, it always boils down to men vs. women, with the women always getting fucked.
19-May-2023
Gary's back. The girls stood in line waiting to make that move that catapulted Gary's fame and kept all the straight men hating. His lateness insinuated to his crew that someone should temporarily take over. Warning. Uptight decker on the loose and TG Gary pisses easy. That dumb hot piece of shit is undermining him. Everyone wants or has licked Daisy's face. I hope it's not because she fucked Gary. Big Jesus probably fucked her and the wet boatman got old and jealous. The captain is easy peasy as usual. I hope the decker bunking with the captain realizes that the captain is not a table. One more time and captain can retaliate. He could sleep on top of him. I could've sworn that Colin swayed his hips like Marilyn and I filed it. The men are pretty and gunning for Gary's attention, the girls are stupefied and frightened that their scary boss is really scary but always hoping that Gary notices them. Gary brought action back.
06-May-2023
---
There's Something Wrong With The Children (2023)
Mixed raced couples spend a weekend away with each other and their latino kids. Things go awry when they hit a cave on their hike with a luminous hole that only attracts the attention of children, even though it later states that adults can go in it too. The only thing that changes after the incident is that the kids stop being snarky and in charge. They turn robotic, obedient and deadly, sort of. The friends start accusing each of things real and induced by vagina magic. The men react off-key and don't have much of a bond. The women have a hypocritical relationship. Telling the truth only applies if they're drunk, tested or just can't stand each other. The mother blaming her friend for the death of her child rang. The children don't scare and revenge is unfulfilled. I thought putting a little sombrero and poncho on the siblings would not have necessarily scared us but it would've created iconic characters, like Freddy. The scariest things arise from stereotypes, not hate.
23-Jun-2023
---
Shazam! Fury Of The Gods (2023)
A Saturday morning kiddie show that plays after the popular ones have aired and kids watch whilst having lunch. It can't shake off the silliness so it embraced it. Bad mistake. It only works if it's funny. Some of the writers asked their children what they would like to see and the parents yucked it up. Elegant ladies of maturity shouldn't have to wear clunky armor especially if they're witches. The villains are not much of a threat. They just need more "home" visits from the family. Why did they pile on so much ick hair and clothing on Hinsou's god? Zachary Levi. His solution when discomfited is to make a face or a nine year's old gesture. His younger alter ego is a teenager on his way to becoming a man. They work as separate units but not as a whole. They copy nothing from each other. Billy's best friend's storyline had the emotional heft that Shazam's didn't. It doesn't even take us on a fantastical journey. It was a scenic bus ride to Walmart.
07-Jun-2023
---
3,000 Years Of Longing (2022)
It seems like a private joke to portray different languages without captioning them. The more times the movie lines or references are repeated the more we can understand and retain it. It's an educational tool. The descriptions fall mainly on Elba who portrays a physically commanding djinn with poetic romanticism with no woman to match him. Swinton's acting nuances become mismatched ticks. Queen of Shiba's story was the most interesting only because the actress portraying her provided model fabulosity. The leads remain within bottle safety throughout. The effects don't want to intrude on realism but that's what the story is about. I wanted to see Elba mixing spells, looking dashing or at least happy and having a magic ball while reciting Shakespeare with Lady Tilton.
23-May-2023
---
Antman & The Wasp: Quantumania (2023)
Cuteness and self congratulations does not befit these superpowered saviors. It rehashes helicopter dad and rebellious vigilante super daughter, predictably and unattached. Paul Rudd looked confused. The daughter misses being a good thing because she is stereotyped. MODOK looked like a badly stretched photo. The Quantum Realm was a mishmash of background paintings with no movement or the dulcet tones of Bob Ross. The inhabitants are the rejected drawings of cantina ideas for all the Star Wars films. The director applied the cutesies to an alien slime that cutely spoke. Good job actor, but there is nothing cute about talking jello. Pfeiffer tackled her heroism with gusto even though the words sounded exhausted. Chemistry was beginning to form between her and Kang. They should have played that out as a Part 1. The support was alert but there was too much realm and rah rah rah. The purpose of this pilot movie was to introduce Kang so it can comfortably occupy more room in the tie-ins. Majors hits all the right notes but Kang is underwritten and easily beaten.
18-May-2023
---
Carl's fit had him climbing uphill so we could admire his bulbous crotch. All the boys served morning bulge with Kyle supplying a little bit extra. Ciara was being a can't by flirting vociferously with that roommate's helium boyfriend. The helium boyfriend came to bed with his crotch in an elephant's trunk so Ciara could feel reciprocated. There is absolutely no reason for Paige to do any work when there are two strong black women in the room. Paige threw up when she found out that Craig was crying because he missed his mother's birthday. She cannot relate to non-toxicity. Carl didn't face his ex and put a kabash to the drama because then he might have had to smack Lindsay for putting him in that situation. Lindsay's idea of a good marriage is wrastling her alligator to the ground and keeping other vagina (meat) away from him. Chris' latest grooming trick is the Titanic wraparound. Slut.
15-May-2023
The episode reiterated that Carl is gifted with his hands. Carl's mother didn't show up because she is over fake things. That other roommate confirmed it. Danielle thinks that Spielberg is still holding auditions for West Side Story's Anita. She was part of a throuple but only wanted singularity... with Carl. The giant decided to put his hands on a more successful product and edged her out. She's devastated because she will never feel giant's knuckles again. He's putting his ring somewhere else. Is it customary to make the latin women serve white people at a proposal party? It might be if they're nuts. Trust me, it's good to keep them busy when they're coo coo. Lindsay pointed out that Ciara's red lipstick made her look like a frog. You mean like the Princess and the...?
09-May-2023
Carl asks Lindsay to be his co-dependent. Samantha joined the series to fuck. Danielle acts like she made a pinky pact with Carl. He won't marry until she's perused every man on earth. He was her back-up. Chris Leoni joined the show to see how many straight men he could turn. He's getting very close. Amanda, be well.
03-May-2023
Happy Birthday, Kyle. The giant sprayed his fumes on Lindsay and it almost knocked her out of bed. Lindsay choked on a cheeto, explaining why Carl thinks he has a big dick. Ciara found another reason to hate other women. Men. Danielle is in everyone's business because her boyfriend is busy with his own. The only way Danielle is ever going to spend more time with the chef is to work for him. She'll get first dibs at his carrot and mayonnaise dip before the staff gobbles it up.
04-Apr-2023
Dude, either the giant's hands are really getting smaller or his prosthetics fell off.
15-Mar-2023
Is dating Lindsay making the giant's hands smaller?
12-Mar-2023
Kyle had a right to voice his opinion about Carl and suffer for it, if need be. Kyle did not admit anything that Big Hands hadn't. People must suffer the consequences of their actions. The argument is solely among the men. Business has no friends. Danielle confused loyalty for reality. She spent most of the episode pissed off and snitching because she couldn't enforce how she feels to a man whose opinion matters because it is what it is. Amanda is looking 60s fresh and I'm admiring it. Chris made it Ricky Martin obvious that his bro date with Kyle meant more to him than ever seeing a chick again. The ladies have a "no ass fuck" rule. They should take the long out of term.
01-Mar-2023
I think Kyle's love handle winked at me. Mullet is a no no. Go Tarzan so I can pull it. Big hands is portraying why Ben Affleck looks miserable in public.
14-Feb-2023
---
S1E2. I watched it once and it put me to sleep. I tried again and saw until E5 but it couldn't keep me in my seat. The actors didn't shake their co-starring status. The coincidences got silly. The reactions become predictable and repetitive. Rage is not specifically psychoanalyzed and character actualization is shallow. As I watched I thought, "who gives a fuck." In the end, I said "maybe I should go give a fuck somewhere else."
19-Apr-2023
---
Night Agent, The (2023-)
The lead clicks likability instantaneously, precipitating the enjoyment of the series' machinations. The Vice President's daughter is a messy princess who thinks she's cool but is treated like a boob. The carry-on luggage is at the center. She stays where you put her, she can defend herself, she will succeed if she listens to everything he says and she does all the thinking. The boss from hell was transmitting from another planet. The class of spy thriller it was trying to emulate crumbles towards the end. The soap opera lacked cum juice, TV vs Film manifestations plundered and the agent guarding her bff needed to do push ups and lighten up. To avoid looking stiff, use only what's on your face.
06-Apr-2023
---