All Posts Tagged as 'Food'
Welcome to Errattic! We encourage you to customize the type of information you see here by clicking the Preferences link on the top of this page.
This Is America's Favorite Chain Restaurant, According to Report
Across America, cities are struggling with the realities of how to reopen dine-in restaurants during an ongoing pandemic. But back when "coronavirus" wasn't quite part of our vocabularies, America was already on its way to crowning a new favorite sit-down restaurant chain—at least according to the American Consumer Satisfaction Index. ACSI has just released its annual look at major brands across the dining spectrum, and this year, LongHorn Steakhouse has topped the full-service list.

Last year, Texas Roadhouse claimed the top spot for the second year in a row, having knocked off the 2017 champ, Cracker Barrel. But this year, after significant drops from both Texas Roadhouse and Cracker Barrel...
---
---
---
SUPERMARKET 'KAREN' 2.0

ANOTHER MASK MELTDOWN ...

Chucks Food This Time!!! 
Another day, another person going berserk over face mask policy -- only this time, it happened down in Texas ... and food went flying everywhere.

A new video of a supermarket 'Karen,' if you will, is making the rounds online, which shows a lady having a complete and utter meltdown inside what appears to be a Fiesta Market in Dallas ... after she was apparently asked to put her mask back on to check out.
'Exhausted' by customers' rage over wearing masks, California taco chain shuts down
Video Shows Woman Spit at Gas Station Worker After Being Told to Wear Mask
---
A White Couple Was Caught on Video Pointing Guns at Black Lives Matter Protesters in St. Louis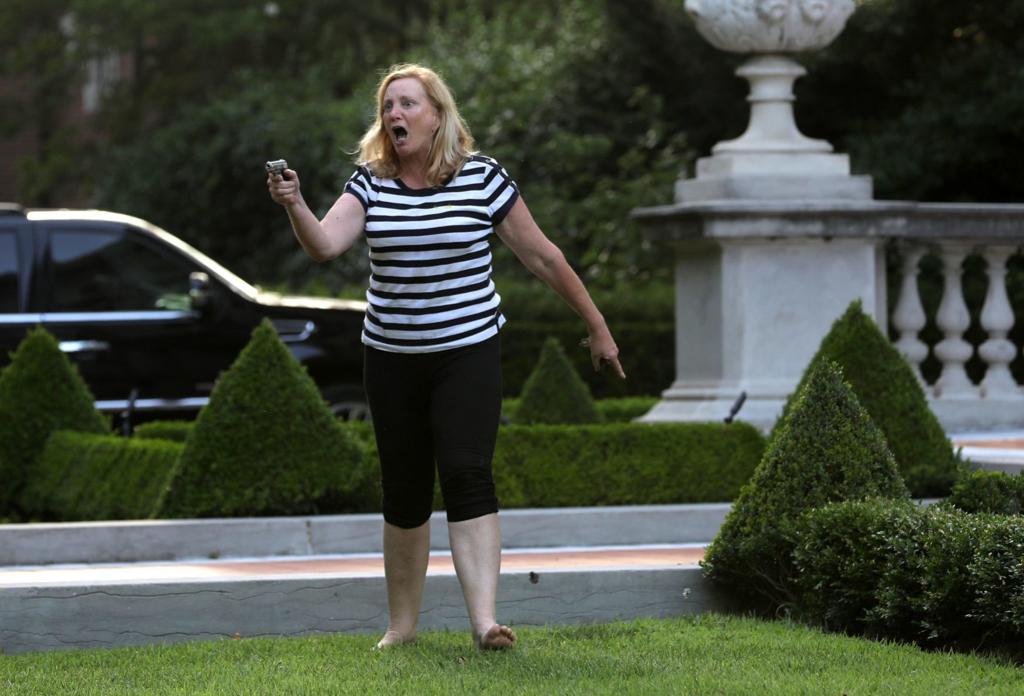 An armed white couple waved their guns and yelled at Black Lives Matter demonstrators in St. Louis on Sunday, during a protest march to St. Louis Mayor Lyda Krewson's home.

At least 500 people peacefully marched through St. Louis' Central West End neighborhood on Sunday demanding Krewson's resignation, according to the St. Louis Post-Dispatch. Krewson appeared in a Facebook Live video last week reading the names and addresses of people who had called for defunding the city's police department.
Man Fired for Racist Rant Supporting Slavery and Lynchings of Black People
John Wayne's son responds to resolution calling for John Wayne Airport to be renamed
Michigan Woman Yells Racial Slurs at New Neighbors in Viral Video
San Jose man charged with hate crime in Santa Cruz assault incident
Adam Carolla defends Jimmy Kimmel over blackface backlash: 'We've lost our minds'
Little Caesars fired two employees after a couple found a swastika made of pepperoni on their pizza
---
White couple blocks Mexican American from entering his building, called him 'criminal' 
A white couple blocked a young Mexican American man from entering the San Francisco apartment complex where he lives in, saying "they would not let a criminal into their complex as they needed to protect it."

Michael Barajas, a UC-Berkeley graduate and a community educator for a biopharmaceutical company, tried to park his car in the apartment complex's garage Tuesday night when the driver in front of him refused to pull forward.

Barajas, 28, told NBC's Bay Area affiliate KNTV that the situation kept escalating and turned dramatic when the white man in the car got aggressive, which prompted him to start recording.
White Men Light Black Teenage Girl's Face on Fire in Wisconsin
Kansas State players speak out after offensive George Floyd tweet made by student leader of white nationalist group
Whole Foods workers sent home for wearing Black Lives Matter masks
White man called police on Black and Hispanic men at marina
Indian restaurant vandalized with 'White power' and Trump 2020' gets donations, support
---
Black Lives Matter activist Shaun King says statues of Jesus Christ should be torn down — but just the white ones 
Black Lives Matter activist Shaun King said that it is permissible to tear down the statues of Jesus Christ that show him with European features because they support white supremacy.

"Yes, I think the statues of the white European they claim is Jesus should also come down. They are a form of white supremacy. Always have been," King tweeted on Monday.

"In the Bible, when the family of Jesus wanted to hide, and blend in, guess where they went? EGYPT! Not Denmark. Tear them down," he added.

"Yes. All murals and stained glass windows of white Jesus, and his European mother, and their white friends should also come down," he explained in a second tweet.
Black graduate student target of racist rant while walking in New York
Ohio Girl Writes 'Black Lives Matter' in Chalk, Neighbor Calls Police
A City Painted Over A Black Lives Matter Street Mural As Protests Continue
Steve McQueen calls race imbalance in UK film and TV "blindingly, obviously wrong"
'The greatest trick racism ever pulled was convincing England it doesn't exist'
Padma Lakshmi Is Tired of Being Delicate
---
So long, salad bar: Grocers get creative, consider robots to revive prepared food amid pandemic
Grocery stores have shut down self-serve salad bars during the pandemic. They've taken away displays of fresh olives and dips. And they've replaced giant kettles of ready-to-ladle hot soup with sealed to-go containers.

The deli and prepared food areas that used to draw traffic to stores and differentiate grocers have fallen from favor as customers worry about the spread of the coronavirus, cook more from scratch and try to limit their time in stores.

Grocers are trying to revive those parts of the store with new approaches. At Publix, salad bars and hot bars have reopened, but employees dish out each item. Wegmans moved hummus, olives and more behind a counter where cheese shop employees fill orders. And at Texas-based H-E-B, some coolers carry prepared meals from local restaurants and a former food bar became an ice chest of beers.
---
Black chefs on the tradition of Juneteenth and need for diversity in the food industry
Ahead of Juneteenth, a holiday celebrating the end of slavery in America, Black-owned restaurants and services are highlighting the underrepresented tradition of Black cooking and advocating for increased diversity in restaurant kitchens.
---
Picky eating linked to demanding parents who limit foods, study says
Frustrated with your child's picky eating? If you're trying to fix the problem by becoming the food police, you're probably making your child's habit of picky eating worse, according to a new study that followed more than 300 parent-and-child pairs for five years.

The study found no difference among children due to socioeconomic demographics, but did find higher rates of picky eating among children who had problems regulating their emotions. Those children were more prone to exaggerated changes in mood with possible heightened irritability or temper.

One of the best practices for parents dealing with picky eaters is to expose your child to the food multiple times, experts said, and always without stress.
---
---
---
---
---
One in four LGBT+ Americans faced hunger even before coronavirus
More than one in four LGBT+ Americans could not afford to buy enough food to eat during the past year.

Women, people of color, young adults, and those with low incomes have particularly high rates of food insecurity.

That's according to a new report by the respected Williams Institute.

Moreover, the figures are based on data from before the coronavirus pandemic hit. Since then the number of unemployed people in the US has soared to 33 million or 20.6% – the highest level since 1934.

Bianca DM Wilson, is senior scholar of public policy at the Williams Institute and the report's lead author. She said:

'Before the pandemic, hunger was a persistent problem for one in four LGBT adults. COVID-19 and the resulting economic downturn are likely to have a major impact on this population.'
---